Abstract
Multivitamin use is common in the United States. It is not known whether multivitamins with minerals supplements (MVM) used by women already diagnosed with invasive breast cancer would affect their breast cancer mortality risk. To determine prospectively the effects of MVM use on breast cancer mortality in postmenopausal women diagnosed with invasive breast cancer, a prospective cohort study was conducted of 7,728 women aged 50–79 at enrollment in the women's health initiative (WHI) in 40 clinical sites across the United States diagnosed with incident invasive breast cancer during WHI and followed for a mean of 7.1 years after breast cancer diagnosis. Use of MVM supplements was assessed at WHI baseline visit and at visit closest to breast cancer diagnosis, obtained from vitamin pill bottles brought to clinic visit. Outcome was breast cancer mortality. Hazard ratios and 95 % confidence intervals (CIs) for breast cancer mortality comparing MVM users to non-users were estimated using Cox proportional hazard regression models. Analyses using propensity to take MVM were done to adjust for potential differences in characteristics of MVM users versus non-users. At baseline, 37.8 % of women reported MVM use. After mean post-diagnosis follow-up of 7.1 ± 4.1 (SD) years, there were 518 (6.7 %) deaths from breast cancer. In adjusted analyses, breast cancer mortality was 30 % lower in MVM users as compared to non-users (HR = 0.70; 95 % CI 0.55, 0.91). This association was highly robust and persisted after multiple adjustments for potential confounding variables and in propensity score matched analysis (HR = 0.76; 95 % CI 0.60–0.96). Postmenopausal women with invasive breast cancer using MVM had lower breast cancer mortality than non-users. The results suggest a possible role for daily MVM use in attenuating breast cancer mortality in women with invasive breast cancer but the findings require confirmation.
Access options
Buy single article
Instant access to the full article PDF.
US$ 39.95
Tax calculation will be finalised during checkout.
Subscribe to journal
Immediate online access to all issues from 2019. Subscription will auto renew annually.
US$ 119
Tax calculation will be finalised during checkout.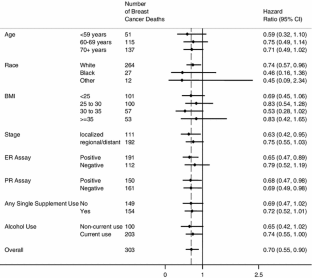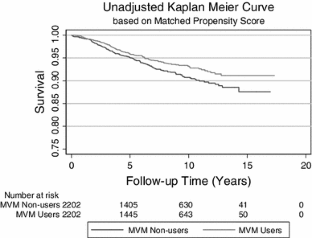 References
1.

Radimer K, Bindewald B, Hughes J, Ervin B, Swanson C, Picciano MF (2004) Dietary supplement use by US adults: data from the National Health and Nutrition Examination Survey, 1999-2000. Am J Epidemiol 160(4):339–349

2.

Velicer CM, Ulrich CM (2008) Vitamin and mineral supplement use among US adults after cancer diagnosis: a systematic review. J Clin Oncol 26(4):665–673

3.

Neuhouser ML, Wassertheil-Smoller S, Thomson C, Aragaki A, Anderson GL, Manson JE, Patterson RE, Rohan TE, van Horn L, Shikany JM et al (2009) Multivitamin use and risk of cancer and cardiovascular disease in the Women's Health Initiative cohorts. Arch Intern Med 169(3):294–304

4.

Park SY, Murphy SP, Wilkens LR, Henderson BE, Kolonel LN (2011) Multivitamin use and the risk of mortality and cancer incidence: the multiethnic cohort study. Am J Epidemiol 173(8):906–914

5.

Chan AL, Leung HW, Wang SF (2011) Multivitamin supplement use and risk of breast cancer: a meta-analysis. Ann Pharmacother 45(4):476–484

6.

Mursu J, Robien K, Harnack LJ, Park K, Jacobs DR Jr (2011) Dietary supplements and mortality rate in older women: the Iowa Women's Health Study. Arch Intern Med 171(18):1625–1633

7.

Nechuta S, Lu W, Chen Z, Zheng Y, Gu K, Cai H, Zheng W, Shu XO (2011) Vitamin supplement use during breast cancer treatment and survival: a prospective cohort study. Cancer Epidemiol Biomarkers Prev 20(2):262–271

8.

Kwan ML, Greenlee H, Lee VS, Castillo A, Gunderson EP, Habel LA, Kushi LH, Sweeney C, Tam EK, Caan BJ (2011) Multivitamin use and breast cancer outcomes in women with early-stage breast cancer: the life after cancer epidemiology study. Breast Cancer Res Treat 130(1):195–205

9.

Fleischauer AT, Simonsen N, Arab L (2003) Antioxidant supplements and risk of breast cancer recurrence and breast cancer-related mortality among postmenopausal women. Nutr Cancer 46(1):15–22

10.

Saquib J, Rock CL, Natarajan L, Saquib N, Newman VA, Patterson RE, Thomson CA, Al-Delaimy WK, Pierce JP (2011) Dietary intake, supplement use, and survival among women diagnosed with early-stage breast cancer. Nutr Cancer 63(3):327–333

11.

Greenlee H, Kwan ML, Kushi LH, Song J, Castillo A, Weltzien E, Quesenberry CP Jr, Caan BJ (2012) Antioxidant supplement use after breast cancer diagnosis and mortality in the life after cancer epidemiology (LACE) cohort. Cancer 118(8):2048–2058

12.

Lesperance ML, Olivotto IA, Forde N, Zhao Y, Speers C, Foster H, Tsao M, MacPherson N, Hoffer A (2002) Mega-dose vitamins and minerals in the treatment of non-metastatic breast cancer: an historical cohort study. Breast Cancer Res Treat 76(2):137–143

13.

Group TWS (1988) Design of the Women's Health Initiative clinical Trial and Observational Study. Control Clin Trials 19:61–109

14.

Curb JD, McTiernan A, Heckbert SR, Kooperberg C, Stanford J, Nevitt M, Johnson KC, Proulx-Burns L, Pastore L, Criqui M et al (2003) Outcomes ascertainment and adjudication methods in the Women's Health Initiative. Ann Epidemiol 13(9 Suppl):S122–S128

15.

Burnam M, Wells KB, Leake B, Landsverk J (1988) Development of a brief screening instrument for detecting depressive disorders. Med Care 26:775–789

16.

Radloff LS (1977) The CES-D scale: a self-report depression scale for research in the general population. Appl Psychol Meas 1(3):385–401

17.

Robins LN, Helzer JE, Croughan J, Ratcliff KS (1981) National institute of mental health diagnostic interview schedule: its history, characteristics, and validity. Arch Gen Psychiatry 38:381–389

18.

Ware JE Jr, Sherbourne CD (1992) The MOS 36-item short-form health survey (SF-36). I. Conceptual framework and item selection. Med Care 30(6):473–483

19.

Velentzis LS, Keshtgar MR, Woodside JV, Leathem AJ, Titcomb A, Perkins KA, Mazurowska M, Anderson V, Wardell K, Cantwell MM (2011) Significant changes in dietary intake and supplement use after breast cancer diagnosis in a UK multicentre study. Breast Cancer Res Treat 128(2):473–482

20.

Greenlee H, Hershman DL, Jacobson JS (2009) Use of antioxidant supplements during breast cancer treatment: a comprehensive review. Breast Cancer Res Treat 115(3):437–452

21.

Zirpoli GR, Brennan PM, Hong CC, McCann SE, Ciupak G, Davis W, Unger JM, Budd GT, Hershman DL, Moore HC et al (2013) Supplement use during an intergroup clinical trial for breast cancer (S0221). Breast Cancer Res Treat 137(3):903–913

22.

Sotgia F, Martinez-Outschoorn UE, Lisanti MP (2011) Mitochondrial oxidative stress drives tumor progression and metastasis: should we use antioxidants as a key component of cancer treatment and prevention? BMC Med 9:62

23.

Premkumar VG, Yuvaraj S, Sathish S, Shanthi P, Sachdanandam P (2008) Anti-angiogenic potential of Coenzyme Q10, riboflavin and niacin in breast cancer patients undergoing tamoxifen therapy. Vascul Pharmacol 48(4–6):191–201
Acknowledgments
The authors thank the WHI participants, Investigators and staff for their important contributions. The Women's Health Initiative (WHI) program is funded by the National Heart, Lung, and Blood Institute, National Institutes of Health, U.S. Department of Health and Human Services through contracts N01WH22110, 24152, 32100-2, 32105-6, 32108-9, 32111-13, 32115, 32118-32119, 32122, 42107-26, 42129-32, and 44221. The funding organization (NIH) had no role in the design and conduct of the study; analysis or interpretation of the data or preparation, review, or approval of the manuscript or the decision to submit the manuscript for publication. The funding organization was involved in designing the WHI protocol and in management of WHI.
Conflict of interest
All authors state they have no conflicts of interest.
Appendix: Variables use in logistic regression for propensity analysis
Appendix: Variables use in logistic regression for propensity analysis
Age,

Race/ethnicity

Education

Income

Region of the country

Having a health care provider

Having last visit to health care provider within past year

Alcohol use

High cholesterol requiring pills

History of diabetes

Being on treatment for diabetes

Smoking

Hormone use

Body mass index

Waist/Hip ratio

Calories from diet

Hypertension treatment

Systolic blood pressure

Diastolic blood pressure

Hysterectomy

Physical activity

Activities of daily living

Life events score

General health

Social support

Social functioning

Emotional well-being

Depression score

History of atrial fibrillation

History of pulmonary embolism

History of cardiovascular disease

History of heart failure

History of any cancer (except non-melanoma skin cancer)
About this article
Cite this article
Wassertheil-Smoller, S., McGinn, A.P., Budrys, N. et al. Multivitamin and mineral use and breast cancer mortality in older women with invasive breast cancer in the women's health initiative. Breast Cancer Res Treat 141, 495–505 (2013). https://doi.org/10.1007/s10549-013-2712-x
Received:

Accepted:

Published:

Issue Date:
Keywords
Breast cancer

Multivitamins

Vitamins

Women's health initiative

WHI

Breast cancer mortality