Abstract
Knowledge about the mechanisms of regeneration of the lymphatic vasculature after surgical trauma is essential for the development of strategies for the prevention and therapy of lymphedema. However, little is known about the alterations of lymphatic flow directly after surgical trauma. We investigated lymphatic function in mice using near-infrared imaging for a period of 4 weeks after surgeries that mimic sentinel lymph node biopsy (SLNB) or axillary lymph node dissection (ALND), by removal of the popliteal lymph node (LN) alone or together with the popliteal fat pad, respectively. SLNB-like surgery did not cause changes in lymphatic drainage in the majority of cases. In contrast, lymphatic drainage impairment shown by collecting vessel rupture, dermal backflow and rerouting of lymph flow via collateral vessels were observed after ALND-like surgery. All collateral vessels drained to the inguinal LN. These results indicate that less invasive surgery prevents lymphatic decompensation. They also reveal the development and maturation of collateral lymphatic vessels after extensive surgical trauma, which reroute the flow of lymph towards a different LN. These findings might be helpful for the development of strategies to prevent and/or treat post-surgical lymphedema.
Access options
Buy single article
Instant access to the full article PDF.
USD 39.95
Price excludes VAT (USA)
Tax calculation will be finalised during checkout.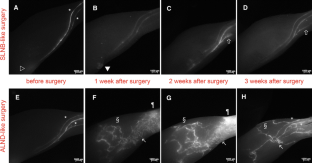 Abbreviations
ALND:

Axillary lymph node dissection

DB:

Dermal backflow

LV:

Lymphatic vessel

LN:

Lymph node

SLNB:

Sentinel lymph node biopsy

MLD:

Manual lymphatic drainage
References
McLaughlin SA, Wright MJ, Morris KT, Giron GL, Sampson MR, Brockway JP, Hurley KE, Riedel ER, Van Zee KJ (2008) Prevalence of lymphedema in women with breast cancer 5 years after sentinel lymph node biopsy or axillary dissection: objective measurements. J Clin Oncol 26:5213–5219. doi:10.1200/JCO.2008.16.3725

Mansel RE, Fallowfield L, Kissin M, Goyal A, Newcombe RG, Dixon JM, Yiangou C, Horgan K, Bundred N, Monypenny I, England D, Sibbering M, Abdullah TI, Barr L, Chetty U, Sinnett DH, Fleissig A, Clarke D, Ell PJ (2006) Randomized multicenter trial of sentinel node biopsy versus standard axillary treatment in operable breast cancer: the ALMANAC trial. J Natl Cancer Inst 98:599–609. doi:10.1093/jnci/djj158

Weissleder H, Weissleder R (1988) Lymphedema: evaluation of qualitative and quantitative lymphoscintigraphy in 238 patients. Radiology 167:729–735

Moshiri M, Katz DS, Boris M, Yung E (2002) Using lymphoscintigraphy to evaluate suspected lymphedema of the extremities. AJR Am J Roentgenol 178:405–412. doi:10.2214/ajr.178.2.1780405

Rasmussen JC, Tan IC, Marshall MV, Adams KE, Kwon S, Fife CE, Maus EA, Smith LA, Covington KR, Sevick-Muraca EM (2010) Human lymphatic architecture and dynamic transport imaged using near-infrared fluorescence. Transl Oncol 3:362–372

Escobar-Prieto A, Gonzalez G, Templeton AW, Cooper BR, Palacios E (1971) Lymphatic channel obstruction. Patterns of altered flow dynamics. Am J Roentgenol Radium Ther Nucl Med 113:366–375

Sharma R, Wang W, Rasmussen JC, Joshi A, Houston JP, Adams KE, Cameron A, Ke S, Kwon S, Mawad ME, Sevick-Muraca EM (2007) Quantitative imaging of lymph function. Am J Physiol Heart Circ Physiol 292:H3109–H3118. doi:10.1152/ajpheart.01223.2006

Tilney NL (1971) Patterns of lymphatic drainage in the adult laboratory rat. J Anat 109:369–383

Proulx ST, Luciani P, Alitalo A, Mumprecht V, Christiansen AJ, Huggenberger R, Leroux JC, Detmar M (2013) Non-invasive dynamic near-infrared imaging and quantification of vascular leakage in vivo. Angiogenesis. doi:10.1007/s10456-013-9332-2

Proulx ST, Luciani P, Christiansen A, Karaman S, Blum KS, Rinderknecht M, Leroux JC, Detmar M (2013) Functional near-infrared imaging reveals rerouting of lymphatic tumor drainage after sentinel lymph node metastasis. Biomaterials. doi:10.1016/j.biomaterials.2013.03.034

Rasband WS (1997–2011) ImageJ. U. S. National Institutes of Health, Bethesda

Planas-Paz L, Strilic B, Goedecke A, Breier G, Fassler R, Lammert E (2012) Mechanoinduction of lymph vessel expansion. EMBO J 31:788–804. doi:10.1038/emboj.2011.456

Kilbreath SL, Refshauge KM, Beith JM, Ward LC, Lee M, Simpson JM, Hansen R (2012) Upper limb progressive resistance training and stretching exercises following surgery for early breast cancer: a randomized controlled trial. Breast Cancer Res Treat 133:667–676. doi:10.1007/s10549-012-1964-1

Avraham T, Clavin NW, Daluvoy SV, Fernandez J, Soares MA, Cordeiro AP, Mehrara BJ (2009) Fibrosis is a key inhibitor of lymphatic regeneration. Plast Reconstr Surg 124:438–450. doi:10.1097/PRS.0b013e3181adcf4b

Avraham T, Yan A, Zampell JC, Daluvoy SV, Haimovitz-Friedman A, Cordeiro AP, Mehrara BJ (2010) Radiation therapy causes loss of dermal lymphatic vessels and interferes with lymphatic function by TGF-beta1-mediated tissue fibrosis. Am J Physiol Cell Physiol 299:C589–C605. doi:10.1152/ajpcell.00535.2009

Wang GY, Zhong SZ (1985) Experimental study of lymphatic contractility in lymphedema and its clinical significance. Microsurgery 6:199–203
Acknowledgments
We thank Jeannette Scholl and Carlos Ochoa for excellent technical assistance and help with animal experiments. KSB received a research fellowship from the German Research Foundation (DFG: BL 1136/1-1). This study was supported by Swiss National Science Foundation grant 31003A-130627, European Research Council grant LYVICAM, Oncosuisse, Krebsliga Zurich and the Leducq Foundation.
Conflict of interest
The authors declare that they have no conflict of interest.
Ethical statement
The experiments were performed in accordance with animal protocols approved by the Kantonales Veterinäramt Zürich.
Electronic supplementary material
Below is the link to the electronic supplementary material.
Lymphatic imaging of collecting LVs and collateral vessels originating from the damaged area one week after surgery. Note the slower flow in the collateral vessel draining from the injured collecting vessel, which can be seen by a slower decrease of signal intensity in the collateral compared to collecting vessel during this imaging session. Note the dilated and constricted parts of the collateral vessels (MPEG 3798 kb)
NIR imaging of collecting LVs and collateral vessels 1 week after ALND-surgery. The lymph pulses from the ankle (lower right side of the video) towards the ingLN (not shown, because it is located on the ventral side of the leg). Gentle pulsing activity is noted in parts of the collateral vessels close to the inguinal LN around the hip (MPEG 5556 kb)
In the same leg as video 2 pulsing throughout the full length of the collateral vessels and the collecting LVs is detectable three weeks after ALND surgery (MPEG 6096 kb)
About this article
Cite this article
Blum, K.S., Proulx, S.T., Luciani, P. et al. Dynamics of lymphatic regeneration and flow patterns after lymph node dissection. Breast Cancer Res Treat 139, 81–86 (2013). https://doi.org/10.1007/s10549-013-2537-7
Received:

Accepted:

Published:

Issue Date:

DOI: https://doi.org/10.1007/s10549-013-2537-7
Keywords