Abstract
In previous studies of postmenopausal women, overall intake of fruits and vegetables groups has been inversely associated with estrogen receptor-negative (ER−) breast cancer. In this analysis, we prospectively examined the associations of specific fruits and vegetables with risk of ER− postmenopausal breast cancer among 75,929 women aged 38–63 years at baseline and followed for up to 24 years. Dietary data were collected seven times during this period. Cox proportional hazard models were used, adjusting for potential confounders, including a modified Alternate Mediterranean Diet score. We ascertained 792 incident cases of ER− postmenopausal breast cancer. The multivariate relative risk (RR) for every 2 servings/week consumption for total berries was 0.82 (95 % CI = 0.71–0.96, p = 0.01), and the RR for women who consumed at least one serving of blueberries a week was 0.69 (95 % CI = 0.50–0.95, p = 0.02) compared with non-consumers. Also, the RR for consuming at least 2 servings of peaches/nectarines per week was 0.59 (95 % CI = 0.37–0.93, p = 0.02). Risk of ER− breast cancer was not associated with intakes of other specific fruits or vegetables. In conclusion, higher intake of berries and peaches was associated with lower risk of ER− breast cancer among postmenopausal women. These results are considered exploratory and need to be confirmed in further studies.
Access options
Buy single article
Instant access to the full article PDF.
US$ 39.95
Tax calculation will be finalised during checkout.
Subscribe to journal
Immediate online access to all issues from 2019. Subscription will auto renew annually.
US$ 119
Tax calculation will be finalised during checkout.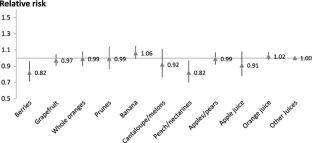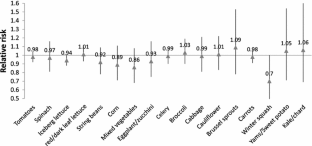 References
1.

Jung S, Spiegelman D, Baglietto L, Bernstein L, Boggs DA, van den Brandt PA et al (2013) Fruit and vegetables intake and risk of breast cancer by hormone receptor status. J Natl Cancer Inst 105:219–236

2.

Fung TT, Hu FB, McCullough ML, Newby PK, Willett WC, Holmes MD (2006) Diet quality is associated with the risk of estrogen receptor-negative breast cancer in postmenopausal women. J Nutr 136(2):466–472. Epub 2006/01/21.eng

3.

Boggs DA, Palmer JR, Wise LA, Spiegelman D, Stampfer MJ, Adams-Campbell LL et al (2010) Fruit and vegetable intake in relation to risk of breast cancer in the Black Women's Health Study. Am J Epidemiol 172:1268–1279

4.

Zhang X, Spiegelman D, Baglietto L, Bernstein L, Boggs DA, van den Brandt PA et al (2012) Carotenoid intakes and risk of breast cancer defined by estrogen receptor and progesterone receptor status: a pooled analysis of 18 prospective cohort studies. Am J Clin Nutr 95:713–725

5.

Eliassen AH, Hendrickson SJ, Brinton LA, Buring JE, Campos H, Dai Q et al (2012) Circulating carotenoids and risk of breast cancer: pooled analysis of eight prospective studies. J Natl Cancer Inst 104:1905–1916

6.

Johnson SA, Arjmandi BH (2013) Evidence for anti-cancer properties of blueberries: a mini-review. Anticancer Agents Med Chem. Epub 24 January

7.

Colditz GA, Martin P, Stampfer MJ, Willett WC, Sampson L, Rosner BA et al (1986) Validation of questionnaire information on risk factors and disease outcomes in a prospective cohort of women. Am J Epidemiol 123:894–900

8.

Willett WC (1998) Nutritional epidemiology. Oxford University Press, New York

9.

Salvini S, Hunter DJ, Sampson L, Stampfer MJ, Colditz GA, Rosner BA et al (1989) Food-based validation of a dietary questionnaire: the effects of week-to-week variation in food consumption. Int J Epidemiol 18:858–867

10.

Ainsworth BE, Haskell WL, Whitt MC, Irwin ML, Swartz AM, Strath SJ et al (2000) Compendium of physical activities: an update of activity codes and MET intensities. Med Sci Sports Exerc 32(9 Suppl):S498–S504

11.

Hu FB, Stampfer MJ, Rimm E, Ascherio A, Rosner BA, Spiegelman D et al (1999) Dietary fat and coronary heart disease: a comparison of approaches for adjusting for total energy intake and modeling repeated dietary measurements. Am J Epidemiol 149:531–540

12.

Aune D, Chan DS, Vieira AR, Rosenblatt DA, Vieira R, Greenwood DC et al (2012) Fruits, vegetables and breast cancer risk: a systematic review and meta-analysis of prospective studies. Breast Cancer Res Treat 134:479–493

13.

Bao PP, Shu XO, Zheng Y, Cai H, Ruan ZX, Gu K et al (2012) Fruit, vegetable, and animal food intake and breast cancer risk by hormone receptor status. Nutr Cancer 64:806–819

14.

Faria A, Pestana D, Teixeira D, de Freitas V, Mateus N, Calhau C (2010) Blueberry anthocyanins and pyruvic acid adducts: anticancer properties in breast cancer cell lines. Phytother Res 24:1862–1869

15.

Adams LS, Phung S, Yee N, Seeram NP, Li L, Chen S (2010) Blueberry phytochemicals inhibit growth and metastatic potential of MDA-MB-231 breast cancer cells through modulation of the phosphatidylinositol 3-kinase pathway. Cancer Res 70:3594–3605

16.

Wedge DE, Meepagala KM, Magee JB, Smith SH, Huang G, Larcom LL (2001) Anticarcinogenic activity of strawberry, blueberry, and raspberry extracts to breast and cervical cancer cells. J Med Foods 4:49–51

17.

Somassagara RR, Hegde M, Chiruvella KK, Musini A, Choudhary B, Raghavan SC (2012) Extracts of strawberry fruits induce intrinsic pathway of apoptosis in breast cancer cells and inhibits tumor progression in mice. PLoS ONE 7:e47021

18.

Noratto G, Porter W, Byrne D, Cisneros-Zevallos L (2009) Identifying peach and plum polyphenols with chemopreventive potential against estrogen-independent breast cancer cells. J Agric Food Chem 57:5219–5226

19.

Tamini RM, Hankinson SE, Campos H, Spiegelman D, Zhang S, Colditz GA et al (2005) Plasma carotenoids, retinol, and tocopherols and risk of breast cancer. Am J Epidemiol 161:153–160

20.

Sato R, Helzlsouer KJ, Alberg AJ, Hoffman SC, Norkus EP, Comstock GW (2002) Prospective study of carotenoids, tocopherols, and retinoid concentrations and the risk of breast cancer. Cancer Epidemiol Biomark Prev 11:451–457
Acknowledgments
We would like to thank the participants and staff of the Nurses' Health Study, for their valuable contributions as well as the following state cancer registries for their help: AL, AZ, AR, CA, CO, CT, DE, FL, GA, ID, IL, IN, IA, KY, LA, ME, MD, MA, MI, NE, NH, NJ, NY, NC, ND, OH, OK, OR, PA, RI, SC, TN, TX, VA, WA, WY. NIH Grants CA87969, HL60712, CA95589, and 1U54CA155626-01.
Conflict of interest
The authors declare that they have no conflict of interest.
About this article
Cite this article
Fung, T.T., Chiuve, S.E., Willett, W.C. et al. Intake of specific fruits and vegetables in relation to risk of estrogen receptor-negative breast cancer among postmenopausal women. Breast Cancer Res Treat 138, 925–930 (2013). https://doi.org/10.1007/s10549-013-2484-3
Received:

Accepted:

Published:

Issue Date:
Keywords
Breast cancer

Diet

Estrogen receptor

Incidence

Risk