Abstract
Women with atypical ductal hyperplasia (ADH), atypical lobular hyperplasia (ALH), lobular carcinoma in situ (LCIS), and severe ADH are at increased risk of breast cancer, but a systematic quantification of this risk and the efficacy of chemoprevention in the clinical setting is still lacking. The objective of this study is to evaluate a woman's risk of breast cancer based on atypia type and to determine the effect of chemoprevention in decreasing this risk. Review of 76,333 breast pathology reports from three institutions within Partners Healthcare System, Boston, from 1987 to 2010 using natural language processing was carried out. This approach identified 2,938 women diagnosed with atypical breast lesions. The main outcome of this study is breast cancer occurrence. Of the 2,938 patients with atypical breast lesions, 1,658 were documented to have received no chemoprevention, and 184/1,658 (11.1 %) developed breast cancer at a mean follow-up of 68 months. Estimated 10-year cancer risks were 17.3 % with ADH, 20.7 % with ALH, 23.7 % with LCIS, and 26.0 % with severe ADH. In a subset of patients treated from 1999 on (the chemoprevention era), those who received no chemoprevention had an estimated 10-year breast cancer risk of 21.3 %, whereas those treated with chemoprevention had a 10-year risk of 7.5 % (p < 0.001). Chemoprevention use significantly reduced breast cancer risk for all atypia types (p < 0.05). The risk of breast cancer with atypical breast lesions is substantial. Physicians should counsel patients with ADH, ALH, LCIS, and severe ADH about the benefit of chemoprevention in decreasing their breast cancer risk.
Access options
Buy single article
Instant access to the full article PDF.
USD 39.95
Price excludes VAT (USA)
Tax calculation will be finalised during checkout.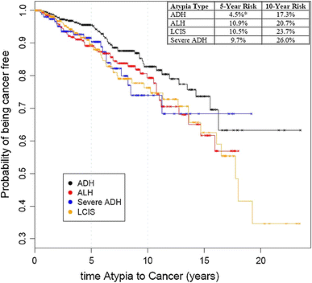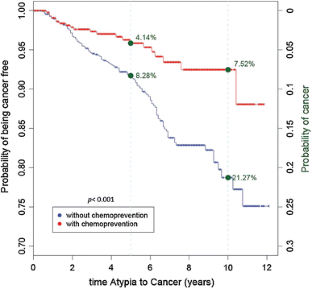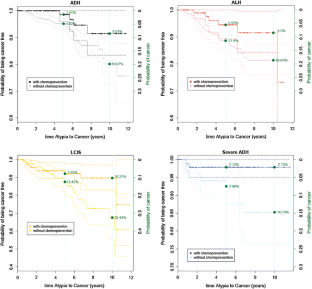 References
Dupont WD, Page DL (1985) Risk factors for breast cancer in women with proliferative breast disease. N Engl J Med 312(3):146–151

Hartmann LC, Sellers TA, Frost MH et al (2005) Benign breast disease and the risk of breast cancer. N Engl J Med 353(3):229–237

Degnim AC, Visscher DW, Berman HK et al (2007) Stratification of breast cancer risk in women with atypia: a Mayo Cohort Study. J Clin Oncol 25(19):2671–2677

Page DL, Dupont WD, Rogers LW, Rados MS (1985) Atypical hyperplastic lesions of the female breast: a long-term follow-up study. Cancer 55(11):2698–2708

Collins LC, Baer HJ, Tamimi RM, Connolly JL, Colditz GA, Schnitt SJ (2007) Magnitude and laterality of breast cancer risk according to histologic type of atypical hyperplasia. Results from the Nurses' Health Study. Cancer 109(2):180–187

Marshall LM, Hunter DJ, Connolly JL, Schnitt SJ, Byrne C, London SJ, Colditz GA (1997) Risk of breast cancer associated with atypical hyperplasia of lobular and ductal types. Cancer Epidemiol Biomarkers Prev 6:297–301

Zhou WB, Xue DQ, Liu XA, Ding Q, Wang S (2011) The influence of family history and histological stratification on breast cancer risk in women with benign breast disease: a meta-analysis. J Cancer Res Clin Oncol 137(7):1053–1060

Rosen PP, Lieberman PH, Braun DW, Kosloff C, Adair F (1978) Lobular carcinoma in situ of the breast. Detailed analysis of 99 patients with average follow-up of 24 years. Am J Surg Pathol 2(3):225–251

Haagensen CD, Lane N, Lattes R, Bodian C (1978) Lobular neoplasia (so-called lobular carcinoma in situ) of the breast. Cancer 42:737–769

Page DL, Kidd TE Jr, Dupont WD, Simpson JF, Rogers LW (1991) Lobular neoplasia of the breast: higher risk for subsequent invasive cancer predicted by more extensive disease. Hum Pathol 22(12):1232–1239

Zurrida S, Bartoli C, Galimberti V, Raselli R, Barletta L (1996) Interpretation of the risk associated with the unexpected finding of lobular carcinoma in situ. Ann Surg Oncol 3(1):57–61

Bodian CA, Perzin KH, Lattes R (1996) Lobular neoplasia: long term risk of breast cancer and relation to other factors. Cancer 78(5):1024–1034

Habel LA, Moe RE, Daling JR, Holte S, Rossing MA, Weiss NS (1997) Risk of contralateral breast cancer among women with carcinoma in situ of the breast. Ann Surg 225(1):69–75

Wärnberg F, Yuen J, Holmberg L (2000) Risk of subsequent invasive breast cancer after breast carcinoma in situ. Lancet 355:724–725

Franceschi S, Levi F, LaVecchia C, Randimbison L, Te VC (1998) Second cancers following in situ carcinoma of the breast. Int J Cancer 77:392–395

Fisher B, Costantino JP, Wickerham DL et al (1998) Tamoxifen for the prevention of breast cancer: Report of the National Surgical Adjuvant Breast and Bowel Project P-1 Study. J Natl Cancer Inst 90:1371–1388

Cummings SR, Eckert S, Krueger KA et al (1999) The effect of raloxifene on risk of breast cancer in postmenopausal women. Results from the MORE randomized trial. JAMA 281(23):2189–2197

Vogel VG, Costantino JP, Wickerham DL et al (2010) Update of the national surgical adjuvant breast and bowel project study of tamoxifen and raloxifene (STAR) P-2 trial: preventing breast cancer. Cancer Prev Res 3(6):696–706

Goss PE, Ingle JN, Alés-Martínez JE et al (2011) Exemestane for breast-cancer prevention in postmenopausal women. N Engl J Med 364(25):2381–2391

Ropka ME, Keim J, Philbrick JT (2010) Patient decisions about breast cancer chemoprevention: a systematic review and meta-analysis. J Clin Oncol 28(18):3090–3095

Buckley JM, Coopey SB, Mazzola E et al (2012) The feasibility of using natural language processing to extract clinical information from 76,000 breast pathology reports. J Pathol Inform 3:23–29

Page DL, Anderson TJ (1987) Diagnostic histopathology of the breast. Churchill Livingstone, Edinburgh, pp 137–184

Rosenbaum PR, Rubin DB (1983) The central role of the propensity score in observational studies for causal effects. Biometrika 70(1):41–55

Rubin DB (1997) Estimating causal effects from large data sets using propensity scores. Ann Intern Med 127:757–763

Ihaka R, Gentleman R (1996) R: a language for data analysis and graphics. J Comput Graph Stat 5(3):299–314

Boughey JC, Hartmann LC, Anderson SS et al (2010) Evaluation of the Tyrer–Cuzick (International Breast Cancer Intervention Study) model for breast cancer risk prediction in women with atypical hyperplasia. J Clin Oncol 28(22):3591–3596

McLaren BK, Schuyler PA, Sanders ME et al (2006) Excellent survival, cancer type, and Nottingham grade after atypical lobular hyperplasia on initial breast biopsy. Cancer 107(6):1227–1233

Chuba PJ, Hamre MR, Yap J et al (2005) Bilateral risk for subsequent breast cancer after lobular carcinoma-in situ: analysis of surveillance, epidemiology, and end results data. J Clin Oncol 23(24):5534–5541

Cuzick J, DeCensi A, Arun B et al (2011) Preventive therapy for breast cancer: a consensus statement. Lancet Oncol 12:496–503

Fagerlin A, Zikmund-Fisher BJ, Smith DM et al (2010) Women's decisions regarding tamoxifen for breast cancer prevention: responses to a tailored decision aid. Breast Cancer Res Treat 119:613–620

Pankratz VS, Hartmann LC, Degnim AC et al (2008) Assessment of the accuracy of the gail model in women with atypical hyperplasia. J Clin Oncol 26(33):5374–5379
Acknowledgments
Kevin S. Hughes and Suzanne B. Coopey had full access to all the data in the study and take responsibility for the integrity of the data and the accuracy of the data analysis.
Conflict of interest
None.
About this article
Cite this article
Coopey, S.B., Mazzola, E., Buckley, J.M. et al. The role of chemoprevention in modifying the risk of breast cancer in women with atypical breast lesions. Breast Cancer Res Treat 136, 627–633 (2012). https://doi.org/10.1007/s10549-012-2318-8
Received:

Accepted:

Published:

Issue Date:

DOI: https://doi.org/10.1007/s10549-012-2318-8
Keywords