Abstract
Breast cancer is the most common cancer and the second leading cause of cancer death and morbidity among women in the western world. Pomegranate juice (PJ) and three of its specific components have been shown to inhibit processes involved in prostate cancer metastasis. If this also proves to be true for breast cancer, these natural treatments will be promising agents against breast cancer that can serve as potentially effective and nontoxic alternatives or adjuncts to the use of conventional selective estrogen receptor modulators for breast cancer prevention and treatment. To test this possibility, we have used two breast cancer cell lines, MDA-MB-231 cells (ER−) and MCF7 (ER+), and the non-neoplastic cell line MCF10A. We show that, in addition to inhibiting growth of the breast cancer cells, PJ or a combination of its components luteolin (L) + ellagic acid (E) + punicic acid (P) increase cancer cell adhesion and decrease cancer cell migration but do not affect normal cells. These treatments also inhibit chemotaxis of the cancer cells to SDF1α, a chemokine that attracts breast cancer cells to the bone. We hypothesized that PJ and L + E + P stimulate expression of genes that increase adhesion and inhibit genes that stimulate cell migration and inhibit chemotaxis to SDF1α. Using qPCR, we confirmed these proposed effects on gene expression and in addition we found that a gene important in epithelial-to-meshenchymal transitions is decreased. We also found that pro-inflammatory cytokines/chemokines are significantly reduced by these treatments, thereby having the potential to decrease inflammation and its impact on cancer progression. Discovery that PJ and L + E + P are inhibitory of metastatic processes in breast cancer cells in addition to prostate cancer cells indicate that they are potentially a very effective treatment to prevent cancer progression in general.
Access options
Buy single article
Instant access to the full article PDF.
US$ 39.95
Tax calculation will be finalised during checkout.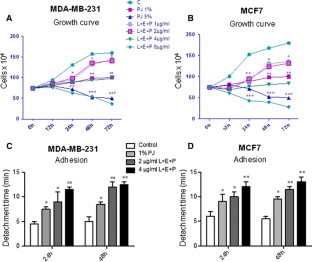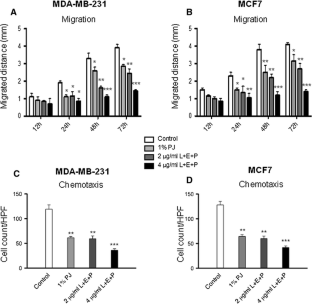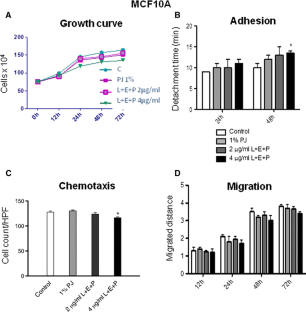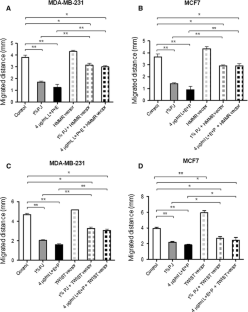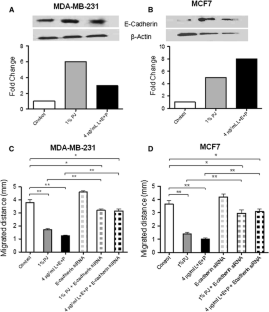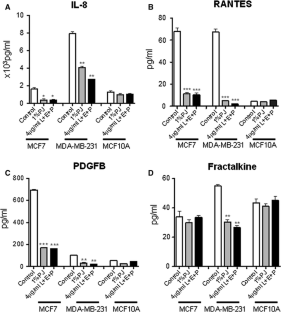 References
1.

World Health Organization Facts and Figures. http://www.who.int. Accessed July 2012

2.

Maughan KL, Lutterbie MA, Ham PS (2010) Treatment of breast cancer. Am Fam Physician 81:1339–1346

3.

Siegel R, Naishadham D, Jemal A (2012) Cancer statistics, 2012. Cancer J Clin 62:10–29

4.

Cazzaniga M, Bonanni B (2012) Breast cancer chemoprevention: old and new approaches. J Biomed Biotechnol 2012:985620

5.

Longtin R (2003) The pomegranate: nature's power fruit? J Natl Cancer Inst 95:346–348

6.

Gil MI, Tomas-Barberan FA, Hess-Pierce B, Holcroft DM, Kader AA (2000) Antioxidant activity of pomegranate juice and its relationship with phenolic composition and processing. J Agric Food Chem 48:4581–4589

7.

Kim ND, Mehta R, Yu W, Neeman I, Livney T et al (2002) Chemopreventive and adjuvant therapeutic potential of pomegranate (Punica granatum) for human breast cancer. Breast Cancer Res Treat 71:203–217

8.

Kim ND, Mehta R, Yu W, Neeman I, Livney T, Amichay A, Poirier D, Nicholls P, Kirby A, Jiang W, Mansel R, Ramachandran C, Rabi T, Kaplan B, Lansky E (2002) Chemopreventive and adjuvant therapeutic potential of pomegranate (Punica granatum) for human breast cancer. Breast Cancer Res Treat 71(3):203–217

9.

Dikmen M, Ozturk N, Ozturk Y (2011) The antioxidant potency of Punica granatum L. fruit peel reduces cell proliferation and induces apoptosis on breast cancer. J Med Food 12:1638–1646

10.

Ozbay T, Nahta R (2011) Delphinidin inhibits HER2 and Erk1/2 signaling and suppresses growth of HER2-overexpressing and triple negative breast cancer cell lines. Breast Cancer 5:143–154

11.

Dai Z, Nair V, Khan M, Ciolino HP (2010) Pomegranate extract inhibits the proliferation and viability of MMTV-Wnt-1 mouse mammary cancer stem cells in vitro. Oncol Rep 24(4):1087–1091

12.

Wang LM, Xie KP, Huo HN, Shang F, Zou W, Xie MJ (2012) Luteolin inhibits proliferation induced by IGF-1 pathway dependent ERα in human breast cancer MCF-7 cells. Asian Pac J Cancer Prev 13(4):1431–1437

13.

Kim MJ, Woo JS, Kwon CH, Kim JH, Kim YK, Kim KH (2012) Luteolin induces apoptotic cell death through AIF nuclear translocation mediated by activation of ERK and p38 in human breast cancer cell lines. Cell Biol Int 36(4):339–344

14.

Adams LS, Zhang Y, Seeram NP, Heber D, Chen S (2010) Pomegranate ellagitannin-derived compounds exhibit antiproliferative and antiaromatase activity in breast cancer cells in vitro. Cancer Prev Res 3(1):108–113

15.

Grossmann ME, Mizuno NK, Schuster T, Cleary MP (2010) Punicic acid is an omega-5 fatty acid capable of inhibiting breast cancer proliferation. Int J Oncol 36:421–426

16.

El Kar C, Ferchichi A, Attia F, Bouajila J (2011) Pomegranate (Punica granatum) juices: chemical composition, micronutrient cations, and antioxidant capacity. J Food Sci 76:C795–C800

17.

Wang L, Alcon A, Yuan H, Ho J, Li QJ, Martins-Green M (2011) Cellular and molecular mechanisms of pomegranate juice-induced anti-metastatic effects on prostate cancer cells. Integr Biol 3:742–754

18.

Duda DG, Kozin SV, Kirkpatrick ND, Xu L, Fukumura D, Jain RK (2011) CXCL12 (SDF1alpha)-CXCR4/CXCR7 pathway inhibition: an emerging sensitizer for anticancer therapies? Clin Cancer Res 17(8):2074–2080

19.

Lansky EP, Jiang W, Mo H, Bravo L, Froom P, Yu W, Harris NM, Neeman I, Campbell MJ (2005) Pomegranate (Punica granatum) pure chemicals show possible synergistic inhibition of human PC-3 prostate cancer cell invasion across Matrigel (TM). Invest New Drugs 23:11–20

20.

Wang L, Ho J, Glackin C, Martins-Green M (2012) Specific pomegranate juice components as potential inhibitors of prostate cancer metastasis. Transl Oncol 5:344–355

21.

Roland CL, Harken AH, Sarr MG, Barnett CC Jr (2007) ICAM-1 expression determines malignant potential of cancer. Surgery 141(6):705–707

22.

Nakagawa S, Miyoshi N, Ishii H, Mimori K, Tanaka F, Sekimoto M, Doki Y, Mori M (2011) Expression of CLDN1 in colorectal cancer: a novel marker for prognosis. Int J Oncol 39:791–796

23.

Aderem A (1992) The MARCKS brothers: a family of protein kinase C substrates. Cell 71:713–716

24.

Arbuzova A, Schmitz AAP, Vergeres G (2002) Cross-talk unfolded: MARCKS proteins. Biochem J 362:1–12

25.

Sohr S, Engeland K (2008) RHAMM is differentially expressed in the cell cycle and down-regulated by the tumor suppressor p53. Cell Cycle 7:3448–3460

26.

Tolg C, Hamilton SR, Morningstar L, Zhang J, Zhang S, Esguerra KV, Telmer PG, Luyt LG, Harrison R, McCarthy JB, Turley EA (2010) RHAMM promotes interphase microtubule instability and mitotic spindle integrity through MEK1/ERK1/2 activity. J Biol Chem 285:26461–26474

27.

Hatano H, Shigeishi H, Kudo Y, Higashikawa K, Tobiume K, Takata T, Kamata N (2011) RHAMM/ERK interaction induces proliferative activities of cementifying fibroma cells through a mechanism based on the CD44-EGFR. Lab Invest 91:379–391

28.

Helleman J, Jansen MP, Ruigrok-Ritstier K, van Staveren IL, Look MP, Meijer-van Gelder ME, Sieuwerts AM, Klijn JG, Sleijfer S, Foekens JA, Berns EM (2008) Association of an extracellular matrix gene cluster with breast cancer prognosis and endocrine therapy response. Clin Cancer Res 14(17):5555–5564

29.

Song L, Rape M (2010) Regulated degradation of spindle assembly factors by the anaphase-promoting complex. Mol Cell 38:369–382

30.

Ohtsuka T, Nakanishi H, Ikeda W, Satoh A, Momose Y, Nishioka H, Takai Y (1998) Nexilin: a novel actin filament-binding protein localized at cellmatrix adherens junction. J Cell Biol 143:1227–1238

31.

Yang C, Kazanietz MZ (2007) Chimaerins: GAPs that bridge diacylglycerol signaling and the small G-protein Rac. Biochem J 403:1–12

32.

Caldon CE, Musgrove EA (2010) Distinct and redundant functions of cyclin E1 and cyclin E2 in development and cancer. Cell Div 17(5):2

33.

Gorin MA, Pan Q (2009) Protein kinase C epsilon: an oncogene and emerging tumor biomarker. Mol Cancer 8:9

34.

Teicher BA, Fricker SP (2010) CXCL12 (SDF-1)/CXCR4 pathway in cancer. Clin Cancer Res 16(11):2927–2931

35.

Kang Y, Massague J (2004) Epithelial-mesenchymal transitions: twist in development and metastasis. Cell 118:277–279

36.

Yilmaz M, Christofori G (2010) Mechanisms of motility in metastasizing cells. Mol Cancer Res 8:629–642

37.

Birchmeier W, Behrens J (1994) Cadherin expression in carcinomas: role in the formation of cell junctions and the prevention of invasiveness. Biochim Biophys Acta 1198:11–26

38.

Oyama T, Maluf H, Koerner F (1999) Atypical cystic lobules: an early stage in the formation of low-grade ductal carcinoma in situ. Virchows Arch 435:413–421

39.

Oyama T, Iijima K, Takei H et al (2000) Atypical cystic lobule of the breast: an early stage of low-grade ductal carcinoma in situ. Breast Cancer 7:326–331

40.

Eckhardt BL, Francis PA, Parker BS, Anderson RL (2012) Strategies for the discovery and development of therapies for metastatic breast cancer. Nat Rev Drug Discov 11(6):479–497

41.

Dranoff Glenn (2004) Cytokines in cancer pathogenesis and cancer therapy. Nat Rev Cancer 4:11–22

42.

Bonecchi R, Locati M, Mantovani A (2011) Chemokines and cancer: a fatal attraction. Cancer Cell 19(4):434–435

43.

Inoue K, Slaton JW, Eve BY, Kim SJ, Perrotte P, Balbay MD, Yano S, Bar-Eli M, Radinsky R, Dinney CPN (2000) Interleukin 8 expression regulates tumorigenecity and metastases in androgen-independent prostate cancer. Clin Cancer Res 6:2104–2119

44.

Xie K (2001) Interleukin-8 and human cancer biology. Cytokine Growth Factor Rev 2:375–391

45.

Araki S, Omori Y, Lyn D, Singh RK, Meinbach DM, Sandman Y, Lokeshwar VB, Lokeshwar BL (2007) Interleukin-8 is a molecular determinant of androgen independence and progression in prostate cancer. Cancer Res 67(14):6854–6862

46.

Ahmed OI, Adel AM, Diab DR, Gobran NS (2006) Prognostic value of serum level of inter-leukin-6 and interleukin-8 in metastatic breast cancer patients. Egypt J Immunol 13(2):61–68

47.

Soria G, Ben-Baruch A (2008) The inflammatory chemokines CCL2 and CCL5 in breast cancer. Cancer Lett 267:271–285

48.

Fredriksson L, Li H, Eriksson U (2004) The PDGF family: four gene products form five dimeric isoforms. Cytokine Growth Factor Rev 15:197–204

49.

Song N, Huang Y, Shi H, Yuan S, Ding Y, Song X, Fu Y, Luo Y (2009) Overexpression of platelet-derived growth factor-BB increases tumor pericyte content via stromal-derived factor-1alpha/CXCR4 axis. Cancer Res 69:6057–6064

50.

Marchesi F, Locatelli M, Solinas G, Erreni M, Allavena P, Mantovani A (2010) Role of CX3CR1/CX3CL1 axis in primary and secondary involvement of the nervous system by cancer. J Neuroimmunol 224:39–44

51.

Jamieson-Gladney WL, Zhang Y, Fong AM, Meucci O, Fatatis A (2011) The chemokine receptor CX3CR1 is directly involved in the arrest of breast cancer cells to the skeleton. Breast Cancer Res 13:R91
Acknowledgments
We thank Dr. E. Turley for the HMMR expression vector and Dr. C. Glackin for the Twist vector. This study was funded by the Portuguese Foundation for Science and Technology.
Conflict of interest
None of the authors have conflict of interest related to this study.
About this article
Cite this article
Rocha, A., Wang, L., Penichet, M. et al. Pomegranate juice and specific components inhibit cell and molecular processes critical for metastasis of breast cancer. Breast Cancer Res Treat 136, 647–658 (2012). https://doi.org/10.1007/s10549-012-2264-5
Received:

Accepted:

Published:

Issue Date:
Keywords
Chemotaxis

Adhesion

Migration

Gene expression

Cytokines