Abstract
Larger social networks have been associated with lower breast cancer mortality. The authors evaluated how levels of social support and burden influenced this association. We included 2,264 women from the Life After Cancer Epidemiology study who were diagnosed with early-stage, invasive breast cancer between 1997 and 2000, and provided data on social networks (spouse or intimate partner, religious/social ties, volunteering, time socializing with friends, and number of first-degree female relatives), social support, and caregiving. 401 died during a median follow-up of 10.8 years follow-up with 215 from breast cancer. We used delayed entry Cox proportional hazards regression to evaluate associations. In multivariate-adjusted analyses, social isolation was unrelated to recurrence or breast cancer-specific mortality. However, socially isolated women had higher all-cause mortality (HR = 1.34, 95 % CI: 1.03–1.73) and mortality from other causes (HR = 1.79, 95 % CI: 1.19–2.68). Levels of social support and burden modified associations. Among those with low, but not high, levels of social support from friends and family, lack of religious/social participation (HR = 1.58, 95 % CI: 1.07–2.36, p = 0.02, p interaction = 0.01) and lack of volunteering (HR = 1.78, 95 % CI: 1.15–2.77, p = 0.01, p interaction = 0.01) predicted higher all-cause mortality. In cross-classification analyses, only women with both small networks and low levels of support (HR = 1.61, 95 % CI: 1.10–2.38) had a significantly higher risk of mortality than women with large networks and high levels of support; women with small networks and high levels of support had no higher risk of mortality (HR = 1.13, 95 % CI: 0.74–1.72). Social networks were also more important for caregivers versus noncaregivers. Larger social networks predicted better prognosis after breast cancer, but associations depended on the quality and burden of family relationships.
Access options
Buy single article
Instant access to the full article PDF.
USD 39.95
Price includes VAT (USA)
Tax calculation will be finalised during checkout.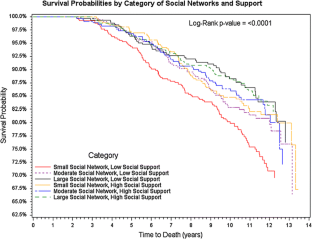 References
1.

Berkman L, Glass TA (2000) Social integration, social networks, social support, and health. In: Berkman L, Kawachi I (eds) Social epidemiology. Oxford University Press, New York

2.

Beasley JM, Newcomb PA, Trentham-Dietz A, Hampton JM, Ceballos RM, Titus-Ernstoff L, Egan KM, Holmes MD (2010) Social networks and survival after breast cancer diagnosis. J Cancer Surviv 4(4):372–380

3.

Chou AF, Stewart SL, Wild RC, Bloom JR (2010) Social support and survival in young women with breast carcinoma. Psychooncology 21:125–133

4.

Kroenke CH, Kubzansky LD, Schernhammer ES, Holmes MD, Kawachi I (2006) Social networks, social support, and survival after breast cancer diagnosis. J Clin Oncol 24(7):1105–1111

5.

Reynolds P, Boyd PT, Blacklow RS, Jackson JS, Greenberg RS, Austin DF, Chen VW, Edwards BK (1994) The relationship between social ties and survival among black and white breast cancer patients. National Cancer Institute Black/White Cancer Survival Study Group. Cancer Epidemiol Biomarkers Prev 3(3):253–259

6.

Waxler-Morrison N, Hislop TG, Mears B, Kan L (1991) Effects of social relationships on survival for women with breast cancer: a prospective study. Soc Sci Med 33(2):177–183

7.

Kroenke CH, Michael Y, Tindle H, Gage E, Chlebowski R, Garcia L, Messina C, Manson JE, Caan BJ (2012) Social networks, social support and burden in relationships, and mortality after breast cancer diagnosis. Breast Cancer Res Treat 133(1):375–385

8.

Spiegel D, Butler LD, Giese-Davis J, Koopman C, Miller E, DiMiceli S, Classen CC, Fobair P, Carlson RW, Kraemer HC (2007) Effects of supportive-expressive group therapy on survival of patients with metastatic breast cancer: a randomized prospective trial. Cancer 110(5):1130–1138

9.

Goodwin PJ, Leszcz M, Ennis M, Koopmans J, Vincent L, Guther H, Drysdale E, Hundleby M, Chochinov HM, Navarro M et al (2001) The effect of group psychosocial support on survival in metastatic breast cancer. N Engl J Med 345(24):1719–1726

10.

Gellert GA, Maxwell RM, Siegel BS (1993) Survival of breast cancer patients receiving adjunctive psychosocial support therapy: a 10-year follow-up study. J Clin Oncol 11(1):66–69

11.

Cousson-Gelie F, Bruchon-Schweitzer M, Atzeni T, Houede N (2011) Evaluation of a psychosocial intervention on social support, perceived control, coping strategies, emotional distress, and quality of life of breast cancer patients. Psychol Rep 108(3):923–942

12.

Helgeson VS, Cohen S, Schulz R, Yasko J (2000) Group support interventions for women with breast cancer: who benefits from what? Health Psychol 19(2):107–114

13.

Caan B, Sternfeld B, Gunderson E, Coates A, Quesenberry C, Slattery ML (2005) Life After Cancer Epidemiology (LACE) Study: a cohort of early stage breast cancer survivors (United States). Cancer Causes Control 16(5):545–556

14.

Staten LK, Taren DL, Howell WH, Tobar M, Poehlman ET, Hill A, Reid PM, Ritenbaugh C (2001) Validation of the Arizona Activity Frequency Questionnaire using doubly labeled water. Med Sci Sports Exerc 33(11):1959–1967

15.

Berkman LF, Syme SL (1979) Social networks, host resistance, and mortality: a nine-year follow-up study of Alameda County residents. Am J Epidemiol 109(2):186–204

16.

Cohen S, Doyle WJ, Skoner DP, Rabin BS, Gwaltney JM Jr (1997) Social ties and susceptibility to the common cold. JAMA 277(24):1940–1944

17.

Brady MJ, Cella DF, Mo F, Bonomi AE, Tulsky DS, Lloyd SR, Deasy S, Cobleigh M, Shiomoto G (1997) Reliability and validity of the functional assessment of cancer therapy-breast quality-of-life instrument. J Clin Oncol 15(3):974–986

18.

Demissie S, LaValley MP, Horton NJ, Glynn RJ, Cupples LA (2003) Bias due to missing exposure data using complete-case analysis in the proportional hazards regression model. Stat Med 22(4):545–557

19.

Cox D (1972) Regression models and life-tables. J Royal Stat Soc B 34:187–220

20.

Cupples LA, D'Agostino RB, Anderson K, Kannel WB (1988) Comparison of baseline and repeated measure covariate techniques in the Framingham Heart Study. Stat Med 7(1–2):205–222

21.

Kubzansky LD, Mendes WB, Appleton AA, Block J, Adler GK (2012) A heartfelt response: oxytocin effects on response to social stress in men and women. Biol Psychol 90(1):1–9

22.

Heinrichs M, Baumgartner T, Kirschbaum C, Ehlert U (2003) Social support and oxytocin interact to suppress cortisol and subjective responses to psychosocial stress. Biol Psychiatry 54(12):1389–1398

23.

Glei DA, Goldman N, Ryff CD, Lin YH, Weinstein M (2012) Social relationships and inflammatory markers: an analysis of Taiwan and the U.S. Soc Sci Med 74(12):1891–1899

24.

Ford ES, Loucks EB, Berkman LF (2006) Social integration and concentrations of C-reactive protein among US adults. Ann Epidemiol 16(2):78–84

25.

Loucks EB, Berkman LF, Gruenewald TL, Seeman TE (2006) Relation of social integration to inflammatory marker concentrations in men and women 70 to 79 years. Am J Cardiol 97(7):1010–1016

26.

Loucks EB, Sullivan LM, D'Agostino RB Sr, Larson MG, Berkman LF, Benjamin EJ (2006) Social networks and inflammatory markers in the Framingham Heart Study. J Biosoc Sci 38(6):835–842

27.

Peuler JD, Scotti MA, Phelps LE, McNeal N, Grippo AJ (2012) Chronic social isolation in the prairie vole induces endothelial dysfunction: implications for depression and cardiovascular disease. Physiol Behav 106(4):476–484

28.

Cohen S, Wills TA (1985) Stress, social support, and the buffering hypothesis. Psychol Bull 98(2):310–357

29.

Shaw BA, Krause N, Liang J, Bennett J (2007) Tracking changes in social relations throughout late life. J Gerontol B Psychol Sci Soc Sci 62(2):S90–S99

30.

Fiori KL, Antonucci TC, Cortina KS (2006) Social network typologies and mental health among older adults. J Gerontol B Psychol Sci Soc Sci 61(1):P25–P32

31.

Lyyra TM, Lyyra AL, Lumme-Sandt K, Tiikkainen P, Heikkinen RL (2010) Social relations in older adults: Secular trends and longitudinal changes over a 16-year follow-up. Arch Gerontol Geriatr 51(3):e133–e138

32.

Holt-Lunstad J, Birmingham W, Jones BQ (2008) Is there something unique about marriage? The relative impact of marital status, relationship quality, and network social support on ambulatory blood pressure and mental health. Ann Behav Med 35(2):239–244

33.

Yates BC, Bensley LS, Lalonde B, Lewis FM, Woods NF (1995) The impact of marital status and quality on family functioning in maternal chronic illness. Health Care Women Int 16(5):437–449

34.

Fothergill KE, Ensminger ME, Robertson J, Green KM, Thorpe RJ, Juon HS (2011) Effects of social integration on health: a prospective study of community engagement among African American women. Soc Sci Med 72(2):291–298

35.

Oman D, Kurata JH, Strawbridge WJ, Cohen RD (2002) Religious attendance and cause of death over 31 years. Int J Psychiatry Med 32(1):69–89

36.

Strawbridge WJ, Shema SJ, Cohen RD, Kaplan GA (2001) Religious attendance increases survival by improving and maintaining good health behaviors, mental health, and social relationships. Ann Behav Med 23(1):68–74

37.

Strawbridge WJ, Cohen RD, Shema SJ, Kaplan GA (1997) Frequent attendance at religious services and mortality over 28 years. Am J Public Health 87(6):957–961

38.

Hirschman KB, Bourjolly JN (2005) How do tangible supports impact the breast cancer experience? Soc Work Health Care 41(1):17–32

39.

Woloshin S, Schwartz LM, Tosteson AN, Chang CH, Wright B, Plohman J, Fisher ES (1997) Perceived adequacy of tangible social support and health outcomes in patients with coronary artery disease. J Gen Intern Med 12(10):613–618

40.

Arno PS (2002) The economic value of informal caregiving, U.S., 2000. American Association for Geriatric Psychiatry, Orlando, FL

41.

Arno PS, Levine C, Memmott MM (1999) The economic value of informal caregiving. Health Aff (Millwood) 18(2):182–188

42.

Cannuscio CC, Jones C, Kawachi I, Colditz GA, Berkman L, Rimm E (2002) Reverberations of family illness: a longitudinal assessment of informal caregiving and mental health status in the Nurses' Health Study. Am J Public Health 92(8):1305–1311

43.

Lee S, Kawachi I, Grodstein F (2004) Does caregiving stress affect cognitive function in older women? J Nerv Ment Dis 192(1):51–57

44.

Lee S, Colditz G, Berkman L, Kawachi I (2003) Caregiving to children and grandchildren and risk of coronary heart disease in women. Am J Public Health 93(11):1939–1944

45.

Lee S, Colditz GA, Berkman LF, Kawachi I (2003) Caregiving and risk of coronary heart disease in U.S. women: a prospective study. Am J Prev Med 24(2):113–119

46.

Schulz R, Beach SR (1999) Caregiving as a risk factor for mortality: the Caregiver Health Effects Study. JAMA 282(23):2215–2219

47.

Lovell B, Moss M, Wetherell MA (2011) With a little help from my friends: psychological, endocrine and health corollaries of social support in parental caregivers of children with autism or ADHD. Res Dev Disabil 33(2):682–687

48.

Wilks SE, Croom B (2008) Perceived stress and resilience in Alzheimer's disease caregivers: testing moderation and mediation models of social support. Aging Ment Health 12(3):357–365

49.

Turner HA, Catania JA (1997) Informal caregiving to persons with AIDS in the United States: caregiver burden among central cities residents eighteen to forty-nine years old. Am J Community Psychol 25(1):35–59

50.

Lechner VM (1993) Support systems and stress reduction among workers caring for dependent parents. Soc Work 38(4):461–469

51.

Huisman M (2009) Imputation of missing network data: some simple procedures. J Soc Struct 10(1):1–29

52.

Schafer JL, Graham JW (2002) Missing data: our view of the state of the art. Psychol Methods 7:147–177

53.

Little RAJ, Rubin DB (1987) Statistical analysis with missing data. Wiley, New York
Conflict of interest
The authors declare that they have no financial conflict of interest.
About this article
Cite this article
Kroenke, C.H., Quesenberry, C., Kwan, M.L. et al. Social networks, social support, and burden in relationships, and mortality after breast cancer diagnosis in the Life After Breast Cancer Epidemiology (LACE) Study. Breast Cancer Res Treat 137, 261–271 (2013). https://doi.org/10.1007/s10549-012-2253-8
Received:

Accepted:

Published:

Issue Date:
Keywords
Social networks

Social support

Social strain

Caregiving

Social burden

Breast cancer

Survival

Mortality

Women