Abstract
Previous studies have reported that the prevalence of ER-negative tumors in breast cancer patients is much higher in black women than in white women in the US. Herein, we examine whether the proportion (prevalence) in Africa-born black breast cancer patients residing in the US is similar to those in US-born black patients. We obtained information on invasive female breast cancers diagnosed during 1996–2008 in 17 Surveillance Epidemiology and End Results cancer registries according to select place of birth: Western-Africa-born, Eastern-Africa-born, Jamaica-born, and US-born blacks and US-born whites. The majority of Western-Africa-born and Eastern-Africa-born blacks were from Nigeria (64 %) and Ethiopia (74 %), respectively. We examined group variations in ER status using Chi-squared tests and the prevalence of ER-negative tumors in Africa-born blacks compared to US-born blacks, expressed as prevalence ratio (PRR), using multivariable regression models. The prevalence of ER-negative tumors significantly varied from 22.0 % (n = 41/186) in Eastern-Africa-born to 32.9 % (n = 47/143) in Western-Africa-born blacks. After adjustment for differences in age at diagnosis and other covariates, compared to US-born blacks, the prevalence was similar in Western-Africa-born (PRR = 0.87; 95 % CI 0.70–1.08) and Jamaica-born blacks (PRR = 0.88; 95 % CI 0.74–1.03), but significantly lower in Eastern-Africa-born blacks (PRR = 0.58; 95 % CI 0.44–0.75). Notably, the ER-negative prevalence in Eastern-Africa-born black was comparable to the US-born whites with breast cancer. Our findings highlight the heterogeneity of breast cancer among black women in the US, which should be considered in future studies of hormone receptor status in these women.
Access options
Buy single article
Instant access to the full article PDF.
US$ 39.95
Tax calculation will be finalised during checkout.
Subscribe to journal
Immediate online access to all issues from 2019. Subscription will auto renew annually.
US$ 119
Tax calculation will be finalised during checkout.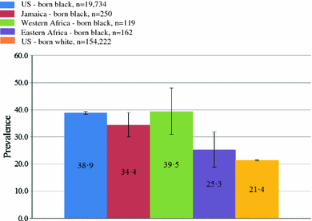 References
1.

Miller BA, Hankey BF, Thomas TL (2002) Impact of sociodemographic factors, hormone receptor status, and tumor grade on ethnic differences in tumor stage and size for breast cancer in US women. Am J Epidemiol 155:534–545

2.

DeSantis C, Jemal A, Ward E (2010) Disparities in breast cancer prognostic factors by race, insurance status, and education. Cancer Causes Control 21:1445–1450

3.

Joslyn SA (2002) Hormone receptors in breast cancer: racial differences in distribution and survival. Breast Cancer Res Treat 73:45–59

4.

Chlebowski RT, Chen Z, Anderson GL, Rohan T, Aragaki A, Lane D, Dolan NC, Paskett ED, McTiernan A, Hubbell FA, Adams-Campbell LL, Prentice R (2005) Ethnicity and breast cancer: factors influencing differences in incidence and outcome. J Natl Cancer Inst 97:439–448

5.

Anderson WF, Jatoi I, Devesa SS (2005) Distinct breast cancer incidence and prognostic patterns in the NCI's SEER program: suggesting a possible link between etiology and outcome. Breast Cancer Res Treat 90:127–137

6.

Singh GK, Hiatt RA (2006) Trends and disparities in socioeconomic and behavioural characteristics, life expectancy, and cause-specific mortality of native-born and foreign-born populations in the United States, 1979–2003. Int J Epidemiol 35:903–919

7.

Carlson RW, Anderson BO, Chopra R, Eniu AE, Jakesz R, Love RR, Masetti R, Schwartsmann G (2003) Treatment of breast cancer in countries with limited resources. Breast J 9(Suppl 2):S67–S74

8.

Bird PA, Hill AG, Houssami N (2008) Poor hormone receptor expression in East African breast cancer: evidence of a biologically different disease? Ann Surg Oncol 15:1983–1988

9.

Huo D, Ikpatt F, Khramtsov A, Dangou JM, Nanda R, Dignam J, Zhang B, Grushko T, Zhang C, Oluwasola O, Malaka D, Malami S, Odetunde A, Adeoye AO, Iyare F, Falusi A, Perou CM, Olopade OI (2009) Population differences in breast cancer: survey in indigenous African women reveals over-representation of triple-negative breast cancer. J Clin Oncol 27:4515–4521

10.

Ikpatt OF, Kuopio T, Ndoma-Egba R, Collan Y (2002) Breast cancer in Nigeria and Finland: epidemiological, clinical and histological comparison. Anticancer Res 22:3005–3012

11.

Stark A, Kleer CG, Martin I, Awuah B, Nsiah-Asare A, Takyi V, Braman M, Quayson SE, Zarbo R, Wicha M, Newman L (2010) African ancestry and higher prevalence of triple-negative breast cancer: findings from an international study. Cancer 116:4926–4932

12.

SEER*Stat Database: Incidence-SEER 17 Regs Research Data, Nov 2010 Sub (1973–2008) <Katrina/Rita Population Adjustment>-Linked To County Attributes—Total US, 1969–2009 (2010). In: Surveillance Epidemiology and End Result (SEER) Program. www.seer.cancer.gov. National Cancer Institute, DCCPS, Surveillance Research Program, Cancer Statistics Branch, Bethesda

13.

Ma H, Wang Y, Sullivan-Halley J, Weiss L, Burkman RT, Simon MS, Malone KE, Strom BL, Ursin G, Marchbanks PA, McDonald JA, Spirtas R, Press MF, Bernstein L (2009) Breast cancer receptor status: do results from a centralized pathology laboratory agree with SEER registry reports? Cancer Epidemiol Biomarkers Prev 18:2214–2220

14.

Allred DC (1993) Should immunohistochemical examination replace biochemical hormone receptor assays in breast cancer? Am J Clin Pathol 99:1–3

15.

Collaborative Staging Manual and Coding Instructions (2007) In: Cancer Collaborative Staging Task Force of the American Joint Committee on Cancer (ed). American Joint Commission on Cancer and US Department of Health and Human Services, Bethesda

16.

SEER Place of Birth Coding Manual National Cancer Institute, Surveillance Epidemiology and End Results, http://seer.cancer.gov/manuals/2011/SPCSM_2011_AppendixB.pdf

17.

Gomez SL, Glaser SL, Kelsey JL, Lee MM (2004) Bias in completeness of birthplace data for Asian groups in a population-based cancer registry (United States). Cancer Causes Control 15:243–253

18.

Feliciano C (2005) Educational selectivity in US immigration: how do immigrants compare to those left behind? Demography 42:131–152

19.

Deddens JA, Petersen MR (2008) Approaches for estimating prevalence ratios. Occup Environ Med 65(481):486–501

20.

Krieger N, Chen JT, Waterman PD (2011) Temporal trends in the black/white breast cancer case ratio for estrogen receptor status: disparities are historically contingent, not innate. Cancer Causes Control 22:511–514

21.

SAS Institute Inc. (2008) SAS/STAT® 9.2 User's Guide. SAS Institute Inc, Cary

22.

Althuis MD, Fergenbaum JH, Garcia-Closas M, Brinton LA, Madigan MP, Sherman ME (2004) Etiology of hormone receptor-defined breast cancer: a systematic review of the literature. Cancer Epidemiol Biomarkers Prev 13:1558–1568

23.

Colditz GA, Rosner BA, Chen WY, Holmes MD, Hankinson SE (2004) Risk factors for breast cancer according to estrogen and progesterone receptor status. J Natl Cancer Inst 96:218–228

24.

Millikan RC, Newman B, Tse CK, Moorman PG, Conway K, Dressler LG, Smith LV, Labbok MH, Geradts J, Bensen JT, Jackson S, Nyante S, Livasy C, Carey L, Earp HS, Perou CM (2008) Epidemiology of basal-like breast cancer. Breast Cancer Res Treat 109:123–139

25.

Vrieling A, Buck K, Kaaks R, Chang-Claude J (2010) Adult weight gain in relation to breast cancer risk by estrogen and progesterone receptor status: a meta-analysis. Breast Cancer Res Treat 123:641–649

26.

Yang XR, Chang-Claude J, Goode EL, Couch FJ, Nevanlinna H, Milne RL, Gaudet M, Schmidt MK, Broeks A, Cox A, Fasching PA, Hein R, Spurdle AB, Blows F, Driver K, Flesch-Janys D, Heinz J, Sinn P, Vrieling A, Heikkinen T, Aittomaki K, Heikkila P, Blomqvist C, Lissowska J, Peplonska B, Chanock S, Figueroa J, Brinton L, Hall P, Czene K, Humphreys K, Darabi H, Liu J, Van 't Veer LJ, van Leeuwen FE, Andrulis IL, Glendon G, Knight JA, Mulligan AM, O'Malley FP, Weerasooriya N, John EM, Beckmann MW, Hartmann A, Weihbrecht SB, Wachter DL, Jud SM, Loehberg CR, Baglietto L, English DR, Giles GG, McLean CA, Severi G, Lambrechts D, Vandorpe T, Weltens C, Paridaens R, Smeets A, Neven P, Wildiers H, Wang X, Olson JE, Cafourek V, Fredericksen Z, Kosel M, Vachon C, Cramp HE, Connley D, Cross SS, Balasubramanian SP, Reed MW, Dork T, Bremer M, Meyer A, Karstens JH, Ay A, Park-Simon TW, Hillemanns P, Arias Perez JI, Menendez Rodriguez P, Zamora P, Benitez J, Ko YD, Fischer HP, Hamann U, Pesch B, Bruning T, Justenhoven C, Brauch H, Eccles DM, Tapper WJ, Gerty SM, Sawyer EJ, Tomlinson IP, Jones A, Kerin M, Miller N, McInerney N, Anton-Culver H, Ziogas A, Shen CY, Hsiung CN, Wu PE, Yang SL, Yu JC, Chen ST, Hsu GC, Haiman CA, Henderson BE, Le Marchand L, Kolonel LN, Lindblom A, Margolin S, Jakubowska A, Lubinski J, Huzarski T, Byrski T, Gorski B, Gronwald J, Hooning MJ, Hollestelle A, van den Ouweland AM, Jager A, Kriege M, Tilanus-Linthorst MM, Collee M, Wang-Gohrke S, Pylkas K, Jukkola-Vuorinen A, Mononen K, Grip M, Hirvikoski P, Winqvist R, Mannermaa A, Kosma VM, Kauppinen J, Kataja V, Auvinen P, Soini Y, Sironen R, Bojesen SE, Orsted DD, Kaur-Knudsen D, Flyger H, Nordestgaard BG, Holland H, Chenevix-Trench G, Manoukian S, Barile M, Radice P, Hankinson SE, Hunter DJ, Tamimi R, Sangrajrang S, Brennan P, McKay J, Odefrey F, Gaborieau V, Devilee P, Huijts PE, Tollenaar RA, Seynaeve C, Dite GS, Apicella C, Hopper JL, Hammet F, Tsimiklis H, Smith LD, Southey MC, Humphreys MK, Easton D, Pharoah P, Sherman ME, Garcia-Closas M (2011) Associations of breast cancer risk factors with tumor subtypes: a pooled analysis from the Breast Cancer Association Consortium studies. J Natl Cancer Inst 103:250–263

27.

Fregene A, Newman LA (2005) Breast cancer in sub-Saharan Africa: how does it relate to breast cancer in African-American women? Cancer 103:1540–1550

28.

Salas A, Richards M, Lareu MV, Scozzari R, Coppa A, Torroni A, Macaulay V, Carracedo A (2004) The African diaspora: mitochondrial DNA and the Atlantic slave trade. Am J Hum Genet 74:454–465

29.

Krieger N, Chen JT, Ware JH, Kaddour A (2008) Race/ethnicity and breast cancer estrogen receptor status: impact of class, missing data, and modeling assumptions. Cancer Causes Control 19:1305–1318

30.

Collins LC, Marotti JD, Baer HJ, Tamimi RM (2008) Comparison of estrogen receptor results from pathology reports with results from central laboratory testing. J Natl Cancer Inst 100:218–221

31.

Parker RL, Huntsman DG, Lesack DW, Cupples JB, Grant DR, Akbari M, Gilks CB (2002) Assessment of interlaboratory variation in the immunohistochemical determination of estrogen receptor status using a breast cancer tissue microarray. Am J Clin Pathol 117:723–728
Acknowledgments
The research was supported by the Intramural Research Department of the American Cancer Society. We thank the Surveillance Epidemiology and End Result (SEER) program of the National Cancer Institute for making the incidence data available to the public. The authors of this manuscript have no conflicts of interest to declare.
Electronic supplementary material
Below is the link to the electronic supplementary material.
About this article
Cite this article
Jemal, A., Fedewa, S.A. Is the prevalence of ER-negative breast cancer in the US higher among Africa-born than US-born black women?. Breast Cancer Res Treat 135, 867–873 (2012). https://doi.org/10.1007/s10549-012-2214-2
Received:

Accepted:

Published:

Issue Date:
Keywords
Breast cancer

Estrogen receptor status

Epidemiology

African Americans