Abstract
Shorter duration of sleep has been associated with risk of a number of medical conditions, including breast cancer. However, no prior study has investigated the relationship of average sleep duration before diagnosis and cancer aggressiveness. OncotypeDX is a widely utilized test to guide treatment in early stage hormone receptor positive breast cancer by predicting likelihood of recurrence. We reviewed medical records from ER+ early stage breast cancer patients participating in a case–control study for availability of OncotypeDX scores. All patients in the parent study were recruited at diagnosis and asked about average sleep duration in the 2 years before diagnosis. We analyzed data from 101 breast cancer patients with available OncotypeDX recurrence scores to test the hypothesis that shorter sleep is associated with greater likelihood of recurrence. We found that OncotypeDX recurrence scores were strongly correlated with average hours of sleep per night before breast cancer diagnosis, with fewer hours of sleep associated with a higher (worse) recurrence score (R = −0.30, p = 0.0031). This correlation was limited to post-menopausal breast cancer patients only (R = −0.41, p = 0.0011, for postmenopausal patients; R = −0.05, p = 0.80 for pre-menopausal patients). This association remains statistically significant after adjustment for age, physical activity, smoking status, and body mass index in the entire study sample (p = 0.0058) as well as in postmenopausal patients (p = 0.0021). This is the first study to suggest that women who routinely sleep fewer hours may develop more aggressive breast cancers compared with women who sleep longer hours.
Access options
Buy single article
Instant access to the full article PDF.
US$ 39.95
Tax calculation will be finalised during checkout.
Subscribe to journal
Immediate online access to all issues from 2019. Subscription will auto renew annually.
US$ 119
Tax calculation will be finalised during checkout.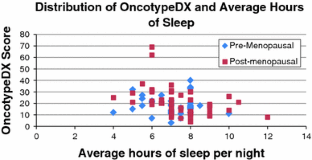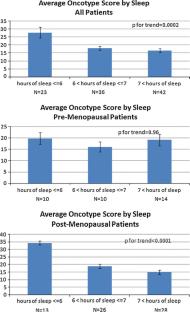 References
1.

Thompson CL et al (2011) Short duration of sleep increases risk of colorectal adenoma. Cancer 117(4):841–847

2.

Verkasalo PK et al (2005) Sleep duration and breast cancer: a prospective cohort study. Cancer Res 65(20):9595–9600

3.

Wu AH et al (2008) Sleep duration, melatonin and breast cancer among Chinese women in Singapore. Carcinogenesis 29(6):1244–1248

4.

Kakizaki M et al (2008) Sleep duration and the risk of breast cancer: the Ohsaki Cohort Study. Br J Cancer 99(9):1502–1505

5.

Pinheiro SP et al (2006) A prospective study on habitual duration of sleep and incidence of breast cancer in a large cohort of women. Cancer Res 66(10):5521–5525

6.

Paik S et al (2004) A multigene assay to predict recurrence of tamoxifen-treated, node-negative breast cancer. N Engl J Med 351(27):2817–2826

7.

Paik S et al (2006) Gene expression and benefit of chemotherapy in women with node-negative, estrogen receptor-positive breast cancer. J Clin Oncol 24(23):3726–3734

8.

Patel SR, Hu FB (2008) Short sleep duration and weight gain: a systematic review. Obesity (Silver Spring) 16(3):643–653

9.

Hsu CM et al (2012) Altered expression of circadian clock genes in head and neck squamous cell carcinoma. Tumour Biol 33(1):149–155

10.

Sato F et al (2011) PERIOD1 (PER1) has anti-apoptotic effects, and PER3 has pro-apoptotic effects during cisplatin (CDDP) treatment in human gingival cancer CA9-22 cells. Eur J Cancer 47(11):1747–1758

11.

Climent J et al (2011) Deletion of the PER3 gene on chromosome 1p36 in recurrent ER-positive breast cancer. J Clin Oncol 28(23):3770–3778

12.

Blask DE (2009) Melatonin, sleep disturbance and cancer risk. Sleep Med Rev 13(4):257–264

13.

Stevens RG (2005) Circadian disruption and breast cancer: from melatonin to clock genes. Epidemiology 16(2):254–258

14.

Collis SJ, Boulton SJ (2007) Emerging links between the biological clock and the DNA damage response. Chromosoma 116(4):331–339

15.

Hoffman AE et al (2008) The circadian gene NPAS2, a putative tumor suppressor, is involved in DNA damage response. Mol Cancer Res 6(9):1461–1468
Acknowledgments
This study was supported by the National Cancer Institute (grant # from K07 CA136758 to CLT and R03 CA143917 to LL) and the Case Comprehensive Cancer Center (P30 CA043703). The authors wish to thank Drew Helmus, Jennifer Zabel, and Audrey Lynn for their assistance in recruitment and data collection.
Conflict of interest
The authors have no conflicts of interest relevant to the presented research.
About this article
Cite this article
Thompson, C.L., Li, L. Association of sleep duration and breast cancer OncotypeDX recurrence score. Breast Cancer Res Treat 134, 1291–1295 (2012). https://doi.org/10.1007/s10549-012-2144-z
Received:

Accepted:

Published:

Issue Date:
Keywords
Breast cancer

OncotypeDX

Sleep

Recurrence