Abstract
There are two mutations in BRCA1 and one in BRCA2, which are present in up to 2.5% of Jewish women. Population genetic testing for Jewish women has been proposed; however, it is unclear how this would impact the uptake of cancer prevention options and psychosocial functioning in women with a positive result. Two thousand and eighty unselected Jewish women were tested for the Jewish BRCA mutations, and 1.1% were positive. Cancer-related distress was measured before testing, and at 1 and 2 years post-testing. Information on uptake of cancer risk reduction options was collected at 2 years. Breast and ovarian cancer risks were estimated using BRCAPRO. Within 2 years of receiving a positive result, 11.1% of women had prophylactic mastectomy, and 89.5% had a prophylactic oophorectomy. The mean breast cancer risk was estimated to be 37.2% at time of testing, compared to 20.9% at 2 years post-testing. The mean ovarian cancer risk was estimated to be 24.5% at time of testing, compared to 7.5% at 2 years following testing. Distress decreased between 1 and 2 years for women with prophylactic mastectomy and oophorectomy (P = 0.02), and for women with prophylactic oophorectomy only (P = 0.04) but not for those with neither surgery. The majority of Jewish women with a BRCA mutation identified through a population screening elected prophylactic oophorectomy, but a few had a prophylactic mastectomy. Uptake of either surgery resulted in decreased distress. Provision of population BRCA testing resulted in reduced risks of breast and ovarian cancers in women with a mutation.
Access options
Buy single article
Instant access to the full article PDF.
US$ 39.95
Tax calculation will be finalised during checkout.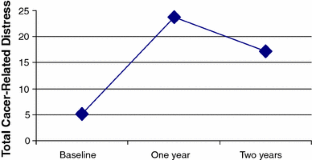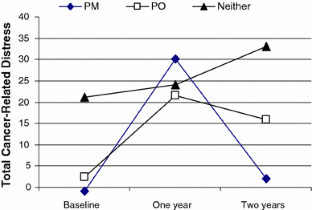 References
1.

Struewing JP, Hartge P, Wacholder S, Baker SM, Berlin M, McAdams M, Timmerman MM, Tucker MA (1997) The risk of cancer associated with specific mutations of BRCA1 and BRCA2 among Ashkenazi Jews. New Engl J Med 336(20):1401–1408

2.

Roa BB, Boyd AA, Vocik K, Richards CS (1996) Ashkenazi Jewish population frequencies for common mutations in BRCA1 and BRCA2. Nat Genet 14:185–187

3.

Moslehi R, Chu W, Karlan B, Fishman D, Risch H, Fields A, Smotkin D, Ben-David Y, Rosenblatt J, Russo D et al (2000) BRCA1 and BRCA2 mutation analysis of 208 Ashkenazi Jewish women with ovarian cancer. Am J Hum Genet 66(4):1259–1272

4.

Warner E, Foulkes W, Goodwin P, Meschino W, Blondal J, Paterson C, Ozcelik H, Goss P, Allingham-Hawkins D, Hamel N et al (1999) Prevalence and penetrance of BRCA1 and BRCA2 gene mutations in unselected Ashkenazi Jewish women with breast cancer. J Natl Cancer Inst 91(14):1241–1247

5.

Antoniou AC, Pharoah PD, Narod S, Risch HA, Eyfjord JE, Hopper JL, Olsson H, Johannsson O, Borg A, Pasini B et al (2005) Breast and ovarian cancer risks to carriers of the BRCA1 5382insC and 185delAG and BRCA2 6174delT mutations: a combined analysis of 22 population based studies. J Med Genet 42(7):602–603

6.

Metcalfe KA, Poll A, Royer R, Llacuachaqui M, Tulman A, Sun P, Narod SA (2010) Screening for founder mutations in BRCA1 and BRCA2 in unselected Jewish women. J Clin Oncol 28(3):387–391

7.

Metcalfe KA, Poll A, Llacuachaqui M, Nanda S, Tulman A, Mian N, Sun P, Narod SA (2010) Patient satisfaction and cancer-related distress among unselected Jewish women undergoing genetic testing for BRCA1 and BRCA2. Clin Genet 78(5):411–417

8.

Schwartz MD, Peshkin BN, Hughes C, Main D, Isaacs C, Lerman C (2002) Impact of BRCA1/BRCA2 mutation testing on psychologic distress in a clinic-based sample. J Clin Oncol 20(2):514–520

9.

Watson M, Foster C, Eeles R, Eccles D, Ashley S, Davidson R, Mackay J, Morrison PJ, Hopwood P, Evans DG (2004) Psychosocial impact of breast/ovarian (BRCA1/2) cancer-predictive genetic testing in a UK multi-centre clinical cohort. Br J Cancer 91(10):1787–1794

10.

Smith AW, Dougall AL, Posluszny DM, Somers TJ, Rubinstein WS, Baum A (2008) Psychological distress and quality of life associated with genetic testing for breast cancer risk. Psychooncology 17(8):767–773

11.

Meiser B, Butow P, Friedlander M, Schnieden V, Gattas M, Kirk J, Suthers G, Haan E, Tucker K (2000) Intention to undergo prophylactic bilateral mastectomy in women with an increased risk of developing hereditary breast cancer. J Clin Oncol 18(11):2250–2257

12.

Metcalfe K, Ghadirian P, Rosen B, Foulkes WD, Kim-Sing C, Eisen A, Ainsworth P, Horsman D, Maugard C, Provencher D et al (2007) Variation in rates of uptake of preventive options in BRCA1 and BRCA2 mutation carriers across Canada. Open Med 1(2):E92–E98

13.

Metcalfe KA, Birenbaum-Carmeli D, Lubinski J, Gronwald J, Lynch H, Moller P, Ghadirian P, Foulkes WD, Klijn J, Friedman E et al (2008) International variation in rates of uptake of preventive options in BRCA1 and BRCA2 mutation carriers. Int J Cancer 122(9):2017–2022

14.

Lodder LN, Frets PG, Trijsburg RW, Meijers-Heijboer EJ, Klijn JG, Seynaeve C, van Geel AN, Tilanus MM, Bartels CC, Verhoog LC et al (2002) One year follow-up of women opting for presymptomatic testing for BRCA1 and BRCA2: emotional impact of the test outcome and decisions on risk management (surveillance or prophylactic surgery). Breast Cancer Res Treat 73(2):97–112

15.

Wagner TM, Moslinger R, Langbauer G, Ahner R, Fleischmann E, Auterith A, Friedmann A, Helbich T, Zielinski C, Pittermann E et al (2000) Attitude towards prophylactic surgery and effects of genetic counselling in families with BRCA mutations. Austrian Hereditary Breast and Ovarian Cancer Group. Br J Cancer 82(7):1249–1253

16.

Lerman C, Hughes C, Croyle RT, Main D, Durham C, Snyder C, Bonney A, Lynch JF, Narod SA, Lynch HT (2000) Prophylactic surgery decisions and surveillance practices one year following BRCA1/2 testing. Prev Med 31(1):75–80

17.

Kuperstein G, Foulkes WD, Ghadirian P, Hakimi J, Narod SA et al (2000) A rapid fluorescent multiplexed-PCR analysis (FMPA) for founder mutations in the BRCA1 and BRCA2 genes. Clin Genet 57(3):213–220

18.

Horowitz M, Wilner N, Alvarez W (1979) Impact of Event Scale: a measure of subjective stress. Psychosom Med 41(3):209–218

19.

Thewes B, Meiser B, Hickie IB (2001) Psychometric properties of the impact of event scale amongst women at increased risk for hereditary breast cancer. Psychooncology 10(6):459–468

20.

Chen S, Parmigiani G (2007) Meta-analysis of BRCA1 and BRCA2 penetrance. J Clin Oncol 25(11):1329–1333

21.

Finch A, Beiner M, Lubinski J, Lynch HT, Moller P, Rosen B, Murphy J, Ghadirian P, Friedman E, Foulkes WD et al (2006) Salpingo-oophorectomy and the risk of ovarian, fallopian tube, and peritoneal cancers in women with a BRCA1 or BRCA2 mutation. Jama 296(2):185–192

22.

Hartmann LC, Sellers TA, Schaid DJ, Frank TS, Soder-berg CL, Sitta DL, Frost MH, Grant CS, Donohue JH, Woods JE et al (2001) Efficacy of bilateral prophylactic mastectomy in BRCA1 and BRCA2 gene mutation carriers. J Nat Cancer Inst 93(21):1633–1637

23.

Julian-Reynier C, Bouhnik AD, Mouret-Fourme E, Gauthier-Villars M, Berthet P, Lasset C, Fricker JP, Caron O, Gesta P, Luporsi E et al (2010) Time to prophylactic surgery in BRCA1/2 carriers depends on psychological and other characteristics. Genet Med 12(12):801–807
Conflict of interest
The authors declare no conflicts of interest.
About this article
Cite this article
Metcalfe, K.A., Mian, N., Enmore, M. et al. Long-term follow-up of Jewish women with a BRCA1 and BRCA2 mutation who underwent population genetic screening. Breast Cancer Res Treat 133, 735–740 (2012). https://doi.org/10.1007/s10549-011-1941-0
Received:

Accepted:

Published:

Issue Date:
Keywords
BRCA1

BRCA2

Breast cancer

Genetic testing

Jewish