Abstract
Bone lesions as a consequence of bone metastases in breast cancer patients can increase risk for skeletal-related events (SREs) (i.e., radiation to the bone, a pathological or osteoporotic fracture event, hypercalcemia, spinal cord compression, or surgery to the bone). The mortality risk for breast cancer patients with SREs subsequent to bone metastases is unclear. We assessed this relationship in a large, population-based cohort of breast cancer patients in Denmark. We identified 35,912 newly diagnosed breast cancer patients from January 1, 1999 to December 31, 2007 in the Danish National Patient Registry (DNPR) and followed them through April 1, 2008. Information on stage and treatment was obtained from the Danish Cancer Registry. We used the Kaplan–Meier method to estimate survival, and Cox's regression analysis to estimate the mortality rate ratio (MRR) by the presence of bone metastases with and without SREs, adjusting for age and comorbidity. The 5-year survival was 75.8% for breast cancer patients without bone metastases, 8.3% for patients with bone metastases, and 2.5% for those with both bone metastases and SREs. The adjusted MRR was 10.5 [95% confidence interval (CI) 9.5–11.6] for breast cancer patients with bone metastases, and 14.4 (95% CI 13.1–15.8) for those with bone metastases and SREs, compared with breast cancer patients with no bone metastases but possibly other sites of metastases. A similar pattern persisted when analyses were stratified by stage or treatment. Breast cancer patients with bone metastases and SREs have a poor prognosis compared to those with and without bone metastases regardless of cancer treatment or stage of disease at diagnosis.
This is a preview of subscription content, log in to check access.
Access options
Buy single article
Instant access to the full article PDF.
US$ 39.95
Price includes VAT for USA
Subscribe to journal
Immediate online access to all issues from 2019. Subscription will auto renew annually.
US$ 199
This is the net price. Taxes to be calculated in checkout.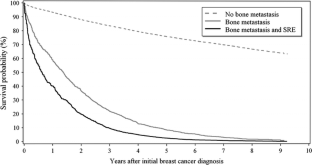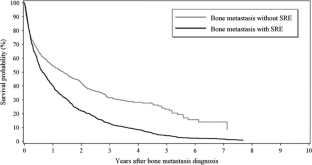 References
1.

Sundhedsstyrelsen (2009) Nye tal fra Sundhedsstyrelsen. Årgang 13(3)

2.

Søgaard KK, Cronin-Fenton DP, Pedersen L, Sørensen HT, Lash TL (2008) Survival in Danish patients with breast cancer and inflammatory bowel disease: a nationwide cohort study. Inflamm Bowel Dis 14(4):519–525

3.

Louwman WJ, Voogd AC, van Dijck JA, Nieuwenhuijzen GA, Ribot J, Pruijt JF et al (2008) On the rising trends of incidence and prognosis for breast cancer patients diagnosed 1975–2004: a long-term population-based study in southeastern Netherlands. Cancer Causes Control 19(1):97–106

4.

Coleman RE, Rubens RD (1987) The clinical course of bone metastases from breast cancer. Br J Cancer 55(1):61–66

5.

Coleman RE (1997) Skeletal complications of malignancy. Cancer 80(8 Suppl):1588–1594

6.

Saad F, Lipton A, Cook R, Chen YM, Smith M, Coleman R (2007) Pathologic fractures correlate with reduced survival in patients with malignant bone disease. Cancer 110(8):1860–1867

7.

Frank L (2000) Epidemiology. When an entire country is a cohort. Science 287(5462):2398–2399

8.

Andersen TF, Madsen M, Jørgensen J, Mellemkjoer L, Olsen JH (1999) The Danish National Hospital Register. A valuable source of data for modern health sciences. Dan Med Bull 46(3):263–268

9.

Storm HH, Michelsen EV, Clemmensen IH, Pihl J (1997) The Danish Cancer Registry—history, content, quality and use. Dan Med Bull 44(5):535–539

10.

Erichsen R, Lash TL, Hamilton-Dutoit SJ, Bjerregaard B, Vyberg M, Pedersen L (2010) Existing data sources for clinical epidemiology: the Danish National Pathology Registry and Data Bank. Clin Epidemiol 2010(2):51–56

11.

Cronin-Fenton DP, Nørgaard M, Jacobsen J, Garne JP, Ewertz M, Lash TL et al (2007) Comorbidity and survival of Danish breast cancer patients from 1995 to 2005. Br J Cancer 96(9):1462–1468

12.

Charlson ME, Pompei P, Ales KL, MacKenzie CR (1987) A new method of classifying prognostic comorbidity in longitudinal studies: development and validation. J Chronic Dis 40(5):373–383

13.

Thomsen RW, Hundborg HH, Lervang HH, Johnsen SP, Sørensen HT, Schønheyder HC (2004) Diabetes and outcome of community-acquired pneumococcal bacteremia: a 10-year population-based cohort study. Diabetes Care 27(1):70–76

14.

Pedersen CB, Gøtzsche H, Møller JO, Mortensen PB (2006) The Danish Civil Registration System. A cohort of eight million persons. Dan Med Bull 53(4):441–449

15.

McCloskey EV, Guest JF, Kanis JA (2001) The clinical and cost considerations of bisphosphonates in preventing bone complications in patients with metastatic breast cancer or multiple myeloma. Drugs 61(9):1253–1274

16.

Saad F, Olsson C, Schulman CC (2004) Skeletal morbidity in men with prostate cancer: quality-of-life considerations throughout the continuum of care. Eur Urol 46(6):731–739

17.

Fleisch H (1998) Bisphosphonates: mechanisms of action. Endocr Rev 19(1):80–100

18.

Hortobagyi GN, Theriault RL, Porter L, Blayney D, Lipton A, Sinoff C et al (1996) Efficacy of pamidronate in reducing skeletal complications in patients with breast cancer and lytic bone metastases. Protocol 19 Aredia Breast Cancer Study Group. N Engl J Med 335(24):1785–1791

19.

Theriault RL, Lipton A, Hortobagyi GN, Leff R, Glück S, Stewart JF et al (1999) Pamidronate reduces skeletal morbidity in women with advanced breast cancer and lytic bone lesions: a randomized, placebo-controlled trial. Protocol 18 Aredia Breast Cancer Study Group. J Clin Oncol 17(3):846–854

20.

Powles TJ, Paterson AHG, Nevantaus A, Legault S, Pajunen M, Tidy VA et al (1998) Adjuvant clodronate reduces the incidence of bone metastases in patients with primary operable breast cancer. Proc ASCO 17:468

21.

Gnant M, Mlineritsch B, Schippinger W, Luschin-Ebengreuth G, Pöstlberger S, Menzel C et al (2009) Endocrine therapy plus zoledronic acid in premenopausal breast cancer. N Engl J Med 360(7):679–691

22.

Coleman R, Bundred N, De Boer R, Llombarto A, Campbell ID, Neven P (2009) Impact of zoledronic acid in post-menopausal women with early breast cancer receiving adjuvant letrozole: Z-FAST, ZO-FAST, and E-ZO-FAST. Cancer Res 70:4082

23.

Jensen AØ, Nørgaard M, Yong M, Fryzek JP, Sørensen HT (2009) Validity of the recorded International Classification of Diseases, 10th edition diagnoses codes of bone metastases and skeletal-related events in breast and prostate cancer patients in the Danish National Registry of Patients. Clin Epidemiol 1:101–108

24.

Steinberg EP, Whittle J, Anderson GF (1990) Impact of claims data research on clinical practice. Int J Technol Assess Health Care 6(2):282–287

25.

Newschaffer CJ, Bush TL, Penberthy LT (1997) Comorbidity measurement in elderly female breast cancer patients with administrative and medical records data. J Clin Epidemiol 50(6):725–733

26.

Wilchesky M, Tamblyn RM, Huang A (2004) Validation of diagnostic codes within medical services claims. J Clin Epidemiol 57(2):131–141
Acknowledgments
This study was supported by a grant from Amgen Inc., USA and the Karen Elise Jensen Foundation. In conjunction with investigators at Aarhus University Hospital, Department of Clinical Epidemiology, investigators at Amgen Inc. were involved in the study design; in the collection, analysis, and interpretation of data; in the writing of the manuscript; and in the decision to submit the manuscript for publication.
About this article
Cite this article
Yong, M., Jensen, A.Ø., Jacobsen, J.B. et al. Survival in breast cancer patients with bone metastases and skeletal-related events: a population-based cohort study in Denmark (1999–2007). Breast Cancer Res Treat 129, 495–503 (2011). https://doi.org/10.1007/s10549-011-1475-5
Received:

Accepted:

Published:

Issue Date:
Keywords
Bone metastases

Skeletal-related events

Breast cancer

Epidemiology

Mortality risk