Abstract
Despite the benefit of adjuvant hormonal therapy (HT) on mortality among women with breast cancer (BC), many women are non-adherent with its use. We investigated the effects of early discontinuation and non-adherence to HT on mortality in women enrolled in Kaiser Permanente of Northern California (KPNC). We identified women diagnosed with hormone-sensitive stage I–III BC, 1996–2007, and used automated pharmacy records to identify prescriptions and dates of refill. We categorized patients as having discontinued HT early if 180 days elapsed from the prior prescription. For those who continued, we categorized patients as adherent if the medication possession ratio was ≥80%. We used Cox proportional hazards models to estimate the association between discontinuation and non-adherence with all-cause mortality. Among 8,769 women who filled at least one prescription for HT, 2,761 (31%) discontinued therapy. Of those who continued HT, 1,684 (28%) were non-adherent. During a median follow-up of 4.4 years, 813 women died. Estimated survival at 10 years was 80.7% for women who continued HT versus 73.6% for those who discontinued (P < 0.001). Of those who continued, survival at 10 years was 81.7 and 77.8% in women who adhered and non-adhered, respectively (P < 0.001). Adjusting for clinical and demographic variables, both early discontinuation (HR 1.26, 95% CI 1.09–1.46) and non-adherence (HR 1.49, 95% CI 1.23–1.81), among those who continued, were independent predictors of mortality. Both early discontinuation and non-adherence to HT were common and associated with increased mortality. Interventions to improve continuation of and adherence to HT may be critical to improve BC survival.
Access options
Buy single article
Instant access to the full article PDF.
USD 39.95
Price excludes VAT (USA)
Tax calculation will be finalised during checkout.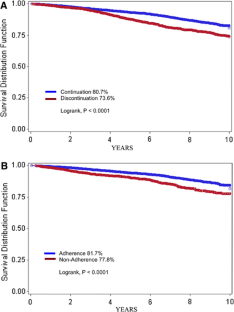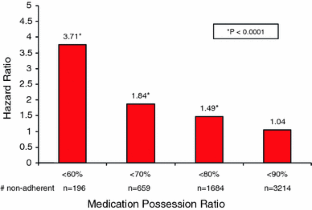 References
Winer EP, Hudis C, Burstein HJ, Wolff AC, Pritchard KI, Ingle JN, Chlebowski RT, Gelber R, Edge SB, Gralow J et al (2005) American Society of Clinical Oncology technology assessment on the use of aromatase inhibitors as adjuvant therapy for postmenopausal women with hormone receptor-positive breast cancer: status report 2004. J Clin Oncol 23(3):619–629

Effects of chemotherapy and hormonal therapy for early breast cancer on recurrence and 15-year survival: an overview of the randomised trials (2005) Lancet 365(9472):1687–1717

Kimmick G, Anderson R, Camacho F, Bhosle M, Hwang W, Balkrishnan R (2009) Adjuvant hormonal therapy use among insured, low-income women with breast cancer. J Clin Oncol 27(21):3445–3451

Ziller V, Kalder M, Albert US, Holzhauer W, Ziller M, Wagner U, Hadji P (2009) Adherence to adjuvant endocrine therapy in postmenopausal women with breast cancer. Ann Oncol 20(3):431–436

Partridge AH, LaFountain A, Mayer E, Taylor BS, Winer E, Asnis-Alibozek A (2008) Adherence to initial adjuvant anastrozole therapy among women with early-stage breast cancer. J Clin Oncol 26(4):556–562

Chlebowski RT, Geller ML (2006) Adherence to endocrine therapy for breast cancer. Oncology 71(1–2):1–9

Lash TL, Fox MP, Westrup JL, Fink AK, Silliman RA (2006) Adherence to tamoxifen over the five-year course. Breast Cancer Res Treat 99(2):215–220

Partridge AH, Avorn J, Wang PS, Winer EP (2002) Adherence to therapy with oral antineoplastic agents. J Natl Cancer Inst 94(9):652–661

McCowan C, Shearer J, Donnan PT, Dewar JA, Crilly M, Thompson AM, Fahey TP (2008) Cohort study examining tamoxifen adherence and its relationship to mortality in women with breast cancer. Br J Cancer 99(11):1763–1768

Barron TI, Connolly R, Bennett K, Feely J, Kennedy MJ (2007) Early discontinuation of tamoxifen: a lesson for oncologists. Cancer 109(5):832–839

Hershman DL, Kushi LH, Shao T, Buono D, Kershenbaum A, Tsai WY, Fehrenbacher L, Gomez SL, Miles S, Neugut AI (2010) Early discontinuation and nonadherence to adjuvant hormonal therapy in a cohort of 8,769 early-stage breast cancer patients. J Clin Oncol. doi:10.1200/JCO.2009.25.9655

Systemic treatment of early breast cancer by hormonal, cytotoxic, or immune therapy. 133 randomised trials involving 31,000 recurrences and 24,000 deaths among 75,000 women. Early Breast Cancer Trialists' Collaborative Group. Lancet 339(8785):71–85

Bryant J, Fisher B, Dignam J (2001) Duration of adjuvant tamoxifen therapy. J Natl Cancer Inst Monogr (30):56–61

Randomized trial of two versus five years of adjuvant tamoxifen for postmenopausal early stage breast cancer. Swedish Breast Cancer Cooperative Group. J Natl Cancer Inst 88(21):1543–1549

Yood MU, Owusu C, Buist DS, Geiger AM, Field TS, Thwin SS, Lash TL, Prout MN, Wei F, Quinn VP et al (2008) Mortality impact of less-than-standard therapy in older breast cancer patients. J Am Coll Surg 206(1):66–75

Geiger AM, Thwin SS, Lash TL, Buist DS, Prout MN, Wei F, Field TS, Ulcickas Yood M, Frost FJ, Enger SM et al (2007) Recurrences and second primary breast cancers in older women with initial early-stage disease. Cancer 109(5):966–974

Krieger N (1990) Data resources of the Kaiser Permanente Medical Care Program in northern California. Oakland, California

Yost K, Perkins C, Cohen R, Morris C, Wright W (2001) Socioeconomic status and breast cancer incidence in California for different race/ethnic groups. Cancer Causes Control 12(8):703–711

Du XL, Fang S, Vernon SW, El-Serag H, Shih YT, Davila J, Rasmus ML (2007) Racial disparities and socioeconomic status in association with survival in a large population-based cohort of elderly patients with colon cancer. Cancer 110(3):660–669

Charlson ME, Pompei P, Ales KL, MacKenzie CR (1987) A new method of classifying prognostic comorbidity in longitudinal studies: development and validation. J Chronic Dis 40(5):373–383

Klabunde CN, Warren JL, Legler JM (2002) Assessing comorbidity using claims data: an overview. Med Care 40(8 Suppl):IV-26-35

Karve S, Cleves MA, Helm M, Hudson TJ, West DS, Martin BC (2009) Good and poor adherence: optimal cut-point for adherence measures using administrative claims data. Curr Med Res Opin 25(9):2303–2310

Osterberg L, Blaschke T (2005) Adherence to medication. N Engl J Med 353(5):487–497

Bonadonna G, Valagussa P, Moliterni A, Zambetti M, Brambilla C (1995) Adjuvant cyclophosphamide, methotrexate, and fluorouracil in node-positive breast cancer: the results of 20 years of follow-up. N Engl J Med 332(14):901–906

Wood WC, Budman DR, Korzun AH, Cooper MR, Younger J, Hart RD, Moore A, Ellerton JA, Norton L, Ferree CR et al (1994) Dose and dose intensity of adjuvant chemotherapy for stage II, node-positive breast carcinoma. N Engl J Med 330(18):1253–1259

Hryniuk W (1999) Importance of chemotherapy scheduling: pieces of the puzzle. Cancer Investig 17(7):545–546

Budman DR, Berry DA, Cirrincione CT, Henderson IC, Wood WC, Weiss RB, Ferree CR, Muss HB, Green MR, Norton L et al (1998) Dose and dose intensity as determinants of outcome in the adjuvant treatment of breast cancer. The Cancer and Leukemia Group B. J Natl Cancer Inst 90(16):1205–1211

Hershman D, McBride R, Jacobson JS, Lamerato L, Roberts K, Grann VR, Neugut AI (2005) Racial disparities in treatment and survival among women with early-stage breast cancer. J Clin Oncol 23(27):6639–6646

Griggs JJ, Sorbero ME, Stark AT, Heininger SE, Dick AW (2003) Racial disparity in the dose and dose intensity of breast cancer adjuvant chemotherapy. Breast Cancer Res Treat 81(1):21–31

Neugut AI, Matasar M, Wang X, McBride R, Jacobson JS, Tsai WY, Grann VR, Hershman DL (2006) Duration of adjuvant chemotherapy for colon cancer and survival among the elderly. J Clin Oncol 24(15):2368–2375

Wright J, Doan T, McBride R, Jacobson J, Hershman D (2008) Variability in chemotherapy delivery for elderly women with advanced stage ovarian cancer and its impact on survival. Br J Cancer 98(7):1197–1203

Partridge AH, Wang PS, Winer EP, Avorn J (2003) Nonadherence to adjuvant tamoxifen therapy in women with primary breast cancer. J Clin Oncol 21(4):602–606

Bramwell VH, Pritchard KI, Tu D, Tonkin K, Vachhrajani H, Vandenberg TA, Robert J, Arnold A, O'Reilly SE, Graham B et al (2010) A randomized placebo-controlled study of tamoxifen after adjuvant chemotherapy in premenopausal women with early breast cancer (National Cancer Institute of Canada—Clinical Trials Group Trial, MA.12). Ann Oncol 21(2):283–290

Noens L, van Lierde MA, De Bock R, Verhoef G, Zachee P, Berneman Z, Martiat P, Mineur P, Van Eygen K, MacDonald K et al (2009) Prevalence, determinants, and outcomes of nonadherence to imatinib therapy in patients with chronic myeloid leukemia: the ADAGIO study. Blood 113(22):5401–5411

Darkow T, Henk HJ, Thomas SK, Feng W, Baladi JF, Goldberg GA, Hatfield A, Cortes J (2007) Treatment interruptions and non-adherence with imatinib and associated healthcare costs: a retrospective analysis among managed care patients with chronic myelogenous leukaemia. Pharmacoeconomics 25(6):481–496

Goss PE, Ingle JN, Martino S, Robert NJ, Muss HB, Piccart MJ, Castiglione M, Tu D, Shepherd LE, Pritchard KI et al (2003) A randomized trial of letrozole in postmenopausal women after five years of tamoxifen therapy for early-stage breast cancer. N Engl J Med 349(19):1793–1802

Coombes RC, Hall E, Gibson LJ, Paridaens R, Jassem J, Delozier T, Jones SE, Alvarez I, Bertelli G, Ortmann O et al (2004) A randomized trial of exemestane after two to three years of tamoxifen therapy in postmenopausal women with primary breast cancer. N Engl J Med 350(11):1081–1092

Howell A, Cuzick J, Baum M, Buzdar A, Dowsett M, Forbes JF, Hoctin-Boes G, Houghton J, Locker GY, Tobias JS (2005) Results of the ATAC (Arimidex, Tamoxifen, Alone or in Combination) trial after completion of 5 years' adjuvant treatment for breast cancer. Lancet 365(9453):60–62

Salgado B, Zivian M (2007) Aromatase inhibitors: side effects reported by 622 women. In: San Antonio breast cancer symposium: 2007. Breast Cancer Res Treat 106(Suppl 1):S168 (abstract 3131)

Earle CC, Nattinger AB, Potosky AL, Lang K, Mallick R, Berger M, Warren JL (2002) Identifying cancer relapse using SEER-Medicare data. Med Care 40(8 Suppl):IV-75-81

Grymonpre R, Cheang M, Fraser M, Metge C, Sitar DS (2006) Validity of a prescription claims database to estimate medication adherence in older persons. Med Care 44(5):471–477
Acknowledgments
Dr. Hershman is the recipient of a grant from the American Cancer Society (RSGT-08-009-01-CPHPS). Dr. Kushi is the recipient of a grant from the National Cancer Institute (R01 CA105274). Dr. Gomez is the recipient of a grant from the Surveillance, Epidemiology and End Results Rapid Response Surveillance Study under contracts N01-PC-35136. Dr. Neugut is the recipient of a grant from the Department of Defense (BC043120).
About this article
Cite this article
Hershman, D.L., Shao, T., Kushi, L.H. et al. Early discontinuation and non-adherence to adjuvant hormonal therapy are associated with increased mortality in women with breast cancer. Breast Cancer Res Treat 126, 529–537 (2011). https://doi.org/10.1007/s10549-010-1132-4
Received:

Accepted:

Published:

Issue Date:

DOI: https://doi.org/10.1007/s10549-010-1132-4
Keywords