Abstract
This randomized multicenter phase III trial evaluated the role of maintenance therapy with pegylated liposomal doxorubicin (PLD) after induction chemotherapy in patients with metastatic breast cancer (MBC). Patients without disease progression following first-line induction chemotherapy consisting of three cycles of doxorubicin (75 mg/m2) followed by three cycles of docetaxel (100 mg/m2) both every 21 days, were randomized to PLD (40 mg/m2) every 28 days for six cycles or to observation. Time to progression (TTP) was the primary endpoint. 288 patients were enrolled and received induction first-line chemotherapy. One hundred and fifty-five achieved response or stable disease and were randomized to maintenance PLD (n = 78) or observation (n = 77). With a median follow-up of 20 months from randomization (range 1–56), disease progression occurred in 94% of patients. PLD significantly improved TTP by 3.3 months (8.4 vs. 5.1 months; hazard ratio [HR] = 0.54, 95% CI: 0.39 to 0.76, P = 0.0002) compared with observation. Overall survival was not significantly prolonged with PLD (24.8 vs. 22.0 months, respectively; HR = 0.86, 95% CI: 0.58–1.27, P = 0.44). PLD-induced toxicity was mild and manageable with up to 5% of patients experiencing grade 3/4 non-hematologic events (fatigue, mucositis, palmar-plantar erythrodysesthesia). Grade 3/4 neutropenia occurred in 12% of patients; two patients developed febrile neutropenia. This phase III trial demonstrated that maintenance chemotherapy with PLD is well tolerated and offers improved TTP in patients with MBC following first-line chemotherapy.
This is a preview of subscription content,
to check access.
Access this article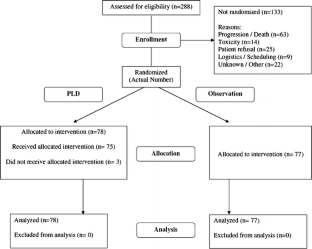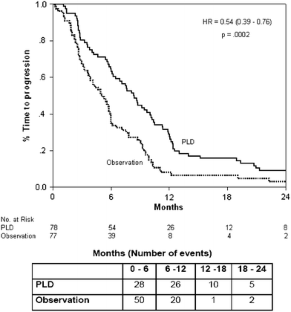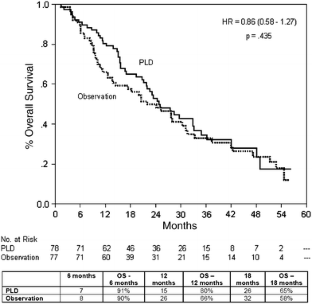 Similar content being viewed by others
References
Mouridsen HT (1992) Systemic therapy of advanced breast cancer. Drugs 44(Suppl 4):17–28

Coates AS, Byrne M, Bishop JF et al (1987) Improving the quality of life during chemotherapy for advanced breast cancer. Intermittent versus continuous chemotherapy for breast cancer. N Engl J Med 317:1490–1495

Harris AL, Cantwell BM, Carmichael J et al (1990) Comparison of short-term and continuous chemotherapy (mitozantrone) for advanced breast cancer. Lancet 335:186–190

Muss HB, Case LD, Richards F II et al (1991) Interrupted versus continuous chemotherapy in patients with metastatic breast cancer: the Piedmont Oncology Association. N Engl J Med 325:1342–1348

Ejlertsen B, Pfeiffer P, Pedersen D et al (1993) Decreased efficacy of cyclophosphamide, epirubicin and 5-fluorouracil in metastatic breast cancer when reducing treatment duration from 18 to 6 months. Eur J Cancer 29A:527–531

Gregory RK, Powles TJ, Chang JC et al (1997) A randomized trial of six versus twelve courses of chemotherapy in metastatic carcinoma of the breast. Eur J Cancer 33:2194–2197

Falkson G, Gelman RS, Pandya KJ et al (1998) Eastern Cooperative Oncology Group randomized trials of observation versus maintenance therapy for patients with metastatic breast cancer in complete remission following induction treatment. J Clin Oncol 16:1669–1676

French Epirubicin Study Group (2000) Epirubicin-based chemotherapy in metastatic breast cancer patients: role of dose-intensity and duration of treatment. J Clin Oncol 18:3115–3124

Nooij MA, de Haes JCJM, Beex LVAM et al (2003) Continuing chemotherapy or not after the induction treatment in advanced breast cancer patients: clinical outcomes and oncologists' preferences. Eur J Cancer 39:614–621

Gennari A, Amadori D, De Lena M et al (2006) Lack of benefit of maintenance paclitaxel in first-line chemotherapy in metastatic breast cancer. J Clin Oncol 24:3912–3917

Stockler MR, Wilcken NJC, Coates AS (2003) Chemotherapy for advanced breast cancer: how long should it continue? Breast Cancer Res Treat 81(Suppl 1):S49–S52

Rivera E (2003) Liposomal anthracyclines in metastatic breast cancer: clinical update. Oncologist 8(Suppl 2):3–9

O'Shaughnessy JA (2003) Pegylated liposomal doxorubicin in the treatment of breast cancer. Clin Breast Cancer 4(5):318–328

O'Brien MER, Wigler N, Inbar M et al (2004) Reduced cardiotoxicity and comparable efficacy in a phase III trial of pegylated liposomal doxorubicin (CAELYXTM/Doxil®) versus conventional doxorubicin for first-line treatment of metastatic breast cancer. Ann Oncol 15:440–449

Safra T, Muggia F, Jeffers S et al (2000) Pegylated liposomal doxorubicin (Doxil): Reduced cardiotoxicity in patients reaching or exceeding cumulative doses of 500 mg/m2. Ann Oncol 11:1029–1033

Muggia F, Kim E, Gaiotti D, et al. (2004) Safety and response of prolonged Doxil therapy in recurrent gynecologic cancers. In: Program/proceedings of the 40th annual meeting of the American Society of Clinical Oncology, June 5–8, New Orleans, LA (abstract 5055)

Uyar D, Kulp B, Peterson G et al (2004) Cardiac safety profile of prolonged (≥6 cycles) pegylated liposomal doxorubicin administration in patients with gynecologic malignancies. Gynecol Oncol 94:147–151

Alba E, Martín M, Ramos M et al (2004) Multicenter randomized trial comparing sequential with concomitant administration of doxorubicin and docetaxel as first-line treatment of metastatic breast cancer: A Spanish Breast Cancer Research Group (GEICAM-9903) phase III study. J Clin Oncol 22:2587–2593

Sargent DJ, Hayes DF (2008) Assessing the measure of a new drug: is survival the only thing that matters? J Clin Oncol 26:1922–1923

Beslija et al (2007) Second consensus on medical treatment of metastatic breast cancer. Ann Oncol 18(2):215–225
Acknowledgements
The author thanks Andrés Hernando for his help in the conduction of the trial, Maribel Casas and Maria José Escudero for the statistical analyses and Dra. Eva Carrasco and Dr. Peter R. Turner for the editorial assistance. This work was research supported by Spanish Breast Cancer Research Group (GEICAM) and this study was supported in part by Schering Plough Corporation.
Conflict of interest statement
None of the co-authors has any involvement that can be construed as a conflict of interest. The funding bodies were not involved in the collection and interpretation of the data, or in the decision to publish.
Additional information
This study was conducted on behalf of the Spanish Breast Cancer Research Group (GEICAM)
Appendix
Appendix
See Table 5.
About this article
Cite this article
Alba, E., Ruiz-Borrego, M., Margelí, M. et al. Maintenance treatment with Pegylated liposomal doxorubicin versus observation following induction chemotherapy for metastatic breast cancer: GEICAM 2001-01 study. Breast Cancer Res Treat 122, 169–176 (2010). https://doi.org/10.1007/s10549-010-0860-9
Received:

Accepted:

Published:

Issue Date:

DOI: https://doi.org/10.1007/s10549-010-0860-9
Keywords