Abstract
Acrylamide, a potential human carcinogen, has been discovered in a variety of heat-treated carbohydrate-rich food products. Previously, dietary acrylamide intake was shown to be associated with endocrine-related cancers in humans. We assessed the association between dietary acrylamide intake and risk of postmenopausal breast cancer stratified by estrogen and progesterone receptor status. This study was embedded within the Netherlands Cohort Study on diet and cancer, which was initiated in 1986 enrolling 62,573 women aged 55–69 years at baseline. After 13.3 years of follow-up, 2225 incident breast cancer cases were ascertained, with hormone receptor status information for 43%. Cox proportional hazards analysis was applied to determine hazard ratios in quintiles of dietary acrylamide intake stratifying on estrogen receptor (ER) and progesterone receptor (PR) and smoking status. No association was observed for overall breast cancer or receptor-negative breast cancer risk, irrespective of smoking status. A statistically non-significantly increased risk of ER positive, PR positive and joint receptor-positive breast cancer was found in never-smoking women. The multivariable-adjusted hazard ratios were 1.31 (95% CI: 0.87–1.97, P trend = 0.26) for ER+, 1.47 (0.86–2.51, P trend = 0.14) for PR+, and 1.43 (0.83–2.46, P trend = 0.16) for ER+PR+, when comparing women in the highest quintile of acrylamide intake (median 36.8 μg/day) to women in the lowest (median 9.5 μg/day). This study showed some indications of a positive association between dietary acrylamide intake and receptor-positive breast cancer risk in postmenopausal never-smoking women. Further studies are needed to confirm or refute our observations.
Access options
Buy single article
Instant access to the full article PDF.
US$ 39.95
Tax calculation will be finalised during checkout.
Subscribe to journal
Immediate online access to all issues from 2019. Subscription will auto renew annually.
US$ 119
Tax calculation will be finalised during checkout.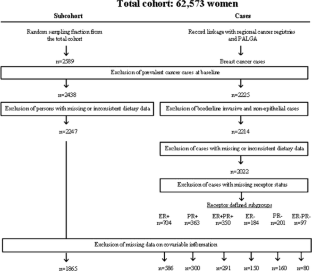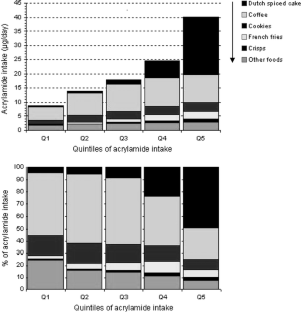 References
1.

Parkin DM (2001) Global cancer statistics in the year 2000. Lancet Oncol 2(9):533–543

2.

Hankinson S, Hunter D (2002) Breast cancer. In: Adami HO, Hunter DJ, Trichopoulos D (eds) Textbook of cancer epidemiology. Oxford University Press, New York

3.

Althuis MD, Fergenbaum JH, Garcia-Closas M, Brinton LA, Madigan MP, Sherman ME (2004) Etiology of hormone receptor-defined breast cancer: a systematic review of the literature. Cancer Epidemiol Biomarkers Prev 13(10):1558–1568

4.

Tareke E, Rydberg P, Karlsson P, Eriksson S, Tornqvist M (2002) Analysis of acrylamide, a carcinogen formed in heated foodstuffs. J Agric Food Chem 50(17):4998–5006

5.

Mottram DS, Wedzicha BL, Dodson AT (2002) Acrylamide is formed in the Maillard reaction. Nature 419(6906):448–449

6.

Schettgen T, Rossbach B, Kutting B, Letzel S, Drexler H, Angerer J (2004) Determination of haemoglobin adducts of acrylamide and glycidamide in smoking and non-smoking persons of the general population. Int J Hyg Environ Health 207(6):531–539

7.

Dybing E, Farmer PB, Andersen M et al (2005) Human exposure and internal dose assessments of acrylamide in food. Food Chem Toxicol 43(3):365–410

8.

Olesen PT, Olsen A, Frandsen H, Frederiksen K, Overvad K, Tjonneland A (2008) Acrylamide exposure and incidence of breast cancer among postmenopausal women in the Danish Diet, Cancer and Health Study. Int J Cancer 122(9):2094–2100

9.

Hogervorst JG, Schouten LJ, Konings EJ, Goldbohm RA, van den Brandt PA (2007) A prospective study of dietary acrylamide intake and the risk of endometrial, ovarian, and breast cancer. Cancer Epidemiol Biomarkers Prev 16(11):2304–2313

10.

Besaratinia A, Pfeifer GP (2007) A review of mechanisms of acrylamide carcinogenicity. Carcinogenesis 28(3):519–528

11.

van den Brandt PA, Goldbohm RA, van't Veer P, Volovics A, Hermus RJ, Sturmans F (1990) A large-scale prospective cohort study on diet and cancer in The Netherlands. J Clin Epidemiol 43(3):285–295

12.

Goldbohm RA, van den Brandt PA, Dorant E (1994) Estimation of the coverage of Dutch municipalities by cancer registries and PALGA based on hospital discharge data. Tijdschr Soc Gezondheidsz 72:80–84

13.

Schoenfeld D (1982) Partial residuals for the proportional hazards regression model. Biometrika 69:239–241

14.

Key TJ, Verkasalo PK, Banks E (2001) Epidemiology of breast cancer. Lancet Oncol 2(3):133–140

15.

Tanko LB, Christiansen C (2004) An update on the antiestrogenic effect of smoking: a literature review with implications for researchers and practitioners. Menopause 11(1):104–109

16.

Larsson SC, Akesson A, Wolk A (2008) Long-term dietary acrylamide intake and breast cancer risk in a prospective cohort of Swedish women. Am J Epidemiol 169(3):376–381

17.

Wilson KM, Mucci LA, Cho E, Hunter DJ, Chen WY, Willett WC (2009) Dietary acrylamide intake and risk of premenopausal breast cancer. Am J Epidemiol 169(8):954–961

18.

Linkov F, Edwards R, Balk J et al (2008) Endometrial hyperplasia, endometrial cancer and prevention: gaps in existing research of modifiable risk factors. Eur J Cancer 44(12):1632–1644

19.

Riman T, Nilsson R, Persson IR (2004) Review of epidemiological evidence for reproductive and hormonal factors in relation to the risk of epithelial ovarian malignancies. Acta Obset Gynecol Scand 83(9):783–795

20.

Clement FC, Dip R, Naegeli H (2007) Expression profile of human cells in culture exposed to glycidamide, a reactive metabolite of the heat-induced food carcinogen acrylamide. Toxicology 240(1–2):111–124

21.

Rosenberg LU, Einarsdottir K, Friman EI et al (2006) Risk factors for hormone receptor-defined breast cancer in postmenopausal women. Cancer Epidemiol Biomarkers Prev 15(12):2482–2488

22.

Speirs V, Walker RA (2007) New perspectives into the biological and clinical relevance of oestrogen receptors in the human breast. J Pathol 211(5):499–506

23.

Kian TM, Rogatsky I, Tzagarakis-Foster C et al (2004) Estradiol and selective estrogen receptor modulators differentially regulate target genes with estrogen receptors alpha and beta. Mol Biol Cell 15(3):1262–1272

24.

Tang N, Zhou B, Wang B, Yu R (2009) Coffee consumption and risk of breast cancer: a metaanalysis. Am J Obstet Gynecol 200(3):290–299

25.

Cai J, Zeng D (2004) Sample size/power calculation for case-cohort studies. Biometrics 60(4):1015–1024

26.

Goldbohm RA, van den Brandt PA, Brants HA et al (1994) Validation of a dietary questionnaire used in a large-scale prospective cohort study on diet and cancer. Eur J Clin Nutr 48(4):253–265

27.

Petersen BJ, Tran N (2005) Exposure to acrylamide: placing exposure in context. Adv Exp Med Biol 561:63–76

28.

Zafrani B, Aubriot MH, Mouret E et al (2000) High sensitivity and specificity of immunohistochemistry for the detection of hormone receptors in breast carcinoma: comparison with biochemical determination in a prospective study of 793 cases. Histopathology 37(6):536–545
Acknowledgments
We are indebted to the participants of this study and further wish to thank the cancer registries (IKA, IKL, IKMN, IKN, IKO, IKR, IKST, IKW, IKZ and VIKC), and the Netherlands nationwide registry of pathology (PALGA). We thank Arnold Kester, PhD, from Maastricht University for statistical advice; Sacha van de Crommert, Henny Brants, Jolanda Nelissen, Conny de Zwart, Annemie Pisters from Maastricht University, and Willy van Dijk and Martine Jansen from TNO Quality of Life for assistance; Linda van den Bosch from TNO Quality of Life, and Jack Berben and Harry van Montfort from Maastricht University for programming assistance.
About this article
Cite this article
Pedersen, G.S., Hogervorst, J.G.F., Schouten, L.J. et al. Dietary acrylamide intake and estrogen and progesterone receptor-defined postmenopausal breast cancer risk. Breast Cancer Res Treat 122, 199–210 (2010). https://doi.org/10.1007/s10549-009-0642-4
Received:

Accepted:

Published:

Issue Date:
Keywords
Acrylamide

Diet

Breast cancer

Estrogen receptor

Progesterone receptor