Abstract
Few studies have examined the pattern of change in quality of life (QoL) over time among patients with breast cancer, or the impact of disease recurrence on QoL. This retrospective study examined QoL among patients with stage I–IIIB breast cancer. Individual, disease and treatment characteristics were abstracted from the medical record, and linked with QoL data collected as a routine part of patient care. The sample included patients with nonrecurrent (N = 100) and recurrent (N = 19) disease, who completed 1,449 QoL assessments. Linear mixed model analysis showed that disease recurrence significantly and adversely affected QoL across all domains. QoL did not appear to deteriorate before recurrence. The pattern of adjustment after recurrence varied across QoL domains in theoretically consistent ways. Study findings suggest that patients show improvement in some areas after recurrence, but generally do not recover previous levels of QoL.
This is a preview of subscription content, log in to check access.
Access options
Buy single article
Instant access to the full article PDF.
US$ 39.95
Price includes VAT for USA
Subscribe to journal
Immediate online access to all issues from 2019. Subscription will auto renew annually.
US$ 199
This is the net price. Taxes to be calculated in checkout.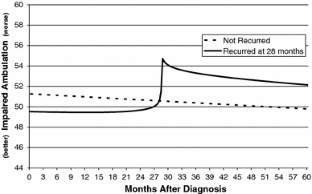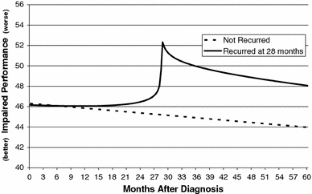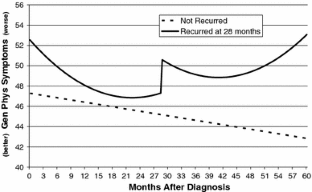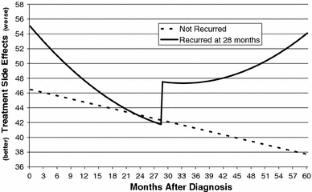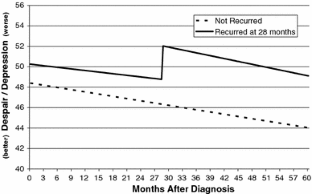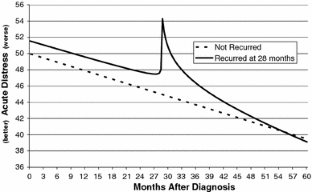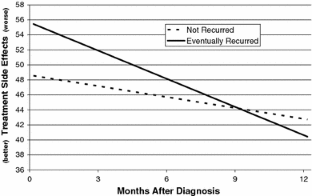 References
1.

Helgeson VS, Tomich PL (2005) Surviving cancer: a comparison of 5-year disease-free breast cancer survivors with healthy women. Psychooncology 14(4):307–317. doi:10.1002/pon.848

2.

Aranda S, Schofield P, Weih L et al (2005) Mapping the quality of life and unmet needs of urban women with metastatic breast cancer. Eur J Cancer Care (Engl) 14(3):211–222. doi:10.1111/j.1365-2354.2005.00541.x

3.

Moulder S, Hortobagyi GN (2008) Advances in the treatment of breast cancer. Clin Pharmacol Ther 83(1):26–36. doi:10.1038/sj.clpt.6100449

4.

van der Steeg AF, De Vries J, Roukema JA (2008) The value of quality of life and health status measurements in the evaluation of the well-being of breast cancer survivors. Eur J Surg Oncol 34(11):1225–1230

5.

McCarthy NJ (2004) Care of the breast cancer survivor: increased survival rates present a new set of challenges. Postgrad Med 116(4):39–40, 42, 45–36

6.

Del Mastro L, Costantini M, Morasso G et al (2002) Impact of two different dose-intensity chemotherapy regimens on psychological distress in early breast cancer patients. Eur J Cancer 38(3):359–366. doi:10.1016/S0959-8049(01)00380-X

7.

Brandberg Y, Michelson H, Nilsson B et al (2003) Quality of life in women with breast cancer during the first year after random assignment to adjuvant treatment with marrow-supported high-dose chemotherapy with cyclophosphamide, thiotepa, and carboplatin or tailored therapy with fluorouracil, epirubicin, and cyclophosphamide: Scandinavian Breast Group Study 9401. J Clin Oncol 21(19):3659–3664. doi:10.1200/JCO.2003.07.020

8.

de Haes H, Olschewski M, Kaufmann M et al (2003) Quality of life in goserelin-treated versus cyclophosphamide + methotrexate + fluorouracil-treated premenopausal and perimenopausal patients with node-positive, early breast cancer: the Zoladex Early Breast Cancer Research Association Trialists Group. J Clin Oncol 21(24):4510–4516. doi:10.1200/JCO.2003.11.064

9.

Land SR, Kopec JA, Yothers G et al (2004) Health-related quality of life in axillary node-negative, estrogen receptor-negative breast cancer patients undergoing AC versus CMF chemotherapy: findings from the National Surgical Adjuvant Breast and Bowel Project B-23. Breast Cancer Res Treat 86(2):153–164. doi:10.1023/B:BREA.0000032983.87966.4e

10.

Martin M, Pienkowski T, Mackey J et al (2005) Adjuvant docetaxel for node-positive breast cancer. N Engl J Med 352(22):2302–2313. doi:10.1056/NEJMoa043681

11.

Peppercorn J, Herndon JII, Kornblith AB et al (2005) Quality of life among patients with stage II and III breast carcinoma randomized to receive high-dose chemotherapy with autologous bone marrow support or intermediate-dose chemotherapy: results from Cancer and Leukemia Group B 9066. Cancer 104(8):1580–1589. doi:10.1002/cncr.21363

12.

Bernhard J, Zahrieh D, Castiglione-Gertsch M et al (2007) Adjuvant chemotherapy followed by goserelin compared with either modality alone: the impact on amenorrhea, hot flashes, and quality of life in premenopausal patients—the International Breast Cancer Study Group Trial VIII. J Clin Oncol 25(3):263–270. doi:10.1200/JCO.2005.04.5393

13.

Cella D, Fallowfield L, Barker P et al (2006) Quality of life of postmenopausal women in the ATAC ("Arimidex", tamoxifen, alone or in combination) trial after completion of 5 years' adjuvant treatment for early breast cancer. Breast Cancer Res Treat 100(3):273–284. doi:10.1007/s10549-006-9260-6

14.

Fallowfield LJ, Bliss JM, Porter LS et al (2006) Quality of life in the intergroup exemestane study: a randomized trial of exemestane versus continued tamoxifen after 2 to 3 years of tamoxifen in postmenopausal women with primary breast cancer. J Clin Oncol 24(6):910–917. doi:10.1200/JCO.2005.03.3654

15.

Whelan TJ, Goss PE, Ingle JN et al (2005) Assessment of quality of life in MA.17: a randomized, placebo-controlled trial of letrozole after 5 years of tamoxifen in postmenopausal women. J Clin Oncol 23(28):6931–6940. doi:10.1200/JCO.2005.11.181

16.

Land SR, Wickerham DL, Costantino JP et al (2006) Patient-reported symptoms and quality of life during treatment with tamoxifen or raloxifene for breast cancer prevention: the NSABP study of tamoxifen and raloxifene (STAR) P-2 trial. JAMA 295(23):2742–2751. doi:10.1001/jama.295.23.joc60075

17.

Oh S, Heflin L, Meyerowitz BE et al (2004) Quality of life of breast cancer survivors after a recurrence: a follow-up study. Breast Cancer Res Treat 87(1):45–57. doi:10.1023/B:BREA.0000041580.55817.5a

18.

Sarenmalm EK, Ohlén J, Jonsson T, Gaston-Johansson F (2007) Coping with recurrent breast cancer: predictors of distressing symptoms and health-related quality of life. J Pain Symptom Manage 34(1):24–39. doi:10.1016/j.jpainsymman.2006.10.017

19.

Akechi T, Taniguchi K, Suzuki S, Okamura M, Minami H, Okuyama T, Furukawa TA, Uchitomi Y (2007) Multifaceted psychosocial intervention program for breast cancer patients after first recurrence: feasibility study. Psychooncology 16(6):517–524. doi:10.1002/pon.1101

20.

Thornton AA, Madlensky L, Flatt SW et al (2005) The impact of a second breast cancer diagnosis on health related quality of life. Breast Cancer Res Treat 92(1):25–33. doi:10.1007/s10549-005-1411-7

21.

Knobf MT, Sun Y (2005) A longitudinal study of symptoms and self-care activities in women treated with primary radiotherapy for breast cancer. Cancer Nurs 28(3):210–218. doi:10.1097/00002820-200505000-00010

22.

Mollick JA, Carlson RW (2004) Rational surveillance programs for early stage breast cancer patients after primary treatment. Breast Dis 21:47–54

23.

Fortner B, Okon T, Schwartzberg L et al (2003) The cancer care monitor: psychometric content evaluation and pilot testing of a computer administered system for symptom screening and quality of life in adult cancer patients. J Pain Symptom Manage 26(6):1077–1092. doi:10.1016/j.jpainsymman.2003.04.003

24.

Cnaan A, Laird NM, Slasor P (1997) Using the general linear mixed model to analyse unbalanced repeated measures and longitudinal data. Stat Med 16(20):2349–2380. doi:10.1002/(SICI)1097-0258(19971030)16:20<2349::AID-SIM667>3.0.CO;2-E

25.

Wolf FM (1986) Quantitative methods for research synthesis. Sage, Thousand Oaks, p 28

26.

Cohen J, Cohen P, West SG et al (2002) Applied multiple regression/correlation analysis for the behavioral sciences, 3rd edn. Lawrence Erlbaum Associates, Hillsdale
Acknowledgments
This work was supported by funding from AstraZeneca Pharmaceuticals.
Electronic supplementary material
Below is the link to the electronic supplementary material.
About this article
Cite this article
Walker, M.S., Schwartzberg, L.S., Stepanski, E.J. et al. A retrospective study of quality of life in a community sample of patients with early stage breast cancer. Breast Cancer Res Treat 115, 415–422 (2009). https://doi.org/10.1007/s10549-009-0387-0
Received:

Accepted:

Published:

Issue Date:
Keywords
Early stage breast cancer

Patient Care Monitor

Quality of life

Disease recurrence

Symptoms