Abstract
To measure the association between use of estrogenic botanical supplements and serum sex hormones in postmenopausal breast cancer survivors, a total 502 postmenopausal women were queried 2–3 years after breast cancer diagnosis about their use of botanical supplements, and supplements were categorized according to their estrogenic properties. Concurrently, a fasting blood sample was obtained for assay of estrone, estradiol, free estradiol, testosterone, free testosterone, dehydroepiandrosterone sulfate (DHEAS), and sex hormone-binding globulin. Adjusted means of the serum hormones were calculated by use of estrogenic supplements. Women reporting use of any estrogenic botanical supplement had significantly lower levels of estrone (20.8 vs. 23.6 pg/ml), estradiol (12.8 vs. 14.7 pg/ml), free estradiol (0.29 vs. 0.35 pg/ml), and DHEAS (47.7 vs. 56.2 µg/dl) compared to women reporting no use. Data from this cross-sectional study suggest the use of estrogenic botanical supplements may be associated with sex hormone concentrations in breast cancer survivors. Considering the high use of these supplements among breast cancer patients, further research is needed to clarify the relative estrogenicity/antiestrogenicity of these compounds and their relation with prognosis.
Access options
Buy single article
Instant access to the full article PDF.
US$ 39.95
Tax calculation will be finalised during checkout.
Subscribe to journal
Immediate online access to all issues from 2019. Subscription will auto renew annually.
US$ 119
Tax calculation will be finalised during checkout.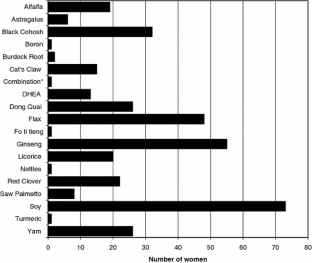 References
1.

Food and drug administration. Dietary Supplement Health and Education Act of 1994. [cited 2008 April 4]; Available from: http://www.fda.gov/opacom/laws/dshea.html#sec3

2.

Trindle HA, Davis RB, Phillips RS, Eisenberg DM (2005) Trends in use of complementary and alternative medicine by US adults: 1997–2002. Altern Ther Health Med 11(1):42–49

3.

Henderson JW, Donatelle RJ (2004) Complementary and alternative medicine use by women after completion of allopathic treatment for breast cancer. Altern Ther Health Med 10(1):52–57

4.

Navo MA, Phan J, Vaughan C et al (2004) An assessment of the utilization of complementary and alternative medication in women with gynecologic or breast malignancies. J Clin Oncol 22(4):671–677. doi:10.1200/JCO.2004.04.162

5.

Wu AH, Stanczyk FZ, Martinez C et al (2005) A controlled 2-mo dietary fat reduction and soy food supplementation study in postmenopausal women. Am J Clin Nutr 81(5):1133–1141

6.

Wu WH, Liu LY, Chung CJ, Jou HJ, Wang TA (2005) Estrogenic effect of yam ingestion in healthy postmenopausal women. J Am Coll Nutr 24(4):235–243

7.

Low YL, Taylor JI, Grace PB et al (2005) Phytoestrogen exposure correlation with plasma estradiol in postmenopausal women in European Prospective Investigation of Cancer and Nutrition-Norfolk may involve diet-gene interactions. Cancer Epidemiol Biomarkers Prev 14(1):213–220

8.

Kirk CJ, Harris RM, Wood DM, Waring RH, Hughes PJ (2001) Do dietary phytoestrogens influence susceptibility to hormone-dependent cancer by disrupting the metabolism of endogenous oestrogens? Biochem Soc Trans 29(Pt 2):209–216. doi:10.1042/BST0290209

9.

Cummings SR, Eckert S, Krueger KA et al (1999) The effect of raloxifene on risk of breast cancer in postmenopausal women: results from the MORE randomized trial. Multiple outcomes of raloxifene evaluation. JAMA 281(23):2189–2197. doi:10.1001/jama.281.23.2189

10.

Fisher B, Costantino JP, Wickerham DL et al (1998) Tamoxifen for prevention of breast cancer: report of the National Surgical Adjuvant Breast and Bowel Project P-1 Study. J Natl Cancer Inst 90(18):1371–1388. doi:10.1093/jnci/90.18.1371

11.

McTiernan A, Rajan KB, Tworoger SS et al (2003) Adiposity and sex hormones in postmenopausal breast cancer survivors. J Clin Oncol 21(10):1961–1966. doi:10.1200/JCO.2003.07.057

12.

Irwin ML, McTiernan A, Bernstein L et al (2004) Physical activity levels among breast cancer survivors. Med Sci Sports Exerc 36:1484–1491

13.

Irwin ML, Crumley D, McTiernan A et al (2003) Physical activity levels before and after a diagnosis of breast carcinoma. Cancer 97:1746–1757. doi:10.1002/cncr.11227

14.

Sodergard R, Backstrom T, Shanbhag V, Carstensen H (1982) Calculation of free and bound fractions of testosterone and estradiol–17 beta to human plasma proteins at body temperature. J Steroid Biochem 16:801–810. doi:10.1016/0022-4731(82)90038-3

15.

Sparks R, Ulrich CM, Bigler J et al (2004) UDP-glucoronosyltransferase and sulfotransferase polymorphisms, sex hormone concentrations, and tumor receptor status in breast cancer patients. Breast Cancer Res 6:R488–R498. doi:10.1186/bcr818

16.

Wayne SJ, Neuhouser ML, Ulrich CM et al (2007) Dietary fiber is associated with serum sex hormones and insulin-related peptides in postmenopausal breast cancer survivors. Breast Cancer Res Treat 112(1):149–158

17.

Gruendwald J, Brendler T, Jaenicke C (eds) (2007) Physician's Desk Reference for Herbal Products, 4th edn. Thompson Healthcare, Montvale, p 1300

18.

Cassileth BR, Lucarelli CD (2003) Herb–drug interactions in oncology. BC Decker Inc., New York

19.

Jellin JM, Gregory PJ et al. (2007) Natural medicine comprehensive database [cited 2007 11/15]; Available from: www.naturaldatabase.com

20.

Patterson RE, Kristal AR, Tinker LF, Carter RA, Bolton MP, Agurs-Collins T (1999) Measurement characteristics of the women's health initiative food frequency questionnaire. Ann Epidemiol 9:178–187. doi:10.1016/S1047-2797(98)00055-6

21.

Atkinson C, Newton KM, Bowles EJA, Yong M, Lampe JW (2008) Demographic, anthropometric, and lifestyle factors and dietary intakes in relation to daidzein-metabolizing phenotypes among premenopausal women in the United States. Am J Clin Nutr 87(3):679–687

22.

Irwin ML, McTiernan A, Bernstein L et al (2005) Relationship between obesity and physical activity with c-peptide, leptin, and insulin-like growth factors in breast cancer survivors. Cancer Epidemiol Biomarkers Prev 15:2881–2888. doi:10.1158/1055-9965.EPI-05-0185

23.

Expert Panel on the Identification, Evaluation, and Treatment of Overweight in Adults (1998) Clinical guidelines on the identification, evaluation, and treatment of overweight and obesity in adults: executive summary. Am J Clin Nutr 68:899–917

24.

Kriska A (1997) Modifiable activity questionnaire. Med Sci Sports Exerc 29:S73–S78

25.

Jette M, Sidney K, Blumchen G (1990) Metabolic equivalents (METS) in exercise testing, exercise prescription, and evaluation of functional capacity. Clin Cardiol 13:555–565

26.

Lampe JW, Gustafson DR, Hutchins AM et al (1999) Urinary isoflavonoid and lignan excretion on a Western diet: relation to soy, vegetable, and fruit intake. Cancer Epidemiol Biomarkers Prev 8(8):699–707

27.

Kronenberg F, Fugh-Berman A (2002) Complementary and alternative medicine for menopausal symptoms: a review of randomized, controlled trials. Ann Intern Med 137(10):805–813

28.

Newton KM, Reed SD, LaCroix AZ, Grothaus LC, Ehrlich K, Guiltinan J (2006) Treatment of vasomotor symptoms of menopause with black cohosh, multibotanicals, soy, hormone therapy, or placebo: a randomized trial. Ann Intern Med 145(12):869–879

29.

Duffy C, Perez K, Partridge A (2007) Implications of phytoestrogen intake for breast cancer. CA Cancer J Clin 57(5):260–277. doi:10.3322/CA.57.5.260

30.

Baird DD, Umbach DM, Lansdell L et al (1995) Dietary intervention study to assess estrogenicity of dietary soy among postmenopausal women. J Clin Endocrinol Metab 80(5):1685–1690. doi:10.1210/jc.80.5.1685

31.

Foth D, Nawroth F (2003) Effect of soy supplementation on endogenous hormones in postmenopausal women. Gynecol Obstet Invest 55(3):135–138. doi:10.1159/000071526

32.

Nettleton JA, Greany KA, Thomas W, Wangen KE, Adlercreutz H, Kurzer MS (2005) Short-term soy and probiotic supplementation does not markedly affect concentrations of reproductive hormones in postmenopausal women with and without histories of breast cancer. J Altern Complement Med 11(6):1067–1074. doi:10.1089/acm.2005.11.1067

33.

Duncan AM, Underhill KE, Xu X, Lavalleur J, Phipps WR, Kurzer MS (1999) Modest hormonal effects of soy isoflavones in postmenopausal women. J Clin Endocrinol Metab 84(10):3479–3484. doi:10.1210/jc.84.10.3479

34.

Pino AM, Valladares LE, Palma MA, Mancilla AM, Yanez M, Albala C (2000) Dietary isoflavones affect sex hormone-binding globulin levels in postmenopausal women. J Clin Endocrinol Metab 85(8):2797–2800. doi:10.1210/jc.85.8.2797

35.

Wu AH, Stanczyk FZ, Seow A, Lee HP, Yu MC (2002) Soy intake and other lifestyle determinants of serum estrogen levels among postmenopausal Chinese women in Singapore. Cancer Epidemiol Biomarkers Prev 11(9):844–851

36.

Wu AH, Arakawa K, Stanczyk FZ, Van Den Berg D, Koh WP, Yu MC (2005) Tea and circulating estrogen levels in postmenopausal Chinese women in Singapore. Carcinogenesis 26(5):976–980. doi:10.1093/carcin/bgi028

37.

Adlercreutz H, Hockerstedt K, Bannwart C et al (1987) Effect of dietary components, including lignans and phytoestrogens, on enterohepatic circulation and liver metabolism of estrogens and on sex hormone binding globulin (SHBG). J Steroid Biochem 27(4–6):1135–1144. doi:10.1016/0022-4731(87)90200-7

38.

Geller SE, Studee L (2005) Botanical and dietary supplements for menopausal symptoms: what works, what does not. J Womens Health (Larchmt) 14(7):634–649. doi:10.1089/jwh.2005.14.634

39.

Low Dog T (2005) Menopause: a review of botanical dietary supplements. Am J Med 118(Suppl 12B):98–108. doi:10.1016/j.amjmed.2005.09.044

40.

Rebbeck TR, Troxel AB, Norman S et al (2007) A retrospective case-control study of the use of hormone-related supplements and association with breast cancer. Int J Cancer 120(7):1523–1528. doi:10.1002/ijc.22485

41.

Rice S, Amon A, Whitehead SA (2007) Ethanolic extracts of black cohosh (Actaea racemosa) inhibit growth and oestradiol synthesis from oestrone sulphate in breast cancer cells. Maturitas 56(4):359–367. doi:10.1016/j.maturitas.2006.10.002

42.

Ruhlen RL, Haubner J, Tracy JK et al (2007) Black cohosh does not exert an estrogenic effect on the breast. Nutr Cancer 59(2):269–277

43.

Bolle P, Mastrangelo S, Perrone F, Evandri MG (2007) Estrogen-like effect of a Cimicifuga racemosa extract sub-fraction as assessed by in vivo, ex vivo and in vitro assays. J Steroid Biochem Mol Biol 107(3–5):262–269. doi:10.1016/j.jsbmb.2007.03.044

44.

Bodinet C, Freudenstein J (2004) Influence of marketed herbal menopause preparations on MCF-7 cell proliferation. Menopause 11(3):281–289. doi:10.1097/01.GME.0000094209.15096.2B

45.

Beck V, Unterrieder E, Krenn L, Kubelka W, Jungbauer A (2003) Comparison of hormonal activity (estrogen, androgen and progestin) of standardized plant extracts for large scale use in hormone replacement therapy. J Steroid Biochem Mol Biol 84(2–3):259–268. doi:10.1016/S0960-0760(03)00034-7

46.

Setchell KD, Brown NM, Desai P et al (2001) Bioavailability of pure isoflavones in healthy humans and analysis of commercial soy isoflavone supplements. J Nutr 131(Suppl 4):1362S–1375S

47.

Kelly GE, Joannou GE, Reeder AY, Nelson C, Waring MA (1995) The variable metabolic response to dietary isoflavones in humans. Proc Soc Exp Biol Med 208(1):40–43

48.

Knight DC, Eden JA (1996) A review of the clinical effects of phytoestrogens. Obstet Gynecol 87(5 Pt 2):897–904
Acknowledgements
National Cancer Institute contracts N01-CN-75036-20, N01-CN-05228, N01-PC-67010/N01-PC-35139, N01-PC-67007/N01-PC-35138 and N01-PC-67009/N01-PC-35142, and training grant T32 CA09661. A portion of this work was conducted through the Clinical Research Center at the University of Washington and supported by the NIH grant M01-RR-00037. Data collection for the Women's Contraceptive and Reproductive Experiences Study at the University of Southern California was supported by the National Institute of Child Health and Human Development contract N01-HD-3-3175. Patient identification was supported in part by the California Department of Health Services grant 050Q-8709-S1528. Preparation of this manuscript was supported, in part, by the University of New Mexico Cancer Center, a recipient of NCI Cancer Support Grant P30-CA118100.
About this article
Cite this article
Wayne, S.J., Neuhouser, M.L., Koprowski, C. et al. Breast cancer survivors who use estrogenic botanical supplements have lower serum estrogen levels than non users. Breast Cancer Res Treat 117, 111 (2009). https://doi.org/10.1007/s10549-008-0224-x
Received:

Accepted:

Published:
Keywords
Breast cancer

Estrogenic botanical supplements

Serum sex hormones