Abstract
Objective
This pilot study examined the effects of a self-administered, home-based exercise (HBE) rehabilitation programme designed to help women regain shoulder mobility immediately following surgery for a modified radical mastectomy and axillary node dissection.
Methods
Twenty-seven women who were scheduled for surgery were randomly assigned to either a post-surgical experimental HBE rehabilitation group (n = 16) or a usual care group (UC; n = 11). Women assigned to the HBE group followed an 11 day (days 3–14 post-surgery), home-based rehabilitation programme consisting of shoulder flexibility and stretching exercises that were described on videotape. The videotape programme was modelled after the exercises and guidelines described in a brochure produced by the Canadian Cancer Society.
Results
As a result of the exercise programme intervention, there was a time × group interaction indicating that the HBE group demonstrated a significantly greater increase in shoulder flexion range of motion (ROM) (p = 0.003) and abduction ROM (p = 0.036) when compared to the UC. There were no statistical differences in shoulder strength between groups over time. External rotation (p = 0.036) and grip strength (p = 0.001) significantly increased in both groups during the intervention period but there were no interaction effects. With respect to the forearm circumferences, there was a significant decrease over time (p < 0.001) but no interaction between groups.
Conclusion
This HBE rehabilitation programme is an effective way to improve shoulder mobility and ROM during the immediate 2-week recovery period following surgery.
This is a preview of subscription content, log in to check access.
Access options
Buy single article
Instant access to the full article PDF.
US$ 39.95
Tax calculation will be finalised during checkout.
Subscribe to journal
Immediate online access to all issues from 2019. Subscription will auto renew annually.
US$ 199
Tax calculation will be finalised during checkout.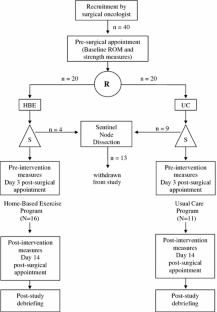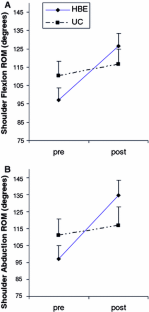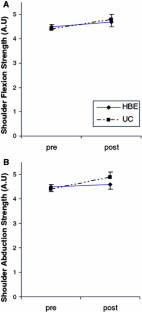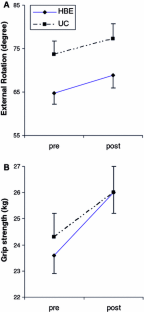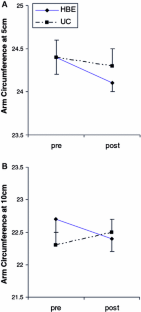 References
1.

Abe M, Iwase T, Takeuchi T (1998) A randomised controlled trial on the prevention of seroma after partial or total mastectomy and axillary lymph node dissection. Breast Cancer 5:67–70

2.

Bendz I, Fagevik Olsen M (2002) Evaluation of immediate versus delayed shoulder exercises after breast cancer surgery including lymph node dissection—a randomised controlled trial. Breast 11:241–248

3.

Blomqvist L, Stark B, Engler N et al (2004) Evaluation of arm and shoulder mobility and strength after modified radical mastectomy and radiotherapy. Acta Oncol 43:280–283

4.

Bohannon RW (2005) Manual muscle testing: does it meet the standards of an adequate screening test? Clin Rehabil 19:662–667

5.

Bohannon RW (2001) Dynamometer measurements of hand-grip strength predict multiple outcomes. Percept Mot Skills 93:323–328

6.

Borg G (1998) Borg's perceived exertion and pain scales. Human Kinetics, Champaign IL, pp 39–52

7.

Box RC, Reul-Hirche HM, Bullock-Saxton JE et al (2002) Shoulder movement after breast cancer surgery: results of a randomized controlled study of postoperative physiotherapy. Breast Cancer Res Treat 75:35–50

8.

Canadian Cancer Society (1997) "Exercise guide after breast surgery"

9.

Dawson I, Stam L, Heslinga JM et al (1989) Effect of shoulder immobilization on wound seroma and shoulder dysfunction following modified radical mastectomy: a randomized prospective clinical trial. Br J Surg 76:311–312

10.

de Rezende LF, Franco RL, de Rezende MF et al (2006) Two exercise schemes in postoperative breast cancer: comparison of effects on shoulder movement and lymphatic disturbances. Tumori 92:55–61

11.

Flew TJ (1979) Wound drainage following radical mastectomy: the effect of restriction of shoulder movement. Br J Surg 66:302–305

12.

Gosselink R, Rouffaer L, Vanhelden P et al (2003) Recovery of upper limb function after axillary dissection. J Surg Oncol 83:204–211

13.

Gutman H, Kersz T, Barzilai T et al (1990) Achievements of physical therapy inpatients after modified radical mastectomy compared with quadrantectomy, axillary dissection, and radiation for carcinoma of the breast. Arch Surg 125:389–391

14.

Harms-Ringdahl K, Carlsson AM, Ekholm J et al (1986) Pain assessment with different intensity scales in response to loading of joint structures. Pain 27:401–411

15.

Jansen RF, van Geel AN, de Groot HG et al (1990) Immediate versus delayed shoulder exercises after axillary lymph node dissection. Am J Surg 160:481–484

16.

Kendall FP, McCreary EK, Provance PG (1993) Muscle testing and function. Williams and Wilkins, Baltimore, Maryland

17.

Lotze MT, Duncan M, Gerber MD et al (1981) Early versus delayed shoulder motion following axillary dissection. Ann Surg 193:288–295

18.

Markowski J, Wilcox JP, Helm PA (1981) Lymphedema incidence after specific postmastectomy therapy. Arch Phys Med Rehabil 62:449–452

19.

McKenzie DC, Kalda AL (2003) Effect of upper extremity exercise on secondary lymphedema in breast cancer patients: a pilot study. J Clin Oncol 21:463–466

20.

Na YM, Lee JS, Park JS et al (1999) Early rehabilitation program in postmastectomy patients: a prospective clinical trial. Yonsei Med J 40:1–8

21.

Neely G, Ljunggren G, Sylvén C et al (1992) Comparison between the visual analogue scale (VAS) and the category-ratio scale (CR-10) for the evaluation of leg exertion. Int J Sports Med 13:133–136

22.

Pani SP, Vanamail P, Yuvarahj J (1995) Limb circumference measurement for recording edema volume in patients with filarial lymphedema. Lymphology 28:57–63

23.

Pearsall AW, Speer KP (1998) Frozen shoulder syndrome: diagnostic and treatment strategies in the primary care setting. Med Sci Sports Exerc 30(Suppl 4):S33–S39

24.

Peintinger F, Reitsamer R, Stranzl H et al (2003) Comparison of quality of life and arm complaints after axillary lymph node dissection vs. sentinel lymph node biopsy in breast cancer patients. Br J Cancer 89:648–652

25.

Petrek JA, Peters MP, Nori S et al (1990) Axillary lymphadenectomy. A prospective, randomized trial of 13 factors influencing drainage, including early or delayed arm mobilization. Arch Surg 125:378–383

26.

Pinto BM, Frierson GM, Rabin C et al (2005) Home-based physical activity intervention for breast cancer patients. J Clin Oncol 23:3572–3587

27.

Riddle DL, Rothstein JM, Lamb RL (1987) Goniometric reliability in a clinical setting. Shoulder measurements. Phys Ther 67:668–673

28.

Rodier JF, Gadonneix P, Dauplat J et al (1987) Influence of the timing of physiotherapy upon the lymphatic complications of axillary dissection for breast cancer. Int Surg 72:166–169

29.

SAS, Version 9.1, SAS Institute, Inc., Carry. North Carolina, 27513

30.

Schultz I, Barholm M, Grondal S (1997) Delayed shoulder exercises in reducing seroma frequency after modified radical mastectomy: a prospective randomized study. Ann Surg Oncol 4:293–297

31.

Shamley DR, Barker K, Simonite V et al (2005) Delayed versus immediate exercises following surgery for breast cancer: a systematic review. Breast Cancer Res Treat 90:263–271

32.

Sugden EM, Rezvani M, Harrison JM et al (1998) Shoulder movement after the treatment of early stage breast cancer. Clin Oncol (R Coll Radiol) 10:173–181

33.

van der Horst CM, Kenter JA, de Jong MT et al (1985) Shoulder function following early mobilization of the shoulder after mastectomy and axillary dissection. Neth J Surg 37:105–108
Acknowledgements
This study was supported by grants from the Ville Marie Oncology Foundation and the General Research Fund of Concordia University. We are indebted to all the women who contributed their time and effort; the staff at the Ville Marie Medical and Women's Health Centre for their assistance in the organization and administration of the study. We also wish to thank Dr. Simon Bacon and Dr. Lucie Bonneville for their statistical analyses and advice. A special word of thanks goes to Gaby Miller, Kalan Gardiner and Tracy Griffiths who participated in the development and production of the exercise video.
About this article
Cite this article
Kilgour, R.D., Jones, D.H. & Keyserlingk, J.R. Effectiveness of a self-administered, home-based exercise rehabilitation program for women following a modified radical mastectomy and axillary node dissection: a preliminary study. Breast Cancer Res Treat 109, 285–295 (2008). https://doi.org/10.1007/s10549-007-9649-x
Received:

Accepted:

Published:

Issue Date:
Keywords
Axillary node dissection

Home-based exercise programme

Mastectomy

Shoulder range of motion