Abstract
This study used measures of event-related potentials (ERPs) and cortical source analysis to examine the effect of covert orienting and sustained attention on 3- and 4.5-month-old infants' brain activity in a spatial cueing paradigm. Cortical source analysis was conducted with current density reconstruction using realistic head models created from age-appropriate infant MRIs. The validity effect was found in the P1 ERP component that was greater for valid than neutral trials in the electrodes contralateral to the visual targets when the stimulus onset asynchrony (SOA) was short. Cortical source analysis revealed greater current density amplitude around the P1 peak latency in the contralateral inferior occipital and ventral temporal regions for valid than neutral and invalid trials. The processing cost effect was found in the N1 ERP component that was greater for neutral than invalid trials in the short SOA condition. This processing cost effect was also shown in the current density amplitude around the N1 peak latency in the contralateral inferior and middle occipital and middle and superior temporal regions. Infant sustained attention was found to modulate infants' brain responses in covert orienting by enhancing the P1 ERP responses and current density amplitude in their cortical sources during sustained attention. These findings suggest that the neural mechanisms that underpin covert orienting already exist in 3- to 4.5-month-old, and they could be facilitated by infant sustained attention.
This is a preview of subscription content, log in to check access.
Access options
Buy single article
Instant access to the full article PDF.
US$ 39.95
Price includes VAT for USA
Subscribe to journal
Immediate online access to all issues from 2019. Subscription will auto renew annually.
US$ 199
This is the net price. Taxes to be calculated in checkout.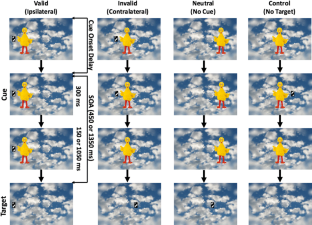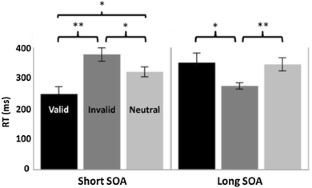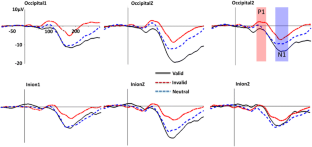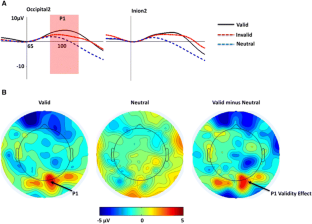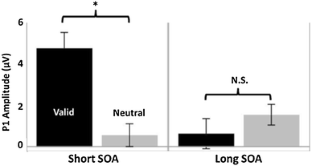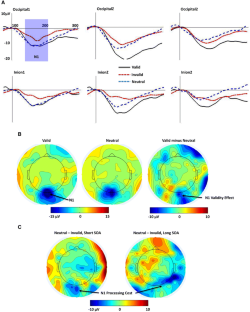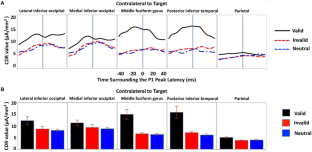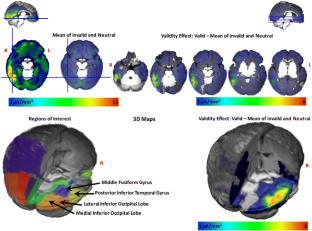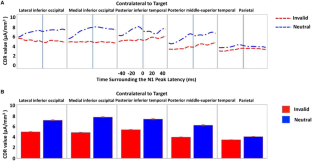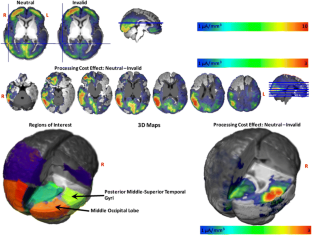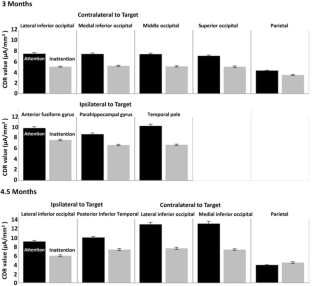 References
Amso D, Johnson SP (2005) Selection and inhibition in infancy: evidence from the spatial negative priming paradigm. Cognition 95(2):B27–B36. doi:10.1016/j.cognition.2004.08.006

Amso D, Johnson SP (2008) Development of visual selection in 3-to 9-month-olds: evidence from saccades to previously ignored locations. Infancy 13(6):675–686. doi:10.1080/15250000802459060

Clark VP, Fan S, Hillyard SA (1995) Identification of early visual evoked potential generators by retinotopic and topographic analyses. Hum Brain Mapp 2(3):170–187

Colombo J (2001) The development of visual attention in infancy. Annu Rev Psychol 52:337–367. doi:10.1146/annurev.psych.52.1.337

Corbetta M, Tansy AP, Stanley CM, Astafiev SV, Snyder AZ, Shulman GL (2005) A functional MRI study of preparatory signals for spatial location and objects. Neuropsychologia 43(14):2041–2056

Courage ML, Reynolds GD, Richards JE (2006) Infants' attention to patterned stimuli: developmental change from 3 to 12 months of age. Child Dev 77(3):680–695. doi:10.1111/j.1467-8624.2006.00897.x

Csibra G, Tucker LA, Johnson MH (1998) Neural correlates of saccade planning in infants: a high-density ERP study. Int J Psychophysiol 29(2):201–215. doi:10.1016/S0167-8760(98)00016-6

Csibra G, Tucker LA, Johnson MH (2001) Differential frontal cortex activation before anticipatory and reactive saccades in infants. Infancy 2(2):159–174. doi:10.1207/S15327078in0202_3

Daum MM, Gredeback G (2011) The development of grasping comprehension in infancy: covert shifts of attention caused by referential actions. Exp Brain Res 208(2):297–307. doi:10.1007/s00221-010-2479-9

DeBoer T, Scott LS, Nelson CA (2007) Methods for acquiring and analyzing infant event-related potentials. In: De Haan M (ed) Infant EEG and Event-related Potentials. Psychology Press, London, pp 5–37

Delorme A, Makeig S (2004) EEGLAB: an open source toolbox for analysis of single-trial EEG dynamics including independent component analysis. J Neurosci Methods 134(1):9–21. doi:10.1016/j.jneumeth.2003.10.009

Di Russo F, Martínez A, Sereno MI, Pitzalis S, Hillyard SA (2002) Cortical sources of the early components of the visual evoked potential. Hum Brain Mapp 15(2):95–111

Farroni T, Massaccesi S, Pividori D, Johnson MH (2004) Gaze following in newborns. Infancy 5(1):39–60. doi:10.1207/s15327078in0501_2

Fillmore PT, Richards JE, Phillips-Meek MC, Cryer A, Stevens M (2015) Stereotaxic magnetic resonance imaging brain atlases for infants from 3 to 12 months. Dev Neurosci 37(6):515–532. doi:10.1159/000438749

Fu SM, Zinni M, Squire PN, Kumar R, Caggiano DM, Parasuraman R (2008) When and where perceptual load interacts with voluntary visuospatial attention: an event-related potential and dipole modeling study. Neuroimage 39(3):1345–1355. doi:10.1016/j.neuroimage.2007.09.068

Greenhouse SW, Geisser S (1959) On methods in the analysis of profile data. Psychometrika 24:95–112

Guy MW, Zieber N, Richards JE (2016) The cortical development of specialized face processing in infancy. Child Dev. doi:10.1111/cdev.12543

Haith MM, Hazan C, Goodman GS (1988) Expectation and anticipation of dynamic visual events by 3.5-month-old babies. Child Dev 59:467–479

Hamalainen JA, Ortiz-Mantilla S, Benasich AA (2011) Source localization of event-related potentials to pitch change mapped onto age-appropriate MRIs at 6 months of age. Neuroimage 54(3):1910–1918. doi:10.1016/j.neuroimage.2010.10.016

Hayden A, Bhatt RS, Kangas A, Zieber N, Joseph JE (2012) Race-based perceptual asymmetry in face processing is evident early in life. Infancy 17(5):578–590. doi:10.1111/j.1532-7078.2011.00098.x

Hillyard SA, Mangun GR, Woldroff MG, Luck SJ (1995) Neural systems mediating selective attention. In: Gazzaniga MS (ed) Cognitive neurosciences. MIT, Cambridge, pp 665–682

Hood BM (1993) Inhibition of return produced by covert shifts of visual-attention in 6-month-old infants. Infant Behav Dev 16(2):245–254. doi:10.1016/0163-6383(93)80020-9

Hood BM (1995) Shifts of visual attention in the human infant: a neuroscientific approach. Adv Infancy Res 9:163–216

Hunter SK, Richards JE (2003) Peripheral stimulus localization by 5-to 14-week-old infants during phases of attention. Infancy 4(1):1–25. doi:10.1207/S15327078in0401_1

Huynh H, Feldt LS (1976) Estimation of the Box correction for degrees of freedom from sample data in randomised block and split-plot designs. J Educ Stat 1:69–82

Johnson MH, Tucker LA (1996) The development and temporal dynamics of spatial orienting in infants. J Exp Child Psychol 63(1):171–188. doi:10.1006/jecp.1996.0046

Johnson MH, Posner MI, Rothbart MK (1994) Facilitation of saccades toward a covertly attended location in early infancy. Psychol Sci 5(2):90–93. doi:10.1111/j.1467-9280.1994.tb00636.x

Johnson MH, de Haan M, Oliver A, Smith W, Hatzakis H, Tucker LA, Csibra G (2001) Recording and analyzing high-density event-related potentials with infants using the geodesic sensor net. Dev Neuropsychol 19(3):295–323. doi:10.1207/S15326942dn1903_4

Kuefner D, de Heering A, Jacques C, Palmero-Soler E, Rossion B (2010) Early visually evoked electrophysiological responses over the human brain (P1, N170) show stable patterns of face-sensitivity from 4 years to adulthood. Front Hum Neurosci 3:67. doi:10.3389/neuro.09.067.2009

Lecoutre B (1991) A correction for the ε approximate test in repeated measures designs with two or more independent groups. J Educ Stat 16:371–372

Lopez-Calderon J, Luck SJ (2014) ERPLAB: an open-source toolbox for the analysis of event related potentials. Front Hum Neurosci 8:213. doi:10.3389/Fnhum.2014.00213

Mallin BM, Richards JE (2012) Peripheral stimulus localization by infants of moving stimuli on complex backgrounds. Infancy 17(6):692–714. doi:10.1111/j.1532-7078.2011.00109.x

Mangun GR, Hillyard SA (1991) modulations of sensory-evoked brain potentials indicate changes in perceptual processing during visual spatial priming. J Exp Psychol Hum Percept Perform 17(4):1057–1074. doi:10.1037//0096-1523.17.4.1057

Markant J, Amso D (2013) Selective memories: infants' encoding is enhanced in selection via suppression. Dev Sci 16(6):926–940. doi:10.1111/Desc.12084

Markant J, Oakes LM, Amso D (2015a) Visual selective attention biases contribute to the other- race effect among 9-month-old infants. Dev Psychobiol. doi:10.1002/dev.21375

Markant J, Worden MS, Amso D (2015b) Not all attention orienting is created equal: recognition memory is enhanced when attention orienting involves distractor suppression. Neurobiol Learn Mem 120:28–40

Martinez A, Anllo-Vento L, Sereno MI, Frank LR, Buxton RB, Dubowitz DJ, Hillyard SA (1999) Involvement of striate and extrastriate visual cortical areas in spatial attention. Nat Neurosci 2(4):364–369

Martinez A, DiRusso F, Anllo-Vento L, Sereno MI, Buxton RB, Hillyard SA (2001) Putting spatial attention on the map: timing and localization of stimulus selection processes in striate and extrastriate visual areas. Vision Res 41(10–11):1437–1457. doi:10.1016/S0042-6989(00)00267-4

McCleery JP, Richards JE (2012) Comparing realistic head models for cortical source localization of infant event-related potentials. Poster presented at the International Conference on Infant Studies, Minneapolis

Michel CM, Murray MM, Lantz G, Gonzalez S, Spinelli L, de Peralta RG (2004) EEG source imaging. Clin Neurophysiol 115(10):2195–2222. doi:10.1016/j.clinph.2004.06.001

Munneke J, Heslenfeld DJ, Theeuwes J (2008) Directing attention to a location in space results in retinotopic activation in primary visual cortex. Brain Res 1222:184–191. doi:10.1016/j.brainres.2008.05.039

Oostenveld R, Fries P, Maris E, Schoffelen JM (2011) FieldTrip: open source software for advanced analysis of MEG, EEG, and invasive electrophysiological data. Comput Intell Neurosci. doi:10.1155/2011/156869

Ortiz-Mantilla S, Hamalainen JA, Benasich AA (2012) Time course of ERP generators to syllables in infants: a source localization study using age-appropriate brain templates. Neuroimage 59(4):3275–3287. doi:10.1016/j.neuroimage.2011.11.048

Pascual-Marqui RD (2007) Discrete, 3D distributed, linear imaging methods of electric neuronal activity. Part 1: exact, zero error localization. arXiv:0710.3341

Pascual-Marqui RD, Lehmann D, Koukkou M, Kochi K, Anderer P, Saletu B, Tanaka H, Hirata K, John ER, Prichep L, Biscay-Lirio R, Kinoshita T (2011) Assessing interactions in the brain with exact low-resolution electromagnetic tomography. Philos Trans A Math Phys Eng Sci 369(1952):3768–3784

Pempek TA, Kirkorian HL, Richards JE, Anderson DR, Lund AF, Stevens M (2010) Video comprehensibility and attention in very young children. Dev Psychol 46(5):1283–1293. doi:10.1037/A0020614

Peykarjou S, Westerlund A, Cassia VM, Kuefner D, Nelson CA (2013) The neural correlates of processing newborn and adult faces in 3-year-old children. Dev Sci 16(6):905–914. doi:10.1111/desc.12063

Posner MI (1980) Orienting of attention. Quart J Exp Psychol 32:3–25. doi:10.1080/00335558008248231

Reid VM, Striano T, Kaufman J, Johnson MH (2004) Eye gaze cueing facilitates neural processing of objects in 4-month-old infants. neuroreport 15(16):2553–2555

Reynolds GDR, Richards JE (2007) Infant heart rate: a developmental psychophysiological perspective. In: Segalowitz LASSJ (ed) Developmental Psychophysiology. Cambridge Press, Cambridge, pp 173–210

Reynolds GD, Richards JE (2009) Cortical source localization of infant cognition. Dev Neuropsychol 34(3):312–329. doi:10.1080/87565640902801890

Reynolds GD, Courage ML, Richards JE (2010) Infant attention and visual preferences: converging evidence from behavior, event-related potentials, and cortical source localization. Dev Psychol 46(4):886–904. doi:10.1037/A0019670

Richards JE (2000a) Localizing the development of covert attention in infants with scalp event-related potentials. Dev Psychol 36(1):91–108

Richards JE (2000b) The development of covert attention to peripheral targets and its relation to attention to central visual stimuli. Paper presented at the International Conference for Infant Studies, Brighton

Richards JE (2001) Cortical indexes of saccade planning following covert orienting in 20-week-old infants. Infancy 2(2):135–157. doi:10.1207/S15327078in0202_2

Richards JE (2004) Development of covert orienting in young infants. In: Itti L, Rees G, Tsotsos J (eds) Neurobiology of attention. Academic Press/Elsevier, New York, pp 82–88

Richards JE (2005) Localizing cortical sources of event-related potentials in infants' covert orienting. Dev Sci 8(3):255–278. doi:10.1111/j.1467-7687.2005.00414.x

Richards JE (2008) Attention in young infants: A developmental psychophysiological perspective. In: Nelson CA, Luciana M (eds) Handbook of developmental cognitive neuroscience (2nd ed). MIT Press, Cambridge, MA, pp 479–497

Richards JE (2009) Attention in the brain and early infancy. In: Johnson SP (ed) Neoconstructivism: The new science of cognitive development, vol 1. Oxford University Press, New York

Richards JE (2010) The development of attention to simple and complex visual stimuli in infants: behavioral and psychophysiological measures. Dev Rev 30(2):203–219. doi:10.1016/J.Dr.2010.03.005

Richards JE (2013) Cortical sources of ERP in prosaccade and antisaccade eye movements using realistic source models. Front Syst Neurosci 7:27. doi:10.3389/fnsys.2013.00027

Richards JE, Casey BJ (1991) Heart rate variability during attention phases in young infants. Psychophysiology 28(1):43–53

Richards JE, Xie W (2015) Brains for all the ages: Structural neurodevelopment in infants and children from a life-span perspective. In: Benson J (ed) Advances in child development and behavior, vol 48. Elsevier, Philadephia, pp 1–52

Richards JE, Reynolds GD, Courage ML (2010) The neural bases of infant attention. Curr Dir Psychol Sci 19(1):41–46. doi:10.1177/0963721409360003

Richards JE, Boswell C, Stevens M, Vendemia JM (2015a) Evaluating methods for constructing average high-density electrode positions. Brain Topogr 28(1):70–86. doi:10.1007/s10548-014-0400-8

Richards JE, Sanchez C, Phillips-Meek M, Xie W (2015b) A database of age-appropriate average MRI templates. Neuroimage. doi:10.1016/j.neuroimage.2015.04.055

Rohlfing KJ, Longo MR, Bertenthal BI (2012) Dynamic pointing triggers shifts of visual attention in young infants. Dev Sci 15(3):426–435. doi:10.1111/j.1467-7687.2012.01139.x

Sanchez CE, Richards JE, Almli CR (2012) Neurodevelopmental MRI brain templates for children from 2 weeks to 4 years of age. Dev Psychobiol 54(1):77–91. doi:10.1002/dev.20579

Stets M, Reid VM (2011) Infant ERP amplitudes change over the course of an experimental session: implications for cognitive processes and methodology. Brain Dev 33(7):558–568

Stets M, Stahl D, Reid VM (2012) A meta-analysis investigating factors underlying attrition rates in infant ERP studies. Dev Neuropsychol 37(3):226–252

Tucker DM (1993) Spatial sampling of head electrical fields: the geodesic sensor net. Electroencephalogr Clin Neurophysiol 87(3):154–163. doi:10.1016/0013-4694(93)90121-B

Tucker DM, Liotti M, Potts GF, Russell GS, Posner MI (1994) Spatiotemporal analysis of brain electrical fields. Hum Brain Mapp 1(2):134–152

Varga K, Frick JE, Kapa LL, Dengler MJ (2010) Developmental changes in inhibition of return from 3 to 6 months of age. Infant Behav Dev 33(2):245–249. doi:10.1016/j.infbeh.2009.12.011

Vorwerk J, Cho JH, Rampp S, Hamer H, Knösche TR, Wolters CH (2014) A guideline for head volume conductor modeling in EEG and MEG. NeuroImage 100:590–607

Vossen H, Van Breukelen G, Hermens H, Van Os J, Lousberg R (2011) More potential in statistical analyses of event-related potentials: a mixed regression approach. Int J Methods Psychiatr Res 20(3):e56–e68

Xie W, Richards JE (2016) Effects of interstimulus intervals on behavioral, heart rate, and event-related potential indices of infant engagement and sustained attention. Psychophysiology. doi:10.1111/psyp.12760

Yamagishi N, Goda N, Callan DE, Anderson SJ, Kawato M (2005) Attentional shifts towards an expected visual target alter the level of alpha-band oscillatory activity in the human calcarine cortex. Cognit Brain Res 25(3):799–809. doi:10.1016/j.cogbrainres.2005.09.006
Acknowledgments
This work was supported by the following grants: the NIH grant, #R37 HD18942, to JER.
Ethics declarations
Conflict of Interests
The authors have approved the manuscript and agree with its submission. These authors declare no conflict of interest.
Electronic Supplementary Material
Below is the link to the electronic supplementary material.
About this article
Cite this article
Xie, W., Richards, J.E. The Relation between Infant Covert Orienting, Sustained Attention and Brain Activity. Brain Topogr 30, 198–219 (2017). https://doi.org/10.1007/s10548-016-0505-3
Received:

Accepted:

Published:

Issue Date:
Keywords
Infant covert orienting

Sustained attention

ERPs

Cortical source analysis