Abstract
Despite much evidence questioning its validity, superstitious belief continues to be rooted in the human mind. We used functional MRI to directly compare participants' neural responses to monetary attractiveness with their responses to the value of an auspicious date. We found that the right middle/superior frontal gyrus showed greater deactivation whenever an auspicious-based choice was made and that the contrast between the auspicious-based and economics-based choices was negatively correlated with the participants' rated wedding date-related superstitious belief, suggesting that a specific brain region carries decision signals which contribute to making decisions based on superstition and may be able to account for individual differences in superstitious behavior. The present investigation helps to reveal how the brain handles superstition.
Access options
Buy single article
Instant access to the full article PDF.
US$ 39.95
Tax calculation will be finalised during checkout.
Subscribe to journal
Immediate online access to all issues from 2019. Subscription will auto renew annually.
US$ 119
Tax calculation will be finalised during checkout.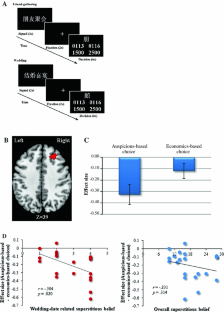 Notes
1.

We are indebted to the anonymous reviewers for their suggestion to provide this alternative explanation.
References
Bacon F (1996) Of superstition. In: Vickers B (ed) Francis bacon. Oxford University Press, Oxford, p 374

Beck J, Forstmeier W (2007) Superstition and belief as inevitable by-products of an adaptive learning strategy. Hum Nat 18:35–46

Block L, Kramer T (2009) The effect of superstitious beliefs on performance expectations. J Acad Mark Sci 37(2):161–169

Chiu J, Storm L (2010) Personality, perceived luck and gambling attitudes as predictors of gambling involvement. J Gambl Stud 26:205–227

Damisch L, Stoberock B, Mussweiler T (2010) Keep your fingers crossed! How superstition improves performance. Psychol Sci 21:1014–1020

Devenport LD (1979) Superstitious bar pressing in hippocampal and septal rats. Science 205:721–723

Dowd S (2009) The London eye mystery. Yearling, New York

Epstein S, Pacini R, Denes-Raj V, Heier H (1996) Individual differences in intuitive–experiential and analytical–rational thinking styles. J Pers Soc Psychol 71:390–405

Gosselin F, Schyns PG (2003) Superstitious perceptions reveal properties of internal representations. Psychol Sci 14:505–509

Gray JR, Braver TS, Raichle ME (2002) Integration of emotion and cognition in the lateral prefrontal cortex. Proc Natl Acad Sci USA 99:4115–4120

Krain AL, Wilson AM, Arbuckle R, Castellanos FX, Milham MP (2006) Distinct neural mechanisms of risk and ambiguity: a meta-analysis of decision-making. NeuroImage 32:477–484

Kramer T, Block L (2008) Conscious and nonconscious components of superstitious beliefs in judgment and decision making. J Consumer Res 34(6):783–793

Li W, Qin W, Liu H, Fan L, Wang J, Jiang T, Yu C (2013) Subregions of the human superior frontal gyrus and their connections. NeuroImage 78:46–58

Manes F, Sahakian B, Clark L, Rogers R, Antoun N, Aitken M, Robbins T (2002) Decision-making processes following damage to the prefrontal cortex. Brain 125:624–639

Miller EK (2000) The prefrontal cortex and cognitive control. Nat Rev 1:59–65

Shaner A (1999) Delusions, superstitious conditioning and chaotic dopamine neurodynamics. Med Hypotheses 52:119–123

Skinner BF (1948) Superstition in the pigeon. J Exp Psychol 38:168–172

Uludağ K, Dubowitz DJ, Yoder EJ, Restom K, Liu TT, Buxton RB (2004) Coupling of cerebral blood flow and oxygen consumption during physiological activation and deactivation measured with fMRI. NeuroImage 23:148–155

Volz KG, Schubotz RI, von Cramon DY (2004) Why am I unsure? Internal and external attributions of uncertainty dissociated by fMRI. NeuroImage 21:848–857

Volz KG, Schubotz RI, von Cramon DY (2005) Variants of uncertainty in decision-making and their neural correlates. Brain Res Bull 67:403–412

Whitson JA, Galinsky AD (2008) Lacking control increases illusory pattern perception. Science 322:115–117

Yang KS (2007) 三探華人心理傳統性與現代性: 概念分析與量表建立: the National Science Council of Taiwan under Contract No. NSC95-2413-H-033-008

Yu AJ, Cohen JD (2009) Sequential effects: superstition or rational behavior? Adv Neural Inf Process Syst 21:1873–1880
Acknowledgments
This research was partially supported by the National Basic Research Program of China (973 Program, No. 2011CB711000), the Knowledge Innovation Project of the Chinese Academy of Sciences (No. KSCX2-EW-J-8), the National Natural Science Foundation of China (Nos. 31170976; 31300843), and the Special Fund for Beijing Key Discipline Construction. The authors thank Yun Wang for her assistance with fMRI data collection.
Additional information
Li-Lin Rao and Yu zheng have contributed equally to this article.
About this article
Cite this article
Rao, LL., Zheng, Y., Zhou, Y. et al. Probing the Neural Basis of Superstition. Brain Topogr 27, 766–770 (2014). https://doi.org/10.1007/s10548-013-0332-8
Received:

Accepted:

Published:

Issue Date:
Keywords
Superstition

Lucky number

fMRI

Superstitious belief