Abstract
Transcranial magnetic stimulation (TMS) has developed into a powerful tool for studying human brain physiology and brain–behavior relations. When applied in sessions of repeated stimulation, TMS can lead to changes in neuronal activity/excitability that outlast the stimulation itself. Such aftereffects are at the heart of the offline TMS protocols in cognitive neuroscience and neurotherapeutics. However, whether these aftereffects are of applied interest critically depends on their magnitude and duration, which should fall within an experimentally or clinically useful range without increasing risks and adverse effects. In this short review, we survey combined TMS-EEG studies to characterize the TMS-aftereffects as revealed by EEG to contribute to the characterization of the most effective and promising repetitive TMS-parameters. With one session of conventional repetitive TMS (of fixed pulse frequency), aftereffects were consistently comparable in magnitude to EEG-changes reported after learning or with fatigue, and were short-lived (<70 min). The few studies using recently developed protocols (such as theta burst stimulation) suggest comparable effect-size but longer effect-durations. Based on the reviewed data, it is expected that TMS-efficacy can be further promoted by repeating TMS-sessions, by using EEG-gated TMS to tailor TMS to current neuronal state, or by other, non-conventional TMS-protocols. Newly emerging developments in offline TMS research for cognitive neuroscience and neurotherapeutics are outlined.
Access options
Buy single article
Instant access to the full article PDF.
US$ 39.95
Tax calculation will be finalised during checkout.
Subscribe to journal
Immediate online access to all issues from 2019. Subscription will auto renew annually.
US$ 119
Tax calculation will be finalised during checkout.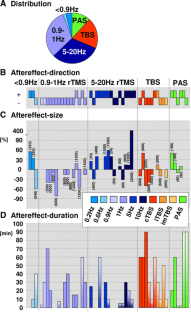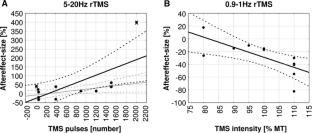 References
Bae EH, Schrader LM, Machii K, Alonso-Alonso M, Riviello JJ Jr, Pascual-Leone A, Rotenberg A (2007) Safety and tolerability of repetitive transcranial magnetic stimulation in patients with epilepsy: a review of the literature. Epilepsy Behav 10:521–528

Bohotin V, Fumal A, Vandenheede M, Gérard P, Bohotin C, Maertens de Noordhout A, Schoenen J (2002) Effects of repetitive transcranial magnetic stimulation on visual evoked potentials in migraine. Brain 125:912–922

Brignani D, Manganotti P, Rossini PM, Miniussi C (2008) Modulation of cortical oscillatory activity during transcranial magnetic stimulation. Hum Brain Mapp 29:603–612

Chen R, Gerloff C, Classen J, Wassermann EM, Hallett M, Cohen LG (1997) Safety of different inter-train intervals for repetitive transcranial magnetic stimulation and recommendations for safe ranges of stimulation parameters. Electroencephalogr Clin Neurophysiol 105:415–421

Chen WH, Mima T, Siebner HR, Oga T, Hara H, Satow T, Begum T, Nagamine T, Shibasaki H (2003) Low-frequency rTMS over lateral premotor cortex induces lasting changes in regional activation and functional coupling of cortical motor areas. Clin Neurophysiol 114:1628–1637

Classen J, Wolters A, Stefan K, Wycislo M, Sandbrink F, Schmidt A, Kunesch E (2004) Paired associative stimulation. Suppl Clin Neurophysiol 57:563–569

Cohrs S, Tergau F, Riech S, Kastner S, Paulus W, Ziemann U, Rüther E, Hajak G (1998) High-frequency repetitive transcranial magnetic stimulation delays rapid eye movement sleep. Neuroreport 9:3439–3443

Enomoto H, Ugawa Y, Hanajima R, Yuasa K, Mochizuki H, Terao Y, Shiio Y, Furubayashi T, Iwata NK, Kanazawa I (2001) Decreased sensory cortical excitability after 1 Hz rTMS over the ipsilateral primary motor cortex. Clin Neurophysiol 112:2154–2158

Erbil N, Ungan P (2007) Changes in the alpha and beta amplitudes of the central EEG during the onset, continuation, and offset of long-duration repetitive hand movements. Brain Res 1169:44–56

Esser SK, Huber R, Massimini M, Peterson MJ, Ferrarelli F, Tononi G (2006) A direct demonstration of cortical LTP in humans: a combined TMS/EEG study. Brain Res Bull 69:86–94

Evers S, Böckermann I, Nyhuis PW (2001) The impact of transcranial magnetic stimulation on cognitive processing: an event-related potential study. Neuroreport 12:2915–2918

Fregni F, Pascual-Leone A (2007) Technology insight: noninvasive brain stimulation in neurology-perspectives on the therapeutic potential of rTMS and tDCS. Nat Clin Pract Neurol 3:383–393

Fregni F, Boggio PS, Valle AC, Otachi P, Thut G, Rigonatti SP, Marcolin MA, Fecteau S, Pascual-Leone A, Fiore L, Valente K (2006) Homeostatic effects of plasma valproate levels on corticospinal excitability changes induced by 1 Hz rTMS in patients with juvenile myoclonic epilepsy. Clin Neurophysiol 117:1217–1227

Fuggetta G, Pavone EF, Fiaschi A, Manganotti P (2008) Acute modulation of cortical oscillatory activities during short trains of high-frequency repetitive transcranial magnetic stimulation of the human motor cortex: a combined EEG and TMS study. Hum Brain Mapp 29:1–13

Fumal A, Bohotin V, Vandenheede M, Seidel L, de Pasqua V, de Noordhout AM, Schoenen J (2003) Effects of repetitive transcranial magnetic stimulation on visual evoked potentials: new insights in healthy subjects. Exp Brain Res 150:332–340

Gerschlager W, Siebner HR, Rothwell JC (2001) Decreased corticospinal excitability after subthreshold 1 Hz rTMS over lateral premotor cortex. Neurology 57:449–455

Graf T, Engeler J, Achermann P, Mosimann UP, Noss R, Fisch HU, Schlaepfer TE (2001) High frequency repetitive transcranial magnetic stimulation (rTMS) of the left dorsolateral cortex: EEG topography during waking and subsequent sleep. Psychiatry Res 107:1–9

Griskova I, Ruksenas O, Dapsys K, Herpertz S, Höppner J (2007) The effects of 10 Hz repetitive transcranial magnetic stimulation on resting EEG power spectrum in healthy subjects. Neurosci Lett 419:162–167

Grossheinrich N, Rau A, Pogarell O, Hennig-Fast K, Reinl M, Karch S, Dieler A, Leicht G, Mulert C, Sterr A, Padberg F (2009) Theta burst stimulation of the prefrontal cortex: safety and impact on cognition, mood, and resting electroencephalogram. Biol Psychiatry 65:778–784

Hallett M (2007) Transcranial magnetic stimulation: a primer. Neuron 55:187–199

Hamidi M, Slagter HA, Tononi G, Postle BR. Repetitive transcranial magnetic stimulation affects behavior by biasing endogenous cortical oscillations. Front Integr Neurosci (in press)

Hansenne M, Laloyaux O, Mardaga S, Ansseau M (2004) Impact of low frequency transcranial magnetic stimulation on event-related brain potentials. Biol Psychol 67:331–341

Holler I, Siebner HR, Cunnington R, Gerschlager W (2006) 5 Hz repetitive TMS increases anticipatory motor activity in the human cortex. Neurosci Lett 392:221–225

Hosono Y, Urushihara R, Harada M, Morita N, Murase N, Kunikane Y, Shimazu H, Asanuma K, Uguisu H, Kaji R (2008) Comparison of monophasic versus biphasic stimulation in rTMS over premotor cortex: SEP and SPECT studies. Clin Neurophysiol 119:2538–2545

Huang YZ, Edwards MJ, Rounis E, Bhatia KP, Rothwell JC (2005) Theta burst stimulation of the human motor cortex. Neuron 45:201–206

Huber R, Esser SK, Ferrarelli F, Massimini M, Peterson MJ, Tononi G (2007) TMS-induced cortical potentiation during wakefulness locally increases slow wave activity during sleep. PLoS ONE 2:e276

Huber R, Määttä S, Esser SK, Sarasso S, Ferrarelli F, Watson A, Ferreri F, Peterson MJ, Tononi G (2008) Measures of cortical plasticity after transcranial paired associative stimulation predict changes in electroencephalogram slow-wave activity during subsequent sleep. J Neurosci 28:7911–7918

Ishikawa S, Matsunaga K, Nakanishi R, Kawahira K, Murayama N, Tsuji S, Huang YZ, Rothwell JC (2007) Effect of theta burst stimulation over the human sensorimotor cortex on motor and somatosensory evoked potentials. Clin Neurophysiol 118:1033–1043

Iyer MB, Schleper N, Wassermann EM (2003) Priming stimulation enhances the depressant effect of low-frequency repetitive transcranial magnetic stimulation. J Neurosci 23:10867–10872

Jing H, Takigawa M (2000) Observation of EEG coherence after repetitive transcranial magnetic stimulation. Clin Neurophysiol 111:1620–1631

Jing H, Takigawa M, Hamada K, Okamura H, Kawaika Y, Yonezawa T, Fukuzako H (2001a) Effects of high frequency repetitive transcranial magnetic stimulation on P(300) event-related potentials. Clin Neurophysiol 112:304–313

Jing H, Takigawa M, Okamura H, Doi W, Fukuzako H (2001b) Comparisons of event-related potentials after repetitive transcranial magnetic stimulation. J Neurol 248:184–192

Johnston J, Rearick M, Slobounov S (2001) Movement-related cortical potentials associated with progressive muscle fatigue in a grasping task. Clin Neurophysiol 112:68–77

Katayama T, Rothwell JC (2007) Modulation of somatosensory evoked potentials using transcranial magnetic intermittent theta burst stimulation. Clin Neurophysiol 118:2506–2511

Klimesch W, Sauseng P, Gerloff C (2003) Enhancing cognitive performance with repetitive transcranial magnetic stimulation at human individual alpha frequency. Eur J Neurosci 17:1129–1133

Kobayashi M, Pascual-Leone A (2003) Transcranial magnetic stimulation in neurology. Lancet Neurol 2:145–156

Komssi S, Kähkönen S (2006) The novelty value of the combined use of electroencephalography and transcranial magnetic stimulation for neuroscience research. Brain Res Rev 52:183–192

Lang N, Siebner HR, Ernst D, Nitsche MA, Paulus W, Lemon RN, Rothwell JC (2004) Preconditioning with transcranial direct current stimulation sensitizes the motor cortex to rapid-rate transcranial magnetic stimulation and controls the direction of after-effects. Biol Psychiatry 56:634–639

Lepage JF, Saint-Amour D, Théoret H (2008) EEG and neuronavigated single-pulse TMS in the study of the observation/execution matching system: are both techniques measuring the same process? J Neurosci Methods 175:17–24

Liu JZ, Yao B, Siemionow V, Sahgal V, Wang X, Sun J, Yue GH (2005) Fatigue induces greater brain signal reduction during sustained than preparation phase of maximal voluntary contraction. Brain Res 1057:113–126

Machii K, Cohen D, Ramos-Estebanez C, Pascual-Leone A (2006) Safety of rTMS to non-motor cortical areas in healthy participants and patients. Clin Neurophysiol 117:455–471

Maeda F, Keenan JP, Tormos JM, Topka H, Pascual-Leone A (2000) Modulation of corticospinal excitability by repetitive transcranial magnetic stimulation. Clin Neurophysiol 111:800–805

Marshall L, Helgadóttir H, Mölle M, Born J (2006) Boosting slow oscillations during sleep potentiates memory. Nature 444:610–613

Massimini M, Ferrarelli F, Esser SK, Riedner BA, Huber R, Murphy M, Peterson MJ, Tononi G (2007) Triggering sleep slow waves by transcranial magnetic stimulation. Proc Natl Acad Sci 104:8496–8501

Miniussi C, Thut G (2009) Combining TMS and EEG Offers New Prospects in Cognitive Neuroscience. Brain Topogr. doi:10.1007/s10548-009-0083-8

Muellbacher W, Ziemann U, Boroojerdi B, Hallett M (2000) Effects of low-frequency transcranial magnetic stimulation on motor excitability and basic motor behavior. Clin Neurophysiol 111:1002–1007

Münchau A, Bloem BR, Irlbacher K, Trimble MR, Rothwell JC (2002) Functional connectivity of human premotor and motor cortex explored with repetitive transcranial magnetic stimulation. J Neurosci 22:554–561

Nelson AJ, Brooke JD, McIlroy WE, Bishop DC, Norrie RG (2001) The gain of initial somatosensory evoked potentials alters with practice of an accurate motor task. Brain Res 890:272–279

Nyffeler T, Wurtz P, Lüscher HR, Hess CW, Senn W, Pflugshaupt T, von Wartburg R, Lüthi M, Müri RM (2006) Extending lifetime of plastic changes in the human brain. Eur J Neurosci 24:2961–2966

Okamura H, Jing H, Takigawa M (2001) EEG modification induced by repetitive transcranial magnetic stimulation. J Clin Neurophysiol 18:318–325

Oliviero A, Strens LH, Di Lazzaro V, Tonali PA, Brown P (2003) Persistent effects of high frequency repetitive TMS on the coupling between motor areas in the human. Exp Brain Res 149:107–113

Ortu E, Ruge D, Deriu F, Rothwell JC (2009) Theta Burst Stimulation over the human primary motor cortex modulates neural processes involved in movement preparation. Clin Neurophysiol 120:1195–1203

Pascual-Leone A, Valls-Sole J, Wassermann EM, Hallett M (1994) Responses to rapid-rate transcranial magnetic stimulation of the human motor cortex. Brain 117:847–858

Pasley BN, Allen EA, Freeman RD (2009) State-dependent variability of neuronal responses to transcranial magnetic stimulation of the visual cortex. Neuron 62:291–303

Pastor MA, Thut G, Pascual-Leone A (2006) Modulation of steady-state auditory evoked potentials by cerebellar rTMS. Exp Brain Res 175:702–709

Peinemann A, Reimer B, Löer C, Quartarone A, Münchau A, Conrad B, Siebner HR (2004) Long-lasting increase in corticospinal excitability after 1800 pulses of subthreshold 5 Hz repetitive TMS to the primary motor cortex. Clin Neurophysiol 115:1519–1526

Poreisz C, Antal A, Boros K, Brepohl N, Csifcsák G, Paulus W (2008) Attenuation of N2 amplitude of laser-evoked potentials by theta burst stimulation of primary somatosensory cortex. Exp Brain Res 185:611–621

Ragert P, Becker M, Tegenthoff M, Pleger B, Dinse HR (2004) Sustained increase of somatosensory cortex excitability by 5 Hz repetitive transcranial magnetic stimulation studied by paired median nerve stimulation in humans. Neurosci Lett 356:91–99

Restuccia D, Ulivelli M, De Capua A, Bartalini S, Rossi S (2007) Modulation of high-frequency (600 Hz) somatosensory-evoked potentials after rTMS of the primary sensory cortex. Eur J Neurosci 26:2349–2358

Ridding MC, Rothwell JC (2007) Is there a future for therapeutic use of transcranial magnetic stimulation? Nat Rev Neurosci 8:559–567

Robertson EM, Théoret H, Pascual-Leone A (2003) Studies in cognition: the problems solved and created by transcranial magnetic stimulation. J Cogn Neurosci 15:948–960

Rollnik JD, Schröder C, Rodríguez-Fornells A, Kurzbuch AR, Däuper J, Möller J, Münte TF (2004) Functional lesions and human action monitoring: combining repetitive transcranial magnetic stimulation and event-related brain potentials. Clin Neurophysiol 115:145–153

Romei V, Brodbeck V, Michel C, Amedi A, Pascual-Leone A, Thut G (2008a) Spontaneous fluctuations in posterior alpha-band EEG activity reflect variability in excitability of human visual areas. Cereb Cortex 18:2010–2018

Romei V, Rihs T, Brodbeck V, Thut G (2008b) Resting electroencephalogram alpha-power over posterior sites indexes baseline visual cortex excitability. Neuroreport 19:203–208

Rossi S, Rossini PM (2004) TMS in cognitive plasticity and the potential for rehabilitation. Trends Cogn Sci 8:273–279

Rossi S, Pasqualetti P, Rossini PM, Feige B, Ulivelli M, Glocker FX, Battistini N, Lucking CH, Kristeva-Feige R (2000) Effects of repetitive transcranial magnetic stimulation on movement-related cortical activity in humans. Cereb Cortex 10:802–808

Rossi S, Hallett M, Rossini PM, Pascual-Leone A et al (2009) Safety, ethical considerations, and application guidelines for the use of transcranial magnetic stimulation in clinical practice and research. Clin Neurophysiol. doi:10.1016/j.clinph.2009.08.016

Sağlam M, Matsunaga K, Murayama N, Hayashida Y, Huang YZ, Nakanishi R (2008) Parallel inhibition of cortico-muscular synchronization and cortico-spinal excitability by theta burst TMS in humans. Clin Neurophysiol 119:2829–2838

Satow T, Mima T, Yamamoto J, Oga T, Begum T, Aso T, Hashimoto N, Rothwell JC, Shibasaki H (2003) Short-lasting impairment of tactile perception by 0.9 Hz-rTMS of the sensorimotor cortex. Neurology 60:1045–1047

Sauseng P, Klimesch W, Gerloff C, Hummel FC (2008) Spontaneous locally restricted EEG alpha activity determines cortical excitability in the motor cortex. Neuropsychologia [Epub ahead of print]

Schillings ML, Kalkman JS, Van Der Werf SP, Bleijenberg G, van Engelen BG, Zwarts MJ (2006) Central adaptations during repetitive contractions assessed by the readiness potential. Eur J Appl Physiol 97:521–526

Schindler K, Nyffeler T, Wiest R, Hauf M, Mathis J, Hess ChW, Müri R (2008) Theta burst transcranial magnetic stimulation is associated with increased EEG synchronization in the stimulated relative to unstimulated cerebral hemisphere. Neurosci Lett 436:31–34

Schutter DJ, van Honk J (2003) Reductions in CI amplitude after repetitive transcranial magnetic stimulation (rTMS) over the striate cortex. Brain Res Cogn Brain Res 16:488–491

Schutter DJ, van Honk J, d'Alfonso AA, Postma A, de Haan EH (2001) Effects of slow rTMS at the right dorsolateral prefrontal cortex on EEG asymmetry and mood. Neuroreport 12:445–447

Schutter DJ, van Honk J, d'Alfonso AA, Peper JS, Panksepp J (2003) High frequency repetitive transcranial magnetic over the medial cerebellum induces a shift in the prefrontal electroencephalography gamma spectrum: a pilot study in humans. Neurosci Lett 336:73–76

Siebner HR, Lang N, Rizzo V, Nitsche MA, Paulus W, Lemon RN, Rothwell JC (2004) Preconditioning of low-frequency repetitive transcranial magnetic stimulation with transcranial direct current stimulation: evidence for homeostatic plasticity in the human motor cortex. J Neurosci 24:3379–3385

Silvanto J, Pascual-Leone A (2008) State-dependency of transcranial magnetic stimulation. Brain Topogr 21:1–10

Silvanto J, Muggleton NG, Cowey A, Walsh V (2007a) Neural adaptation reveals state-dependent effects of transcranial magnetic stimulation. Eur J Neurosci 25:1874–1881

Silvanto J, Muggleton NG, Cowey A, Walsh V (2007b) Neural activation state determines behavioral susceptibility to modified theta burst transcranial magnetic stimulation. Eur J Neurosci 26:523–528

Strens LH, Oliviero A, Bloem BR, Gerschlager W, Rothwell JC, Brown P (2002) The effects of subthreshold 1 Hz repetitive TMS on cortico-cortical and interhemispheric coherence. Clin Neurophysiol 113:1279–1285

Tamura Y, Hoshiyama M, Nakata H, Hiroe N, Inui K, Kaneoke Y, Inoue K, Kakigi R (2005) Functional relationship between human rolandic oscillations and motor cortical excitability: an MEG study. Eur J Neurosci 21:2555–2562

Taylor PC, Walsh V, Eimer M (2008) Combining TMS and EEG to study cognitive function and cortico–cortico interactions. Behav Brain Res 191:141–147

Thut G, Miniussi C (2009) New insights into rhythmic brain activity from TMS-EEG studies. Trends Cogn Sci 13:182–189

Thut G, Théoret H, Pfennig A, Ives J, Kampmann F, Northoff G, Pascual-Leone A (2003) Differential effects of low-frequency rTMS at the occipital pole on visual-induced alpha desynchronization and visual-evoked potentials. Neuroimage 18:334–347

Thut G, Nietzel A, Brandt SA, Pascual-Leone A (2006) Alpha-band electroencephalographic activity over occipital cortex indexes visuospatial attention bias and predicts visual target detection. J Neurosci 26:9494–9502

Tsuji T, Rothwell JC (2002) Long lasting effects of rTMS and associated peripheral sensory input on MEPs, SEPs and transcortical reflex excitability in humans. J Physiol 540:367–376

Urushihara R, Murase N, Rothwell JC, Harada M, Hosono Y, Asanuma K, Shimazu H, Nakamura K, Chikahisa S, Kitaoka K, Sei H, Morita Y, Kaji R (2006) Effect of repetitive transcranial magnetic stimulation applied over the premotor cortex on somatosensory-evoked potentials and regional cerebral blood flow. Neuroimage 31:699–709

Valero-Cabre A, Payne BR, Pascual-Leone A (2007) Opposite impact on (14) C-2-deoxyglucose brain metabolism following patterns of high and low frequency repetitive transcranial magnetic stimulation in the posterior parietal cortex. Exp Brain Res 176:603–615

Van Der Werf YD, Paus T (2006) The neural response to transcranial magnetic stimulation of the human motor cortex. I. Intracortical and cortico-cortical contributions. Exp Brain Res 175:231–245

Walsh V, Cowey A (2000) Transcranial magnetic stimulation and cognitive neuroscience. Nat Rev Neurosci 1:73–79

Wassermann EM (1998) Risk and safety of repetitive transcranial magnetic stimulation: report and suggested guidelines from the International Workshop on the Safety of Repetitive Transcranial Magnetic Stimulation. Electroencephalogr Clin Neurophysiol 108:1–16

Wolters A, Schmidt A, Schramm A, Zeller D, Naumann M, Kunesch E, Benecke R, Reiners K, Classen J (2005) Timing-dependent plasticity in human primary somatosensory cortex. J Physiol 565:1039–1052
About this article
Cite this article
Thut, G., Pascual-Leone, A. A Review of Combined TMS-EEG Studies to Characterize Lasting Effects of Repetitive TMS and Assess Their Usefulness in Cognitive and Clinical Neuroscience. Brain Topogr 22, 219 (2010). https://doi.org/10.1007/s10548-009-0115-4
Received:

Accepted:

Published:
Keywords
Transcranial magnetic stimulation

Electroencephalography

Aftereffects

Repetitive TMS

Safety