Abstract
A network of sonic anemometers was deployed over gentle terrain in north-eastern Colorado, USA to observe and characterize local nocturnal circulations. Our study focuses on a small valley about 270 m wide and 12 m deep with a down-valley slope of 2–3 %. The measurements include 19 stations with sonic anemometers at 1 m and a 20-m tower that includes six sonic anemometers in the lowest 5 m. Shallow cold pools and drainage down the valley develop for weak ambient flow and relatively clear skies. However, transient modes constantly modulate or intermittently eliminate the cold pool, which makes extraction and analysis of the horizontal structure of the cold pool difficult with traditional analysis methods. Singular value decomposition successfully isolates the effects of large-scale flow from local down-valley cold-air drainage within the cold pool in spite of the intermittent nature of this local flow. Shortcomings of the method are noted.
Access options
Buy single article
Instant access to the full article PDF.
USD 39.95
Price excludes VAT (USA)
Tax calculation will be finalised during checkout.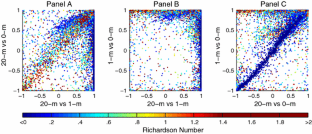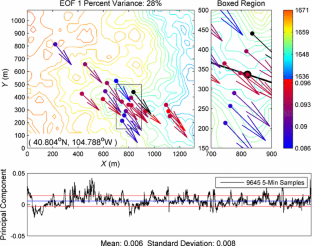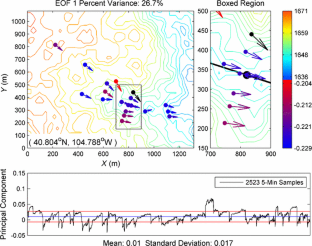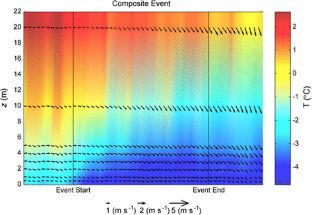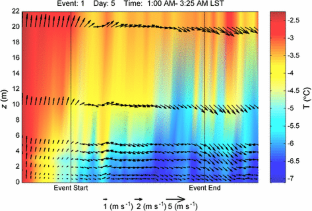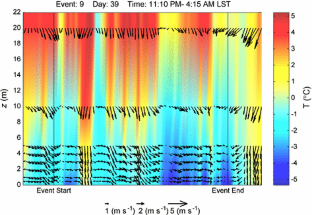 Similar content being viewed by others
References
Aubinet M, Heinesch B, Yernaux M (2003) Horizontal and vertical CO\(_2\) advection in a sloping forest. Boundary-Layer Meteorol 108:397–417

Blumen W (1984) An observational study of instability and turbulence in nighttime drainage winds. Boundary-Layer Meteorol 28:245–269

Bodine D, Klein P, Arms S, Shapiro A (2009) Variability of surface air temperature over gently sloped terrain. J Appl Meteorol 48:1117–1141

Doran J, Horst T (1981) Velocity and temperature oscillations in drainage winds. J Appl Meteorol 20:360–364

Farr T, Rosen P, Caro E, Crippen R, Duren R, Hensley S, Kobrick M, Paller M, Rodriguez E, Roth L, Seal D, Shaffer S, Shimada J, Umland J, Werner M, Oskin M, Burbank D, Alsdorf D (2007) The shuttle radar topography mission. Rev Geophys 45:RG2004

Fernando M, Chan W, Princevac M, Kowalewski T, Pardyjak E (2002) Observations of flow and turbulence in the nocturnal boundary layer over a slope. J Atmos Sci 59:2513–2534

Grisogono B, Oerlemans J (2001) Katabatic flow: analytical solution for slowly varying eddy diffusivities. J Atmos Sci 58:3349–3354

Haiden T, Whiteman C (2005) Katabatic flow mechanisms on a low-angle slope. J Appl Meteorol 44:113–126

Hannachi A, Jolliffe I, Stephenson D (2007) Empirical orthogonal functions and related techniques in atmospheric science: a review. Int J Climatol 27:1119–1152

Helmis C (1996) Some aspects of the variation with time of katabatic flow over a simple slope. Q J R Meteorol Soc 122:595–610

Heywood G (1933) Katabatic winds in a valley. Q J R Meteorol Soc 59:43–57

Leith C (1973) The standard error of time-averaged estimates of climatic means. J Appl Meteorol 12:1066–1069

Mahrt L, Heald R (2015) Marginal cold pools. J Appl Meteorol Climatol 54:339–351

Mahrt L, Vickers D, Nakamura R, Sun J, Burns S, Lenschow D, Soler M (2001) Shallow drainage and gully flows. Boundary-Layer Meteorol 101:243–260

Mahrt L, Thomas C, Richardson R, Seaman N, Stauffer D, Zeeman M (2013) Non-stationary generation of weak turbulence for very stable and weak-wind conditions. Boundary-Layer Meteorol 177:179–199

McNider R, England D, Friedman M, Shi X (1995) Predictability of the stable atmospheric boundary layer. J Atmos Sci 52:1602–1614

North G, Bell T, Cahalan R, Moeng F (1982) Sampling errors in the estimation of empirical orthogonal functions. Mon Weather Rev 110:699–706

Oerlemans J, Grisogono B (2002) Glacier winds and parameterisation of the related surface heat fluxes. Tellus 54A:440–452

Parmhed O, Oerlemans J, Grisogono B (1993) Describing surface fluxes in katabatic flow on Breidamerkurj Akull, Iceland. Q J R Meteorol Soc 130:1137–1151

Sheridan P, Vosper S, Brown A (2013) Characterisation of cold pools observed in narrow valleys and dependence on external conditions. Q J R Meteorol Soc 140:715–728

Smeets C, Duynkerke P, Vugts H (1998) Turbulence characteristics of the stable boundary layer over a mid-latitude glacier, part 1: a combination of katabatic and large scale forcing conditions. Boundary-Layer Meteorol 87:117–145

Vosper S, Hughes J, Lock A, Sheridan P, Ross A, Jemmett-Smith B, Brown A (2013) Cold-pool formation in narrow valleys. Q J R Meteorol Soc 127:429–448

Yoshino M (1975) Climate in a small area. University of Tokyo Press, Tokyo, 549 pp
Acknowledgments
We gratefully acknowledge the helpful detailed comments of the reviewers. This project was supported by NSF Grant AGS-1115011. The SCP measurements were provided by the Integrated Surface Flux System of the Earth Observing Laboratory of the National Center for Atmospheric Research.
About this article
Cite this article
Geiss, A., Mahrt, L. Decomposition of Spatial Structure of Nocturnal Flow over Gentle Terrain. Boundary-Layer Meteorol 156, 337–347 (2015). https://doi.org/10.1007/s10546-015-0043-7
Received:

Accepted:

Published:

Issue Date:

DOI: https://doi.org/10.1007/s10546-015-0043-7
Keywords