Abstract
A turbulence parametrization for wind speed in the stable boundary layer consisting of a single empirical parameter is proposed without the use of the eddy viscosity concept or turbulent kinetic energy equation. Instead, a drag-coefficient-type formulation as a function of the bulk Richardson number has been found to be able to reproduce observed stable boundary-layer wind speeds as effectively as a model based on the eddy viscosity approach. The advantage of this simpler approach is that the model can, in theory, be modified more easily for certain applications, such as the effects of large-scale wind parks on mesoscale meteorology.
This is a preview of subscription content, log in to check access.
Access options
Buy single article
Instant access to the full article PDF.
US$ 39.95
Price includes VAT for USA
Subscribe to journal
Immediate online access to all issues from 2019. Subscription will auto renew annually.
US$ 199
This is the net price. Taxes to be calculated in checkout.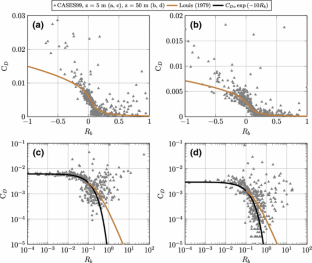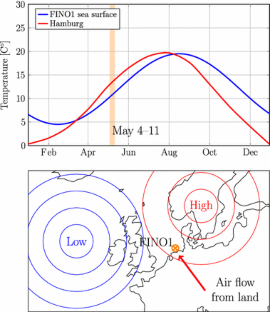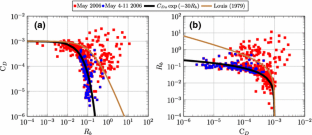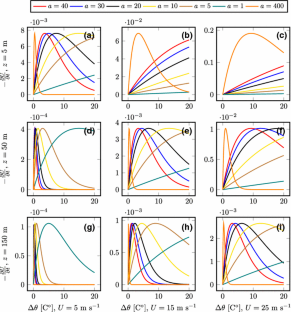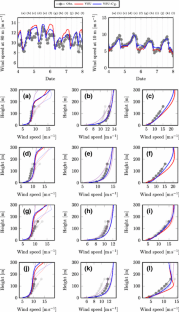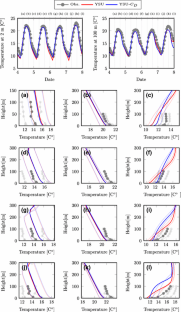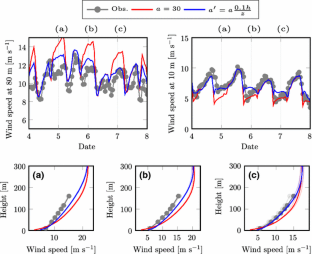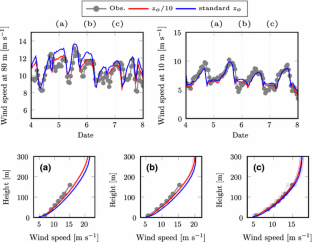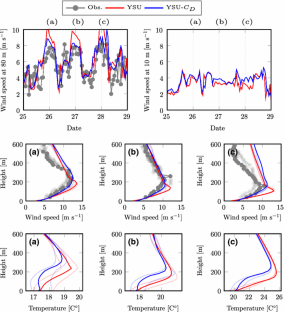 References
Calder K (1966) Concerning the similarity theory of A.S. Monin and A.M. obukhov for the turbulent structure of the thermally stratified surface layer of the atmosphere. Q J R Meteorol Soc 92:141–146

Coiffier J (2011) Fundamentals of numerical weather prediction. Cambridge University Press, Cambridge 340 pp

Csanady G (1974) Equilibrium theory of the planetary boundary layer with an inversion lid. Boundary-Layer Meteorol 6:63–79

Emeis S (2010) A simple analytical wind park model considering atmospheric stability. Wind Energy 13:459–469

Emeis S (2011) Surface-based remote sensing of the atmospheric boundary layer. Springer, Berlin 174 pp

Emeis S (2012) Wind Energy Meteorol. Springer, Berlin 196 pp

Floors R, Vincent CL, Gryning SE, Peña A, Batchvarova E (2013) The wind profile in the coastal boundary layer: wind lidar measurements and numerical modelling. Boundary-Layer Meteorol 147:469–491

Foreman RJ, Emeis S (2012a) A method for increasing the turbulent kinetic energy in the Mellor–Yamada–Janjić boundary-layer parametrization. Boundary-Layer Meteorol 145:329–349

Foreman RJ, Emeis S (2012b) Correlation equation for the marine drag coefficient and wave steepness. Ocean Dyn 62:1323–1333

Garratt J (1987) The stably stratified internal boundary layer for steady and diurnally varying offshore flow. Boundary-Layer Meteorol 38:369–394

Hong S (2010) A new stable boundary-layer mixing scheme and its impact on the simulated east asian summer monsoon. Q J R Meteorol Soc 136:1481–1496

Hong S, Pan H (1996) Nonlocal boundary layer vertical diffusion in a medium-range forecast model. Mon Weather Rev 124:2322–2339

Hong S, Noh Y, Dudhia J (2006) A new vertical diffusion package with an explicit treatment of entrainment processes. Mon Weather Rev 134:2318–2341

Louis JF (1979) A parametric model of vertical eddy fluxes in the atmosphere. Boundary-Layer Meteorol 17:187–202

Mellor GL, Yamada T (1982) Development of a turbulence closure model for geophysical fluid problems. Rev Geophys Space Phys 20:851–875

Nakanishi M (2001) Improvement of the Mellor–Yamada turbulence closure model based on large-eddy simulation data. Boundary-Layer Meteorol 99:349–378

Neumann T, Nolopp K (2007) Three years operation of far offshore measurements at FINO1. DEWI Mag 30:42–46

Peña A, Floors R, Gryning SE (2014) The Høvsøre tall wind-profile experiment: a description of wind profile observations in the atmospheric boundary layer. Boundary-Layer Meteorol 150:69–89

Poulos GS, Blumen W, Fritts DC, Lundquist JK, Sun J, Burns SP, Nappo C, Banta R, Newsom R, Cuxart J, Terradellas E, Balsley B, Jensen M (2002) CASES-99: a comprehensive investigation of the stable nocturnal boundary layer. Bull Am Meteorol Soc 83:555–581

Skamarock WC (2008) A description of the advanced research WRF, version 3. Tech. Report, National Center for Atmospheric Research

Stull R (1988) An introduction to boundary layer meteorology. Kluwer, Dordrecht, 666 pp

Sušelj K, Sood A (2010) Improving the Mellor–Yamada–Janjić parameterization for wind conditions in the marine planetary boundary layer. Boundary-Layer Meteorol 136:301–324

Svensson G, Holtslag A, Kumar V, Mauritsen T, Steeneveld G, Angevine W, Bazile E, Beljaars A, de Bruijn E, Cheng A et al (2011) Evaluation of the diurnal cycle in the atmospheric boundary layer over land as represented by a variety of single-column models: the second gabls experiment. Boundary-Layer Meteorol 140:177–206

Tennekes H, Lumley J (1972) A first course in turbulence. MIT Press, Cambridge 300 pp

Troen IB, Mahrt L (1986) A simple model of the atmospheric boundary layer; sensitivity to surface evaporation. Boundary-Layer Meteorol 37:129–148

Wang W, Bruyere C, Duda M, Dudhia J, Gill D, Lin H, Michalakes J, Rizvi S, Zhang X, Beezley J et al (2010) ARW version 3 modeling system users guide. National Center for Atmospheric Research. http://www.mmm.ucar.edu/wrf/users/docs/user_guide_V3/ARWUsersGuideV3.pdf
Acknowledgments
This work has been funded in consecutive projects ("VERITAS" and "TUFFO") by the German Ministries of the Environment (BMU) and of Economy and Energy (BMWi) via the PTJ (FKZ 0325060 & 0325304). Sea surface temperature measurements were provided by the German Hydrographic Agency (BSH) and Høvsøre measurements by R. Floors and S.E. Gryning (Tall Wind project, funded by the Danish Government, Sagsnr. 2104–08–0025). Thanks to Johannes Werhahn for technical support. The advice of reviewers is gratefully acknowledged.
About this article
Cite this article
Foreman, R.J., Emeis, S. & Canadillas, B. Half-Order Stable Boundary-Layer Parametrization Without the Eddy Viscosity Approach for Use in Numerical Weather Prediction. Boundary-Layer Meteorol 154, 207–228 (2015). https://doi.org/10.1007/s10546-014-9969-4
Received:

Accepted:

Published:

Issue Date:
Keywords
Bulk Richardson number

Drag coefficient

Eddy viscosity

Stable boundary layer

Stable boundary-layer parametrization

Weather Research and Forecasting model

Wind energy