Abstract
Primary CoQ10 deficiency is a clinically and genetically heterogeneous, autosomal recessive disorder resulting from mutations in genes involved in the synthesis of coenzyme Q10 (CoQ10). To date, mutations in nine proteins required for the biosynthesis of CoQ10 cause CoQ10 deficiency with varying clinical presentations. In 2009 the first patient with mutations in COQ9 was reported in an infant with a neonatal-onset, primary CoQ10 deficiency with multi-system disease. Here we describe four siblings with a previously undiagnosed lethal disorder characterized by oligohydramnios and intrauterine growth restriction, variable cardiomyopathy, anemia, and renal anomalies. The first and third pregnancy resulted in live born babies with abnormal tone who developed severe, treatment unresponsive lactic acidosis after birth and died hours later. Autopsy on one of the siblings demonstrated brain changes suggestive of the subacute necrotizing encephalopathy of Leigh disease. Whole-exome sequencing (WES) revealed the siblings shared compound heterozygous mutations in the COQ9 gene with both variants predicted to affect splicing. RT-PCR on RNA from patient fibroblasts revealed that the c.521 + 2 T > C variant resulted in splicing out of exons 4–5 and the c.711 + 3G > C variant spliced out exon 6, resulting in undetectable levels of COQ9 protein in patient fibroblasts. The biochemical profile of patient fibroblasts demonstrated a drastic reduction in CoQ10 levels. An additional peak on the chromatogram may represent accumulation of demethoxy coenzyme Q (DMQ), which was shown previously to accumulate as a result of a defect in COQ9. This family expands our understanding of this rare metabolic disease and highlights the prenatal onset, clinical variability, severity, and biochemical profile associated with COQ9-related CoQ10 deficiencies.
This is a preview of subscription content, log in to check access.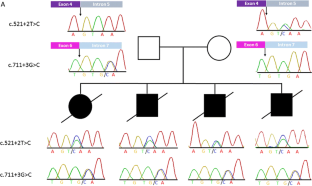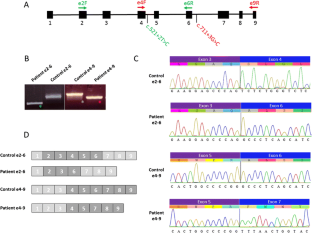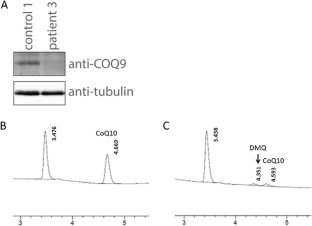 References
Ashraf S, Gee HY, Woerner S et al (2013) ADCK4 mutations promote steroid-resistant nephrotic syndrome through CoQ10 biosynthesis disruption. J Clin Invest 123:5179–5189

Beaulieu CL, Majewski J, Schwartzentruber J et al (2014) FORGE Canada consortium: outcomes of a 2-year national rare-disease gene-discovery project. Am J Hum Genet 94:809–817

Brea-Calvo G, Haack TB, Karall D et al (2015) COQ4 mutations cause a broad spectrum of mitochondrial disorders associated with CoQ10 deficiency. Am J Hum Genet 96:309–317

Crane FL, Navas P (1997) The diversity of coenzyme Q function. Mol Asp Med 18(Suppl):S1–S6

Danhauser K, Herebian D, Haack TB et al (2015) Fatal neonatal encephalopathy and lactic acidosis caused by a homozygous loss-of-function variant in COQ9. Eur J Hum Genet 24:450–454

Desbats MA, Lunardi G, Doimo M, Trevisson E, Salviati L (2015) Genetic bases and clinical manifestations of coenzyme Q10 (CoQ 10) deficiency. J Inherit Metab Dis 38:145–156

Diomedi-Camassei F, Di Giandomenico S, Santorelli FM et al (2007) COQ2 nephropathy: a newly described inherited mitochondriopathy with primary renal involvement. J Am Soc Nephrol 18:2773–2780

Doimo M, Desbats MA, Cerqua C, Cassina M, Trevisson E, Salviati L (2014) Genetics of coenzyme q10 deficiency. Mol Syndromol 5:156–162

Duncan AJ, Bitner-Glindzicz M, Meunier B et al (2009) A nonsense mutation in COQ9 causes autosomal-recessive neonatal-onset primary coenzyme Q10 deficiency: a potentially treatable form of mitochondrial disease. Am J Hum Genet 84:558–566

Freyer C, Stranneheim H, Naess K et al (2015) Rescue of primary ubiquinone deficiency due to a novel COQ7 defect using 2,4-dihydroxybensoic acid. J Med Genet 52:779–783

Garcia-Corzo L, Luna-Sanchez M, Doerrier C et al (2013) Dysfunctional Coq9 protein causes predominant encephalomyopathy associated with CoQ deficiency. Hum Mol Genet 22:1233–1248

Heeringa SF, Chernin G, Chaki M et al (2011) COQ6 mutations in human patients produce nephrotic syndrome with sensorineural deafness. J Clin Invest 121:2013–2024

Lagier-Tourenne C, Tazir M, Lopez LC et al (2008) ADCK3, an ancestral kinase, is mutated in a form of recessive ataxia associated with coenzyme Q10 deficiency. Am J Hum Genet 82:661–672

Lohman DC, Forouhar F, Beebe ET et al (2014) Mitochondrial COQ9 is a lipid-binding protein that associates with COQ7 to enable coenzyme Q biosynthesis. Proc Natl Acad Sci U S A 111:E4697–E4705

Lopez LC, Schuelke M, Quinzii CM et al (2006) Leigh syndrome with nephropathy and CoQ10 deficiency due to decaprenyl diphosphate synthase subunit 2 (PDSS2) mutations. Am J Hum Genet 79:1125–1129

Luna-Sanchez M, Diaz-Casado E, Barca E et al (2015) The clinical heterogeneity of coenzyme Q10 deficiency results from genotypic differences in the Coq9 gene. EMBO Mol Med 7:670–687

Marbois B, Gin P, Faull KF et al (2005) Coq3 and Coq4 define a polypeptide complex in yeast mitochondria for the biosynthesis of coenzyme Q. J Biol Chem 280:20231–20238

Marbois B, Gin P, Gulmezian M, Clarke CF (2009) The yeast Coq4 polypeptide organizes a mitochondrial protein complex essential for coenzyme Q biosynthesis. Biochim Biophys Acta 1791:69–75

Mollet J, Giurgea I, Schlemmer D et al (2007) Prenyldiphosphate synthase, subunit 1 (PDSS1) and OH-benzoate polyprenyltransferase (COQ2) mutations in ubiquinone deficiency and oxidative phosphorylation disorders. J Clin Invest 117:765–772

Quinzii C, Naini A, Salviati L et al (2006) A mutation in para-hydroxybenzoate-polyprenyl transferase (COQ2) causes primary coenzyme Q10 deficiency. Am J Hum Genet 78:345–349

Rahman S, Hargreaves I, Clayton P, Heales S (2001) Neonatal presentation of coenzyme Q10 deficiency. J Pediatr 139:456–458

Rodenburg RJ (2011) Biochemical diagnosis of mitochondrial disorders. J Inherit Metab Dis 34:283–292

Trevisson E, DiMauro S, Navas P, Salviati L (2011) Coenzyme Q deficiency in muscle. Curr Opin Neurol 24:449–456

Turunen M, Olsson J, Dallner G (2004) Metabolism and function of coenzyme Q. Biochim Biophys Acta 1660:171–199

Tzagoloff A, Dieckmann CL (1990) PET genes of Saccharomyces cerevisiae. Microbiol Rev 54:211–225
Acknowledgements
We thank the family for kindly agreeing to participate in this study.
Funding
This work was supported by the Care4Rare Canada Consortium (Enhanced Care for Rare Genetic Diseases in Canada) funded by Genome Canada, the Canadian Institutes of Health Research (CIHR), and the Ontario Genomics Institute (OGI-049), with additional funding from Genome Québec and Genome British Columbia.
Ethics declarations
Conflict of interest
A.C. Smith, Y. Ito, A. Ahmed, J.A. Schwartzentruber, C.L. Beaulieu, E. Aberg, J. Majewski, D.E. Bulman, K. Horsting-Wethly, D. Vermunt-de Koning, Care4Rare Canada Consortium, R.J. Rodenburg, K.M. Boycott, and L.S. Penney declare that they have no conflict of interest.
Additional information
Communicated by: Shamima Rahman
About this article
Cite this article
Smith, A.C., Ito, Y., Ahmed, A. et al. A family segregating lethal neonatal coenzyme Q10 deficiency caused by mutations in COQ9. J Inherit Metab Dis 41, 719–729 (2018). https://doi.org/10.1007/s10545-017-0122-7
Received:

Revised:

Accepted:

Published:

Issue Date:
Keywords
COQ9

Primary CoQ10 deficiency

Prenatal

Exome sequencing

Mitochondrial disease