Abstract
Premature death in untreated children with Hurler syndrome (HS) in the first decade of life is largely due to life-threatening cardiopulmonary complications. We examined the long-term survival and cardiopulmonary outcome in 54 children undergoing haematopoietic stem cell transplantation (HSCT) at the Royal Manchester Children's Hospital from 1985 to 2008. The median age at first HSCT was 15.1 months. Eighteen had graft failure and nine died after first HSCT. Of 18 patients with graft failure, 17 underwent second HSCT and the remaining one was lost to follow-up (LOF). Twelve were alive-and-engrafted after second HSCT. The overall survival at one year and 20-years was the same at 73.7%. Six children were followed up at the referral centers and excluded from cardiopulmonary endpoint review. Of the 33 evaluable children for the cardiopulmonary endpoints, nine (27.3%) had normal cardiac assessment. Of the four children on angiotensin-converting-enzyme inhibitors, two had mild cardiomyopathy and two had aortic valvular replacement. Twenty (60%) had mild/moderate mitral and/or aortic insufficiencies. Two had overnight hypoxia needing nocturnal non-invasive support. Enzyme level and donor chimerism are important predictors of long-term cardiac outcome.
This is a preview of subscription content, log in to check access.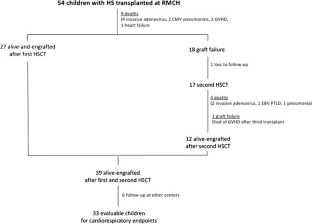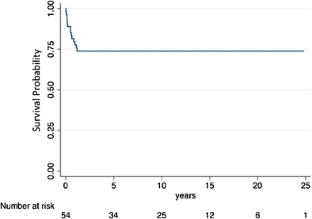 Abbreviations
ACEI:

Angiotensin converting enzyme inhibitors

AR:

Aortic regurgitation

BBB:

Blood-brain barrier

CMV:

Cytomegalovirus

CNS:

Central nervous system

ERT:

Enzyme replacement therapy

EBV:

Epstein-Barr virus

GAG:

Glycoaminoglycans

HLA:

Human leucocyte antigen

HS:

Hurler syndrome

HSCT:

Haematopoietic stem cell transplantation

LOF:

Lost to follow-up

PTLD:

Post-transplant lymphoproliferative disease

IDUA:

∝-L-iduronidase deficiency

MPS:

Mucopolysaccharidosis

MR:

Mitral regurgitation

OS:

Overall survival

RMCH:

Royal Manchester Children's Hospital

SVT:

Supraventricular tachycardia
References
Aldenhoven M, Jones SA, Bonney D, Borrill RE, Coussons M, Mercer J, Bierings MB, Versluys B, van Hasselt PM, Wijburg FA, van der Ploeg AT, Wynn RF, Boelens JJ (2015) Hematopoietic cell transplantation for mucopolysaccharidosis patients is safe and effective: results after implementation of international guidelines. Biol Blood Marrow Transplant 21(6):1106–1109

Bigger BW, Wynn RF (2014) Novel approaches and mechanisms in hematopoietic stem cell gene therapy. Discov Med 17(94):207–215

Bijarnia S, Shaw P, Vimpani A, Smith R, Pacey V, O'Grady H, Christodoulou J, Sillence D (2009) Combined enzyme replacement and haematopoietic stem cell transplantation in Hurler syndrome. J Paediatr Child Health 45(7-8):469–472

Boelens JJ, Wynn RF, O'Meara A, Veys P, Bertrand Y, Souillet G, Wraith JE, Fischer A, Cavazzana-Calvo M, Sykora KW, Sedlacek P, Rovelli A, Uiterwaal CS, Wulffraat N (2007) Outcomes of hematopoietic stem cell transplantation for Hurler's syndrome in Europe: a risk factor analysis for graft failure. Bone Marrow Transplant 40(3):225–233

Boelens JJ, Rocha V, Aldenhoven M, Wynn R, O'Meara A, Michel G, Ionescu I, Parikh S, Prasad VK, Szabolcs P, Escolar M, Gluckman E, Cavazzana-Calvo M, Kurtzberg J, I. e. W. P. o. E. Eurocord and U. Duke (2009) Risk factor analysis of outcomes after unrelated cord blood transplantation in patients with hurler syndrome. Biol Blood Marrow Transplant 15(5):618–625

Boelens JJ, Aldenhoven M, Purtill D, Ruggeri A, Defor T, Wynn R, Wraith E, Cavazzana-Calvo M, Rovelli A, Fischer A, Tolar J, Prasad VK, Escolar M, Gluckman E, O'Meara A, Orchard PJ, Veys P, Eapen M, Kurtzberg J, Rocha V, Eurocord B, Inborn Errors Working Party of European, g. Marrow Transplant, B. Duke University, P. Marrow Transplantation, B. Centre for International and R. Marrow (2013) Outcomes of transplantation using various hematopoietic cell sources in children with Hurler syndrome after myeloablative conditioning. Blood 121(19):3981–3987

Cox-Brinkman J, Boelens JJ, Wraith JE, O'Meara A, Veys P, Wijburg FA, Wulffraat N, Wynn RF (2006) Haematopoietic cell transplantation (HCT) in combination with enzyme replacement therapy (ERT) in patients with Hurler syndrome. Bone Marrow Transplant 38(1):17–21

Eisengart JB, Rudser KD, Tolar J, Orchard PJ, Kivisto T, Ziegler RS, Whitley CB, Shapiro EG (2013) Enzyme replacement is associated with better cognitive outcomes after transplant in Hurler syndrome. J Pediatr 162(2):375–380.e1

Fratantoni JC, Hall CW, Neufeld EF (1968) Hurler and Hunter syndromes: mutual correction of the defect in cultured fibroblasts. Science 162(3853):570–572

Fratantoni JC, Hall CW, Neufeld EF (1969) The defect in Hurler and Hunter syndromes. II. deficiency of specific factors involved in mucopolysaccharide degradation. Proc Natl Acad Sci U S A 64(1):360–366

Grewal SS, Wynn R, Abdenur JE, Burton BK, Gharib M, Haase C, Hayashi RJ, Shenoy S, Sillence D, Tiller GE, Dudek ME, van Royen-Kerkhof A, Wraith JE, Woodard P, Young GA, Wulffraat N, Whitley CB, Peters C (2005) Safety and efficacy of enzyme replacement therapy in combination with hematopoietic stem cell transplantation in Hurler syndrome. Genet Med 7(2):143–146

Krivit W, Sung JH, Shapiro EG, Lockman LA (1995) Microglia: the effector cell for reconstitution of the central nervous system following bone marrow transplantation for lysosomal and peroxisomal storage diseases. Cell Transplant 4(4):385–392

Meikle PJ, Hopwood JJ, Clague AE, Carey WF (1999) Prevalence of lysosomal storage disorders. JAMA 281(3):249–254

Moore D, Connock MJ, Wraith E, Lavery C (2008) The prevalence of and survival in Mucopolysaccharidosis I: Hurler, Hurler-Scheie and Scheie syndromes in the UK. Orphanet J Rare Dis 3:24

Platt FM, Boland B, van der Spoel AC (2012) The cell biology of disease: lysosomal storage disorders: the cellular impact of lysosomal dysfunction. J Cell Biol 199(5):723–734

Scott HS, Ashton LJ, Eyre HJ, Baker E, Brooks DA, Callen DF, Sutherland GR, Morris CP, Hopwood JJ (1990) Chromosomal localization of the human alpha-L-iduronidase gene (IDUA) to 4p16.3. Am J Hum Genet 47(5):802–807

Tolar J, Grewal SS, Bjoraker KJ, Whitley CB, Shapiro EG, Charnas L, Orchard PJ (2008) Combination of enzyme replacement and hematopoietic stem cell transplantation as therapy for Hurler syndrome. Bone Marrow Transplant 41(6):531–535

Wynn T, Brunetti S (2009) Compounding naltrexone for the treatment of autism. Int J Pharm Compd 13(4):296–299

Wynn RF, Wraith JE, Mercer J, O'Meara A, Tylee K, Thornley M, Church HJ, Bigger BW (2009) Improved metabolic correction in patients with lysosomal storage disease treated with hematopoietic stem cell transplant compared with enzyme replacement therapy. J Pediatr 154(4):609–611
Ethics declarations
Conflict of interest
None.
Details of funding
None.
Additional information
Communicated by: Frits Wijburg
About this article
Cite this article
Lum, S.H., Stepien, K.M., Ghosh, A. et al. Long term survival and cardiopulmonary outcome in children with Hurler syndrome after haematopoietic stem cell transplantation. J Inherit Metab Dis 40, 455–460 (2017). https://doi.org/10.1007/s10545-017-0034-6
Received:

Revised:

Accepted:

Published:

Issue Date:
Keywords
Enzyme Replacement Therapy

Haematopoietic Stem Cell Transplantation

Donor Chimerism

Hurler Syndrome

National Health Service Foundation