Abstract
Alpha-aminoadipic and alpha-ketoadipic aciduria is an autosomal recessive inborn error of lysine, hydroxylysine, and tryptophan degradation. To date, DHTKD1 mutations have been reported in two alpha-aminoadipic and alpha-ketoadipic aciduria patients. We have now sequenced DHTKD1 in nine patients diagnosed with alpha-aminoadipic and alpha-ketoadipic aciduria as well as one patient with isolated alpha-aminoadipic aciduria, and identified causal mutations in eight. We report nine novel mutations, including three missense mutations, two nonsense mutations, two splice donor mutations, one duplication, and one deletion and insertion. Two missense mutations, one of which was reported before, were observed in the majority of cases. The clinical presentation of this group of patients was inhomogeneous. Our results confirm that alpha-aminoadipic and alpha-ketoadipic aciduria is caused by mutations in DHTKD1, and further establish that DHTKD1 encodes the E1 subunit of the alpha-ketoadipic acid dehydrogenase complex.
This is a preview of subscription content, log in to check access.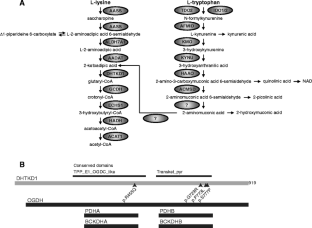 References
Bunik VI, Degtyarev D (2008) Structure-function relationships in the 2-oxo acid dehydrogenase family: substrate-specific signatures and functional predictions for the 2-oxoglutarate dehydrogenase-like proteins. Proteins 71:874–890

Casey RE, Zaleski WA, Philp M, Mendelson IS, MacKenzie SL (1978) Biochemical and clinical studies of a new case of alpha-aminoadipic aciduria. J Inherit Metab Dis 1:129–135

Danhauser K, Sauer SW, Haack TB et al (2012) DHTKD1 mutations cause 2-aminoadipic and 2-oxoadipic aciduria. Am J Hum Genet 91:1082–1087

de Ligt J, Willemsen MH, van Bon BW et al (2012) Diagnostic exome sequencing in persons with severe intellectual disability. N Engl J Med 367:1921–1929

Duran M, Beemer FA, Wadman SK, Wendel U, Janssen B (1984) A patient with alpha-ketoadipic and alpha-aminoadipic aciduria. J Inherit Metab Dis 7:61

Duran M, Dorland L, Wadman SK, Berger R (1994) Group tests for selective screening of inborn errors of metabolism. Eur J Pediatr 153:S27–S32

Fiermonte G, Dolce V, Palmieri L et al (2001) Identification of the human mitochondrial oxodicarboxylate carrier. Bacterial expression, reconstitution, functional characterization, tissue distribution, and chromosomal location. J Biol Chem 276:8225–8230

Fischer MH, Brown RR (1980) Tryptophan and lysine metabolism in alpha-aminoadipic aciduria. Am J Med Genet 5:35–41

Fischer MH, Gerritsen T, Opitz JM (1974) Alpha-aminoadipic aciduria, a non-deleterious inborn metabolic defect. Humangenetik 24:265–270

Gilissen C, Hehir-Kwa JY, Thung DT et al (2014) Genome sequencing identifies major causes of severe intellectual disability. Nature 511:344–347

Goodman SI, Duran M (2014) Biochemical phenotypes of questionable clinical significance. In Blau N, Duran M, Gibson KM, Dionisi-Vici C eds. Physician's guide to the diagnosis, treatment, and follow-up of inherited metabolic diseases. Heidelberg: Springer, pp 691–705

Gray RGF, O'Neill EM, Pollitt RJ (1979) α-aminoadipic aciduria: chemical and enzymatic studies. J Inherit Metab Dis 2:89–92

Guescini M, Sisti D, Rocchi MB, Stocchi L, Stocchi V (2008) A new real-time PCR method to overcome significant quantitative inaccuracy due to slight amplification inhibition. BMC Bioinformatics 9:326

Houten SM, te Brinke H, Denis S et al (2013) Genetic basis of hyperlysinemia. Orphanet J Rare Dis 8:57

Lehnert W (1994) Long-term results of selective screening for inborn errors of metabolism. Eur J Pediatr 153:S9–S13

Lormans S, Lowenthal A (1974) Alpha-amino adipic aciduria in an oligophrenic child. Clin Chim Acta 57:97–101

Manders AJ, von Oostrom CG, Trijbels JM, Rutten FJ, Kleijer WJ (1981) alpha-Aminoadipic aciduria and persistence of fetal haemoglobin in an oligophrenic child. Eur J Pediatr 136:51–55

Peng H, Shinka T, Inoue Y et al (1999) Asymptomatic alpha-ketoadipic aciduria detected during a pilot study of neonatal urine screening. Acta Paediatr 88:911–914

Przyrembel H, Bachmann D, Lombeck I et al (1975) Alpha-ketoadipic aciduria, a new inborn error of lysine metabolism; biochemical studies. Clin Chim Acta 58:257–269

Sewell AC, Herwig J, Bohles H, Abeling NG, van Gennip AH (1999) Normal kynurenine metabolism in 2-oxoadipic aciduria. J Inherit Metab Dis 22:949–950

Takechi T, Okada T, Wakiguchi H et al (1993) Identification of N-acetyl-alpha-aminoadipic acid in the urine of a patient with alpha-aminoadipic and alpha-ketoadipic aciduria. J Inherit Metab Dis 16:119–126

Vianey-Liaud C, Divry P, Cotte J, Teyssier G (1985) alpha-Aminoadipic and alpha-ketoadipic aciduria: detection of a new case by a screening program using two-dimensional thin layer chromatography of amino acids. J Inherit Metab Dis 8(Suppl 2):133–134

Wendel U, Rudiger HW, Przyrembel H, Bremer HJ (1975) Alpha-ketoadipic aciduria: degradation studies with fibroblasts. Clin Chim Acta 58:271–276

Wilcken B, Smith A, Brown DA (1980) Urine screening for aminoacidopathies: is it beneficial? Results of a long-term follow-up of cases detected by screening one millon babies. J Pediatr 97:492–497

Wilson RW, Wilson CM, Gates SC, Higgins JV (1975) Alpha-ketoadipic aciduria: a description of a new metabolic error in lysine-tryptophan degradation. Pediatr Res 9:522–526

Wu Y, Williams EG, Dubuis S et al (2014) Multilayered genetic and omics dissection of mitochondrial activity in a mouse reference population. Cell 158:1415–1430

Xu WY, Gu MM, Sun LH et al (2012) A nonsense mutation in DHTKD1 causes Charcot-Marie-Tooth disease type 2 in a large Chinese pedigree. Am J Hum Genet 91:1088–1094

Xu W, Zhu H, Gu M et al (2013) DHTKD1 is essential for mitochondrial biogenesis and function maintenance. FEBS Lett 587:3587–3592

Yang Y, Muzny DM, Reid JG et al (2013) Clinical whole-exome sequencing for the diagnosis of mendelian disorders. N Engl J Med 369:1502–1511
Acknowledgments
The authors thank Prof. Udo Wendel (Düsseldorf, Germany) for enabling the investigations on patient 8, and Janet Haasjes (Amsterdam, the Netherlands) for DNA sequencing. Financial support by the Jürgen Manchot Stiftung (Düsseldorf, Germany) and by the Müller-Fahnenberg-Stiftung (Freiburg, Germany) is gratefully acknowledged.
Conflict of interest
None.
Additional information
Communicated by: Carla E. Hollak
Electronic supplementary material
Below is the link to the electronic supplementary material.
About this article
Cite this article
Hagen, J., te Brinke, H., Wanders, R.J.A. et al. Genetic basis of alpha-aminoadipic and alpha-ketoadipic aciduria. J Inherit Metab Dis 38, 873–879 (2015). https://doi.org/10.1007/s10545-015-9841-9
Received:

Revised:

Accepted:

Published:

Issue Date:
Keywords
Splice Donor Site

Severe Intellectual Disability

Biochemical Phenotype

Biotinidase Deficiency

Delay Motor Development