Abstract
Many newborn screening programmes now use tandem mass spectrometry in order to screen for a variety of diseases. However, countries have embraced this technology with a differing pace of change and for different conditions. This has been facilitated by the ability of this diagnostic method to limit analysis to specific metabolites of interest, enabling targeted screening for particular conditions. MS/MS was introduced in 2009 in England to implement newborn bloodspot screening for medium chain acyl-CoA dehydrogenase deficiency (MCADD) raising the possibility of screening for other inherited metabolic disorders. Recently, a pilot screening programme was conducted in order to evaluate the health and economic consequences of screening for five additional inherited metabolic disorders in England. As part of this study we conducted a systematic review and meta-analysis to estimate the birth prevalence of these conditions: maple syrup urine disease, homocystinuria (pyridoxine unresponsive), glutaric aciduria type I, isovaleric acidaemia and long-chain 3-hydroxyacyl-CoA dehydrogenase deficiency including trifunctional protein deficiency. We identified a total of 99 studies that were able to provide information on the prevalence of one or more of the disorders. The vast majority of studies were of screening programmes with some reporting on clinically detected cases.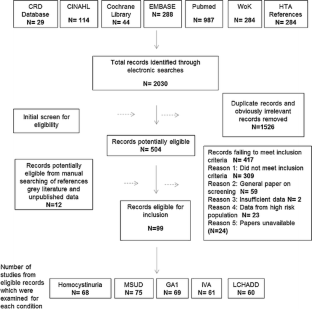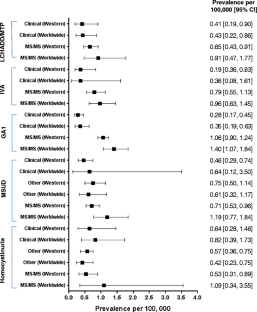 Abbreviations
GA-1:

Glutaric aciduria type 1

HCY:

Homocystinuria

HTA:

Health technology assessment

IMD:

Inherited metabolic disease

IVA:

Isovaleric acidaemia

LCHADD:

Long chain 3-hydroxy acyl-CoA dehydrogenase deficiency

MCADD:

Medium chain acyl-CoA dehydrogenase deficiency

MS/MS:

Tandem mass spectrometry

MSUD:

Maple syrup urine disease
References
Abdel-Hamid M, Tisocki K, Sharaf L, Ramadan D (2007) Development, validation and application of tandem mass spectrometry for screening of inborn metabolic disorders in Kuwaiti infants. Med Princ and Pract 16(3):215–221

Abdenur J, Chamoles N, Schenone A, Guinle A, Fusta M, Gagglioli D (2000) Supplemental newborn screening of amino acids (AA) and acylcarnitines (AC) by electrospray tandem mass spectrometry (ESI-MS/MS): experiences in Argentina. J Inherit Metab Dis 23(1):13

Abdul-Rahman S, Mohd YZ, Yew SC, Omar A, Othman NA, Shaharudin AS (2007) Pilot project on neonatal screening of inborn errors of metabolism (IEM) using tandem mass spectrometry in Malaysia. J Inherit Metab Dis 30:4–4

AECNE (2012) Programas de cribado neonatal en España (2001-2011) Retrieved from: aecne.es/datos2.htm. (May 2013). Programas de cribado neonatal en España (2001–2011)

Aoki K (2003) Long term follow-up of patients with inborn errors of metabolism detected by the newborn screening program in Japan. Southeast Asian J Trop Med Public Health 34(Suppl 3):19–23

Applegarth DA, Toone JR, Lowry RB (2000) Incidence of inborn errors of metabolism in British Columbia, 1969–1996. Pediatrics 105(1):e10

Banta-Wright SA, Steiner RD (2004) Tandem mass spectrometry in newborn screening: a primer for neonatal and perinatal nurses. J Perinatal Neonatal Nurs 18(1):41–58, quiz 59–60

Chace DH, Kalas TA, Naylor EW (2002) The application of tandem mass spectrometry to neonatal screening for inherited disorders of intermediary metabolism. Annu Rev Genomics Hum Genet 3:17–45

Comeau AM, Larson C, Eaton RB (2004) Integration of new genetic diseases into statewide newborn screening: New England experience. Am J of Med Genet Part C-Sem in Med Genet 125C(1):35–41

El-Said MF, Badii R, Bessisso MS et al (2006) A common mutation in the CBS gene explains a high incidence of homocystinuria in the Qatari population. Hum Mutat 27(7):719

Frazier D, Millington D, McCandless S et al (2006) The tandem mass spectrometry newborn screening experience in North Carolina: 1997–2005. J Inherit Metab Dis 29(1):76–85

Gan-Schreier H, Kebbewar M, Fang-Hoffmann J et al (2010) Newborn population screening for classic homocystinuria by determination of total homocysteine from Guthrie cards. J Pediatr 156(3):427–433

Hoffmann GF, von KR, Klose D et al (2004) Frequencies of inherited organic acidurias and disorders of mitochondrial fatty acid transport and oxidation in Germany. Eur J Pediatr 163(2):76–80

Khneisser I, Adib SM, Megarbane A, Lukacs Z (2008) International cooperation in the expansion of a newborn screening programme in Lebanon: a possible model for other programmes. J Inherit Metab Dis 31(Suppl 2):S441–S446

Kolker S, Garbade SF, Boy N et al (2007) Decline of acute encephalopathic crises in children with glutaryl-CoA dehydrogenase deficiency identified by newborn screening in Germany. Pediatr Res 62(3):357–363

Kolker S, Christensen E, Leonard JV et al (2011) Diagnosis and management of glutaric aciduria type I–revised recommendations. J Inherit Metab Dis 34(3):677–694

Kyllerman M, Skjeldal OH, Lundberg M et al (1994) Dystonia and dyskinesia in glutaric aciduria type I: clinical heterogeneity and therapeutic considerations. Mov Disord 9(1):22–30

a Marca G, Malvagia S, Casetta B, Pasquini E, Donati MA, Zammarchi E (2008) Progress in expanded newborn screening for metabolic conditions by LC-MS/MS in Tuscany: update on methods to reduce false tests. J Inherit Metab Dis 31:S395–S404

Lindner M, Abdoh G, Fang-Hoffmann J et al (2007) Implementation of extended neonatal screening and a metabolic unit in the state of Qatar: developing and optimizing strategies in cooperation with the neonatal screening center in Heidelberg. J Inherit Metab Dis 30(4):522–529

Loukas YL, Soumelas GS, Dotsikas Y et al (2010) Expanded newborn screening in Greece: 30 months of experience. J InheritMetab Dis 33(Suppl 3):341–348

Lund AM, Hougaard DM, Simonsen H et al (2012) Biochemical screening of 504,049 newborns in Denmark, the Faroe islands and Greenland - experience and development of a routine program for expanded newborn screening. Mol Genet Metab 107(3):281–293

Millington DS, Kodo N, Norwood DL, Roe CR (1990) Tandem mass spectrometry: a new method for acylcarnitine profiling with potential for neonatal screening for inborn errors of metabolism. J Inherit Metab Dis 13(3):321–324

Moammar H, Cheriyan G, Mathew R, Al-Sannaa N (2010) Incidence and patterns of inborn errors of metabolism in the Eastern Province of Saudi Arabia, 1983-2008. Ann Saudi Med 30(4):271–277

Nennstiel-Ratzel U, Luders A, Blankenstein O, et al (2010) Deutsche Gesellschaft fur neugeborenenscreening E.V. National Screening Report Germany: years 2004–2007; 2008; 2009; 2010. Retrieved from http://www.screening-dgns.de/ Date accessed 10.07.13.

Niu DM, Chien YH, Chiang CC et al (2010) Nationwide survey of extended newborn screening by tandem mass spectrometry in Taiwan. J Inherit Metab Dis 33(Suppl 2):S295–S305

NNSGRC (2013) National newborn screening and global resource center: US newborn screening programme (1991–2000 cumulative; and 2001, 2002, 2003, 2004, 2005, 2006) Retrieved from: genes-r-us.uthscda.edu/newborn-reports (May 2013

Pandor A, Eastham J, Beverley C, Chilcott J, Paisley S (2004) Clinical effectiveness and cost-effectiveness of neonatal screening for inborn errors of metabolism using tandem mass spectrometry: a systematic review. Health Technology Assessment 8(12): iii-NaN

Quental S, Vilarinho L, Martins E et al (2010) Incidence of maple syrup urine disease in Portugal. Mol Genet Metab 100(4):385–387

Rashed MS, Rahbeeni Z, Ozand PT (1999) Application of electrospray tandem mass spectrometry to neonatal screening. Semin Perinatol 23(2):183–193

Sahai I, Zytkowicz T, Rao KS, Lakshmi KA, Eaton RB, Akella RR (2011) Neonatal screening for inborn errors of metabolism using tandem mass spectrometry: experience of the pilot study in Andhra Pradesh, India. Indian J Pediatr 78(8):953–960

Sander J, Sander S, Steuerwald U et al (2005) Neonatal screening for defects of the mitochondrial trifunctional protein. Mol Genet Metab 85(2):108–114

Tiwana SK, Rascati KL, Park H (2012) Cost-effectiveness of expanded newborn screening in Texas (Provisional abstract). Value Health 15:613–621

Wilcken B, Wiley V, Hammond J, Carpenter K (2003) Screening newborns for inborn errors of metabolism by tandem mass spectrometry. N Engl J Med 348(23):2304–2312

Wilcken B, Haas M, Joy P et al (2009) Expanded newborn screening: outcome in screened and unscreened patients at age 6 years. Pediatrics 124(2):e241–e248

Williams JG, Higgins JP, Brayne CE (2006) Systematic review of prevalence studies of autism spectrum disorders. Arch Dis Child 91(1):8–15

Wilson C, Kerruish NJ, Wilcken B, Wiltshire E, Webster D (2007) The failure to diagnose inborn errors of metabolism in New Zealand: the case for expanded newborn screening. N ZMed J 120(1262):1–11

Yap S, Naughten E (1998) Homocystinuria due to cystathionine beta-synthase deficiency in Ireland: 25 years' experience of a newborn screened and treated population with reference to clinical outcome and biochemical control. J Inherit Metab Dis 21(7):738–747

Yoon H-R, Lee KR, Kang S et al (2005) Screening of newborns and high-risk group of children for inborn metabolic disorders using tandem mass spectrometry in south Korea: a three-year report. Clin Chim Acta 354(1–2):167–180
Acknowledgments
The authors would like to acknowledge with thanks the laboratories who contributed data for this report.
Conflict of interest
Sowmiya Moorthie Louise Cameron, Gurdeep S Sagoo, Jim Bonham and Hilary Burton declare they have no conflict of interest.
This article does not contain any studies with human or animal subjects performed by any of the authors.
Funding
This review was funded by the National Institute for Health Research Collaboration for Leadership in Applied Health Research and Care for South Yorkshire (NIHR CLAHRC SY).
Additional information
Communicated by: Bridget Wilcken
Electronic supplementary material
Below is the link to the electronic supplementary material.
About this article
Cite this article
Moorthie, S., Cameron, L., Sagoo, G.S. et al. Systematic review and meta-analysis to estimate the birth prevalence of five inherited metabolic diseases. J Inherit Metab Dis 37, 889–898 (2014). https://doi.org/10.1007/s10545-014-9729-0
Received:

Revised:

Accepted:

Published:

Issue Date:
Keywords
Newborn Screening

Western Population

Congenital Hypothyroidism

Homocystinuria

Maple Syrup Urine Disease