Abstract
Liver-on-a-Chip technology holds considerable potential for applications in drug screening and chemical-safety testing. To establish such platforms, functional hepatocytes are required; however, primary hepatocytes are commonly used, despite problems involving donor limitations, lot-to-lot variation, and unsatisfactory two-dimensional culture methods. Although human pluripotent stem cells (hPSCs) may represent a strong alternative contender to address the aforementioned issues, remaining technological challenges include the robust, highly efficient production of high-purity hepatic clusters. In addition, current Liver-on-a-Chip platforms are relatively complicated and not applicable for high-throughput experiments. Here, we develop a very simple Liver-on-a-Chip platform with mature and functional hepatocyte-like cells derived from hPSCs. To establish a method for hepatic differentiation of hPSCs, cells were first treated by inhibiting the phosphoinositide 3-kinase- and Rho-associated protein kinase-signaling pathways to stop self-renewal and improve survival, respectively, which enabled the formation of a well-defined endoderm and facilitated hepatocyte commitment. Next, a simple microfluidic device was used to create a three-dimensional (3D) culture environment that enhanced the maturation and function of hepatocyte-like cells by increasing the expression of both hepatic maturation markers and cytochrome P450. Finally, we confirmed improvements in hepatic functions, such as drug uptake/excretion capabilities, in >90% of 3D-matured hepatocyte-like cells by indocyanin green assay. These results indicated that the incorporation of hPSC-derived hepatocytes on our Liver-on-a-Chip platform may serve to enhance the processes involved in drug screening and chemical-safety testing.
This is a preview of subscription content, log in to check access.
Access options
Buy single article
Instant access to the full article PDF.
US$ 39.95
Tax calculation will be finalised during checkout.
Subscribe to journal
Immediate online access to all issues from 2019. Subscription will auto renew annually.
US$ 79
Tax calculation will be finalised during checkout.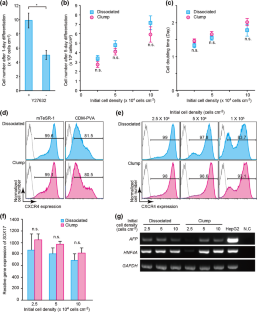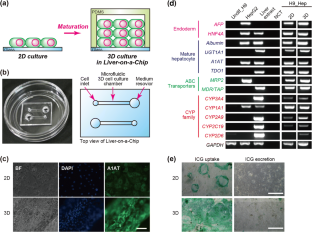 References
A. Asai, E. Aihara, C. Watson, R. Mourya, T. Mizuochi, P. Shivakumar, K. Phelan, C. Mayhew, M. Helmrath, T. Takebe, J. Wells, J.A. Bezerra, Development 144, 1056 (2017)

H. Basma, A. Soto–Gutiérrez, G.R. Yannam, L. Liu, R. Ito, T. Yamamoto, E. Ellis, S.D. Carson, S. Sato, Y. Chen, D. Muirhead, N. Navarro–Álvarez, R.J. Wong, J. Roy–Chowdhury, J.L. Platt, D.F. Mercer, J.D. Miller, S.C. Strom, N. Kobayashi, I.J. Fox, Gastroenterology 136, 990 (2009)

C.H. Beckwitt, A.M. Clark, S. Wheeler, D.L. Taylor, D.B. Stolz, L. Griffith, A. Wells, Exp. Cell Res. 363, 15 (2018)

S.N. Bhatia, D.E. Ingber, Nat. Biotechnol. 32, 760 (2014)

H.K. Bone, A.S. Nelson, C.E. Goldring, D. Tosh, M.J. Welham, J. Cell Sci. 124, 1992 (2011)

C.D. Edington, W.L.K. Chen, E. Geishecker, T. Kassis, L.R. Soenksen, B.M. Bhushan, D. Freake, J. Kirschner, C. Maass, N. Tsamandouras, J. Valdez, C.D. Cook, T. Parent, S. Snyder, J. Yu, E. Suter, M. Shockley, J. Velazquez, J.J. Velazquez, L. Stockdale, J.P. Papps, I. Lee, N. Vann, M. Gamboa, M.E. LaBarge, Z. Zhong, X. Wang, L.A. Boyer, D.A. Lauffenburger, R.L. Carrier, C. Communal, S.R. Tannenbaum, C.L. Stokes, D.J. Hughes, G. Rohatgi, D.L. Trumper, M. Cirit, L.G. Griffith, Sci. Rep. 8, 4530 (2018)

S. Greenhough, H. Bradburn, J. Gardner, D.C. Hay, Cell. Reprogram. 15, 9 (2013)

M. Gröger, J. Dinger, M. Kiehntopf, F.T. Peters, U. Rauen, A.S. Mosig, Adv. Healthc. Mater. 7, 1700616 (2018)

N.R.F. Hannan, C.-P. Segeritz, T. Touboul, L. Vallier, Nat. Protoc. 8, 430 (2013)

D.C. Hay, J. Fletcher, C. Payne, J.D. Terrace, R.C.J. Gallagher, J. Snoeys, J.R. Black, D. Wojtacha, K. Samuel, Z. Hannoun, A. Pryde, C. Filippi, I.S. Currie, S.J. Forbes, J.A. Ross, P.N. Newsome, J.P. Iredale, Proc. Natl. Acad. Sci. 105, 12301 (2008)

T.-S. Huang, L. Li, L. Moalim-Nour, D. Jia, J. Bai, Z. Yao, S.A.L. Bennett, D. Figeys, L. Wang, Stem Cells 33, 1419 (2015)

D. Huh, B.D. Matthews, A. Mammoto, M. Montoya-Zavala, H.Y. Hsin, D.E. Ingber, Science 328, 1662 (2010)

M. Inamura, K. Kawabata, K. Takayama, K. Tashiro, F. Sakurai, K. Katayama, M. Toyoda, H. Akutsu, Y. Miyagawa, H. Okita, N. Kiyokawa, A. Umezawa, T. Hayakawa, M.K. Furue, H. Mizuguchi, Mol. Ther. 19, 400 (2011)

S. Ishida, Drug Metab. Pharmacokinet. 33, 49 (2018)

K. Kamei, Y. Mashimo, Y. Koyama, C. Fockenberg, M. Nakashima, M. Nakajima, J. Li, Y. Chen, Biomed. Microdevices 17, 36 (2015)

K. Kamei, Y. Koyama, Y. Tokunaga, Y. Mashimo, M. Yoshioka, C. Fockenberg, R. Mosbergen, O. Korn, C. Wells, Y. Chen, Adv. Healthc. Mater. 5, 2951 (2016)

K. Kamei, Y. Kato, Y. Hirai, S. Ito, J. Satoh, A. Oka, T. Tsuchiya, Y. Chen, O. Tabata, RSC Adv. 7, 36777 (2017)

S.R. Khetani, S.N. Bhatia, Nat. Biotechnol. 26, 120 (2008)

H.J. Kim, D. Huh, G. Hamilton, D.E. Ingber, Lab Chip 12, 2165 (2012)

H. Kimura, Y. Sakai, T. Fujii, Drug Metab. Pharmacokinet. 33, 43 (2018)

H.S. Kruitwagen, L.A. Oosterhoff, I.G.W.H. Vernooij, I.M. Schrall, M.E. van Wolferen, F. Bannink, C. Roesch, L. van Uden, M.R. Molenaar, J.B. Helms, G.C.M. Grinwis, M.M.A. Verstegen, L.J.W. van der Laan, M. Huch, N. Geijsen, R.G. Vries, H. Clevers, J. Rothuizen, B.A. Schotanus, L.C. Penning, B. Spee, Stem Cell Reports 8, 822 (2017)

T.E. Ludwig, V. Bergendahl, M.E. Levenstein, J. Yu, M.D. Probasco, J.A. Thomson, Nat. Methods 3, 637 (2006)

U. Marx, T.B. Andersson, A. Bahinski, M. Beilmann, P. Vulto, J. Wang, J. Wiest, M. Rodenburg, A. Roth, J.A.M. Adrienne, Sips 10 (2016)

S. Nantasanti, A. De Bruin, J. Rothuizen, L.C. Penning, B.A. Schotanus, Stem Cells Transl. Med. 5, 325 (2015)

J. Park, B.K. Lee, G.S. Jeong, J.K. Hyun, C.J. Lee, S.-H. Lee, Lab Chip 15, 141 (2015)

K. Ronaldson-Bouchard, G. Vunjak-Novakovic, Cell Stem Cell 22, 310 (2018)

J.M. Rossi, Genes Dev. 15, 1998 (2001)

A. Schepers, C. Li, A. Chhabra, B.T. Seney, S. Bhatia, Lab Chip 16, 2644 (2016)

K. Takahashi, K. Tanabe, M. Ohnuki, M. Narita, T. Ichisaka, K. Tomoda, S. Yamanaka, Cell 131, 861 (2007)

K. Takayama, M. Inamura, K. Kawabata, K. Tashiro, K. Katayama, F. Sakurai, T. Hayakawa, M.K. Furue, H. Mizuguchi, PLoS One 6, e21780 (2011)

K. Takayama, M. Inamura, K. Kawabata, M. Sugawara, K. Kikuchi, M. Higuchi, Y. Nagamoto, H. Watanabe, K. Tashiro, F. Sakurai, T. Hayakawa, M.K. Furue, H. Mizuguchi, J. Hepatol. 57, 628 (2012)

J.A. Thomson, Science 282, 1145 (1998)

S.J. Trietsch, E. Naumovska, D. Kurek, M.C. Setyawati, M.K. Vormann, K.J. Wilschut, H.L. Lanz, A. Nicolas, C.P. Ng, J. Joore, S. Kustermann, A. Roth, T. Hankemeier, A. Moisan, P. Vulto, Nat. Commun. 8, 262 (2017)

K. Watanabe, M. Ueno, D. Kamiya, A. Nishiyama, M. Matsumura, T. Wataya, J.B. Takahashi, S. Nishikawa, S. Nishikawa, K. Muguruma, Y. Sasai, Nat. Biotechnol. 25, 681 (2007)

Y.S. Zhang, A. Arneri, S. Bersini, S.-R. Shin, K. Zhu, Z. Goli-Malekabadi, J. Aleman, C. Colosi, F. Busignani, V. Dell'Erba, C. Bishop, T. Shupe, D. Demarchi, M. Moretti, M. Rasponi, M.R. Dokmeci, A. Atala, A. Khademhosseini, Biomaterials 110, 45 (2016)
Acknowledgements
Funding was generously provided by the Japan Society for the Promotion of Science (JSPS; 24656502, 26560209, 16K14660, and 17H02083). Funding was also provided by the Terumo Life Science Foundation and Japan Agency for Medical Research and Development. The WPI-iCeMS is supported by the World Premier International Research Centre Initiative (WPI), MEXT, Japan.
Ethics declarations
Competing financial interests
Kyoto University (K.K. and M.Y.) filed a provisional Japanese patent application based on the research presented herein. The other authors have no conflict of interest.
Additional information
Publisher's note
Springer Nature remains neutral with regard to jurisdictional claims in published maps and institutional affiliations.
Electronic supplementary material
About this article
Cite this article
Kamei, Ki., Yoshioka, M., Terada, S. et al. Three-dimensional cultured liver-on-a-Chip with mature hepatocyte-like cells derived from human pluripotent stem cells. Biomed Microdevices 21, 73 (2019). https://doi.org/10.1007/s10544-019-0423-8
Keywords
Organ on a Chip

Pluripotent stem cells

Hepatocytes

Three-dimensional cell culture

Microfluidic device

Polydimethylsiloxane