Abstract
Microfluidic impedance sensor has been introduced as a cost effective platform in biological cell sensing and counting since several decades ago. Conventional microfluidic impedance sensor usually requires the patterned gold electrodes directly in contact with the carrying buffer to measure the electrical current change due to the blockage of cells. However, patterning metal electrode probes on the silicon or glass substrate is a non-trivial task, which increases the fabrication cost of the impedance sensor. In this paper, we demonstrate an alternating current (AC) impedance based microfluidic cytometer built on a printed circuit board (PCB) coated with polydimethylsiloxane (PDMS) thin film. In addition, circulating tumor cells (Hela cells) are used to successfully demonstrate the feasibility of the microfluidic AC impedance sensor in tumor cell detection. The electrodes pre-deposited PCB costs less than US$2.00 and is widely available in the market. This device has a good potential for point-of-care diagnosis in resource-poor settings.
Access options
Buy single article
Instant access to the full article PDF.
US$ 39.95
Tax calculation will be finalised during checkout.
Subscribe to journal
Immediate online access to all issues from 2019. Subscription will auto renew annually.
US$ 79
Tax calculation will be finalised during checkout.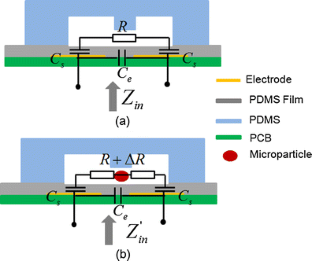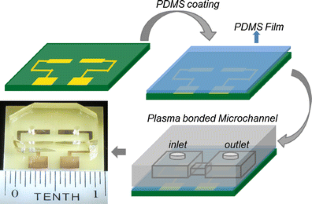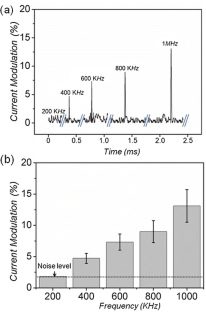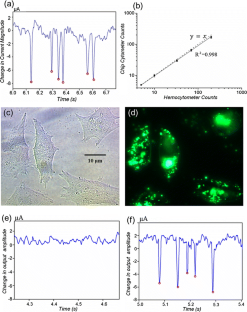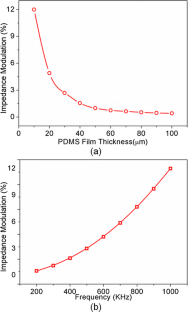 References
S.K. Arya, B.L. Lim, A.R.A. Rahman, Lab Chip 13, 1995 (2013)

W. Asghar, Y. Wan, A. Ilyas, R. Bachoo, Y.T. Kim, S.M. Iqbal, Lab Chip 12, 2345 (2012)

H. Bayley, C.R. Martin, Chem. Rev. 100, 2575–2594 (2000)

J. Chen, Y. Zheng, Q.Y. Tan, Y.L. Zhang, J. Li, W.B. Geddie, M.A.S. Jewett, Y. Sun, Biomicrofluidics 5, 014113 (2011)

H. Choi, K.B. Kim, C.S. Jeon, I. Hwang, S. Lee, H.K. Kim, H.C. Kim, T.D. Chung, Lab Chip 13, 970 (2013)

G. Damhorst, B.M. Venkatesan, S. Banerjee, V. Solovyeva, R. Bashir, Biophys. J. 102, 584a (2012)

C. Dekker, Nat. Nanotechnol. 2, 209 (2007)

S. Emaminejad, M. Javanmard, R.W. Dutton, R.W. Davis, Lab Chip 12, 4499 (2012)

J. Guo, W. Lei, X. Ma, P. Xue, Y. Chen, Y. Kang, IEEE Trans. Biomed. Circ. Syst. 8, 35 (2014)

A.V. Jagtiani, J. Zhe, J. Hu, J. Carletta, Meas. Sci. Technol. 17, 1706 (2006)

J.S. Lorenz, O. Oliver, C. Catalin, G. Joanne, F.K. Ulrich, Nano Lett. 10, 2493 (2010)

M.E. Piyasena, S.W. Graves, Lab Chip 14, 1044 (2014)

H. Song, Y. Wang, J.M. Rosano, B. Prabhakarpandian, C. Garson, K. Pant, E. Lai, Lab Chip 13, 2300 (2013)

Y.N. Wang, Y. Kang, D. Xu, C.H. Chon, L. Barnett, S.A. Kalams, D. Li, Lab Chip 8, 309 (2008)

Y. Wu, D.B. James, A. Mahmoud, Biomed. Microdevices 14, 739 (2012)

X. Xuan, J. Zhu, C. Church, Microfluid. Nanofluid. 9, 1 (2010)

Y. Zheng, E. Shojaei-Baghini, A. Azad, C. Wang, Y. Sun, Lab Chip 12, 2560 (2012)

Y. Zheng, J. Nguyen, Y. Wang, Y. Sun, Lab Chip 13, 2464 (2013)
Acknowledgments
This research is supported by a seed grant from Sustainable Earth Office at Nanyang Technological University and Tier-1 Academic Research Fund from Singapore Ministry of Education (RG 26/11) awarded to Y.K. And J.G. wishes to gratefully acknowledge the Ph.D. research scholarship from Nanyang Technological University. The authors declare no financial or commercial conflicts of interest.
Electronic supplementary material
Below is the link to the electronic supplementary material.
About this article
Cite this article
Guo, J., Li, C.M. & Kang, Y. PDMS-film coated on PCB for AC impedance sensing of biological cells. Biomed Microdevices 16, 681–686 (2014). https://doi.org/10.1007/s10544-014-9872-2
Keywords
Microfluidics

AC impedance cytometer

Printed circuit board

Circulating tumor cell

Point-of-care