Abstract
In this paper, we report on a cost effective and simple method for fabricating a flexible multi-electrode array for subdural neural recording. The electrode was fabricated using a PDMS-Parylene bilayer to combine the major advantages of both materials. Mechanical and electrical characterizations were performed to confirm functionality of a 16-site electrode array under various flexed/bent conditions. The electrode array was helically wound around a 3 mm diameter cylindrical tube and laid over a 2 cm diameter sphere while maintaining its recording capability. Experimental results showed impedance values between 300 kΩ and 600 kΩ at 1 kHz for 90 μm diameter gold recording sites. Acoustically evoked neural activity was successfully recorded from rat auditory cortex, confirming in vivo functionality.
Access options
Buy single article
Instant access to the full article PDF.
US$ 39.95
Tax calculation will be finalised during checkout.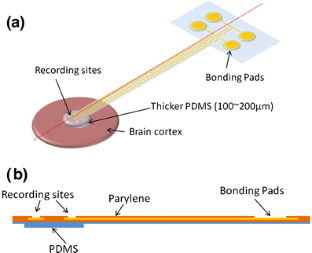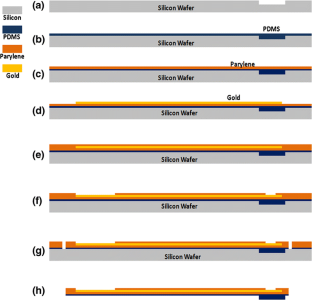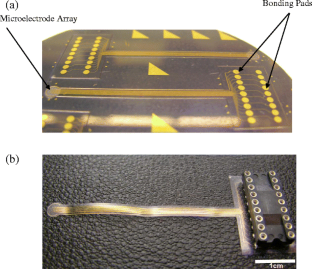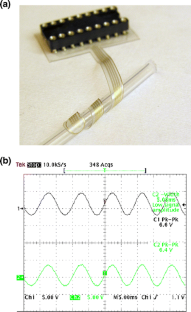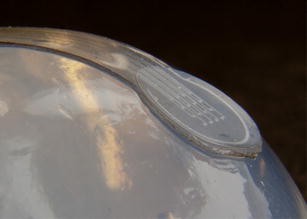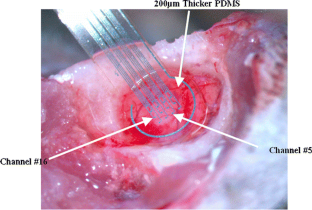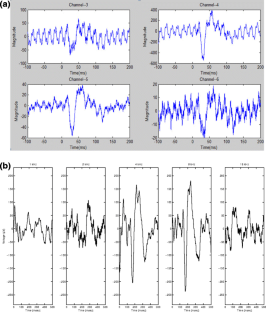 References
A-D Tech Medical Instruments, Intraoperative Monitoring Subdural Strip Electrodes, http://www.adtechmedical.com/intraoperative-monitoring-subdural-strip-electrodes/. Accessed 18 Jul 2012

D. Armani, C. Liu, N. Aluru, in Twelfth IEEE International Conference on Micro Electro Mechanical Systems (1999)

S.F. Cogan, Annu. Rev. Biomed. Eng. 10, (2008)

DuPont, General Specifications for Kapton® Polyimide Films, http://www2.dupont.com/Kapton/en_US/assets/downloads/pdf/summaryofprop.pdf. Accessed 18 Jul 2012

D.T. Eddington, D.J. Beebe, Biomed. Microdevices 7, 3 (2005)

C. Feger, Polym. Eng. Sci. 29, 5 (1989)

B. Graimann, J.E. Huggins, S.P. Levine, G. Pfurtscheller, IEEE Trans. Biomed. Eng. 51, 6 (2004)

C. Henle, M. Raab, J.G. Cordeiro, S. Doostkam, A. Schulze-Bonhage, T. Stieglitz, J. Rickert, Biomed. Microdevices 13, 1 (2011)

D.-H. Kim, J. Viventi, J.J. Amsden, J. Xiao, L. Vigeland, Y.-S. Kim, J.A. Blanco, B. Panilaitis, E.S. Frechette, D. Contreras, D.L. Kaplan, F.G. Omenetto, Y. Huang, K.-C. Hwang, M.R. Zakin, B. Litt, J.A. Rogers, Nat. Mater. 9, 6 (2010)

K. Ludwig, J.D. Uram, J. Yang, D.C. Martin, D.R. Kipke, J. Neural Eng. 3, 1 (2006)

L.I. Maissel, R. Glang, Handbook of Thin Film Technology, (McGraw-Hill, 1970)

E.M. Maynard, E. Fernandez, R. Normann, J. Neurosci. Methods 97, 2 (2000)

D.R. Nair, R. Burgess, C.C. McIntyre, H. Lüders, Clin. Neurophysiol. 119, 1 (2008)

G.A. Ojemann, Annu. Rev. Med. 48, (1997)

D.C. Rodger, Y.C. Tai, IEEE Engineering in Medicine and Biology Magazine 24, 5 (2005)

P.J. Rousche, D.S. Pellinen, D.P. Pivin, J.C. Williams, R.J. Vetter, D.R. Kipke, IEEE Trans. Biomed. Eng. 48, 3 (2001)

B. Rubehn, C. Bosman, R. Oostenveld, P. Fries, T. Stieglitz, J. Neural Eng. 6, 3 (2009)

Specialty Coating Systems, SCS Parylene Properties, http://scscoatings.com/docs/brochures/parylene_properties.pdf. Accessed18 Jul 2012

H. Toda, T. Suzuki, H. Sawahata, K. Majima, Y. Kamitani, I. Hasegawa, NeuroImage 54, 1 (2011)

C.H. Wong, J. Birkett, K. Byth, M. Dexter, E. Somerville, D. Gill, R. Chaseling, M. Fearnside, A. Bleasel, Acta Neurochir. (Wien) 151, 1 (2009)

J.D. Yeager, D.J. Phillips, D.M. Rector, D.F. Bahr, J. Neurosci. Methods 173, 2 (2008)
Acknowledgments
The authors would like to thank the staff of the Birck Nanotechnology Center at Purdue University for their help and assistance. We would also like to thank Professor Çagri Savran and Dr. Chun-Li Chang for their assistance with laser micromachining. Partial funding for this work was provided by NIH grant NIBIB-R21-EB 005351-02.
Electronic supplementary material
Below is the link to the electronic supplementary material.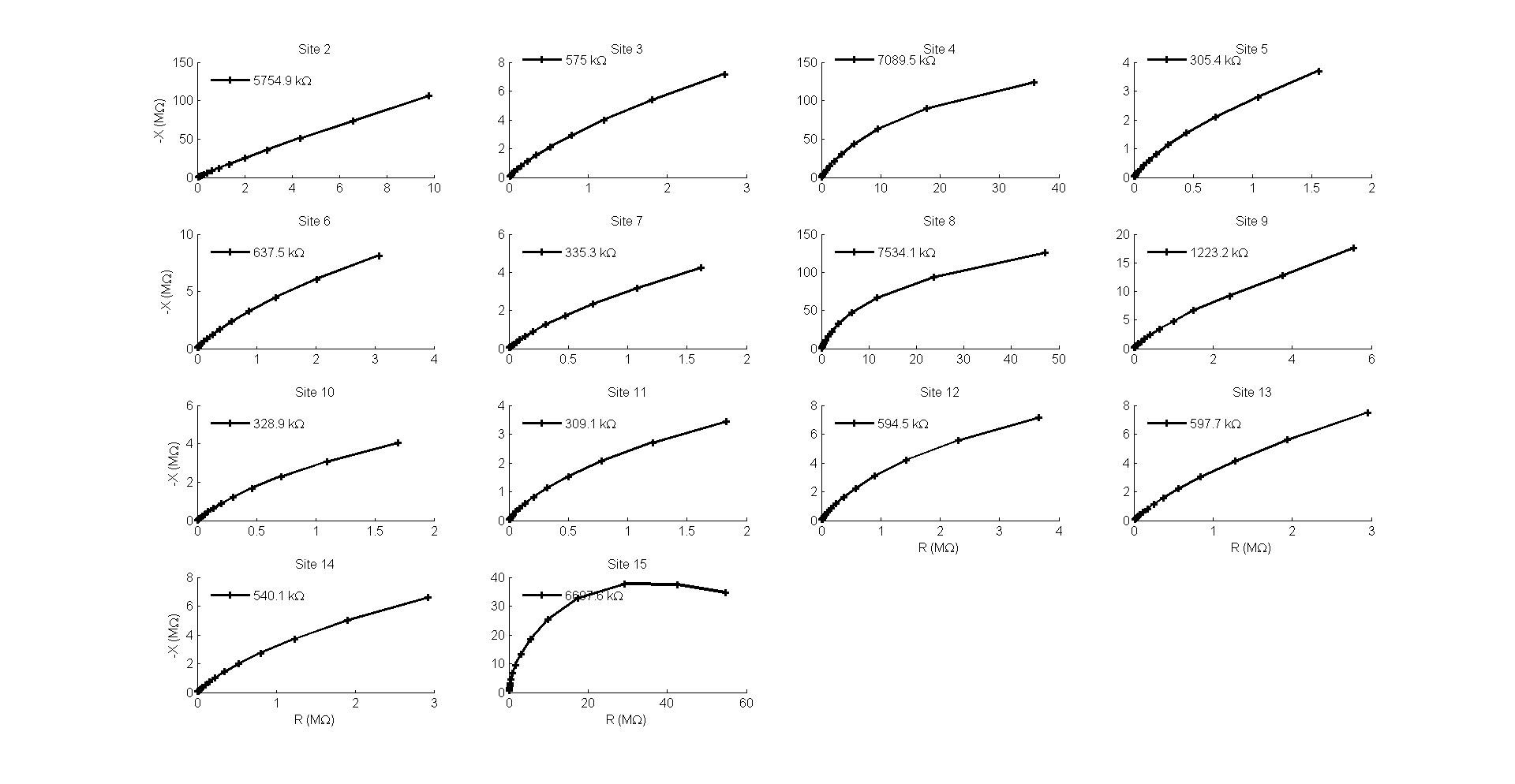 Nyquist plot of channel impedances for in vivo experiments. (JPEG 119 kb)
About this article
Cite this article
Ochoa, M., Wei, P., Wolley, A.J. et al. A hybrid PDMS-Parylene subdural multi-electrode array. Biomed Microdevices 15, 437–443 (2013). https://doi.org/10.1007/s10544-013-9743-2
Keywords
PDMS

Parylene

Epilepsy

Brain Computer Interface (BCI)

Subdural electrode

ECoG

Flexible electrode