Abstract
Commercially available polydimethylsiloxane (PDMS) elastomers, such as Sylgard 184® are widely used in soft lithography and for microfluidic applications. These PDMS elastomers contain fillers to enhance their mechanical stability. The reinforcing fillers, often sub-micrometer small SiO2 particles, tend to aggregate, swell with water, and thereby become cognoscible in a way that can strongly interfere with the visualization of micro-scale events taking place next to PDMS structures. As PDMS microfluidics are often used for studying cells and micro-/nanoparticles and for creating/handling nanodroplets, it has become highly desirable to employ a PDMS having high optical quality and that allows microscopy observation without artifacts. Here, we present a PDMS formulation that is free of fillers and has sufficiently low viscosity to perform a filtration step of the mixed prepolymers before curing. By molding a bi-layer microfluidic network (MFN), composed of a thin filler-free PDMS layer and a thicker Sylgard 184® backing layer, PDMS MFNs featuring both high optical quality and mechanical stability, can be fabricated.
Access options
Buy single article
Instant access to the full article PDF.
US$ 39.95
Tax calculation will be finalised during checkout.
Subscribe to journal
Immediate online access to all issues from 2019. Subscription will auto renew annually.
US$ 79
Tax calculation will be finalised during checkout.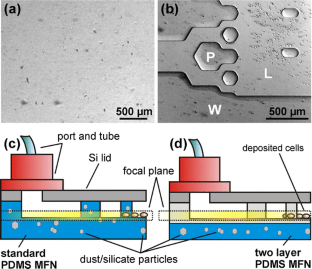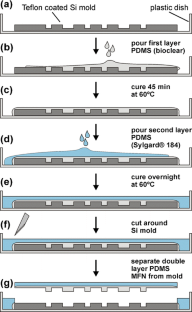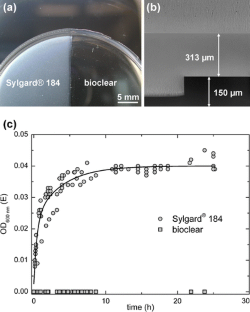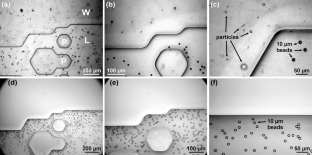 References
A. Bietsch, B. Michel, J. Appl. Phys. 88, 4310–4318 (2000)

D.N. Breslauer, P.J. Lee, L.P. Lee, Mol. Biosyst. 2, 97–112 (2006)

S.G. Charati, S.A. Stern, Macromolecules 31, 5529–5535 (1998)

S.J. Clarson, J.A. Semlyen, Siloxane Polymers (PTR Prentice Hall, New Jersey, 1993), pp. 637–643

P.S. Dittrich, K. Tachikawa, A. Manz, Anal. Chem. 78, 3887–3907 (2006)

J. El-Ali, P.K. Sorger, K.F. Jensen, Nature 442, 403–411 (2006)

H.-G. Elias, Makromoleküle vol. 3 Industrielle Polymere und Synthesen, 6th edn. (Wiley-VCH, Weinheim, 2001), p. 505

Y.S. Heo, L.M. Cabrera, J.W. Song, N. Futai, Y.-C. Tung, G.D. Smith, S. Takayama, Anal. Chem. 79, 1126–1134 (2007)

T.M. Keenan, A. Folch, Lab. Chip. 8, 34–57 (2008)

J.N. Lee, C. Park, G.M. Whitesides, Anal. Chem. 75, 6544–6554 (2003)

R.D. Lovchik, F. Bianco, M. Matteoli, E. Delamarche, Lab. Chip. 9, 1395–1402 (2009)

J.C. McDonald, G.M. Whitesides, Acc. Chem. Res. 35, 491–499 (2002)

G. Mehta, J. Lee, W. Cha, Y.-C. Tung, J.J. Linderman, S. Takayama, Anal. Chem. 81, 3714–3722 (2009)

I. Meyvantson, D.J. Beebe, Annu. Rev. Anal. Chem. 1, 423–449 (2008)

L.J. Millet, M.E. Stewart, J.V. Sweedler, R.G. Nuzzo, M.U. Gillette, Lab. Chip. 7, 987–994 (2007)

A. Persidis, Nature Biotechnol. 16, 488–489 (1998)

A. Piruska, I. Nikcevic, S.H. Lee, C. Ahn, W.R. Heineman, P.A. Limbach, C.J. Seliskar, Lab. Chip. 5, 1348–1354 (2005)

J.P. Rolland, R.M. Van Dam, D.A. Schorzman, S.R. Quake, J.M. DeSimone, J. Am. Chem. Soc. 126, 2322–2323 (2004)

H. Saechtling, International Plastics Handbook for the Technologist, Engineer and User, 3rd edn. (Hanser Publishers, Munich, 1995), pp. 412–414

H. Schmid, B. Michel, Macromolecules 33, 3042–3049 (2000)

Sylgard® 184 Product Information, http://www2.dowcorning.com/DataFiles/090007c88020bcca.pdf, Accessed 01 August 2010

G.M. Whitesides, Nature 442, 368–373 (2006)

Y. Xia, G.M. Whitesides, Angew. Chem. Int. Ed. 37, 550–575 (1998)
Acknowledgements
We thank R. Stutz for his help with the fabrication of the Si lids and molds for the PDMS microfluidics, L. Gervais for discussions, Neuro-Zone s.r.l. for a generous gift of microglia, and our colleagues W. Riess, M. Despont as well as Viola Vogel (ETHZ) for their continuous support.
About this article
Cite this article
Lovchik, R.D., Wolf, H. & Delamarche, E. High-grade optical polydimethylsiloxane for microfluidic applications. Biomed Microdevices 13, 1027–1032 (2011). https://doi.org/10.1007/s10544-011-9572-0
Keywords
Poly(dimethyl)siloxane

PDMS

Microfluidics

Filler particles