Abstract
This study presents a planar valveless impedance-based micropump for biomedical applications comprising a lower glass substrate patterned with a copper micro-coil, a microchannel, an upper glass cover plate, and a PDMS diaphragm with an electroplated magnet on its upper surface. When a current is passed through the micro-coil, an electromagnetic force is established between the coil and the magnet. The resulting deflection of the PDMS diaphragm creates an acoustic impedance mismatch within the microchannel, which in turn produces a net flow. The performance of the micropump is characterized experimentally. The experimental results show that a maximum diaphragm deflection of 30 μm is obtained when the micro-coil is supplied with an input current of 0.5 A. The corresponding flow rate is found to be 1.5 μl/sec when the PDMS membrane is driven by an actuating frequency of 240 Hz.
Access options
Buy single article
Instant access to the full article PDF.
US$ 39.95
Tax calculation will be finalised during checkout.
Subscribe to journal
Immediate online access to all issues from 2019. Subscription will auto renew annually.
US$ 79
Tax calculation will be finalised during checkout.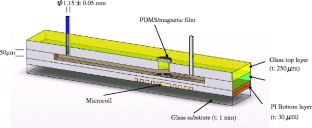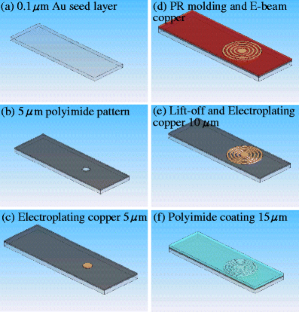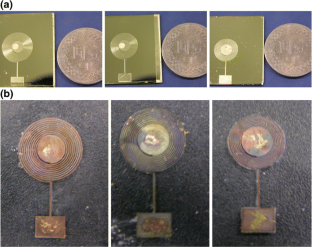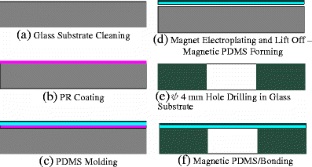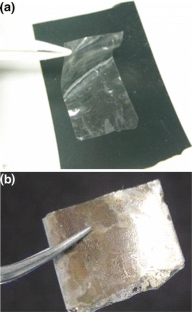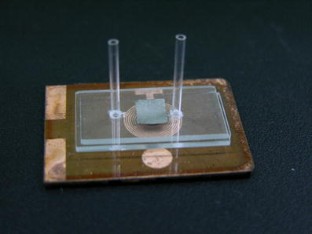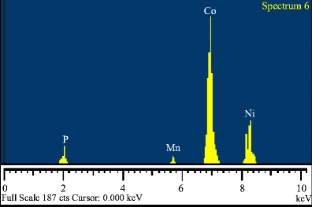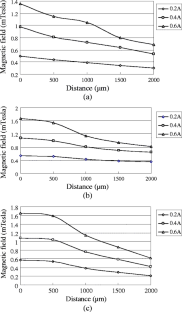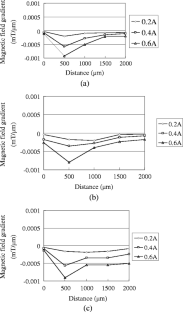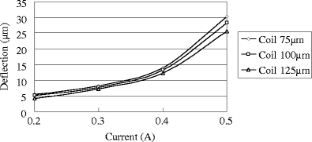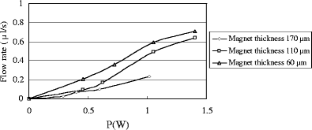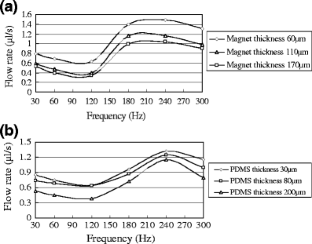 References
S. Böhm, G.J. Burger, M.T. Korthorst, F. Roseboom, Sens. Actuators 80, 77–83 (2000)

A. Borzi, G. Propst, Math. Phys. 54, 1050–1072 (2003)

H.T. Chang, C.Y. Lee, C.Y. Wen, Microsyst. Technol. 13, 1615–1622 (2007)

H.P. Chou, M.A. Unger, S.R. Quake, Biomed. Microdevices 3, 323–330 (2001)

O. Cugat, G. Reyne, J. Delamare, H. Rostaing, Sens. Actuators, A 129, 265–269 (2006)

A. Hatch, A.E. Kamholz, G. Holman, P. Yager, K.F. Böhringer, J. Microelectromech. Syst. 10, 215–221 (2001)

L.S. Jang, W.H. Kan, Biomed. Microdevices 9, 619–626 (2007)

L.S. Jang, Y.J. Li, S.J. Lin, Y.C. Hsu, W.S. Yao, M.C. Tsai, C.C. Hou, Biomed. Microdevices 9, 185–194 (2007)

N.L. Jeon, D.T. Chiu, C.J. Wargo, H. Wu, I.S. Choi, J.R. Anderson, G.M. Whitesides, Biomed. Microdevices 4, 117–121 (2002)

M. Khoo, C. Liu, Sens. Actuators, A 89, 259–266 (2001)

L.K. Lagorce, O. Brand, M.G. Allen, J. Microelectromech. Syst. 8, 2–9 (1999)

C. Liu, T. Tsao, Y.C. Tai, C.M. Ho, in Proceedings of the IEEE Micro Electro Mechanical System (MEMS), ed. By T. Higuchi, K. Ikutu (IEEE, New Jersey, 1994), pp. 57–62

C. Liu, T. Tsao, G.B. Lee, J.T.S. Leu, Y.W. Yi, Y.C. Tai, C.M. Ho, Sens. Actuators 78, 190–197 (1999)

A. Manz, N. Graber, H.M. Widmer, Sens. Actuators, B 1, 244–248 (1990)

A.H. Meng, N.T. Nguyen, R.M. White, Biomed. Microdevices 2, 169–174 (2000)

N.T. Nguyen, X.Y. Huang, T.K. Chuan, J. Fluids Eng. 124, 384–392 (2002)

H.J. Sheen, C.J. Hsu, T.H. Wu, H.C. Chu, C.C. Chang, U. Lei, Sens. Actuators, A 139, 237–244 (2007)

H.T.G. Van Lintel, F.C.M. Van de Pol, S. Bouwstra, Sens. Actuators 15, 153–167 (1988)

C.Y. Wen, C.H. Cheng, C.N. Jian, T.A. Hguyen, C.Y. Hsu, Y.R. Su, Mat. Sci. Forum 505–507, 127–132 (2006)
Acknowledgement
The authors would like to thank the financial support provided by the National Science Council in Taiwan (NSC 98-2221-E-020-030, NSC 97-3114-E-110-001) and the Ministry of Economic Affairs (98-EC-17-A-05-S2-0080) in Taiwan.
Electronic supplementary material
Below is the link to the electronic supplementary material.
Supplementary Materials (MPG 5914 kb)
About this article
Cite this article
Lee, CY., Chen, ZH. Valveless impedance micropump with integrated magnetic diaphragm. Biomed Microdevices 12, 197–205 (2010). https://doi.org/10.1007/s10544-009-9375-8
Keywords
Electroplated magnet

Impedance pump

Electromagnetic actuator

MEMS

PDMS diaphragm