Abstract
Loop-mediated isothermal amplification (LAMP) is an original nucleic acid amplification method established by Notomi et al. LAMP is performed under isothermal condition, employing only a basic reaction protocol and minimal supporting electronics. These requirements prove to be viable for exploring the avenues to down-scale this biological reaction for Lab-on-a-chip application. Hence here, we developed a novel technique for fluorescent imaging of LAMP at a single molecule level. The experiment was conducted in a polyacrylamide (PAA) gel-based microchamber where a single DNA template, freely suspended in a solution containing primers and polymerase was initially encapsulated. In order to activate the amplification reaction, a microheater regulated by an automatic computerized feedback system was used for localized heating. This microchamber-based approach for LAMP demonstrated the effective exploitation of minute amount of templates and primers, and the overall reduction in LAMP detection time. An average efficiency of 80% was evaluated for conducting DNA amplification after 50 min of incubation at 65°C. As the total time for reaction including detection can be completed in less than 1 h, this one-step, direct observation method displays the potential as a simple alternative to conventional techniques for genetic analysis and diagnosis in the clinical laboratory.
Access options
Buy single article
Instant access to the full article PDF.
USD 39.95
Price excludes VAT (USA)
Tax calculation will be finalised during checkout.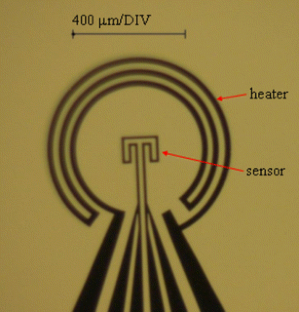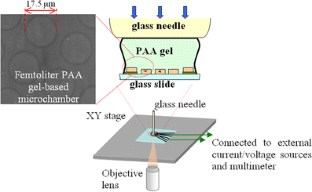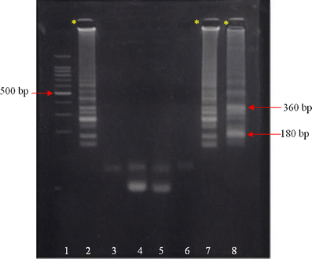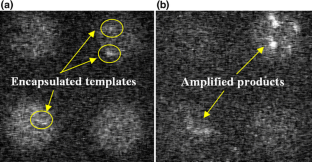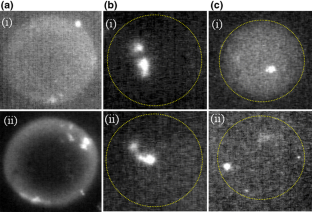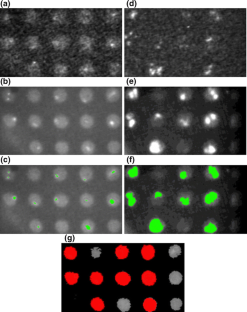 References
H.F. Arata, Y. Rondelez, H. Noji, H. Fujita, Anal. Chem. 77, 4810 (2005)

J. Compton, Nature 350, 91 (1991)

P.H. Dear, Brief. Funct. Genomic. Proteomic. 1(4), 397 (2003)

T.E. Fisher, P.E. Marszalek, J.M. Fernandez, Nat. Struct. Biol. 7, 719 (2000)

M. Fujino, N. Yoshida, S. Yamaguchi, N. Hosaka, Y. Ota, T. Notomi, T. Nakayama, J. Med. Virol. 76, 406 (2005)

J.C. Guatelli, K.M. Whitfield, D.Y. Kwoh, K.J. Barringer, D.D. Richman, T.R. Gingeras, Proc. Natl. Acad. Sci. USA 87, 1874 (1990)

Y. Hataoka, L. Zhang, Y. Mori, N. Tomita, T. Notomi, Y. Baba, Anal. Chem. 76, 3689 (2004)

S.T. Hess, S. Huang, A.A. Heikal, W.W. Webb, Biochemistry 41(3), 697 (2002)

Y. Ishii, T. Yanagida, Single Molecules 1, 5 (2000)

L. Lam, S. Sakakihara, K. Ishizuka, S. Takeuchi, H. Noji, Lab. Chip.7(12), 1738 (2007)

P.M. Lizardi, X. Huang, Z. Zhu, P. Bray-Ward, D.C. Thomas, D.C. Ward, Nat. Genet. 19, 225 (1998)

W. Min, B.P. English, G. Luo, B.J. Cherayil, S.C. Kou, X.S. Xie, Acc. Chem. Res. 38, 923 (2005)

K. Nagamine, K. Watanabe, K. Ohtsuka, T. Hase, T. Notomi, Clin. Chem. 47, 1742 (2001)

G. Nallur, R. Marrero, C. Luo, R. Murli Krisnna, P.E. Bechtel, W. Shao, M. Ray, S. Wiltshire, L. Fang, H. Huang, C.G. Liu, L. Sun, J.R. Sawyer, S.F. Kingsmore, B. Schweitzer, J. Xia, Biomed. Microdevices 5(2), 115 (2003)

T. Notomi, H. Okayama, H. Masubuchi, T. Yonekawa, K. Watanabe, N. Amino, T. Hase, Nucleic Acids Res. 28(12), E63 (2000)

E.L. Ritman, J Cell Biochem Suppl 39, 116 (2002)

Y. Rondelez, G. Tresset, K.V. Tabata, H. Arata, H. Fujita, S. Takeuchi, H. Noji, Nat. Biotechnol. 23, 361 (2005)

R.K. Saiki, S. Scharf, F. Faloona, K.B. Mullis, G.T. Horn, H.A. Erlich, N. Arnheim, Science 230, 1350 (1985)

G.T. Walker, M.S. Fraiser, J.L. Schram, M.C. Little, J.G. Nadeau, D.P. Malinowski, Nucleic Acids Res. 20, 1691 (1992)

S. Weiss, Science 283(5408), 1676 (1999)
Acknowledgement
The authors would like to thank Professor K. Ishihara at University of Tokyo, Japan for providing the MPC samples, and acknowledge Dr K. V. Tabata, Dr R. Iino and Ms Y. Iko at Osaka University, Japan for their encouragement and valuable discussions. L. Lam is supported by a fellowship from the Japan Society for the Promotion of Science (JSPS). This work is supported by Grants-in-Aid from JSPS, Japan.
Appendix
Appendix
1.1

Sequence of 2 kbp target

5′-ggcggcgacctcgcgggttttcgctatttatgaaaattttccggtttaaggcgtttccgttcttcttcgtcataacttaatgtttttatttaaaataccctctgaaaagaaaggaaacgacaggtgctgaaagcgaggctttttggcctctgtcgtttcctttctctgtttttgtccgtggaatgaacaatggaagtcaacaaaaagcagctggctgacattttcggtgcgagtatccgtaccattcagaactggcaggaacagggaatgcccgttctgcgaggcggtggcaagggtaatgaggtgctttatgactctgccgccgtcataaaatggtatgccgaaagggatgctgaaattgagaacgaaaagctgcgccgggaggttgaagaactgcggcaggccagcgaggcagatctccagccaggaactattgagtacgaacgccatcgacttacgcgtgcgcaggccgacgcacaggaactgaagaatgccagagactccgctgaagtggtggaaaccgcattctgtactttcgtgctgtcgcggatcgcaggtgaaattgccagtattctcgacgggctccccctgtcggtgcagcggcgttttccggaactggaaaaccgacatgttgatttcctgaaacgggatatcatcaaagccatgaacaaagcagccgcgctggatgaactgataccggggttgctgagtgaatatatcgaacagtcaggttaacaggctgcggcattttgtccgcgccgggcttcgctcactgttcaggccggagccacagaccgccgttgaatgggcggatgctaattactatctcccgaaagaatccgcataccaggaagggcgctgggaaacactgccctttcagcgggccatcatgaatgcgatgggcagcgactacatccgtgaggtgaatgtggtgaagtctgcccgtgtcggttattccaaaatgctgctgggtgtttatgcctactttatagagcataagcagcgcaacacccttatctggttgccgacggatggtgatgccgagaactttatgaaaacccacgttgagccgactattcgtgatattccgtcgctgctggcgctggccccgtggtatggcaaaaagcaccgggataacacgctcaccatgaagcgtttcactaatgggcgtggcttctggtgcctgggcggtaaagcggcaaaaaactaccgtgaaaagtcggtggatgtggcgggttatgatgaacttgctgcttttgatgatgatattgaacaggaaggctctccgacgttcctgggtgacaagcgtattgaaggctcggtctggccaaagtccatccgtggctccacgccaaaagtgagaggcacctgtcagattgagcgtgcagccagtgaatccccgcattttatgcgttttcatgttgcctgcccgcattgcggggaggagcagtatcttaaatttggcgacaaagagacgccgtttggcctcaaatggacgccggatgacccctccagcgtgttttatctctgcgagcataatgcctgcgtcatccgccagcaggagctggactttactgatgcccgttatatctgcgaaaagaccgggatctggacccgtgatggcattctctggttttcgtcatccggtgaagagattgagccacctgacagtgtgacctttcacatctggacagcgtacagcccgttcaccacctgggtgcagattgtcaaagactggatgaaaacgaaaggggatacgggaaaacgtaaaaccttcgtaaacaccacgctcggtgagacgtgggaggcgaaaattggcgaacgtccggatgctgaagtgatggcagagcggaaagagcattattcagcgcccgttcctgaccgtgtggcttacctgaccgccggtatcgactcccagctggaccgctacgaaatgcgcgtatggggatgggggccgggtgaggaaagctggctgattgaccggcag-3′
About this article
Cite this article
Lam, L., Sakakihara, S., Ishizuka, K. et al. Loop-mediated isothermal amplification of a single DNA molecule in polyacrylamide gel-based microchamber. Biomed Microdevices 10, 539–546 (2008). https://doi.org/10.1007/s10544-008-9163-x
Published:

Issue Date:

DOI: https://doi.org/10.1007/s10544-008-9163-x
Keywords
DNA amplification

Microchamber

Polyacrylamide

Single molecule level