Abstract
The story of the fall and rise of Zahavi's handicap principle is one of a battle between models. Early attempts at formal modeling produced negative results and, unsurprisingly, scepticism about the principle. A major change came in 1990 with Grafen's production of coherent models of a handicap mechanism of honest signalling. This paper's first claim is that acceptance of the principle, and its dissemination into other disciplines, has been driven principally by that, and subsequent modeling, rather than by empirical results. Secondly, there is a vast literature on biological signalling but few studies that make all of the observations necessary to diagnose the handicap mechanism. My final claim is that many of the applications of "costly signalling theory" in other disciplines are conceptually confused. Misinterpretations of what is meant by "costly signalling" are common. Demonstrating that a signal is costly is insufficient and is not always necessary in order to prove that, and explain why, a signal is honest. In addition to the biological modelling of signals, there is an economic literature on the same subject. The two run in parallel in the sense that they have had little mutual interaction. Additionally, it is the biological modelling that has been picked up, and often misapplied, by other disciplines.
Access options
Buy single article
Instant access to the full article PDF.
USD 39.95
Price excludes VAT (USA)
Tax calculation will be finalised during checkout.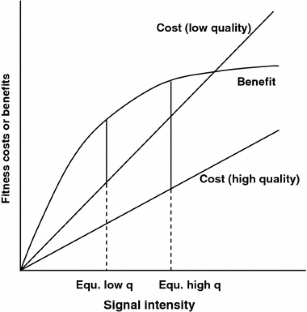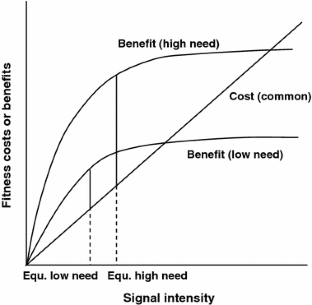 Notes
This is taken from a review of Zahavi and Zahavi's (1997) The Handicap Principle. Pomiankowski & Iwasa do not actually address the first of the questions that they pose, that is, why the change? They say something on the second along lines similar to my section six, which is that hard evidence of examples is difficult to find.

Arnqvist and Rowe's Sexual Conflict (2005) does have some history in it but that appears in their chapter that discusses runaway versus indicator (handicap) models.

It provides no information in the statistical sense (Skyrms 2010).

It should be noted that this is the case where individuals are in a "game" in which their interests conflict. As discussed in section five, where interests coincide perfectly, honest signals can be cheap. For now it suffices to note that, when it comes to potential instances of handicap signals, we are dealing with conflicts of interest.

Here and in much of what follows I refer to signallers as "males" and receivers as "females" purely for ease of exposition. Many examples of animal communication do follow this pattern but they need not.

This is a typical and reasonable assumption in population genetic modelling.

Møller (1994) demonstrates that tail size correlates with offspring viability, suggesting that it is a reliable signal of quality. Saunders (2009) points out some methodological problems with this study. Møller and de Lope use survival as a proxy for lifetime reproductive fitness. It is true that the two are not perfectly correlated but use of a proxy is very often unavoidable. He also comments that they do not compare swallows with the same original tail length as should be done to examine costs at the same point on the cost curve.

Searcy and Nowicki (2005) make the same point.

Although this case is striking it has been noted that, compared to its prominence in the literature, there is surprisingly little empirical support, Homo sapiens excepted, for the reciprocal altruism/cooperation models stemming from Robert Trivers' (1971) early work (Hammerstein 2003). Joan Silk goes so far as to argue that there is slim evidence in humans of the reciprocity of tit-for-tat models (Silk 2003).

Web of Science 24/8/10, 28/5/10 and 30/8/10 respectively.

Gintis and Bowles are economists who buck the trend but the paper is in The Journal of Theoretical Biology.

My discussion of evidence of the handicap mechanism in action can be fitted into current philosophical debates on modelling in biology and economics. In the case of costly apologies, we find a model purporting to share a common structure with the handicap model but which, in fact, makes different substantive assumptions (Kuorikoski and Lehtinen 2009) about costs and benefits. In other cases, we find an unwarranted inference from observation of the result of the model (honest signalling), to the fact that it must be this model that explains the result. Put another way, to the truth of the model's substantive assumptions, such as that interests conflict. As Sugden (2009) argues, biologists are typically silent about precisely in what sense their model is similar to, or well-represents, the real world. This is a problem even if we have good reason to think that the substantive assumptions hold. I am arguing that there are "costly signalling" cases where it is clear that the model is not a good representation because even that initial hurdle is not cleared; at least one substantive assumption does not hold, often that there are differential costs. As Kuorikoski and Lehtinen put it, "it is the truthlikeness of the substantial assumptions that ultimately carries the epistemic weight in a model" (2009, 127).

Koziel et al.'s (2010) paper on tattoos as "signals of biological quality" suffers from the same currency ambiguity as the blood donation case.
References
Arnqvist G, Rowe L (2005) Sexual conflict. Princeton University Press, Princeton

Bliege Bird R, Smith E, Bird D (2001) The hunting handicap: costly signalling in human foraging strategies. Behav Ecol Sociobiol 50:9–19

Bowles S, Hammerstein P (2003) Does market theory apply to biology? In: Hammerstein P (ed) Genetic and cultural evolution of cooperation. MIT Press, Cambridge, MA, pp 153–166

Caro T (1995) Pursuit-deterrence revisited. Trends Ecol Evol 10:500–503

Cotton S, Fowler K, Pomiankowski A (2004) Do sexual ornaments demonstrate heightened condition-dependent expression as predicted by the handicap hypothesis? Proc R Soc Lond B 271:771–783

Cronk L (2005) The application of animal signaling to human phenomena: Some thoughts and clarifications. Soc Sci Inf 44:603–620

David P, Bjorksten T, Fowler K, Pomiankowski A (2000) Condition-dependent signalling of genetic variation in stalk-eyed flies. Nature 406:186–188

Davis J, O'Donald P (1976) Sexual selection for a handicap: a critical analysis of Zahavi's model. J Theor Biol 57:345–354

Dawkins R (1976) The selfish gene. Oxford University Press, Oxford

Dawkins R (1989) The selfish gene, 2nd edn. Oxford University Press, Oxford

De Fraja G (2009) The origin of utility: sexual selection and conspicuous consumption. J Econ Behav Organ 72:51–69

Ekman P (1992) Telling lies, 2nd edn. W. W. Norton, New York

Fisher R (1999) The genetical theory of natural selection: a complete variorum edition [1930]. Oxford University Press, Oxford

FitzGibbon C, Fanshawe J (1988) Stotting in Thomson's gazelles: an honest signal of condition. Behav Ecol Sociobiol 23:69–74

Frank R (1988) Passions within reason: the strategic role of the emotions. W W Norton, New York

Getty T (2006) Sexually selected signals are not similar to sports handicaps. Trends Ecol Evol 21:83–88

Gibbons R (1992) Game theory for applied economists. Princeton University Press, Princeton

Gintis H (2000) Game theory evolving. Princeton University Press, Princeton

Gintis H, Smith E, Bowles S (2001) Costly signalling and cooperation. J Theor Biol 213:103–119

Giraldeau J, Caraco T (2000) Social foraging theory. Princeton University Press, Princeton

Grafen A (1990a) Sexual selection unhandicapped by the Fisher process. J Theor Biol 144:473–516

Grafen A (1990b) Biological signals as handicaps. J Theor Biol 144:517–546

Guilford T, Stamp Dawkins M (1991) Receiver psychology and the evolution of animal signals. Anim Behav 42:1–14

Halliday T (1978) Sexual selection and mate choice. In: Krebs J, Davies N (eds) Behavioural ecology, an evolutionary approach, 1st edn. Blackwell Scientific Publications, Oxford, pp 180–213

Hamilton W (1967) Extraordinary sex ratios. Science 156:477–488

Hamilton W (2001) Narrow roads of gene land, vol 2. Oxford University Press, Oxford

Hammerstein P (2003) Why is reciprocity so rare in social animals? A Protestant appeal. In: Hammerstein P (ed) Genetic and cultural evolution of cooperation. MIT Press, Cambridge, MA, pp 83–94

Johnstone RA (1997) The evolution of animal signals. In: Krebs J, Davies N (eds) Behavioural ecology, an evolutionary approach, 4th edn. Blackwell Scientific Publications, Oxford, pp 155–178

Johnstone R (2000) Conflicts of interest in signal evolution. In: Espmark Y, Amundsen T, Rosenqvist G (eds) Animal signals. Tapir Academic Press, Trondheim, pp 465–485

Kirkpatrick M (1986) The handicap mechanism of sexual selection does not work. Amer Nat 127:222–240

Kirmani A, Rao A (2000) No pain, no gain: a critical review of the literature of signaling unobservable product quality. J Marketing 64:66–79

Kotiaho J (2000) Testing the assumptions of conditional handicap theory: costs and condition dependence of a sexually selected trait. Behav Ecol Sociobiol 48:188–194

Koziel S, Kretschmer W, Pawlowski B (2010) Tattoo and piercing as signals of biological quality. Evol Hum Behav 31:187–192

Krebs J, Davies N (1987) An introduction to behavioural ecology, 2nd edn. Blackwell Scientific Publications, Oxford

Kuorikoski J, Lehtinen A (2009) Incredible worlds, credible results. Erkenn 70:119–131

Lachmann M, Szamado S, Bergstrom C (2001) Cost and conflict in animal signals and human language. Proc Nat Acad Sci 23:13189–13194

LaPorte J (2002) Must signals handicap? Monist 85:86–104

Lyle H, Smith E, Sullivan R (2009) Blood donations as costly signals of donor quality. J Evol Psy 7:263–286

Maynard Smith J (1976) Sexual selection and the handicap principle. J Theor Biol 57:239–242

Maynard Smith J (1978) The handicap principle—a comment. J Theor Biol 70:251–252

Maynard Smith J (1991) Theories of sexual selection. Trends Ecol Evol 6:146–151

Maynard Smith J, Harper D (2003) Animal signals. Oxford University Press, Oxford

Maynard Smith J, Price G (1973) The logic of animal conflict. Nature 246:15–18

Møller A (1994) Male ornament size as a reliable cue to enhanced offspring viability in the barn swallow. Proc Natl Acad Sci USA 91:6929–6932

Møller A, de Lope F (1994) Differential costs of a secondary sexual character; an experimental test of the handicap principle. Evolution 48:1676–1683

Ohtsubo Y, Watanabe E (2009) Do sincere apologies need to be costly? Testing a costly signaling model of apology. Evol Hum Behav 30:114–123

Petrie M (1994) Improved growth and survival of offspring of peacocks with elaborate trains. Nature 371:598–599

Petrie M, Halliday T, Saunders C (1991) Peahens prefer peacocks with more elaborate trains. Anim Behav 41:323–331

Pomiankowski A (1987) Sexual selection: the handicap mechanism does work—sometimes. Proc R Soc Lond B 231:123–145

Pomiankowski A, Iwasa Y (1998) Handicap signalling: loud and true? Evolution 52:928–932

Riley J (2001) Twenty five years of screening and signalling. J Econ Lit 39:432–478

Ryan M (1997) Sexual selection and mate choice. In: Krebs J, Davies N (eds) Behavioural ecology, an evolutionary approach, 4th edn. Blackwell Scientific Publications, Oxford, pp 179–202

Samuelson L (1998) Evolutionary games and equilibrium selection. MIT Press, Cambridge

Saunders S (2009) Costly signalling: a work in progress. Biol Philos 24:405–416

Schmidt K, Cohn J (2001) Human facial expressions as adaptations: evolutionary questions in facial expression research. Am J Phys Anthropol, Suppl 33:3–24

Searcy W, Nowicki S (2005) The evolution of animal communication. Reliability and deception in signalling systems. Princeton University Press, Princeton

Seymour R, Sozou P (2009) Duration of courtship effort as a costly signal. J Theor Biol 256:1–13

Shuster S, Wade M (2003) Mating systems and strategies. Princeton University Press, Princeton

Silk J (2003) Cooperation without counting: the puzzle of friendship. In: Hamerstein P (ed) Genetic and cultural evolution of cooperation. MIT Press, Cambridge, pp 37–54

Skyrms B (2010) Signals. Oxford University Press, Oxford

Smith E, Bliege Bird R (2000) Turtle hunting and tombstone opening: public generosity as costly signalling. Evol Hum Behav 21:245–261

Spence AM (1973) Job market signalling. Quart J Econ 87:355–374

Sugden R (2009) Credible worlds, capacities and mechanisms. Erkenn 70:3–27

Trivers R (1971) The evolution of reciprocal altruism. Q Rev Biol 46:35–57

Veblen T (1899) The theory of the leisure class. An economic study in the evolution of institutions. Macmillan, New York

Walther B, Clayton D (2005) Elaborate ornaments are costly to maintain: evidence for high maintenance handicaps. Behav Ecol 16:89–95

West S (2009) Sex allocation. Princeton University Press, Princeton

Zahavi A (1975) Mate selection-selection for a handicap. J Theor Biol 53:205–214

Zahavi A (1977) The cost of honesty (further remarks on the handicap principle). J Theor Biol 67:603–605

Zahavi A, Zahavi A (1997) The handicap principle, a missing piece of Darwin's puzzle. Oxford University Press, Oxford
Acknowledgments
Thanks to audiences at The British Society for the Philosophy of Science conference, Dublin 2010 and at the University of Bristol for helpful discussions and to two anonymous referees for very useful comments. Research funded by the Arts and Humanities Research Council project "Evolution, Cooperation and Rationality". Grant AH/F017502/1.
About this article
Cite this article
Grose, J. Modelling and the fall and rise of the handicap principle. Biol Philos 26, 677–696 (2011). https://doi.org/10.1007/s10539-011-9275-1
Published:

Issue Date:

DOI: https://doi.org/10.1007/s10539-011-9275-1
Keywords