Abstract
Niemann-Pick Disease Type C (NP-C) is a fatal lysosomal storage disorder with progressive neurodegeneration. In addition to the characteristic cholesterol and lipid overload phenotype, we previously found that altered metal homeostasis is also a pathological feature. Increased brain iron in the Npc1−/− mouse model of NP-C may potentially contribute to neurodegeneration, similar to neurodegenerative diseases such as Alzheimer's and Parkinson's diseases. Deferiprone (DFP) is a brain penetrating iron chelator that has demonstrated effectiveness in preventing neurological deterioration in Parkinson's disease clinical trials. Therefore, we hypothesized that DFP treatment, targeting brain iron overload, may have therapeutic benefits for NP-C. Npc1−/− mice were assigned to four experimental groups: (1) pre-symptomatic (P15) + 75 mg/kg DFP; (2) pre-symptomatic (P15) + 150 mg/kg DFP; (3) symptomatic (P49) + 75 mg/kg DFP; (4) symptomatic (P49) + 150 mg/kg DFP. Our study found that in Npc1−/− mice, DFP treatment did not offer any improvement over the expected disease trajectory and median lifespan. Moreover, earlier treatment and higher dose of DFP resulted in adverse effects on body weight and onset of ataxia. The outcome of our study indicated that, despite increased brain iron, Npc1−/− mice were vulnerable to pharmacological iron depletion, especially in early life. Therefore, based on the current model, iron chelation therapy is not a suitable treatment option for NP-C.
This is a preview of subscription content, log in to check access.
Access options
Buy single article
Instant access to the full article PDF.
US$ 39.95
Tax calculation will be finalised during checkout.
Subscribe to journal
Immediate online access to all issues from 2019. Subscription will auto renew annually.
US$ 199
Tax calculation will be finalised during checkout.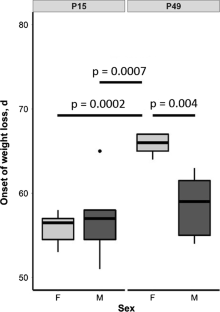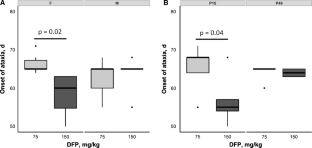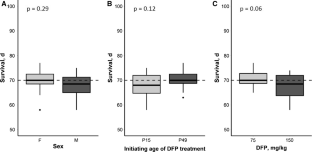 References
Ast T, Meisel JD, Patra S, Wang H, Grange RMH, Kim SH, Calvo SE, Orefice LL, Nagashima F, Ichinose F, Zapol WM, Ruvkun G, Barondeau DP, Mootha VK (2019) Hypoxia rescues Frataxin loss by restoring iron sulfur cluster biogenesis. Cell 177:1507–1528

Ayton S, Lei P, Duce JA, Wong BX, Sedjahtera A, Adlard PA, Bush AI, Finkelstein DI (2013) Ceruloplasmin dysfunction and therapeutic potential for Parkinson disease. Ann Neurol 73:554–559

Bianconi SE, Hammond DI, Farhat NY, Dang Do A, Jenkins K, Cougnoux A, Martin K, Porter FD (2019) Evaluation of age of death in Niemann-Pick disease, type C: utility of disease support group websites to understand natural history. Mol Genet Metab 126:466–469

Carboni E, Tatenhorst L, Tonges L, Barski E, Dambeck V, Bahr M, Lingor P (2017) Deferiprone rescues behavioral deficits induced by mild iron exposure in a mouse model of alpha-Synuclein aggregation. Neuromolecular Med 19:309–321

Carstea ED, Morris JA, Coleman KG, Loftus SK, Zhang D, Cummings C, Gu J, Rosenfeld MA, Pavan WJ, Krizman DB, Nagle J, Polymeropoulos MH, Sturley SL, Ioannou YA, Higgins ME, Comly M, Cooney A, Brown A, Kaneski CR, Blanchette-Mackie EJ, Dwyer NK, Neufeld EB, Chang TY, Liscum L, Strauss JF, Ohno K, Zeigler M, Carmi R, Sokol J, Markie D, O'Neill RR, van Diggelen OP, Elleder M, Patterson MC, Brady RO, Vanier MT, Pentchev PG, Tagle DA (1997) Niemann-Pick C1 disease gene: homology to mediators of cholesterol homeostasis. Science 277:228–231

Casu C, Oikonomidou PR, Chen H, Nandi V, Ginzburg Y, Prasad P, Fleming RE, Shah YM, Valore EV, Nemeth E, Ganz T, MacDonald B, Rivella S (2016) Minihepcidin peptides as disease modifiers in mice affected by beta-thalassemia and polycythemia vera. Blood 128:265–76

Devos D, Moreau C, Devedjian JC, Kluza J, Petrault M, Laloux C, Jonneaux A, Ryckewaert G, Garcon G, Rouaix N, Duhamel A, Jissendi P, Dujardin K, Auger F, Ravasi L, Hopes L, Grolez G, Firdaus W, Sablonniere B, Strubi-Vuillaume I, Zahr N, Destee A, Corvol JC, Poltl D, Leist M, Rose C, Defebvre L, Marchetti P, Cabantchik ZI, Bordet R (2014) Targeting chelatable iron as a therapeutic modality in Parkinson's disease. Antioxid Redox Signal 21:195–210

Dutta S, Sengupta P (2016) Men and mice: relating their ages. Life Sci 152:244–248

Elghobashi-Meinhardt N (2019) Computational tools unravel putative sterol binding sites in the lysosomal NPC1 protein. J Chem Inf Model 59:2432–2441

Fredenburg AM, Sethi RK, Allen DD, Yokel RA (1996) The pharmacokinetics and blood-brain barrier permeation of the chelators 1,2 dimethly-, 1,2 diethyl-, and 1-[ethan-1'ol]-2-methyl-3-hydroxypyridin-4-one in the rat. Toxicology 108:191–199

Gong X, Qian H, Zhou X, Wu J, Wan T, Cao P, Huang W, Zhao X, Wang X, Wang P, Shi Y, Gao GF, Zhou Q, Yan N (2016) Structural insights into the Niemann-Pick C1 (NPC1)-mediated cholesterol transfer and ebola infection. Cell 165:1467–1478

Hammond N, Munkacsi AB, Sturley SL (2019) The complexity of a monogenic neurodegenerative disease: more than two decades of therapeutic driven research into Niemann-Pick type C disease. Biochim Biophys Acta 1864:1109–1123

Hider RC, Hoffbrand AV (2018) The role of deferiprone in iron chelation. N Engl J Med 379:2140–2150

Hodoscek M, Elghobashi-Meinhardt N (2018) Simulations of NPC1(NTD):NPC2 protein complex reveal cholesterol transfer pathways. Int J Mol Sci 19:E2623

Hung YH, Faux NG, Killilea DW, Yanjanin N, Firnkes S, Volitakis I, Ganio G, Walterfang M, Hastings C, Porter FD, Ory DS, Bush AI (2014) Altered transition metal homeostasis in Niemann-Pick disease, type C1. Metallomics 6:542–53

Hung YH, Walterfang M, Churilov L, Bray L, Jacobson LH, Barnham KJ, Jones NC, O'Brien TJ, Velakoulis D, Bush AI (2016) Neurological dysfunction in early maturity of a model for Niemann-Pick C1 carrier status. Neurotherapeutics 13:614–22

Kassambara A (2017) ggpubr: 'ggplot2' based publication ready plots. R package version 0.1.6

Klein A, Maldonado C, Vargas LM, Gonzalez M, Robledo F, Perez de Arce K, Munoz FJ, Hetz C, Alvarez AR, Zanlungo S (2011) Oxidative stress activates the c-Abl/p73 proapoptotic pathway in Niemann-Pick type C neurons. Neurobiol Dis 41:209–218

Klopstock T, Tricta F, Neumayr L, Karin I, Zorzi G, Fradette C, Kmiec T, Buchner B, Steele HE, Horvath R, Chinnery PF, Basu A, Kupper C, Neuhofer C, Kalman B, Dusek P, Yapici Z, Wilson I, Zhao F, Zibordi F, Nardocci N, Aguilar C, Hayflick SJ, Spino M, Blamire AM, Hogarth P, Vichinsky E (2019) Safety and efficacy of deferiprone for pantothenate kinase-associated neurodegeneration: a randomised, double-blind, controlled trial and an open-label extension study. Lancet Neurol 18:631–642

Komsta L, Novomestky F (2015) moments: moments, cumulants, skewness, kurtosis and related tests. R package version 0.14

Li X, Lu F, Trinh MN, Schmiege P, Seemann J, Wang J, Blobel G (2017) 3.3 A structure of Niemann-Pick C1 protein reveals insights into the function of the C-terminal luminal domain in cholesterol transport. Proc Natl Acad Sci USA 114:9116–9121

Loftus SK, Morris JA, Carstea ED, Gu JZ, Cummings C, Brown A, Ellison J, Ohno K, Rosenfeld MA, Tagle DA, Pentchev PG, Pavan WJ (1997) Murine model of Niemann-Pick C disease: mutation in a cholesterol homeostasis gene. Science 277:232–235

Lukas G, Brindle SD, Greengard P (1971) The route of absorption of intraperitoneally administered compounds. J Pharmacol Exp Ther 178:562–564

Mangiafico S (2018) rcompanion: functions to support extension education program evaluation. R package version 1.11.3

Martin-Bastida A, Ward RJ, Newbould R, Piccini P, Sharp D, Kabba C, Patel MC, Spino M, Connelly J, Tricta F, Crichton RR, Dexter DT (2017) Brain iron chelation by deferiprone in a phase 2 randomised double-blinded placebo controlled clinical trial in Parkinson's disease. Sci Rep 7:1398

Masaldan S, Bush AI, Devos D, Rolland AS, Moreau C (2019) Striking while the iron is hot: Iron metabolism and ferroptosis in neurodegeneration. Free Radic Biol Med 133:221–233

Maue RA, Burgess RW, Wang B, Wooley CM, Seburn KL, Vanier MT, Rogers MA, Chang CC, Chang TY, Harris BT, Graber DJ, Penatti CA, Porter DM, Szwergold BS, Henderson LP, Totenhagen JW, Trouard TP, Borbon IA, Erickson RP (2012) A novel mouse model of Niemann-Pick type C disease carrying a D1005G-Npc1 mutation comparable to commonly observed human mutations. Hum Mol Genet 21:730–50

Moser VC, Walls I, Zoetis T (2005) Direct dosing of preweaning rodents in toxicity testing and research: deliberations of an ILSI RSI Expert Working Group. Int J Toxicol 24:87–94

Naureckiene S, Sleat DE, Lackland H, Fensom A, Vanier MT, Wattiaux R, Jadot M, Lobel P (2000) Identification of HE1 as the second gene of Niemann-Pick C disease. Science 290:2298–2301

Patterson MC, Mengel E, Wijburg FA, Muller A, Schwierin B, Drevon H, Vanier MT, Pineda M (2013) Disease and patient characteristics in NP-C patients: findings from an international disease registry. Orphanet J Rare Dis 8:12

Pfeffer SR (2019) NPC intracellular cholesterol transporter 1 (NPC1)-mediated cholesterol export from lysosomes. J Biol Chem 294:1706–1709

R Development Core Team (2017) R: a language and environment for statistical computing. R Foundation for Statistical Computing, Vienna

Porter FD, Scherrer DE, Lanier MH, Langmade SJ, Molugu V, Gale SE, Olzeski D, Sidhu R, Dietzen DJ, Fu R, Wassif CA, Yanjanin NM, Marso SP, House J, Vite C, Schaffer JE, Ory DS (2010) Cholesterol oxidation products are sensitive and specific blood-based biomarkers for Niemann-Pick C1 disease. Sci Transl Med 2:56ra81

Ramos P, Santos A, Pinto NR, Mendes R, Magalhaes T, Almeida A (2014) Iron levels in the human brain: a post-mortem study of anatomical region differences and age-related changes. J Trace Elem Med Biol 28:13–17

Reddy JV, Ganley IG, Pfeffer SR (2006) Clues to neuro-degeneration in Niemann-Pick type C disease from global gene expression profiling. PLoS ONE 1:e19

Rego T, Farrand S, Goh AMY, Eratne D, Kelso W, Mangelsdorf S, Velakoulis D, Walterfang M (2019) Psychiatric and cognitive symptoms associated with Niemann-Pick type c disease: neurobiology and management. CNS Drugs 33(2):125–142

Ribas GS, Pires R, Coelho JC, Rodrigues D, Mescka CP, Vanzin CS, Biancini GB, Negretto G, Wayhs CA, Wajner M, Vargas CR (2012) Oxidative stress in Niemann-Pick type C patients: a protective role of N-butyl-deoxynojirimycin therapy. Int J Dev Neurosci 30:439–444

Simon R (1989) Optimal two-stage designs for phase II clinical trials. Control Clin Trials 10:1–10

Snaidero N, Simons M (2014) Myelination at a glance. J Cell Sci 127:2999–3004

Turner PV, Brabb T, Pekow C, Vasbinder MA (2011) Administration of substances to laboratory animals: routes of administration and factors to consider. J Am Assoc Lab Anim Sci 50:600–613

Vanier MT (2010) Niemann-Pick disease type C. Orphanet J Rare Dis 5:16

Vazquez MC, del Pozo T, Robledo FA, Carrasco G, Pavez L, Olivares F, Gonzalez M, Zanlungo S (2011) Alteration of gene expression profile in Niemann-Pick type C mice correlates with tissue damage and oxidative stress. PLoS ONE 6:e28777

Vazquez MC, Balboa E, Alvarez AR, Zanlungo S (2012) Oxidative stress: a pathogenic mechanism for Niemann-Pick type C disease. Oxid Med Cell Longev 2012:205713

Voikar V, Rauvala H, Ikonen E (2002) Cognitive deficit and development of motor impairment in a mouse model of Niemann-Pick type C disease. Behav Brain Res 132:1–10

Wassif CA, Cross JL, Iben J, Sanchez-Pulido L, Cougnoux A, Platt FM, Ory DS, Ponting CP, Bailey-Wilson JE, Biesecker LG, Porter FD (2016) High incidence of unrecognized visceral/neurological late-onset Niemann-Pick disease, type C1, predicted by analysis of massively parallel sequencing data sets. Genet Med 18:41–48

Wessling-Resnick M (2017) Excess iron: considerations related to development and early growth. Am J Clin Nutr 106:1600S-1600S05S

Wickham H (2009) ggplot2: elegant graphics for data analysis. Springer, Berlin

Wickham H, Francois R, Henry L, Kirill M (2017) dplyr: a grammar of data manipulation. R package version 0.7.4

Wilke CO (2017) Cowplot: streamlined plot theme and plot annotations for 'ggplot2'. R package version 0.9.2

Xu S, Benoff B, Liou HL, Lobel P, Stock AM (2007) Structural basis of sterol binding by NPC2, a lysosomal protein deficient in Niemann-Pick type C2 disease. J Biol Chem 282:23525–23531

Zhao L, Hadziahmetovic M, Wang C, Xu X, Song Y, Jinnah HA, Wodzinska J, Iacovelli J, Wolkow N, Krajacic P, Weissberger AC, Connelly J, Spino M, Lee MK, Connor J, Giasson B, Harris ZL, Dunaief JL (2015) Cp/Heph mutant mice have iron-induced neurodegeneration diminished by deferiprone. J Neurochem 135:958–974
Acknowledgements
The authors wish to thank Dr. Ibrahima Diouf for statistical advice. This work was supported by research grants from the Australian NPC Disease Foundation, Inc. to Y.H.H. and A.I.B.; the Australia-Israel Medical Research Foundation (AUSiMED) to A.L. and A.I.B.; Victoria Israel Science Innovation and Technology Scheme Grants for Feasibility and Proof of Concept Projects to A.L. and A.I.B.; Cooperative Research Centre for Mental Health to A.I.B. The Florey Institute of Neuroscience and Mental Health acknowledges the strong support of the Victorian Government and in particular funding from the Operational Infrastructure Support Grant.
Funding
This work was supported by research grants from the Australian NPC Disease Foundation, Inc.; the Australia-Israel Medical Research Foundation (AUSiMED); Victoria Israel Science Innovation and Technology Scheme Grants for Feasibility and Proof of Concept Projects; Cooperative Research Centre for Mental Health; and the Victorian Government Operational Infrastructure Support Grant
Ethics declarations
Conflict of interest
A.I.B. is a shareholder of Prana Biotechnology Ltd, Cogstate Ltd, Brighton Biotech LLC, Grunbiotics Pty Ltd, Eucalyptus Pty Ltd, and Mesoblast Ltd. He is a paid consultant for, and has a profit share interest in Collaborative Medicinal Development LLC.
Ethical approval
Animal experimental procedures were approved by the Florey Animal Ethics Committee (AEC# 17–042).
Additional information
Publisher's Note
Springer Nature remains neutral with regard to jurisdictional claims in published maps and institutional affiliations.
About this article
Cite this article
Hung, Y.H., Lotan, A., Yeshurun, S. et al. Iron chelation by deferiprone does not rescue the Niemann-Pick Disease Type C1 mouse model. Biometals 33, 87–95 (2020). https://doi.org/10.1007/s10534-020-00233-5
Received:

Accepted:

Published:

Issue Date:
Keywords
NPC1

Niemann-Pick Disease Type C

Npc1 mouse model

Deferiprone

Iron