Abstract
Ulcerative colitis is an inflammatory bowel disease that affects the mucous membrane of the colon. The pathogenesis is not clear, but there is evidence of a complex interaction between genetic, environmental, and immunological factors. In this regard, we highlight the role of zinc in the immune system and probable control of the disease. This study evaluated the effect of zinc supplementation on the inflammatory response in patients with ulcerative colitis. A blind interventional study involving 41 patients of both sexes, who underwent either zinc gluconate supplementation (n = 23), or treatment with a placebo (corn starch) (n = 18). Patients were evaluated for dietary zinc intake, plasma and erythrocyte zinc concentrations, and serum levels of Th1/Th2/Th17 type cytokines at baseline (T0) and 30 (T1) and 60 (T2) days after intervention. Patients in the zinc supplementation group had a lower probability of having an adequate zinc intake than placebo. In this same group, there was a significant difference between plasma zinc concentrations (T1 in relation to T0, T2 in relation to T1, and T2 in relation to T0) and erythrocyte zinc (T1 in relation to T0 and T2 in relation to T1). Zinc supplementation resulted in significant changes in the concentrations of IL-2 and IL-10 without differences in the other interleukins. Zinc gluconate intervention in patients with ulcerative colitis improves the nutritional status of this mineral in these patients and positively influences their clinical outcome, reinforcing the role of zinc as an important dietary component in disease control.
Access options
Buy single article
Instant access to the full article PDF.
US$ 39.95
Tax calculation will be finalised during checkout.
Subscribe to journal
Immediate online access to all issues from 2019. Subscription will auto renew annually.
US$ 119
Tax calculation will be finalised during checkout.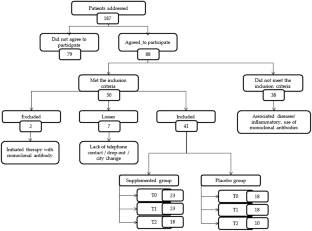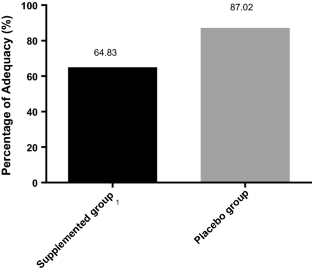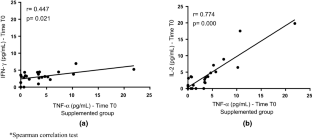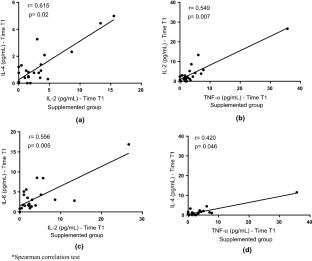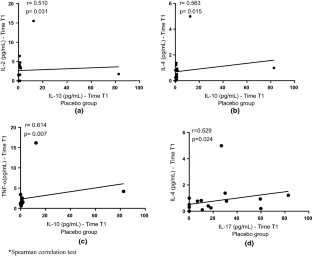 References
Abraham C, Cho JH (2009) Inflammatory bowel disease. N Engl J Med 61:2066–2078. https://doi.org/10.1056/nejmra0804647

Bamias G, Arseneau KO, Cominelli F (2014) Cytokines and mucosal immunity. Curr Opin Gastroenterol 30:547–552. https://doi.org/10.1097/MOG.0000000000000118

Bonaventura P, Benedetti G, Albarède F, Miossec P (2015) Zinc and its role in immunity and inflammation. Autoimmun Rev 14:277–285. https://doi.org/10.1016/j.autrev.2014.11.008

Boyapati R, Satsangi J, Ho G-T (2015) Pathogenesis of Crohn's disease. F1000Prime Rep F1000(7):44

Conrad K, Roggenbuck D, Laass MW (2014) Diagnosis and classification of ulcerative colitis. Autoimmun Ver 13:463–466. https://doi.org/10.1016/j.autrev.2014.01.028

Curfs JH, Meis JF, Hoogkamp-Korstanje JA (1997) A primer on cytokines: sources, receptors, effects, and inducers. Clin Microbiol Rev 10:742–780

Gibson RS (2005) Assessment of chromium, copper and zinc status. In: Gibson RS (ed) Principles of nutritional assessment, 2nd edn. Oxford University Press, New York, pp 683–730

Gong Y, Liu L, He X, Zhao H, Yang J, Li L, Lu A, Lin Y, Jiang M (2015) The th17/treg immune balance in ulcerative colitis patients with two different chinese syndromes: dampness-heat in large intestine and spleen and kidney yang deficiency syndrome. Evid Based Complement Alternat Med 2015:1–10. https://doi.org/10.1155/2015/264317

Guthier HA, Picciano MF (1994) Micronutrient minerals. In: Guthier HA, Picciano MF (eds) Human nutrition. Mosby, New York, pp 351–357

Haase H, Rink L (2014) Zinc signals and immune function. BioFactors 40:27–40. https://doi.org/10.1002/biof.1114

Hisamatsu T, Kanai T, Mikami Y, Yoneno K, Matsuoka K, Hibi T (2013) Immune aspects of the pathogenesis of inflamattory bowel disease. Pharmacol Ther 137:283–297. https://doi.org/10.1016/j.pharmthera.2012.10.008

Institute of Medicine (2001) Dietary reference intakes for vitamin A, vitamin K, boron, chromium, copper, iodine, iron, manganese, molybdenum, nickel, silicon, vanadium and zinc. National Academy Press, Washington, DC

Kaser A, Zeissig S, Blumerg RS (2010) Inflammatory bowel disease. Annu Rev Immunol 28:573–621. https://doi.org/10.1146/annurev-immunol-030409-101225

King JC, Brown KH, Gibson RS, Krebs NF, Lowe NM, Siekmann JH, Raiten DJ (2016) Biomarkers of nutrition for development (BOND). Zinc review. J Nutr 146:858S–885S. https://doi.org/10.3945/jn.115.220079

Korolkova OY, Myers JN, Pellom ST, Wang L, M'Koma AR (2015) Characterization of serum cytokine profile in predominantly colonic inflammatory bowel disease to delineate ulcerative and crohn's colitides. Clin Med Insights Gastroenterol 8:29–44. https://doi.org/10.4137/CGast.S20612

Lee H, Kim B, Choi YH, Hwang Y, Kim DH, Cho S, Hong SJ, Lee WW (2015) Inhibition of interleukin-1β-mediated interleukin-1 receptor-associated kinase 4 phosphorylation by zinc leads to repression of memory T helper type 17 response in humans. Immunology 146:645–656. https://doi.org/10.1111/imm.12536

Livingstone C (2015) Zinc: physiology, deficiency, and parenteral nutrition. Nutr Clin Pract 30:3371–3382. https://doi.org/10.1177/0884533615570376

Malek TR (2008) The biology of interleukin-2. Annu Rev Immunol 26:453–479. https://doi.org/10.1146/annurev.immunol.26.021607.090357

Massocatto CL, Diniz KM, Bolson JF, Gonçalves AC Jr (2013) Dragunski, Quantificação de elementos potencialmente tóxicos presents em diferentes cultivares de grãos de soja e de milho comercializados na região Noroeste do Paraná. Sci Agrar Parana 12:182–192. https://doi.org/10.1818/sap.v12i3.6548

Matias JP, Silva DMC, Cruz KJC, Silva KG, Feitosa MM, Medeiros LGO, Marreiro DN, Nogueira NN (2015) Effect of zinc supplementation on superoxide dismutase activity in patients with ulcerative rectocolitis. Nutr Hosp 31:1434–1437. https://doi.org/10.3305/nh.2015.31.3.8402

Maywald M, Rink L (2017) Zinc supplementation induces CD4+CD25+Foxp3+ antigen-specific regulatory T cells and suppresses IFN-γ production by upregulation of Foxp3 and KLF-10 and downregulation of IRF-1. Eur J Nutr 56:1859. https://doi.org/10.1007/s00394-016-1228-7

Melo KM, Carvalho BT (2009) Células T regulatórias: mecanismos de ação e função nas doenças humanas. Rev bras alerg imunopatol 32:184–188

Menezes EA (2010), Determinação da disponibilidade de Ca, Cu, Fe, Mg e Zn am Amostras de Carnes Bovinas, Suínas e de Frango In natura e Processadas Termicamente. São Carlos. Doctoral Dissertation [Doctoratein Chemistry] – Chemistry Department, Federal University of São Carlos, São Paulo

Mitsuyama K, Tomiyasu N, Takaki K, Masuda J, Yamasaki H, Kuwaki K, Takeda T, Kitazaki S, Tsuruta O, Sata M (2006) Interleukin-10 in the pathophysiology of inflammatory bowel disease: increased serum concentrations during the recovery phase. Mediators Inflamm 2006:1–7. https://doi.org/10.1155/MI/2006/26875

Mocchegiani E, Costarelli L, Giacconi R, Piacenza F, Basso A, Malavolta M (2012) Micronutrient (Zn, Cu, Fe) gene interactions in ageing and inflammatory age-related diseases: implications for treatments. Ageing Res Rev 11:297–319. https://doi.org/10.1016/j.arr.2012.01.004

Oliveira CMB, Rioko Sakata K, Issy AM, Gerola LR, Salomão R (2011) Citocinas e Dor. Rev Bras Anestesiol 61(2):255–265. https://doi.org/10.1590/S0034-70942011000200014

Ordás I, Eckmann L, Talamini M, Baumgart DC, Sandborn WJ (2012) Ulcerative colitis. Lancet 380:1606–1619. https://doi.org/10.1016/S0140-6736(12)60150-0

Pedraza DF, Sales MC (2015) Deficiência de zinco: diagnóstico, estimativas do Brasil e prevenção. Nutrire 40:397–408. https://doi.org/10.4322/2316-7874.09513

Rodriguez MP, Narizano A, Cid A (1989) A simple method for the determination of zinc human plasma levels by flame atomic absorption spectrophotometry. At Spectr 10:68–70

Rutgeerts P, Sandborn WJ, Feagan BG, Reinisch W, Olson A, Johanns J, Travers S, Rachmilewitz D, Hanauer SB, Lichtenstein GR, de Villiers WJ, Present D, Sands BE, Colombel JF (2005) Infliximab for induction and maintenance therapy for ulcerative colitis. N Engl J Med 353:2462–2476. https://doi.org/10.1056/NEJMoa050516

Skrovanek S, DiGuilio K, Bailey R, Huntington W, Urbas R, Mayilvaganan B, Mercogliano G, Mullin JM (2014) Zinc and gastrointestinal disease. World J Gastrointest Pathophysiol 5:496–513. https://doi.org/10.4291/wjgp.v5.i4.496

Soares NT, Penha EDS, Moura OS (2013) Análise da Adequação do Consumo Alimentar de Grupos. In: Soares NT, Maia FMM (eds) Avaliação do Consumo Alimentar: recursos teórico e aplicação das DRIs, 1st edn. Medbook, Rio de Janeiro, pp 151–176

Soares NRM, Moura MSB, Pinho FAP, Silva TMC, Barros SEL, Amorim AC, Vieira EC, Moita Neto JM, Parente JML, Pires e Cruz MSP, Marreiro DN, Nogueira ND (2018) Zinc supplementation reduces inflammation in ulcerative colitis patients by downregulating gene expression of Zn metalloproteins. PharmaNutrition 6:119–124. https://doi.org/10.1016/j.phanu.2018.06.004

Stefanowicz FA, Talwar D, O'Reilly DSJ, Dickinson N, Atkinson J, Hursthouse AS, Rankin J, Duncan A (2013) Erythrocyte selenium concentration as a marker of selenium status. Clin Nutr 32:837–842. https://doi.org/10.1016/j.clnu.2013.01.005

TACO - Tabela Brasileira de Composição de Alimentos (2011) Tabela Brasileira de Composição de Alimentos, 4nd. NEPA-UNICAMP, Campinas, SP, 161p. https://www.unicamp.br/nepa/taco/contar/taco_4_edicao_ampliada_e_revisada

Tuerk MJ, Fazel N (2009) Zinc deficiency. Curr Opin Gastroenterol. 25:136–146. https://doi.org/10.1097/MOG.0b013e328321b395

Van Assendelft OW (1972) The measurement of hemoglobin. In: Izak G, Lewis SM (eds) Modern concepts in hematology. Academic press, New York, pp 14–25

Van Dael P, Deelstra H (1993) Selenium. Inter J Vitam Nutr Res 63:312–316

Wegmüller R, Tay F, Zeder C, Brnić M, Hurrell RF (2014) Zinc absorption by young adults from supplemental zinc citrate is comparable with that from zinc gluconate and higher than from zinc oxide. J Nutr 144(2):132–136. https://doi.org/10.3945/jn.113.181487

Wessells KR, Jorgensen JM, Hess SY, Woodhouse LR, Peerson JM, Brown KH (2010) Plasma zinc concentration responds rapidly to the initiation and discontinuation of short-term zinc supplementation in healthy men. J Nutr 140:2128–2133. https://doi.org/10.3945/jn.110.122812

Wong CP, Rinaldi NA, Ho E (2015) Zinc deficiency enhanced inflammatory response by increasing immune cell activation and inducing IL6 promoter demethylation. Mol Nutr Food Res 59:2015. https://doi.org/10.1002/mnfr.201400761

Zeitoun AA, Gad SS, Attia FM, Abu Maziad AS, Bell EF (2010) Evaluation of neutrophilic CD64, interleukin 10 and procalcitonin as diagnostic markers of early- and late-onset neonatal sepsis. Scand J Infect Dis 42:299–305. https://doi.org/10.3109/00365540903449832
Acknowledgements
The authors would like to thank the University Hospital of the Federal University of Piauí for access to its services and for sample collection; the Experimental Nutrition Laboratory (LANEX) for sample preparation, the Interinstitutional Nucleus of New Technologies Generation (GERATEC) group from the State University of Piauí for performing the Zn analysis; the Laboratory of Leishmaniasis (LABLEISH) for performing the citokynes analyses; the Coordination for the Improvement of Higher Education Personnel (CAPES) for granting a scholarship during the entire period of the Master's degree; the Foundation for Research Support of the State of Piauí-FAPEPI, for financial support and Moita Neto JM for collaborating in the statistical analysis.
Ethics declarations
Conflicts of interest
The authors declare that there are no conflicts of interest.
Additional information
Publisher's Note
Springer Nature remains neutral with regard to jurisdictional claims in published maps and institutional affiliations.
About this article
Cite this article
de Moura, M.S.B., Soares, N.R.M., Barros, S.É.d. et al. Zinc gluconate supplementation impacts the clinical improvement in patients with ulcerative colitis. Biometals 33, 15–27 (2020). https://doi.org/10.1007/s10534-019-00225-0
Received:

Accepted:

Published:

Issue Date:
Keywords
Ulcerative colitis

Zinc

Inflammation

Cytokines

Biomarkers