Abstract
Cell-impermeant iron chelator desferrioxamine (DFO) can have access to organelles if appended to suitable vectors. Mitochondria are important targets for the treatment of iron overload-related neurodegenerative diseases. Triphenylphosphonium (TPP) is a delocalized lipophilic cation used to ferry molecules to mitochondria. Here we report the synthesis and characterization of the conjugate TPP–DFO as a mitochondrial iron chelator. TPP–DFO maintained both a high affinity for iron and the antioxidant activity when compared to parent DFO. TPP–DFO was less toxic than TPP alone to A2780 cells (IC50 = 135.60 ± 1.08 and 4.34 ± 1.06 μmol L−1, respectively) and its native fluorescence was used to assess its mitochondrial localization (Rr = +0.56). These results suggest that TPP–DFO could be an interesting alternative for the treatment of mitochondrial iron overload e.g. in Friedreich's ataxia.
Access options
Buy single article
Instant access to the full article PDF.
US$ 39.95
Tax calculation will be finalised during checkout.
Subscribe to journal
Immediate online access to all issues from 2019. Subscription will auto renew annually.
US$ 119
Tax calculation will be finalised during checkout.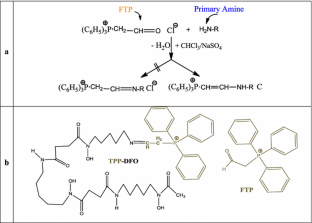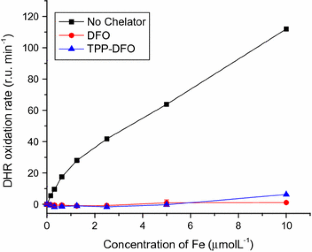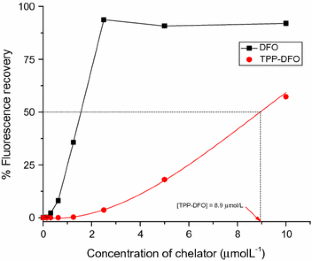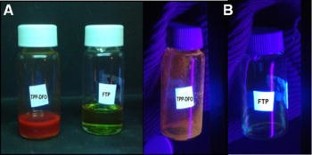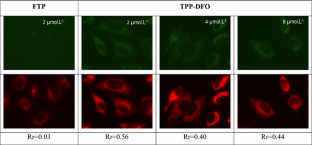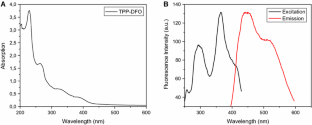 References
Abián J, Carrascal M, Gay M (2008) Introducción a la Espectrometría de masas para la caracterización de Péptidos y proteínas en Proteómica. Sepro 2:16–34

Alta ECP, Goswami D, Machini MT et al (2014) Desferrioxamine-caffeine (DFCAF) as a cell permeant moderator of the oxidative stress caused by iron overload. Biometals 27:1351–1360. doi:10.1007/s10534-014-9795-7

Alta RYP, Vitorino HA, Goswami D et al (2017) Mitochondria-penetrating peptides conjugated to desferrioxamine as chelators for mitochondrial labile iron. PLoS ONE 12:e0171729. doi:10.1371/journal.pone.0171729

Baccan MM, Chiarelli-Neto O, Pereira RMS, Espósito BP (2012) Quercetin as a shuttle for labile iron. J Inorg Biochem 107:34–39. doi:10.1016/j.jinorgbio.2011.11.014

Cabantchik ZI (2014) Labile iron in cells and body fluids: physiology, pathology, and pharmacology. Front Pharmacol 5:1–11. doi:10.3389/fphar.2014.00045

Domagal-Goldaman SD, Paul KW, Sparks DL, Kubicki JD (2009) Quantum chemical study of the Fe(III)-deferrioxamine B siderophore complex-Electronic structure, vibrational frecuencies, and equilibrium Fe-isotope fractionation. Geochim Cosmochim Acta 73:1–12

Esposito BP et al (2003) Labile plasma iron in iron overload: redox activity and susceptibility to chelation. Blood 102:2670–2677. doi:10.1182/blood-2003-03-0807

Espósito BP, Epsztejn S, Breuer W, Cabantchik ZI (2002) A review of fluorescence methods for assessing labile iron in cells and biological fluids. Anal Biochem 304:1–18. doi:10.1006/abio.2002.5611

Filipovska A, Kelso GF, Brown SE et al (2005) Synthesis and characterization of a triphenylphosphonium-conjugated peroxidase mimetic: insights into the interaction of ebselen with mitochondria. J Biol Chem 280:24113–24126. doi:10.1074/jbc.M501148200

Fonseca SB, Pereira MP, Mourtada R et al (2011) Rerouting chlorambucil to mitochondria combats drug deactivation and resistance in cancer cells. Chem Biol 18:445–453. doi:10.1016/j.chembiol.2011.02.010

Goswami D, Machini MT, Silvestre DM et al (2014) Cell penetrating peptide (CPP)-conjugated desferrioxamine for enhanced neuroprotection: synthesis and in vitro evaluation. Bioconjugate Chem 25:2067–2080. doi:10.1021/bc5004197

Goswami D, Vitorino HA, Alta RYP et al (2015) Deferasirox-TAT(47–57) peptide conjugate as a water soluble, bifunctional iron chelator with potential use in neuromedicine. Biometals 28:869–877. doi:10.1007/s10534-015-9873-5

Gottlieb HE, Kotlyar V, Nudelman A (1997) NMR chemical shifts of common laboratory solvents as trace impurities. J Org Chem 62:7512–7515

Horton KL, Kelley SO (2009) Engineered apoptosis-inducing peptides with enhanced mitochondrial localization and potency. J Med Chem 52:3293–3299. doi:10.1021/jm900178n

Horton KL, Stewart KM, Fonseca SB et al (2008) Mitochondria-penetrating peptides. Chem Biol 15:375–382. doi:10.1016/j.chembiol.2008.03.015

Kalinowski D, Richardson D (2005) The evolution of iron chelators for the treatment of iron overload disease and cancer. Pharmacol Rev 57:547–583. doi:10.1124/pr.57.4.2.547

Kelley SO, Stewart KM, Mourtada R (2011) Development of novel peptides for mitochondrial drug delivery: amino acids featuring delocalized lipophilic cations. Pharm Res 28:2808–2819. doi:10.1007/s11095-011-0530-6

Kelso GF, Porteous CM, Coulter CV et al (2001) Selective targeting of a redox-active ubiquinone to mitochondria within cells: antioxidant and antiapoptotic properties. J Biol Chem 276:4588–4596. doi:10.1074/jbc.M009093200

Kolevzon N, Kuflik U, Shmuel M et al (2011) Multiple triphenylphosphonium cations as a platform for the delivery of a pro-apoptotic peptide. Pharm Res 28:2780–2789. doi:10.1007/s11095-011-0494-6

Lei W, Xie J, Hou Y et al (2010) Mitochondria-targeting properties and photodynamic activities of porphyrin derivatives bearing cationic pendant. J Photochem Photobiol B 98:167–171. doi:10.1016/j.jphotobiol.2009.12.003

Liberman EA, Topaly VP, Tsofina LM et al (1969) Mechanism of coupling of oxidative phosphorylation and the membrane potential of mitochondria. Nature 222:1076–1078

Liu J, Obando D, Schipanski LG et al (2010) Conjugates of desferrioxamine B (DFOB) with derivatives of adamantane or with orally available chelators as potential agents for treating iron overload. J Med Chem 53:1370–1382. doi:10.1021/jm9016703

Lou P-H, Hansen BS, Olsen PH et al (2007) Mitochondrial uncouplers with an extraordinary dynamic range. Biochem J 407:129–140. doi:10.1042/BJ20070606

Ma Y, Abbate V, Hider RC (2014) Iron-sensitive fluorescent probes: monitoring intracellular iron pools. Metallomics 7:212–222. doi:10.1039/c4mt00214h

Malouitre S, Dube H, Selwood D, Crompton M (2010) Mitochondrial targeting of cyclosporin A enables selective inhibition of cyclophilin-D and enhanced cytoprotection after glucose and oxygen deprivation. Biochem J 425:137–148. doi:10.1042/BJ20090332

Mourtada R, Fonseca SB, Wisnovsky SP et al (2013) Re-directing an alkylating agent to mitochondria alters drug target and cell death mechanism. PLoS ONE 8:1–9. doi:10.1371/journal.pone.0060253

Murphy MP, Smith RA (2000) Drug delivery to mitochondria: the key to mitochondrial medicine. Adv Drug Deliv Rev 41:235–250

Murphy MP, Smith RAJ (2007) Targeting antioxidants to mitochondria by conjugation to lipophilic cations. Annu Rev Pharmacol Toxicol 47:629–656. doi:10.1146/annurev.pharmtox.47.120505.105110

Nishikawa T, Edelstein D, Du XL et al (2000) Normalizing mitochondrial superoxide production blocks three pathways of hyperglycaemic damage. Nature 404:787–790. doi:10.1038/35008121

Pathania D, Millard M, Neamati N (2009) Opportunities in discovery and delivery of anticancer drugs targeting mitochondria and cancer cell metabolism. Adv Drug Deliv Rev 61:1250–1275. doi:10.1016/j.addr.2009.05.010

Pitkanen S, Robinson BH (1996) Mitochondrial complex I deficiency leads to increased production of superoxide radicals and induction of superoxide dismutase. J Clin Investig 98:345–351. doi:10.1172/JCI118798

Puccio H, Simon D, Cossée M et al (2001) Mouse models for Friedreich ataxia exhibit cardiomyopathy, sensory nerve defect and Fe-S enzyme deficiency followed by intramitochondrial iron deposits. Nat Genet 27:181–186. doi:10.1038/84818

Rin Jean S, Tulumello DV, Wisnovsky SP et al (2014) Molecular vehicles for mitochondrial chemical biology and drug delivery. ACS Chem Biol 9:323–333. doi:10.1021/cb400821p

Ross MF, Filipovska A, Smith RAJ et al (2004) Cell-penetrating peptides do not cross mitochondrial membranes even when conjugated to a lipophilic cation: evidence against direct passage through phospholipid bilayers. Biochem J 383:457–468. doi:10.1042/BJ20041095

Ross MF, Kelso GF, Blaikie FH et al (2005) Lipophilic triphenylphosphonium cations as tools in mitochondrial bioenergetics and free radical biology. Biochemistry 70:222–230. doi:10.1007/s10541-005-0104-5

Smith RAJ, Kelso GF, Blaikie FH et al (2003a) Using mitochondria-targeted molecules to study mitochondrial radical production and its consequences. Biochem Soc Trans 31:1295–1299. doi:10.1042/BST0311295

Smith RAJ, Porteous CM, Gane AM, Murphy MP (2003b) Delivery of bioactive molecules to mitochondria in vivo. Proc Natl Acad Sci USA 100:5407–5412. doi:10.1073/pnas.0931245100

Smith RAJ, Hartley RC, Murphy MP (2011) Mitochondria-targeted small molecule therapeutics and probes. Antioxid Redox Signal 15:3021–3038. doi:10.1089/ars.2011.3969

Smith RAJ, Hartley RC, Cochemé HM, Murphy MP (2012) Mitochondrial pharmacology. Trends Pharmacol Sci 33:341–352. doi:10.1016/j.tips.2012.03.010

Suresh R, Kamalakkannan D, Ranganathan K et al (2013) Solvent-free synthesis, spectral correlations and antimicrobial activities of some aryl imines. Spectrochim Acta 101:239–248. doi:10.1016/j.saa.2012.09.039

Vitorino HA, Mantovanelli L, Zanotto FP, Espósito BP (2015) Iron metallodrugs: stability, redox activity and toxicity against Artemia salina. PLoS ONE 10:e0121997. doi:10.1371/journal.pone.0121997

Wade LG (2003) Aminoacids, peptides and proteins. Organic chemistry, 5th edn. Pearson Prentice Hall, Pearson, pp 1145–1151

Waters (1999) Background Ion List for ESI. Tech Note 1–4

Wilson JJ, Lippard SJ (2012) In vitro anticancer activity of cis -diammineplatinum(II) complexes with β-diketonate leaving group ligands. J Med Chem 55:5326–5336. doi:10.1021/jm3002857

Wisnovsky SP, Wilson JJ, Radford RJ et al (2013) Targeting mitochondrial DNA with a platinum-based anticancer agent. Chem Biol 20:1323–1328. doi:10.1016/j.chembiol.2013.08.010

Wittig G, Schoch‐Grübler U (1978) Kombination von Carbonyl-Olefinierungsreaktion und gezielter Aldolkondensation. Eur J Org Chem 2:362–375

Yousif LF, Stewart KM, Kelley SO (2009) Targeting mitochondria with organelle-specific compounds: strategies and applications. ChemBioChem 10:1939–1950. doi:10.1002/cbic.200900185
Acknowledgements
This work was supported by CAPES, FAPESP and CNPq (Brazilian government agencies). The authors thank Dr. Cleber Wanderlei Liria for discussions and technical assistance.
Ethics declarations
Conflict of interest
The authors declare no conflict of interests.
Electronic supplementary material
Below is the link to the electronic supplementary material.
About this article
Cite this article
Alta, R.Y.P., Vitorino, H.A., Goswami, D. et al. Triphenylphosphonium-desferrioxamine as a candidate mitochondrial iron chelator. Biometals 30, 709–718 (2017). https://doi.org/10.1007/s10534-017-0039-5
Received:

Accepted:

Published:

Issue Date:
Keywords
Iron overload

Antioxidant

Mitochondria

Triphenylphosphonium