Abstract
Many aspects related to ROS modulation of signaling networks and biological processes that control stress responses still remain unanswered. For this purpose, the grafting technique may be a powerful tool to investigate stress signaling and specific responses between plant organs during stress. In order to gain new insights on the modulation of antioxidant stress responses mechanisms, gas-exchange measurements, lipid peroxidation, H2O2 content, proline, superoxide dismutase (SOD), catalase (CAT), glutathione reductase (GR), ascorbate peroxidase (APX) and guaiacol peroxidase (GPOX) were analyzed in Micro-Tom grafted plants submitted to cadmium (Cd). The results observed revealed that higher amounts of Cd accumulated mainly in the roots and rootstocks when compared to leaves and scions. Macronutrients uptake (Ca, S, P and Mg) decreased in non-grafted plants, but differed among plant parts in all grafted plants. The results showed that the accumulation of proline observed in scions of grafted plants could be associated to the lower MDA contents in the scions of grafted plants. In the presence of Cd, non-grafted plants displayed increased CAT, GR, GPOX and APX activities for both tissues, whilst grafted plants revealed distinct trends that clearly indicate signaling responses from the rootstocks, allowing sufficient time to activate defense mechanisms in shoot. The information available concerning plants subjected to grafting can provide a better understanding of the mechanisms of Cd detoxification involving root-to-shoot signaling, opening new possibilities on strategies which can be used to manipulate heavy metal tolerance, since antioxidant systems are directly involved in such mechanism.
Access options
Buy single article
Instant access to the full article PDF.
USD 39.95
Price includes VAT (USA)
Tax calculation will be finalised during checkout.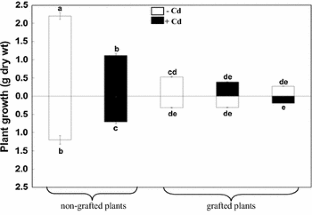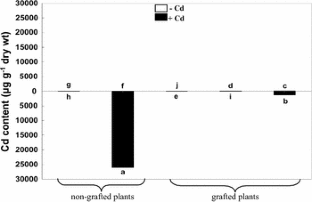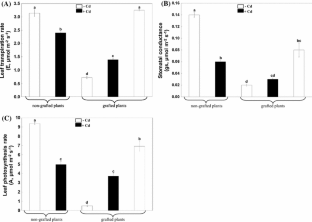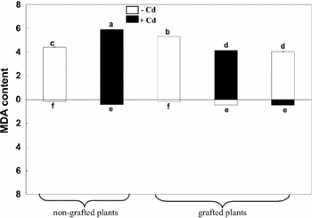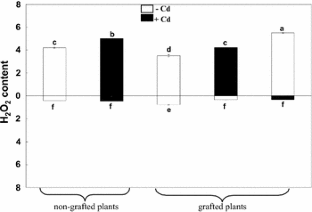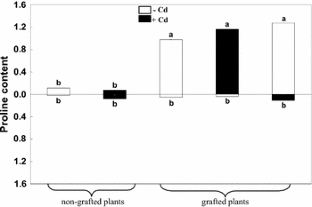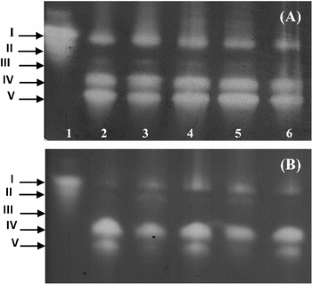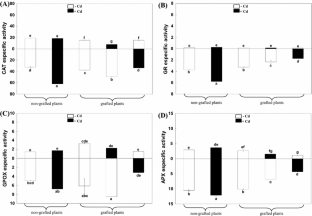 References
Ahmad A, Hadi F, Ali N (2015) Effective Phytoextraction of cadmium (Cd) with increasing concentration of total phenolics band free proline in Cannabis sativa (L) plant under various treatments of fertilizers, plant growth regulators and sodium salt. Int J Phytorem 17:56–65

Ahmad P, Jaleel CA, Sharma S (2010) Antioxidant defense system, lipid  peroxidation, proline-metabolizing enzymes, and biochemical activities in two Morus alba genotypes subjected to NaCl stress. Russ J Plant Physl 57:509–517

Akhter MF, Omelon CR, Gordon RA, Moser D, Macfie SM (2014) Localization and chemical speciation of cadmium in the roots of barley and lettuce. Environ Exp Bot 100:10–19

Al-Khateeb W, Al-Qwasemeh H (2014) Cadmium, copper and zinc toxicity effects on groth, proline content and genetic stability of Solanum nigrum L. a crop wild relative for tomato, comparative study. Physiol Mol Biol Plants 20:31–39

Amaro ACE, Macedo AC, Ramos ARP, Goto R, Ono EO, Rodrigues JD (2014) The use of grafting to improve the net photosynthesis of cucumber. Theor Exp Plant Physiol 26:241–249

Arao T, Takeda H, Nishihara E (2008) Reduction of cadmium translocation from roots to shoots in eggplent (Solanum melongena) by grafting onto Solanum torvum rootstock. Soil Sci Plant Nutr 54:555–559

Arruda MAZ, Azevedo RA (2009) Metallomics and chemical speciation: towards a better understanding of metal-induced stress in plants. Ann Appl Biol 155:301–307

Azevedo RA, Alas RM, Smith RJ, Lea PJ (1998) Response of antioxidant enzymes to transfer from elevated carbon dioxide to air and ozone fumigation, in the leaves and roots of wild-type and a catalase-deficient mutant of barley. Physiol Plant 104:280–292

Azevedo RA, Lea PJ (2011) Research on abiotic and biotic stress—what next? Ann Appl Biol 159:317–319

Azevedo RA, Damerval C, Landry J, Lea PJ, Bellato CM, Meinhardt LW, Le Guilloux M, Delhaye S, Toro AA, Gaziola SA, Berdejo BDA (2003) Regulation of maize metabolism and endosperm protein synthesis by opaque and floury mutations. Eur J Biochem 270:4898–4908

Bester PK, Lobnik F, Erzen I, Kastelec D, Zupan M (2013) Prediction of cadmium concentration in selected home-produced vegetables. Ecotoxicol Environ Saf 96:182–190

Boaretto LF, Carvalho G, Borgo L, Creste S, Landell MGA, Mazzafera P, Azevedo RA (2014) Water stress reveals differential antioxidant responses of tolerant and non-tolerant sugarcane genotypes. Plant Physiol Biochem 74:165–175

Bradford MM (1976) A rapid and sensitive method for the quantitation of microgram quantities of protein utilizing the principle of protein–dye binding. Anal Biochem 72:248–259

Carvalho RF, Monteiro CC, Caetano AC, Dourado MN, Gratão PL, Haddad CKB, Peres LEP, Azevedo RA (2013) Leaf senescense in tomato mutants as affected by irradiance and phytohormones. Biol Plant 57:749–757

Chen A, Komives EA, Schroeder JI (2006) An improved grafting technique for mature Arabidopsis plants demonstrated long-distance shoot-to-root transport of phytochelatins in Arabidopsis. Plant Physiol 141:108–120

Chilimba ADC, Young SD, Black CR, Rogerson KB, Ander EL, Watts M, Lammel J, Broadley MR (2011) Maize grain and soil surveys reveal suboptimal dietary selenium intake is widespread in Malawi. Sci Rep 1:72

Christou A, Manganaris GA, Fotopoulos V (2014) Systemic mitigation of salt stress by hydrogen peroxide and sodium nitroprusside in strawberry plants via transcriptional regulation of enzymatic and non-enzymatic antioxidants. Environ Exp Bot 107:46–54

Cia MC, Guimarães ACR, Medici LO, Chabregas SM, Azevedo RA (2012) Antioxidant response to water deficit by drought-tolerant and -sensitive sugarcane varieties. Ann Appl Biol 161:313–324

Cuypers A, Plusquin M, Remans T, Jozefczak M, Keunen E, Gielen H, Opdenakker K, Nair AR, Munters E, Artois TJ, Nawrot T, Vangronsveld J, Smeets K (2010) Cadmium stress: an oxidative challenge. Biometals 23:927–940

DalCorso G, Fasani E, Furini A (2013) Recent advances in the analysis of metal hyperaccumulation and hypertolerance in plants using proteomics. Front Plant Sci 4:1–7

Dixit V, Pandey V, Shyam R (2001) Differential antioxidative responses to cadmium in roots and leaves of pea (Pisum sativum L. cv Azad). J Exp Bot 52:1101–1109

Dourado MN, Martins PF, Quecine MC, Piotto FA, Souza LA, Franco MR, Tezotto T, Azevedo RA (2013) Burkholderia sp. SCMS54 reduces cadmium toxicity and promotes growth in tomato. Ann Appl Biol 163:494–507

Duman F, Koca FD (2014) Single and combined effects of exposure concentration and duration on biological responses of Ceratophyllum demersum L. Exposed to Cr species. Int J Phytorem 16:1192–1208

Ellouzi H, Karim Ben Hamed K, Asensi-Fabado MA, Maren Müller M, Abdelly C, Munné-Bosch S (2013) Drought and cadmium may be as effective as salinity in conferring subsequent salt stress tolerance in Cakile maritime. Planta 237:1311–1323

Ellouzi H, Ben-Hamed K, Hernadez I, Cela J, Muller M, Magne C, Abdelly C, Munne-Bosch S (2014) A comparative study of the earky osmotic, ionic, redox and hormonal signaling response in leaves and roots of two halophytes and a glycophyte to salinity. Planta 240:1299–1317

Foyer CH, Noctor G (2013) Redox signaling in plants. Antioxid Redox Signal 18:2087–2090

Francini A, Sebatiani L (2010) Copper effects on Prunus persica in two different grafting (P. persica × P. amygdalus and P. cerasifera). J Plant Nutr 33:1338–1352

Fumagalli P, Comolli R, Ferre C, Ghiani A, Gentili R, Citterio S (2014) The rotation of White lupin (Lupinus albus L.) with metal-accumulating plant crops: a strategy increase the benefits of soil phytoremediation. J Environ Manage 145:35–42

Gallego SM, Pena Pena, Barcia RA, Azpilicueta CE, Lannone MF, Maria F, Rosales EP, Zawoznik MS, Groppa MD, Benavides MP (2012) Unravelling cadmium toxicity and tolerance in plants: insight into regulatory mechanisms. Environ Exp Bot 83:33–46

Gay C, Collins J, Gebicki JM (1999) Hydroperoxide assay with the ferric-xylenol orange complex. Anal Biochem 273:149–155

Gill SS, Hasanuzzaman M, Nahar K, Macovei A, Tuteja N (2013) Importance of nitric oxide in cadmium stress tolerance in crop plants. Plant Physiol Biochem 63:254–261

Golldack D, Li C, Mohan H, Probst N (2014) Tolerance to drought and salt stressin plants: unraveling the signaling networks. Front Plant Sci 5:151

Gonçalves JF, Antes FG, Maldaner J, Pereira LB, Tabaldi LA, Rauber R, Rossato LV, Bisognin DA, Dressler VL, Flores EMM (2009) Cadmium and mineral nutrient accumulation in potato plantlets grown under cadmium stress in two different experimental culture conditions. Plant Physiol Biochem 47:814–821

Gratão PL, Monteiro CC, Antunes AM, Peres LEP, Azevedo RA (2008) Acquired tolerance of tomato (Lycopersicon esculentum cv. Micro-Tom) plants to cadmium-induced stress. Ann Appl Biol 153:321–333

Gratão PL, Monteiro CC, Rossi ML, Martinelli AP, Peres LEP, Medici LO, Lea PJ, Azevedo RA (2009) Differential ultrastructural changes in tomato hormonal mutants exposed to cadmium. Environ Exp Bot 67:387–394

Gratão PL, Monteiro CC, Carvalho RF, Tezotto T, Piotto FA, Peres LEP, Azevedo RA (2012) Biochemical dissection of diageotropica and Never ripe tomato mutants to Cd-stressful conditions. Plant Physiol Biochem 56:79–96

Gratão PL, Polle A, Lea PJ, Azevedo RA (2005) Making the life of heavy metal-stressed plants a little easier. Funct Plant Biol 32:481–494

Hediji H, Djebali W, Cabasson C, Maucourt M, Baldet P, Bertrand A, Zoghlami LB, Deborde C, Moing A, Brouquisse R, Chaibi W, Gallusci P (2010) Effects of long-term cadmium exposure on growth and metabolomic profile of tomato plants. Ecotoxicol Environ Saf 73:1965–1974

Hippler FWR, Boaretto RM, Quaggio JA, Azevedo RA, Mattos D Jr (2015) Towards soil management with Zn and Mn: estimates of fertilisation efficacy of Citrus trees. Ann Appl Biol 166:484–495

Iannone MF, Groppa MD, Benavides MP (2015) Cadmium induces different biochemical responses in wild type and catalase-deficient-tobacco plants. Environ Exp Bot 109:201–211

Jozefczak M, Keunen E, Schat H, Bliek M, Hernandez LE, Carleer R, Remans T, Bohler S, Vangronsveld J, Cuypers A (2014) Differential response of Arabidopsis leaves and roots to cadmium: glutathione-related chelating capacity vs antioxidant capacity. Plant Physiol Biochem 83:1–9

Kováčik J, Babula P, Hedbavnya J, Klejdus B (2014) Hexavalent chromium damages chamomile plants by alteration of antioxidants and its uptake is prevented by calcium. J Hazard Mater 273:110–117

Kovacs V, Gondor OK, Szalai G, Darko E, Majlath I, Janda T, Pal M (2014) Synthesis and role of salicylic acid in wheat varieties with different levels of cadmium tolerance. J Hazard Mater 280:12–19

Lea PJ, Azevedo RA (2007) Nitrogen use efficiency: II. Amino acid metabolism. Ann Appl Biol 151:269–275

Li S, Yu J, Zhu M, Zhao F, Luan S (2012) Cadmium impairs ion homeostasis by altering K+ and Ca2+ channel activities in rice root hair cells. Plant Cell Environ 35:1998–2013

Liu J, Li K, Xu J, Liang J, Lu X, Yang J, Zhu Q (2003) Interaction of Cd and five mineral nutrients for uptake and accumulation in different rice cultivars and genotypes. Field Crops Res 83:271–281

Liu SL, Yang RJ, Ma MD, Dan F, Zhao Y, Jiang P, Wang MH (2015) Effects of exougenous NO on the growth, mineral nutrient content, antioxidant system, and ATPase activities of Trifolium repens L. plants under cadmium stress. Acta Physiol Plant 37:1721

Lux A, Martinka M, Vaculik M, White PJ (2011) Root responses to cadmium in the rhizosphere: a review. J Exp Bot 62:21–37

Martínez-Ballesta MC, Alcaraz-Lopez C, Muries B, Mota-Cadenas C, Carvajal M (2010) Physiological aspects of rootstock-scion interactions. Sci Hortic 127:112–118

Masood A, Iqbal N, Khan NA (2012) Role of ethylene in alleviation of cadmium-induced photosynthetic capacity inhibition by sulphur in mustard. Plant Cell Environ 35:524–533

Mishra B, Sangwan RS, Mishra S, Jadaun JS, Sabir F, Sangwan NS (2014) Effect of cadmium stress on inductive enzymatic and nonenzymatic responses of ROS and sugar metabolism in multiple shoot cultures of Ashwagandha (Withania somnifera Dunal). Protoplasma 251:1031–1045

Monteiro CC, Carvalho RF, Gratão PL, Carvalho G, Tezotto T, Medici LO, Peres LEP, Azevedo RA (2011) Biochemical responses of the ethylene-insensitive Never ripe tomato mutant subjected to cadmium and sodium stresses. Environ Exp Bot 71:306–320

Mori S, Uraguchi S, Ishikawa S, Arao T (2009) Xylem loading process is a critical factor in determining Cd accumulation in the shoots of Solanum melongena and Solanum torvum. Environ Exp Bot 67:127–132

Nogueirol RC, Monteiro FA, Gratão PL, Borgo L, Azevedo RA (2015) Tropical soils with high aluminum concentrations cause oxidative stress in two tomato genotypes. Environ Monit Assess 187:73

Pereira GJG, Molina SMG, Lea PJ, Azevedo RA (2002) Activity of antioxidant enzymes in response to cadmium in Crotalaria juncea. Plant Soil 239:123–132

Piotto FA, Tulmann-Neto A, Franco MR, Boaretto LF, Azevedo RA (2014) Rapid screening for selection of heavy metal-tolerant plants. Crop Breed Appl Biotechnol 14:1–7

Rendón MY, Gratão PL, Salva TJG, Azevedo RA, Bragagnolo N (2013) Antioxidant enzyme activity and hydrogen peroxide content during the drying of Arabica coffee beans. European Food Res Technol 236:753–758

Rouphael Y, Cardarelli M, Rea E, Colla G (2008) Grafting of cucumber as a means to minimize copper toxicity. Environ Exp Bot 63:49–58

Rouphael Y, Schwarz D, Krumbein A, Colla G (2010) Impact of grafting on product quality of fruit vegetables. Sci Hortic 127:172–179

Roychoudhury A, Basu S, Sengupta DN (2012) Antioxidants and stress-related metabolites in the seedlings of two indica rice varieties exposed to cadmium chloride toxicity. Acta Physiol Plant 34:835–847

Saibo NJ, Lourenço T, Oliveira MM (2009) Transcription factors and regulation of photosynthetic and related metabolism under environmental stresses. Ann Bot 103:609–623

Savvas D, Colla G, Rouphael Y, Schwarz D (2010) Amelioration of heavy metal and nutrient stress in fruit vegetables by grafting. Sci Hortic 127:156–161

Savvas D, Ntatsi G, Barouchas P (2013) Impact of grating and rootstock genotype on cation uptake by cucumber (Cucumis sativus L.) exposed to Cd or Ni stress. Sci Hortic 149:86–96

Seth CS, Chaturvedi PK, Misra V (2008) The role of phytochelatins and antioxidants in tolerance to Cd accumulation in Brassica juncea L. Ecotoxicol Environ Saf 71:76–85

Shen G-M, Zhu C, Shangguan L-N, Du Q-Z (2012) The Cd-tolerant rice mutant cadH-5 is a high Cd accumulator and shows enhanced antioxidant activity. J Plant Nutr Soil Sci 175:309–318

Sobrino-Plata J, Meyssen D, Cuypers A, Escobar C, Hernandez LE (2014) Glutathione is a key antioxidant metabolite to cope with mercury and cadmium stress. Plant Soil 377:369–381

Souza LA, Piotto FA, Nogueirol RC, Azevedo RA (2013) Use of non-hyperaccumulator plant species for the phytoextraction of heavy metals using chelating agents. Sci Agric 70:290–295

Su Y, Liu J, Lu Z, Wang X, Zhang Z, Shi G (2014) Effects of iron deficiency on subcellular distribution and chemical forms of cadmium in peanut roots in relation to its translocation. Environ Exp Bot 97:40–48

Tezotto T, Favarin JL, Neto AP, Gratão PL, Azevedo RA, Mazzafera P (2013) Simple procedure for nutrient analysis of coffee plant with energy dispersive X-ray fluorescence spectrometry (EDXRF). Sci Agricola 70:263–267

Toselli M, Baldi E, Marcolini G, Malaguti D, Quartieri M, Sorrenti G (2008) Response of potted pear trees to increasing copper conventrations in Sandy and Clay-loam soils. J Plant Nutr 31:2089–2104

Trinchera A, Pandozy G, Rinaldi S, Crino P, Temperini Rea E (2013) Graft union formation in artichoke grafting onto wild and cultivated cardoon: An anatomical study. J Plant Physiol 170:1569–1578

Vincent JM (1975) Manual Practico de Rizobiologia. Hemisferio Sur, Buenos Aires

Vitória AP, Lea PJ, Azevedo RA (2001) Antioxidant enzymes responses to cadmium in radish tissues. Phytochemistry 57:701–710

Wang Y, Zhang J, Li JL, Ma XR (2014) Exogenous hydrogen peroxide enhanced the thermotolerance of Festuca arundinacea and Lolium perenne by increasing the antioxidative capacity. Acta Physiol Plant 36:2915–2924

Xin JL, Huang BF, Yang JZ, Yang ZY (2013) Role of roots in cadmium accumulation of two water spinach cultivars: reciprocal grafting and histochemical experiments. Plant Soil 366:425–432

Xu J, Sun JH, Du LG, Liu XJ (2012) Comparative transcriptome analysis of cadmium responses in Solanum nigrum and Solanum torvum. New Phytol 196:110–124

Zhang ZK, Liu SQ, Hao SQ, Liu SH (2010) Grafting increases the copper tolerance of cucumber seedlings by improvement of polyamine contents and enhancement of antioxidant enzymes activity. Agric Sci China 9:985–994

Zhou CF, Zhang K, Lin JW, Li Y, Chen NL, Zou XH, Hou XL, Ma XQ (2015) Physiological responses and tolerance mechanisnms to cadmium in Conyza Canadensis 17:280–289

Zoghlami LB, Djebali W, Abbes Z, Hediji H, Maucourt M, Moing A, Brouquisse R, Chaibi W (2011) Metabolite modifications in Solanum lycopersicum roots and leaves under cadmium stress. Afr J Biotechnol 10:567–579
Acknowledgments
This work was funded by Fundação de Amparo à Pesquisa do Estado de São Paulo (FAPESP - Grant no.09/54676-0). We thank Conselho Nacional de Desenvolvimento Científico e Tecnológico (CNPq-Brazil) (R.A.A. and L.P.P.), and FAPESP (P.L.G., C.C.M. and T.T.) for the fellowships and scholarships granted.
About this article
Cite this article
Gratão, P.L., Monteiro, C.C., Tezotto, T. et al. Cadmium stress antioxidant responses and root-to-shoot communication in grafted tomato plants. Biometals 28, 803–816 (2015). https://doi.org/10.1007/s10534-015-9867-3
Received:

Accepted:

Published:

Issue Date:
Keywords
Cadmium

Micro-Tom

Grafting

Signaling

Oxidative stress