Abstract
Desferrioxamine (DFO) is a potent iron chelator used in the treatment of iron overload (IO) disorders. However, due to its low cell permeability and fast clearance, DFO administration is usually prolonged and of limited use for the treatment of IO in tissues such as the brain. Caffeine is a safe, rapidly absorbable molecule that can be linked to other compounds to improve their cell permeability. In this work, we successfully prepared and described DFO-caffeine, a conjugate with iron scavenging ability, antioxidant properties and enhanced permeation in the HeLa cell model.
Access options
Buy single article
Instant access to the full article PDF.
USD 39.95
Price includes VAT (USA)
Tax calculation will be finalised during checkout.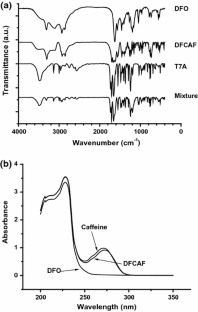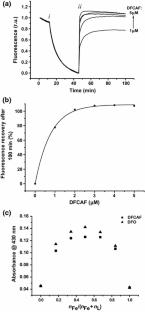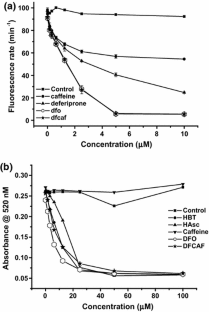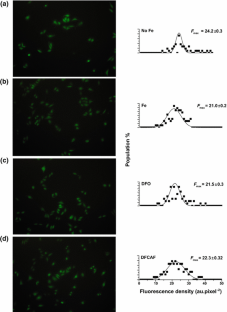 References
Afify AE-MMR, Shalaby EA, El-Beltagi HS (2011) Antioxidant activity of aqueous extracts of different caffeine products. J Med Plants Res 5(20):5071–5078

Andrews NC (2000) Iron homeostasis: insights from genetics and animal models. Nat Rev Genet 1(3):208–217

Arendash GW, Schleif W, Rezai-Zadeh K, Jackson EK, Zacharia LC, Cracchiolo JR, Shippy D, Tan J (2006) Caffeine protects Alzheimer's mice against cognitive impairment and reduces brain beta-amyloid production. Neuroscience 142(4):941–952

Baccan MM, Chiarelli-Neto O, Pereira RMS, Esposito BP (2012) Quercetin as a shuttle for labile iron. J Inorg Biochem 107(1):34–39

Borgias B, Hugi AD, Raymond KN (1989) Isomerization and solution structures of desferrioxamine-B complexes of Al3+ and Ga3+. Inorg Chem 28(18):3538–3545

Breuer W, Epsztejn S, Cabantchik ZI (1995) Iron acquired from transferrin by K562 cells is delivered into a cytoplasmic pool of chelatable iron(II). J Biol Chem 270(41):24209–24215

Dhungana S, White PS, Crumbliss AL (2001) Crystal structure of ferrioxamine B: a comparative analysis and implications for molecular recognition. J Biol Inorg Chem 6(8):810–818

Dinc E, Onur F (1998) Application of a new spectrophotometric method for the analysis of a ternary mixture containing metamizol, paracetamol and caffeine in tablets. Anal Chim Acta 359(1–2):93–106

Epsztejn S, Kakhlon O, Glickstein H, Breuer W, Cabantchik ZI (1997) Fluorescence analysis of the labile iron pool of mammalian cells. Anal Biochem 248(1):31–40

Eskelinen MH, Ngandu T, Tuomilehto J, Soininen H, Kivipelto M (2009) Midlife coffee and tea drinking and the risk of late-life dementia: a population-based CAIDE Study. J Alzheimers Dis 16(1):85–91

Esposito BP, Breuer W, Sirankapracha P, Pootrakul P, Hershko C, Cabantchik ZI (2003) Labile plasma iron in iron overload: redox activity and susceptibility to chelation. Blood 102(7):2670–2677

Forizs E, Debreczeni A, Patrut A, Kun A-Z, Cozar IB, David L, Silaghi-Dumitrescu I (2010) Synthesis, structure and DFT calculations on complexes of palladium(II) with theophylline. Rev Roum Chim 55(10):697–704

Glickstein H, El Ben R, Link G, Breuer W, Konijn AM, Hershko C, Nick H, Cabantchik ZI (2006) Action of chelators in iron-loaded cardiac cells: accessibility to intracellular labile iron and functional consequences. Blood 108(9):3195–3203

Ibrahim M, Koglin E (2004) Vibrational spectroscopic study of acetate group. Acta Chim Slov 51(3):453–460

Job P (1928) Studies on the formation of complex minerals in solution and on their stability. Ann Chim France 9:113–203

Kedare SB, Singh RP (2011) Genesis and development of DPPH method of antioxidant assay. J Food Sci Tech Mys 48(4):412–422

Kolayli S, Ocak M, Kucuk M, Abbasoglu R (2004) Does caffeine bind to metal ions? Food Chem 84(3):383–388

Kumar GSS, Seethalakshmi PG, Bhuvanesh N, Kumaresan S (2013) Studies on the syntheses, structural characterization, antimicrobial-, and DPPH radical scavenging activity of the cocrystals caffeine:cinnamic acid and caffeine:eosin dihydrate. J Mol Struct 1050:88–96

Kwiatkowski JL (2011) Real-world use of iron chelators. Hematol Am Soc Hematol Educ Progr 451–458

Lee C (2000) Antioxidant ability of caffeine and its metabolites based on the study of oxygen radical absorbing capacity and inhibition of LDL peroxidation. Clin Chim Acta 295(1–2):141–154

Liu J, Obando D, Schipanski LG, Groebler LK, Witting PK, Kalinowski DS, Richardson DR, Codd R (2010) Conjugates of desferrioxamine B (DFOB) with derivatives of adamantane or with orally available chelators as potential agents for treating iron overload. J Med Chem 53(3):1370–1382

Lloyd JB, Cable H, Riceevans C (1991) Evidence that desferrioxamine cannot enter cells by passive diffusion. Biochem Pharmacol 41(9):1361–1363

Maia L, de Mendonca A (2002) Does caffeine intake protect from Alzheimer's disease? Eur J Neurol 9(4):377–382

Nunez MT, Urrutia P, Mena N, Aguirre P, Tapia V, Salazar J (2012) Iron toxicity in neurodegeneration. Biometals 25(4):761–776

Ponka P (2004) Hereditary causes of disturbed iron homeostasis in the central nervous system: redox-active metals in neurological disorders. Ann N Y Acad Sci 1012:267–281

Rosso A, Mossey J, Lippa CF (2008) Caffeine: neuroprotective functions in cognition and Alzheimer's disease. Am J Alzheimers Dis 23(5):417–422

Salas JM, Quiros M, Romero MA, Sanchez MP, Salas MA, Vilaplana R (1995) Metal-complexes of theophylline-7-acetic acid—crystal-structure of a nickel(II) compound containing noncoordinated theophylline-7-acetate ion. Polyhedron 14(5):611–616

Sawynok J, Yaksh TL (1993) Caffeine as an analgesic adjuvant: a review of pharmacology and mechanisms of action. Pharmacol Rev 45(1):43–85

Schleh FA, Chiarelli-Neto O, Fontes MN, Najjar R, Esposito BP (2014) Phytate decreases oxidative damage caused by labile forms of iron in solution, blood plasma and in HeLa cells. J Braz Chem Soc 25(6):1036–1040

Shi X, Dalal NS, Jain AC (1991) Antioxidant behavior of caffeine-efficient scavenging of hydroxyl radicals. Food Chem Toxicol 29(1):1–6

Siebner-Freibach H, Yariv S, Lapides Y, Hadar Y, Chen YN (2005) Thermo-FTIR spectroscopic study of the siderophore ferrioxamine B: spectral analysis and stereochemical implications of iron chelation, pH, and temperature. J Agric Food Chem 53(9):3434–3443

Sohn YS, Breuer W, Munnich A, Cabantchik ZI (2008) Redistribution of accumulated cell iron: a modality of chelation with therapeutic implications. Blood 111(3):1690–1699

Zanninelli G, Glickstein H, Breuer W, Milgram P, Brissot P, Hider RC, Konijn AM, Libman J, Shanzer A, Cabantchik ZI (1997) Chelation and mobilization of cellular iron by different classes of chelators. Mol Pharmacol 51(5):842–852
Acknowledgments
This work was supported by funds from FAPESP and CNPq (Brazilian agencies). ECPA received a MSc grant from CNPq and DG received a postdoctoral fellowship grant from FAPESP. The authors are grateful to Dr. C. W. Liria for technical assistance in RP-HPLC and LC–MS analysis.
Conflict of interest
The authors declare no conflict of interests.
About this article
Cite this article
Alta, E.C.P., Goswami, D., Machini, M.T. et al. Desferrioxamine-caffeine (DFCAF) as a cell permeant moderator of the oxidative stress caused by iron overload. Biometals 27, 1351–1360 (2014). https://doi.org/10.1007/s10534-014-9795-7
Received:

Accepted:

Published:

Issue Date:
Keywords
Iron

Desferrioxamine

Caffeine

HeLa