Abstract
Glutathione reductase (GR) is an essential enzyme which maintains the reduced state of a cell. Therefore GR malfunction is closely associated with several disorders related to oxidative damage. The present study reports toxic manifestation of arsenic trioxide in respect of GR leading to apoptosis. Isolated rat hepatocytes exposed to arsenic trioxide were analyzed for GR expression and activity. Arsenic resulted in a time dependent inhibition of GR mediated by the superoxide anion. The cellular demand of functional enzyme is achieved by concomitant rise in gene expression. However, direct inhibition of GR by arsenic trioxide was also evident. Furthermore, arsenic induced free radical mediated inhibition of GR was found to be partially uncompetitive and associated with time dependent decrease in the substrate binding rate. Externalization of phosphatidylserine, nuclear degradation, apoptosis inducing factor leakage, apoptosome formation, caspase activation, DNA damage and break down of PARP suggest consequential induction of apoptosis due to inhibition of GR. The implication of GR was further established from the reduced rate of caspase activation in the arsenic trioxide treated cell, supplemented with complete and incomplete enzyme systems.
Graphical Abstract
Glutathione reductase activity is inhibited by binding of arsenic directly with the enzyme and also with the enzyme substrate complex. The mixed or partially uncompetitive mode of inhibition elicits arsenic binding with the GR–GSSG as well as GR–NADPH complex more effectively than with GR alone. Stimulated GR synthesis and gsr expression is concomitant with inhibited enzyme activity, however, reduction in GR efficiency eventually leads to caspase dependent apoptosis.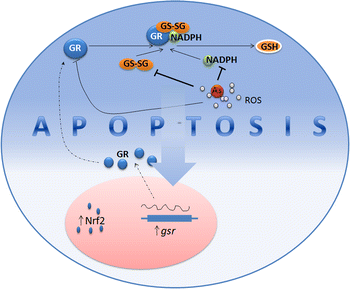 Access options
Buy single article
Instant access to the full article PDF.
USD 39.95
Price includes VAT (USA)
Tax calculation will be finalised during checkout.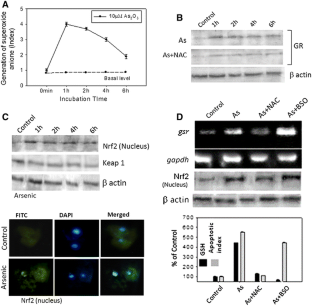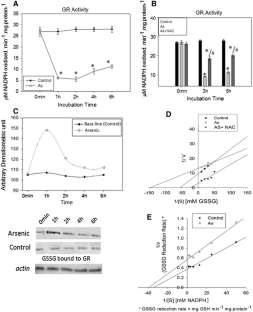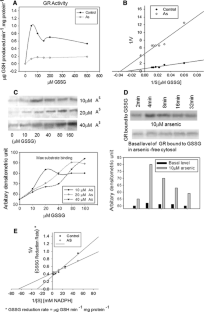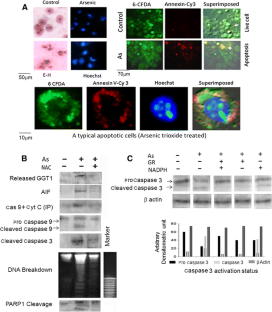 References
Agarwal S, Roy S, Ray A, Mazumder S, Bhattacharya S (2009) Arsenic trioxide and lead acetate induce apoptosis in adult rat hepatic stem cells. Cell Biol Toxicol 25:403–413

Alam J, Camhi S, Choi AMK (1995) Identification of a second region upstream of the mouse heme oxygenase-1 gene that functions as a basal level and induce dependent transcriptional enhancer. J Biol Chem 270:11977–11984

Asmis R, Wang Y, Xu L, Kisgati M, Begley JG, Mieyal JJ (2005) A novel thiol oxidation-based mechanism for adriamycin-induced cell injury in human macrophages. FASEB J 19:1866–1868

Bhattacharya S, Bhattacharya A, Roy S (2007) Arsenic induced responses in freshwater teleosts. Fish Physiol Biochem 33:463–473

Chung PM, Cappel RE, Gilbert HF (1991) Inhibition of glutathione disulfide reductase by glutathione. Arch Biochem Biophys 288:48–53

Datta S, Mazumder S, Ghosh D, Dey S, Bhattacharya S (2009) Low concentration of arsenic could induce caspase 3 mediated head kidney macrophage apoptosis with JNK-p38 activation in Clarias batrachus. Toxicol Appl Pharmacol 241:329–338

Erickson AM, Nevarea Z, Gipp JJ, Mulcahy RT (2002) Identification of a variant antioxidant response element in the promoter of the human glutamate–cysteine ligase modifier subunit gene: revision of the ARE consensus sequence. J Biol Chem 277:30730–30737

Estey E, Garcia-Manero G, Ferrajoli A, Faderl S, Verstovsek S, Jones D, Kantarjian H (2006) Use of all-trans retinoic acid plus arsenic trioxide as an alternative to chemotherapy in untreated acute promyelocytic leukemia. Blood 107:3469–3473

Gore SD, Gojo I, Sekeres MA, Morris L, Devetten M, Jamieson K, Redner RL, Arceci R, Owoeye I, Dauses T, Schachter-Tokarz E, Gallagher RE (2010) Single cycle of arsenic trioxide based consolidation chemotherapy spares anthracycline exposure in the primary management of acute promyelocytic leukemia. J Clin Oncol 28:1047–1053

Harvey CJ, Thimmulappa RK, Singh A, Blake DJ, Ling G, Wakabayashi N, Fujii J, Myers A, Biswal S (2009) Nrf2-regulated glutathione recycling independent of biosynthesis is critical for cell survival during oxidative stress. Free Rad Biol Med 46:443–453

Holubec H, Payne CM, Bernstein H, Dvorakova K, Bernstein C, Waltmire CN, Warneke JA, Garewal H (2005) Assessment of apoptosis by immunohistochemical markers compared to cellular morphology in ex vivo-stressed colonic mucosa. J Histochem Cytochem 53:229–235

Inglis JK (1980) Introduction to laboratory animal science and technology. Pergamon Press, Oxford

Lee DH, Blomhoff R, Jacobs DJ (2004) Is serum gamma glutamyltransferase a marker of oxidative stress? Free Radic Res 38:535–539

Lim JS, Yang JH, Chun BY, Kam S, Jacobs DR Jr, Lee DH (2004) Is serum γ-glutamyltransferase inversely associated with serum antioxidants as a marker of oxidative stress? Free Radic Biol Med 37:1018–1023

Lin CC, Hsu C, Hsu CH, Hsu WL, Cheng AL, Yang CH (2007) Arsenic trioxide in patients with hepatocellular carcinoma: a phase II trial. Invest New Drugs 25:77–84

Loginov AS, Matiushin BN, Tkachev VD (1997) The clinical significance of the liver glutathione system in chronic lesions. Ter Arkh 69:25–27

Lowry OH, Rosebrough NJ, Farr AL, Randall RJ (1951) Measurement of protein with the Folin phenol reagent. J Biol Chem 193:265–275

Maity S, Roy S, Bhattacharya S, Chowdhury S (2008) Antioxidants in Lampito mauritii are the biomarkers of soil contamination by lead and zinc. Environ Pollut 151:1–7

Martin HL, Teismann P (2009) Glutathione a review on its role and significance in Parkinson's disease. FASEB J 23:3263–3272

Mei X, Xu D, Xu S, Zheng Y, Xu S (2012) Novel role of Zn(II)-curcumin in enhancing cell proliferation and adjusting proinflammatory cytokine-mediated oxidative damage of ethanol-induced acute gastric ulcers. Chem Biol Interact 197:31–39

Montero J, Morales A, Llacuna L, Lluis JM, Terrones O, Basañez G, Antonsson B, Prieto J, García-Ruiz C, Colell A, Fernández-Checa JC (2008) Mitochondrial cholesterol contributes to chemotherapy resistance in hepatocellular carcinoma. Cancer Res 68:5246–5256

Ray A, Roy S, Agarwal S, Bhattacharya S (2008) As2O3, toxicity in rat hepatocytes: manifestation of caspase-mediated apoptosis. Toxicol Ind Health 34:643–653

Rius M, Nies AT, Hummel-Eisenbeiss J, Jedlitschky G, Keppler D (2003) Cotransport of reduced glutathione with bile salts by MRP4 (ABCC4) localized to the basolateral hepatocyte membrane. Hepatology 38:374–384

Roy S, Bhattacharya S (2006) Arsenic induced histopathology and synthesis of stress proteins in liver and kidney of Channa punctatus. Ecotoxicol Environ Saf 65:218–229

Sambrook J, Fritsch EF, Maniatis T (1989) Molecular cloning: a laboratory manual, 2nd edn. Cold Spring Harbor Laboratory Press, New York

Sasaki H, Sato H, Kuriyama-Matsumura K, Sato K, Maebara K, Wang H, Tamba M, Itoh K, Yamamoto M, Bannai S (2002) Electrophile response element-mediated induction of the cystine/glutamate exchange transporter gene expression. J Biol Chem 277:44765–44771

Senft AP, Dalton TP, Shertzer HG (2000) Determining glutathione and glutathione disulfide using the fluorescence probe o-phthalaldehyde. Anal Biochem 280:80–86

Singh A, Misra V, Thimmulappa RK, Lee H, Ames S, Hoque MO, Herman JG, Baylin SB, Sidransky D, Gabrielson E, Brock MV, Biswal S (2006) Dysfunctional KEAP1-NRF2 interaction in non-small-cell lung cancer. PLoS Med 3:e420

Snedecor GW, Cochran WG (1967) Statistical methods. The Iowa State University Press, Iowa

Średzińska K, Galicka A, Porowska H, Sredziński Ł, Porowski T, Popko J (2009) Glutathione reductase activity correlates with concentration of extracellular matrix degradation products in synovial fluid from patients with joint diseases. Acta Biochim Pol 56:635–640

Tandogan B, Ulusu NN (2006) A comparative study with colchicine on glutathione reductase. FABAD J Pharm Sci 31:230–237

Tandogan B, Ulusu NN (2010a) Comparative in vitro effects of some metal ions on bovine kidney cortex glutathione reductase. Prep Biochem Biotech 40:405–411

Tandogan B, Ulusu NN (2010b) Kinetic mechanism and molecular properties of glutathione reductase. Protein J 29:380–385

Townsend DM, Tew KD (2003) The role of glutathione-S-transferase in anti-cancer drug resistance. Oncogene 22:7369–7375

Valko M, Rhodes C, Moncol J, Izakovic M, Mazur M (2006) Free radicals, metals and antioxidants in oxidative stress-induced cancer. Chem Biol Interact 160:1–40

Wang X, Zhang J, Zhao L, Hu S, Piao F (2013) Effect of subchronic exposure to arsenic on levels of essential trace elements in mice brain and its gender difference. Biometals 26:123–131

Wiseman DA, Sharma S, Black SM (1999) Elevated zinc induces endothelial apoptosis via disruption of glutathione metabolism: role of the ADP translocator. Biometals 23:19–30

Yamada J, Tomiyama J, Yambe M, Koji Y, Motobe K, Shiina K, Yamamoto Y, Yamashina A (2006) Elevated serum levels of alanine aminotransferase and gamma glutamyltransferase are markers of inflammation and oxidative stress independent of the metabolic syndrome. Atherosclerosis 189:198–205
Acknowledgments
AR is grateful to Council for Scientific and Industrial Research for a Senior Research Fellowship, SC gratefully acknowledges DST for a SRF (Project No SR/SO/AS-22/2008) and SM is grateful to University Grants Commission for financial support and SB acknowledges the National Academy of Sciences, India for the award of Senior Scientist, Platinum Jubilee Fellowship.
Conflict of interest
No competing financial interest exists.
About this article
Cite this article
Ray, A., Chatterjee, S., Mukherjee, S. et al. Arsenic trioxide induced indirect and direct inhibition of glutathione reductase leads to apoptosis in rat hepatocytes. Biometals 27, 483–494 (2014). https://doi.org/10.1007/s10534-014-9722-y
Received:

Accepted:

Published:

Issue Date:
Keywords
Apoptosis

Glutathione reductase

NAC

Free radical

Nrf2