Abstract
The protective action of salicylic acid (SA) pre-treatment on soybean plants before cadmium (Cd) addition was tested. Oxidative stress parameters, such as TBARS formation, glutathione and chlorophyll content, were altered by Cd, instead no differences were observed in plants only pre-treated with SA. Antioxidant enzymes were affected by Cd treatment, while SA protected against these effects. These findings indicated that SA could act as a protector against oxidative stress induced by Cd. Taking into account the fact that heme-oxygenase-1 (HO-1) has been previously described as a novel antioxidant enzyme, experiments were carried out to determine whether it was involved in the protection exerted by SA. As expected, Cd brought about an enhancement of 57 % in HO-1 activity and 150 % in protein content (150 %), SA also increased both the enzyme activity and its protein content (28 and 75 %, respectively). Surprisingly, the observed rise of HO activity and protein content under SA treatment was lower than that produced by Cd alone. These lower values indicated, that HO-1 could not be directly involved in the protection of SA against Cd effects. In order to shed light in the mechanisms involved in SA effects, Cd content was determined in the tissues of Cd treated plants with and without SA pre-treatment. Results indicated that, in the presence of SA, Cd uptake was inhibited, thus avoiding its deleterious effects. Moreover, the observed HO-1 activity enhancement by SA indicates that this phytohormone could be engaged in the signalling pathway of heme degradation.
Access options
Buy single article
Instant access to the full article PDF.
USD 39.95
Price excludes VAT (USA)
Tax calculation will be finalised during checkout.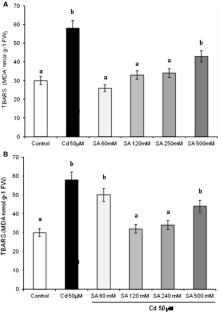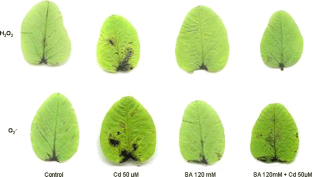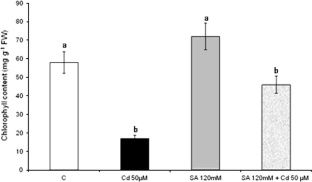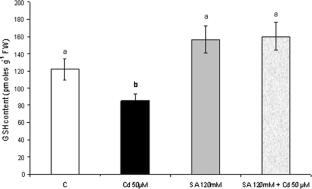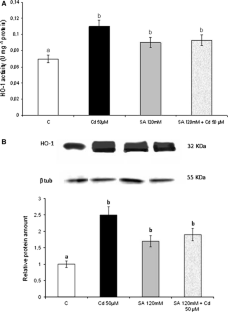 References
Anderson ME (1985) Determination of glutathione and glutathione disulfide in biological samples. Methods Enzymol 113:548–554

Balestrasse KB, Noriega GO, Batlle A, Tomaro ML (2005) Involvement of heme oxygenase as antioxidant defense in soybean nodules. Free Radic Res 39:145–151

Balestrasse KB, Noriega GO, Batlle A, Tomaro ML (2006) Heme oxigenase activity and stress signaling in soybean leaves. Plant Sci 170(2):339–346

Balestrasse KB, Yannarelli GG, Noriega GO, Batlle A, Tomaro M (2008) Heme oxygenase and catalase gene expression in nodules and roots of soybean plants subjected to cadmium stress. Biometals 21(4):433–441

Becana M, Aparicio-Tejo P, Irigoyen J, Sánchez-Díaz M (1986) Some enzymes of hydrogen peroxide metabolism in leaves and root nodules of Medicago sativa. Plant Physiol 82:1169–1171

Bradford M (1976) A rapid and sensitive method for the quantitation of microgram quantities of protein utilizing the principle of protein-dye binding. Anal Biochem 72:248–254

Cobbett C, Goldsbrough P (2002) Phytochelatins and metallothioneins: role of heavy metal detoxication and homeostasis. Annu Rev Plant Biol 53:159–182

Dat J, Foyer C, Scott M (1998) Changes in salicylic acid and antioxidants during induced thermotolerance in mustard seedlings. Plant Physiol 118:1455–1461

Drazic G, Mihailovic N (2005) Modification of cadmium toxicity in soybean seedlings by salicylic acid. Plant Sci 168(2):511–517

Durner J, Klessig DF, Shah J (1997) Salicylic acid and disease resistance in plants. Trends Plant Sci 2:266–274

Foyer CH, Descourvieres P, Kunert KJ (1994) Protection against oxygen radicals: an important defence mechanism studied in transgenic plants. Plant Cell Environ 17:507–523

Gunes A, Inal A, Alpaslam M, Erslan F, Bagsi E, Cicek N (2007) Salicylic acid induced changes on some physiological parameters symptomatic for oxidative stress and mineral nutrition in maize (Zea mays L.) grown under salinity. J Plant Physiol 164:728–736

Hall JL (2002) Cellular mechanisms for heavy metal detoxification and tolerance. J Exp Bot 53:1–11

Hayat S, Ali B, Ahmad A (2007) Salicylic acid: biosynthesis, metabolism and physiological role in plants. In: Hayat S, Ahmad A (eds) Salicylic acid: a plant hormone. Springer, Drodrecht, pp 1–14

Heath RL, Packer L (1968) Photoperoxidation in isolated chloroplasts. Kinetics and stoichiometry of fatty acid peroxidation. Arch Biochem Biophys 125:189–198

Hoagland DR, Arnon DI (1950) The water-culture method for growing plants without soil. University of California, the Agricultural Experiment Station. Berkley Circ 347:1–39

Horváth E, Szalai G, Janda T (2007) Induction of a biotic stress tolerance by salicylic acid signaling. J Plant Growth Regul 26:290–300

Järup L, Åkesson A (2009) Current status of cadmium as an environmental health problem. Toxicol Appl Pharmacol 238:201–208

Kang H, Saltveit M (2002) Chilling tolerance of maize, cucumber, and rice seedling leaves and roots are differentially affected by salicylic acid. Physiol Plant 115:571–576

Kikuchi G, Yoshida T, Noguchi M (2005) Heme oxygenase and heme degradation. Biochem Biophys Res Commun 338:558–567

Krantev A, Yordanova R, Janda T, Szalai G, Popova L (2008) Treatment with salicylic acid decreases the effect of cadmium on photosynthesis in maize plants. J Plant Physiol 165:920–931

Laemmli UK (1970) Cleavage of structural proteins during the assembly of the head of bacteriophage T4. Nature 227:680–685

Ling T, Zhang B, Cui W, Wu M, Lin J, Zhou W, Huang J, Shen W (2009) Carbon monoxide mitigates salt-induced inhibition of root growth and suppresses programmed cell death in wheat primary roots by inhibiting superoxide anion overproduction. Plant Sci 177:331–340

Malamy J, Carr J, Klessig D, Raskin I (1990) Salicylic acid a likely endogenous signal in the resistance response of tobacco to viral infection. Science 250:1002

Mc Laughlin M, Parker D, Clarke J (1999) Metal and micronutrients––food safety issues. Field Crop Res 60:143–163

Metwally A, Finkermeier I, Georg M, Dietz J (2003) Salicylic acid alleviates the cadmium toxicity in barley seedlings. Plant Physiol 132:272–281

Mishra A, Chudhuri M (1999) Effect of salicylic acid on heavy metal-induced membrane deterioration in rice. Biol Plant 42:409–415

Muramoto T, Kohchi T, Yokota A, Hwang T, Goodman H (1999) The Arabidopsis photomorphogenic mutant hyl is deficient in phytochrome chromophore biosynthesis as a result of a mutation in a plastid heme oxygenase. Plant Cell 11:335–348

Muramoto T, Tsurui N, Terry M, Yokota A, Kohchi T (2002) Expression and biochemical properties of a ferredoxin-dependent heme oxygenase required for phytochrome chromophore synthesis. Plant Physiol 130:1958–1966

Noriega GO, Balestrasse KB, Batlle A, Tomaro ML (2004) Heme oxygenase exerts a protective role against oxidative stress in soybean leaves. Biochem Biophys Res Commun 323:1003–1008

Noriega GO, Santa Cruz DM, Batlle A, Tomaro ML, Balestrasse KB (2012) Heme oxygenase is involved in the protection exerted by jasmonic acid against cadmium stress in soybean roots. J Plant Growth Regul 31(1):79–89

Popova LP, Maslenkova LT, Yordanova RY, Ivanova AP, Krantev AP, Szalai G, Janda T (2009) Exogenous treatment with salicylic acid attenuates cadmium toxicity in pea seedlings. Plant Physiol Biochem 47:224–231

Ray S (1986) GA, ABA, phenol interaction in the control of growth: phenolic compounds as effective modulators of GA–ABA interaction in radish seedlings. Biol Plant 28:361–369

Rodriguez-Serrano M, Romero-Puertas M, Zabalza A, Corpas F, Gomez M, Del Rio L, Sandalio L (2006) Cadmium effect on oxidative metabolism of pea (Pisum sativum L.) roots. Imaging of reactive oxygen species and nitric oxide accumulation in vivo. Plant Cell Environ 29:1532–1544

Schutzendubel A, Schwanz P, Teichmann T, Gross K, Langenfeld Heyser R, Godbold DL, Polle A (2001) Cadmium-induced changes in antioxidative systems, hydrogen per oxide content, and differentiation in scot pine roots. Plant Physiol 127:887–889

Shah J (2003) The salicylic acid loop in plant defence. Curr Opin Plant Bio l6:365–371

Vázquez S, Goldsbrough P, Carpena R (2006) Assessing the relative contributions of phytochelatins and the cell wall to cadmium resistance in white lupin. Physiol Plantarum 128:487–495

Wagner G (1993) Accumulation of cadmium in crop plants and its consequences to human health. Adv Agron 51:173–212

Wang C, Zhang Songhe, PeiFang W, Jun H, Jin Q, Yanhui A, Jie L, Li L (2011) Salicylic acid involved in the regulation of nutrient elements uptake and oxidative stress in Vallisneria natans (Lour.) Hara under Pb stress. Chemosphere 84:136–142

Wintermans J, de Mots A (1965) Spectrophotometric characteristics of chlorophylls a and b and their pheophytins in ethanol. Biochim Biophys Acta 109:448–453
About this article
Cite this article
Noriega, G., Caggiano, E., Lecube, M.L. et al. The role of salicylic acid in the prevention of oxidative stress elicited by cadmium in soybean plants. Biometals 25, 1155–1165 (2012). https://doi.org/10.1007/s10534-012-9577-z
Received:

Accepted:

Published:

Issue Date:

DOI: https://doi.org/10.1007/s10534-012-9577-z
Keywords
Cadmium

Heme oxygenase

Oxidative stress

Salicylic acid

Soybean plants