Abstract
Lactoferrin (Lf) has been shown to control the proliferation of a variety of mammalian cells. Recently, we reported that human Lf induces apoptosis via a c-Jun N-terminal kinases (JNK)-associated Bcl-2 pathway that stimulates programmed cell death. In order to gain insight into the mechanism underlying Lf-triggered apoptotic features, we attempted to determine the mechanisms whereby the Lf-induced Bcl-2 family proteins exert their pro- or anti-apoptotic effects in Jurkat leukemia T lymphocytes. Treatment of the cells with high concentrations of Lf resulted in a significant reduction in in vitro growth and cell viability. As the levels of Lf increased, greater quantities of CDK6 and hyper-phosphorylated retinoblastoma protein were produced, resulting in the induction of E2F1-dependent apoptosis. Simultaneously, PARP and caspases were efficiently cleaved during Lf-induced apoptosis. The E2F1-induced apoptotic process occurred preferentially in p53-deficient Jurkat leukemia cells. Therefore, we attempted to determine whether E2F1-regulated Bcl-2 family proteins involved in the apoptotic process were relevant to Lf-induced apoptosis. We found that Lf increased the interaction of Bcl-2 with the pro-apoptotic protein Bad, whereas the total protein levels did not change significantly. Our results, collectively, suggest that Lf exploits the control mechanism of E2F1-regulated target genes or Bcl-2 family gene networks involved in the apoptotic process in Jurkat human leukemia T lymphocytes.
Access options
Buy single article
Instant access to the full article PDF.
USD 39.95
Price excludes VAT (USA)
Tax calculation will be finalised during checkout.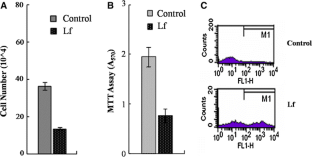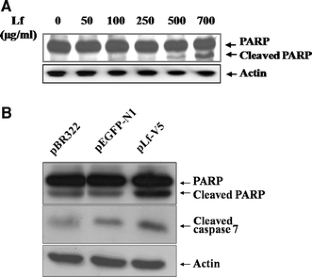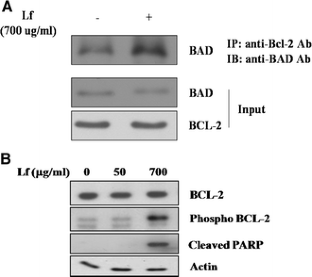 References
Adams JM, Cory S (2007) Bcl-2-regulated apoptosis: mechanism and therapeutic potential. Curr Opin Immunol 19:488–496

Baker EN, Baker HM (2009) A structural framework for understanding the multifunctional character of lactoferrin. Biochimie 91:3–10

Brock JH (2002) The physiology of lactoferrin. Biochem Cell Biol 80:1–6

Caroppi P, Sinibaldi F, Fiorucci L, Santucci R (2009) Apoptosis and human diseases: mitochondrion damage and lethal role of released cytochrome C as proapoptotic protein. Curr Med Chem 16:4058–4065

Chipuk JE, Bouchier-Hayes L, Green DR (2006) Mitochondrial outer membrane permeabilization during apoptosis: the innocent bystander scenario. Cell Death Differ 13:1396–1402

Damiens E, El Yazidi I, Mazurier J, Duthille I, Spik G, Boilly-Marer Y (1999) Lactoferrin inhibits G1 cyclin-dependent kinases during growth arrest of human breast carcinoma cells. J Cell Biochem 74:486–498

Danial NN (2007) BCL-2 family proteins: critical checkpoints of apoptotic cell death. Clin Cancer Res 13:7254–7263

Ginsberg D (2002) E2F1 pathways to apoptosis. FEBS Lett 529:122–125

He J, Furmanski P (1995) Sequence specificity and transcriptional activation in the binding of lactoferrin to DNA. Nature 373:721–724

Huang N, Bethell D, Card C, Cornish J, Marchbank T, Wyatt D, Mabery K, Playford R (2008) Bioactive recombinant human lactoferrin, derived from rice, stimulates mammalian cell growth. In Vitro Cell Dev Biol Anim 44:464–471

Lee SH, Park SW, Pyo CW, Yoo NK, Kim J, Choi SY (2009a) Requirement of the JNK-associated Bcl-2 pathway for human lactoferrin-induced apoptosis in the Jurkat leukemia T cell line. Biochimie 91:102–108

Lee SH, Pyo CW, Hahm DH, Kim J, Choi SY (2009b) Iron-saturated lactoferrin stimulates cell cycle progression through PI3K/Akt pathway. Mol Cells 28:37–42

Ma Y, Croxton R, Moorer RL Jr, Cress WD (2002) Identification of novel E2F1-regulated genes by microarray. Arch Biochem Biophys 399:212–224

Naot D, Grey A, Reid IR, Cornish J (2005) Lactoferrin—a novel bone growth factor. Clin Med Res 3:93–101

Oh SM, Hahm DH, Kim IH, Choi SY (2001) Human neutrophil lactoferrin trans-activates the matrix metalloproteinase 1 gene through stress-activated MAPK signaling modules. J Biol Chem 276:42575–42579

Ojala PM, Yamamoto K, Castaños-Vélez E, Biberfeld P, Korsmeyer SJ, Mäkelä TP (2000) The apoptotic v-cyclin–CDK6 complex phosphorylates and inactivates Bcl-2. Nat Cell Biol 2:819–825

Pediconi N, Ianari A, Costanzo A, Belloni L, Gallo R, Cimino L, Porcellini A, Screpanti I, Balsano C, Alesse E, Gulino A, Levrero M (2003) Differential regulation of E2F1 apoptotic target genes in response to DNA damage. Nat Cell Biol 5:552–558

Polager S, Kalma Y, Berkovich E, Ginsberg D (2002) E2Fs up-regulate expression of genes involved in DNA replication, DNA repair and mitosis. Oncogene 21:437–446

Shitashige M, Toi M, Yano T, Shibata M, Matsuo Y, Shibasaki F (2001) Dissociation of Bax from a Bcl-2/Bax heterodimer triggered by phosphorylation of serine 70 of Bcl-2. J Biochem 130:741–748

Son HJ, Lee SH, Choi SY (2006) Human lactoferrin controls the level of retinoblastoma protein and its activity. Biochem Cell Biol 84:345–350

Wang C, Youle RJ (2009) The role of mitochondria in apoptosis. Annu Rev Genet 43:95–118

Ward PP, Paz E, Conneely OM (2005) Multifunctional roles of lactoferrin: a critical overview. Cell Mol Life Sci 62:2540–2548

Wong SH, Francis N, Chahal H, Raza K, Salmon M, Scheel-Toellner D, Lord JM (2009) Lactoferrin is a survival factor for neutrophils in rheumatoid synovial fluid. Rheumatology (Oxford) 48:39–44

Xiao Y, Monitto CL, Minhas KM, Sidransky D (2004) Lactoferrin down-regulates G1 cyclin-dependent kinases during growth arrest of head and neck cancer cells. Clin Cancer Res 10:8683–8686

Xie W, Jiang P, Miao L, Zhao Y, Zhimin Z, Qing L, Zhu WG, Wu M (2006) Novel link between E2F1 and Smac/DIABLO: proapoptotic Smac/DIABLO is transcriptionally upregulated by E2F1. Nucleic Acids Res 34:2046–2055
Acknowledgments
This work was supported by the Korea Science and Engineering Foundation (KOSEF) grant funded by the Korea government (MEST) (No. R0809241).
About this article
Cite this article
Lee, SH., Hwang, HM., Pyo, CW. et al. E2F1-directed activation of Bcl-2 is correlated with lactoferrin-induced apoptosis in Jurkat leukemia T lymphocytes. Biometals 23, 507–514 (2010). https://doi.org/10.1007/s10534-010-9341-1
Received:

Accepted:

Published:

Issue Date:

DOI: https://doi.org/10.1007/s10534-010-9341-1
Keywords