Abstract
Ecosystem fires are stochastic and anthropogenic phenomena that affect critical soil processes. Nevertheless, environmental managers, policy-makers, and even scientists have often overlooked the induced transformations that fire does to soil organic matter (SOM), which sustains an ecosystem's overall health. Here, we investigated the effects of simulated fire conditions on bulk SOM, water-extractable organic matter (WEOM), and vulnerability to microbial degradation. Sequential thermal decomposition experiments were carried out to investigate the effect of increasing temperature on C, N, δ13C, and δ15N of bulk SOM and WEOM. A microbial decomposition experiment was also done to determine the effects of burning on SOM degradability. Intermediate-intensity burns caused significant decreases in C and N concentrations in soils, as well as alterations in bulk SOM and WEOM properties. Conversely, the effects of low-intensity burns were less apparent in terms of bulk SOM content and stable C and N isotope composition. However, the results of the microbial decomposition experiment revealed that low-intensity burning resulted in elevated CO2 emission that were significantly correlated with C concentration, δ13C values, and the C/N ratio of WEOM. These results provide evidence that low-intensity burning can have important consequences for soils, altering its organic components and releasing significant amounts of greenhouse gases. Thus, particular focus must be given to managing ecosystem fires and evaluating their impacts, especially because fire is still widely used in agriculture and forest management with frequency projected to increase in the coming years.
Access options
Buy single article
Instant access to the full article PDF.
USD 39.95
Price excludes VAT (USA)
Tax calculation will be finalised during checkout.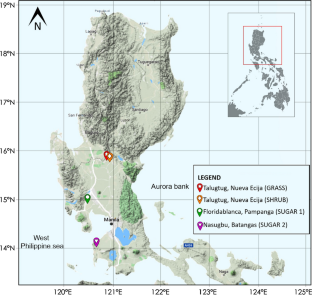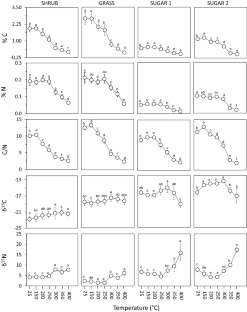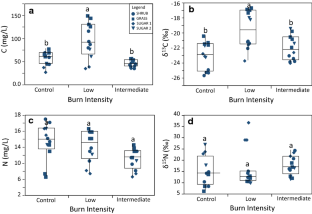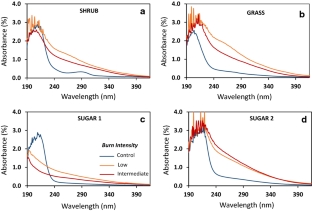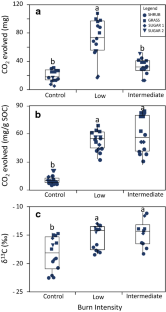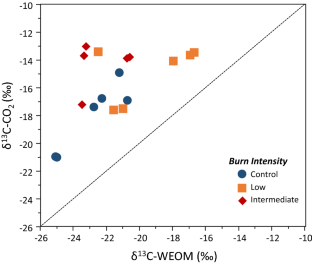 References
Adkins J, Sanderman J, Miesel J (2019) Soil carbon pools and fluxes vary across a burn severity gradient three years after wildfire in Sierra Nevada mixed-conifer forest. Geoderma 333:10–22

Alcañiz M, Outeiro L, Francos M, Úbeda X (2018) Effects of prescribed fires on soil properties: a review. Sci Total Environ 613–614:944–957. https://doi.org/10.1016/j.scitotenv.2017.09.144

Almendros G, González-Vila FJ, Martin F (1990) Fire-induced transformation of soil organic matter from an oak forest: an experimental approach to the effects of fire on humic substances. Soil Sci 149(3):158–168. https://doi.org/10.1097/00010694-199003000-00005

Araya SN, Fogel ML, Berhe AA (2017) Thermal alteration of soil organic matter properties: a systematic study to infer response of Sierra Nevada climosequence soils to forest fires. Soil 3:31–44. https://doi.org/10.5194/soil-3-31-2017

Araya SN, Meding M, Berhe AA (2016) Thermal alteration of soil physico-chemical properties: a systematic study to infer response of Sierra Nevada climosequence soils to forest fires. Soil 2:351–366

Asada T, Warner B, Aravena R (2005) Effects of the early stage of decomposition on change in carbon and nitrogen isotopes in Sphagnum litter. J Plant Interact 1(4):229–237. https://doi.org/10.1080/17429140601056766

Badía D, Martí C (2003) Plant ash and heat intensity effects on chemical and physical properties of two contrasting soils. Arid Land Res Manag 17(1):23–41. https://doi.org/10.1080/15324980301595

Badía D, Martí C, Aguirre AJ, Aznar JM, González-Pérez JA, De la Rosa JM, Ibarra P, Echeverría T (2014) Wildfire effects on nutrients and organic carbon of a Rendzic Phaeozem in NE Spain: changes at cm-scale topsoil. CATENA 113:267–275

Balaria A, Johnson CE, Xu Z (2009) Molecular-scale characterization of hot-water-extractable organic matter in organic horizons of a forest soil. Soil Sci Soc Am 73(3):812. https://doi.org/10.2136/sssaj2008.0075

Barančíková G, Jarzykiewicz M, Gömöryová E, Tobiašová E, Litavec T (2018) Changes in forest soil organic matter quality affected by windstorm and wildfire. J Soil Sediment 18(8):2738–2747. https://doi.org/10.1007/s11368-018-1942-2

Bausenwein U, Gattinger A, Langer U, Embacher A, Hartmann HP, Sommer M, Munch JC, Schloter M (2008) Exploring soil microbial communities and soil organic matter: variability and interactions in arable soils under minimum tillage practice. Appl Soil Ecol 40(1):67–77. https://doi.org/10.1016/j.apsoil.2008.03.006

Boegelsack N, Withey J, Sullivan GO, Mcmartin D (2018) A critical examination of the relationship between wildfires and climate change with consideration of the human impact. J Environ Prot 9(5):461–467. https://doi.org/10.4236/jep.2018.95028

Certini G (2005) Effects of fire on properties of forest soils: a review. Oecologia 143(1):1–10. https://doi.org/10.1007/s00442-004-1788-8

Cheng CH, Lehman J, Thies JE, Burton SD, Engelhard MH (2006) Oxidation of black carbon by biotic and abiotic processes. Org Geochem 37(11):1477–1488. https://doi.org/10.1016/j.orggeochem.2006.06.022

Corvasce M, Zsolnay A, D'Orazio V, Lopez R, Miano TM (2006) Characterization of water extractable organic matter in a deep soil profile. Chemosphere 62(10):1583–1590. https://doi.org/10.1016/j.chemosphere.2005.07.065

Czimczik CI, Preston CM, Schmidt MWI, Werner RA, Schulze ED (2002) Effects of charring on mass, organic carbon, and stable carbon isotope composition of wood. Org Geochem 33(11):1207–1223. https://doi.org/10.1016/S0146-6380(02)00137-7

Davidson EA, De Abreu Sá TD, Reis Carvalho CJ, De Oliveira FR, Kato M, Do SA, Kato OR, Ishida FY (2008) An integrated greenhouse gas assessment of an alternative to slash-and-burn agriculture in eastern Amazonia. Global Change Biol 14(5):998–1007. https://doi.org/10.1111/j.1365-2486.2008.01542.x

De Oliveira AS, Rajão RG, Filho BSS, Oliveira U, Santos LRS, Assunção AC, De Lima LS (2019) Economic losses to sustainable timber production by fire in the Brazilian Amazon. Geogr J 185(1):55–67. https://doi.org/10.1111/geoj.12276

Doerr SH, Santin C (2016) Global trends in wildfire and its impacts: perceptions versus realities in a changing world. Philos Trans R Soc B 371(1696):20150345. https://doi.org/10.1098/rstb.2015.0345

Doerr SH, Shakesby RA, Blake WH, Chafer CJ, Humphreys GS, Wallbrink PJ (2006) Effects of differing wildfire severities on soil wettability and implications for hydrological response. J Hydrol 319(1–4):295–311. https://doi.org/10.1016/j.jhydrol.2005.06.038

Dunn PH, DeBano LF, Eberlein GE (1979) Effects of burning on chaparral soils: II. Soil microbes and nitrogen mineralization. Soil Sci Soc Am 43(3):509–514. https://doi.org/10.2136/sssaj1979.03615995004300030016x

Fernández I, Cabaneiro A, Carballas T (1997) Organic matter changes immediately after a wildfire in an atlantic forest soil and comparison with laboratory soil heating. Soil Biol Biochem 29(1):1–11. https://doi.org/10.1016/S0038-0717(96)00289-1

Frandsen WH, Hartford RA (1990) Ground fire tem- peratures. Missoula, MT: U.S. Department of Agricul- ture, Forest Service, Intermountain Research Station. 8 p. Editorial draft.

Ghuman BS, Lal R (1989) Soil temperature effects of biomass burning in windrows after clearing a tropical rainforest. Field Crops Res 22(1):1–10

Giovannini G, Lucchesi S, Giachetti M (1988) Effect of heating on some physical and chemical parameters related to soil aggregation and erodibility. Soil Sci 146(4):255–261.

González-Pérez JA, González-Vila FJ, Almendros G, Knicker H (2004) The effect of fire on soil organic matter. A Rev Environ Int 30(6):855–870. https://doi.org/10.1016/j.envint.2004.02.003

Grosso F, Temussi F, De Nicola F (2014) Water-extractable organic matter and enzyme activity in three forest soils of the Mediterranean area. Eur J Soil Biol 64:15–22. https://doi.org/10.1016/j.ejsobi.2014.06.003

Guigue J, Mathieu O, Lévêque J, Mounier S, Laffont R, Maron PA, Navarro N, Chateau C, Amiotte-Suchet P, Lucas Y (2014) A comparison of extraction procedures for water-extractable organic matter in soils. Eur J Soil Sci 65(4):520–530. https://doi.org/10.1111/ejss.12156

Guigue J, Lévêque J, Mathieu O, Schmitt-Kopplin P, Lucio M, Arrouays D, Jolivet C, Dequiedt S, Chemidlin Prévost-Bouré N, Ranjard L (2015) Water-extractable organic matter linked to soil physico-chemistry and microbiology at the regional scale. Soil Biol Biochem 84:158–167. https://doi.org/10.1016/j.soilbio.2015.02.016

Hamkalo Z, Bedernichek T (2014) Total, cold and hot water extractable organic carbon in soil profile: Impact of land-use change. Zemdirbyste 101(2):125–132. https://doi.org/10.13080/z-a.2014.101.016

Helms JR, Stubbins A, Ritchie JD, Minor EC, Kieber DJ, Mopper K (2008) Absorption spectral slopes and slope ratios as indicators of molecular weight, source, and photobleaching of chromophoric dissolved organic matter. Limnol Oceanogr 53(3):955–969. https://doi.org/10.4319/lo.2008.53.3.0955

Huber E, Bell TL, Adams MA (2013) Combustion influences on natural abundance nitrogen isotope ratio in soil and plants following a wildfire in a sub-alpine ecosystem. Oecologia 173(3):1063–1074. https://doi.org/10.1007/s00442-013-2665-0

Janzen C, Tobin-Janzen T (2008) Microbial communities in fire-affected soils. In: Dion P, Nautiyal CS (eds) Microbiology of extreme soils. Springer, Berlin, pp 299–316

Jian M, Berhe AA, Berli M, Ghezzehei TA (2018a) Vulnerability of physically protected soil organic carbon to loss under low severity fires. Front Envi Sci 6:1–12. https://doi.org/10.3389/fenvs.2018.00066

Jian M, Berli M, Ghezzehei TA (2018b) Soil structural degradation during low-severity burns. Geophys Res Lett 45(11):5553–5561. https://doi.org/10.1029/2018GL078053

Jordán A, Zavala LM, Mataix-Solera J, Nava AL, Alanís N (2011) Effect of fire severity on water repellency and aggregate stability on Mexican volcanic soils. CATENA 84(3):136–147. https://doi.org/10.1016/j.catena.2010.10.007

Jorgensen JR, Wells CG (1971) Apparent nitrogen fixation in soil influenced by prescribed burning. Soil Sci Soc Am 35(5):806. https://doi.org/10.2136/sssaj1971.03615995003500050047x

Kang BT, Sajjapongse A (1980) Effect of heating on properties of some soils from southern Nigeria and growth of rice. Plant Soil 55(1):85–95

Keiluweit M, Nico PS, Johnson M, Kleber M (2010) Dynamic molecular structure of plant biomass-derived black carbon (biochar). Environ Sci Technol 44(4):1247–1253. https://doi.org/10.1021/es9031419

Knicker H (2007) How does fire affect the nature and stability of soil organic nitrogen and carbon? A Rev Biogeochem 85(1):91–118. https://doi.org/10.1007/s10533-007-9104-4

Lal R (2008) Sequestration of atmospheric CO2 in global carbon pools. Energy Environ Sci 1(1):86–100. https://doi.org/10.1039/B809492F

Liu Y, Stanturf J, Goodrick S (2010) Trends in global wildfire potential in a changing climate. For Ecol Manag 259(4):685–697. https://doi.org/10.1016/j.foreco.2009.09.002

Massman WJ, Frank JM, Reisch NB (2008) Long-term impacts of prescribed burns on soil thermal conductivity and soil heating at a Colorado Rocky Mountain site: a data/model fusion study. Int J Wildland Fire 17(1):131–146

Mataix-Solera J, Cerdà A, Arcenegui V, Jordán A, Zavala LM (2011) Fire effects on soil aggregation: a review. Earth-Sci Rev 109(1–2):44–60. https://doi.org/10.1016/j.earscirev.2011.08.002

Mataix-Solera J, Gómez I, Navarro-Pedreño J, Guerrero C, Moral R (2002) Soil organic matter and aggregates affected by wildfire in a Pinus halepensis forest in a Mediterranean environment. Int J Wildland Fire 11(2):107–114. https://doi.org/10.1071/WF02020

Mickler RA, Welch DP, Bailey AD (2017) Carbon emissions during wildland fire on a North American temperate peatland. Fire Ecol 13(1):34–57. https://doi.org/10.4996/fireecology.1301034

Moritz MA, Batllori E, Bradstock RA, Gill AM, Handmer J, Hessburg PF, Leonard J, McCaffrey S, Odion DC, Schoennagel T, Syphard AD (2014) Learning to coexist with wildfire. Nature 515(7525):58–66. https://doi.org/10.1038/nature13946

Moritz MA, Parisien MA, Batllori E, Krawchuck MA, Van Dorn J, Ganz D, Hayhoe K (2012) Climate change and disruptions to global fire activity. Ecosphere 3(6):1–22. https://doi.org/10.1890/ES11-00345.1

Neary DG, Ryan KC, DeBano LF (2005) Wildland fire in ecosystems: Effects of fire on soils and water. Gen Tech Rep RMRS-GTR-42-vol. 4. US Department of Agriculture, Ogden.

Neary DG, Klopatek CC, DeBano LF, Ffolliott PF (1999) Fire effects on belowground sustainability: a review and synthesis. For Ecol Manag 122(1–2):51–71

Norwood MJ, Louchouarn P, Kuo LJ, Harvey OR (2013) Characterization and biodegradation of water-soluble biomarkers and organic carbon extracted from low temperature chars. Org Geochem 56:111–119. https://doi.org/10.1016/j.orggeochem.2012.12.008

Ohno T, Parr TB, Gruselle MI, Fernandez IJ, Sleighter RL, Hatcher PG (2014) Molecular composition and biodegradability of soil organic matter: A case study comparing two New England forest types. Environ Sci Technol 48:7229–7236. https://doi.org/10.1021/es405570c

Prieto-Fernandez A, Villar MC, Carballas M, Carballas T (1993) Short-term effects of a wildfire on the nitrogen status and its mineralization kinetics in an atlantic forest soil. Soil Biol Biochem 25(12):1657–1664. https://doi.org/10.1016/0038-0717(93)90167-A

Ross DS, Bailey SW, Lawrence GB, Shanley JB, Fredriksen G, Jamison AE, Brousseau PA (2011) Near-surface soil carbon, carbon/nitrogen ratio, and tree species are tightly linked across Northeastern United States watersheds. Forest Sci 57(6):460–469. https://doi.org/10.1093/forestscience/57.6.460

Saito L, Miller WW, Johnson DW, Qualls RG, Provencher L, Carroll E, Szameitat P (2007) Fire effects on stable isotopes in a Sierran forested watershed. J Environ Qual 36(1):91–100

Santos F, Russell D, Berhe AA (2016) Thermal alteration of water extractable organic matter in climosequence soils from the Sierra Nevada, California. J Geophys Res-Biogeo 121:2877–2885. https://doi.org/10.1002/2016JG003597

Scholze M, Knorr W, Arnell NW, Prentice IC (2006) A climate-change risk analysis for world ecosystems. Proc Natl Acad Sci USA 103(35):13116–13120. https://doi.org/10.1073/pnas.0601816103

Serrasolsas I, Khanna PK (1995) Changes in heated and autoclaved forest soils of S. E. Australia. I. Carbon and nitrogen. Biogeochemistry 29(1):3–24

Sertsu SM, Sánchez PA (1978) Effects of heating on some changes in soil properties in relation to an Ethiopian land management practice 1. Soil Sci Soc Am J 42(6):940–944

Sun HY, Koal P, Gerl G, Schroll R, Joergensen RG, Munch JC (2017) Water-extractable organic matter and its fluorescence fractions in response to minimum tillage and organic farming in a Cambisol. Chem Biol Technol Agric 4:1–11. https://doi.org/10.1186/s40538-017-0097-5

Tschakert P, Coomes OT, Potvin C (2007) Indigenous livelihoods, slash-and-burn agriculture, and carbon stocks in Eastern Panama. Ecol Econ 60(4):807–820. https://doi.org/10.1016/j.ecolecon.2006.02.001

Varela ME, Benito E, Keizer JJ (2010) Effects of wildfire and laboratory heating on soil aggregate stability of pine forests in Galicia: the role of lithology, soil organic matter content and water repellency. CATENA 83(2–3):127–134. https://doi.org/10.1016/j.catena.2010.08.001

Withey K, Berenguer E, Palmeira AF, Espírito-Santo FD, Lennox GD, Silva CV, Aragao LE, Ferreira J, França F, Malhi Y, Rossi LC (2018) Quantifying immediate carbon emissions from El Niño-mediated wildfires in humid tropical forests. Philos Trans R Soc London 373(1760):20170312. https://doi.org/10.1098/rstb.2017.0312

Zhang Y, Biswas A (2017) The effects of forest fire on soil organic matter and nutrients in boreal forests of North America: a review. In: Rakshit A, Abhilash PC, Singh HB, Ghos S (eds) Adaptive soil management: from theory to practices. Springer, Singapore, pp 465–476
Acknowledgements
This study was funded by the Department of Science and Technology- Philippine Council for Agriculture, Aquatic and Natural Resources Research and Development (DOST-PCAARRD) through the establishment of a new isotope ratio mass spectrometry facility in the Philippine Nuclear Research Institute. G.P. Dicen was also supported by the DOST-Science Education Institute's Career Incentive Program in the conduct of this research. We thank the International Atomic Energy Agency RAS5084 Project through Mr. Efren J. Sta Maria for allowing us to process some of the samples for use in this research. We also extend our deepest gratitude to our student interns from the Philippine Normal University, Mss. Rianne Joy Maulion and Aishan Joy Israel, who kindly assisted us in some of the analyses in this study. Finally, we thank the anonymous reviewers for reviewing our manuscript in detail and for providing us with invaluable comments that greatly improved the quality of our paper, as well as Dr. Elizabeth Sargent of Georgia Southern University and Dr. Rotacio Gravoso of the Visayas State University for reviewing the final draft of our manuscript.
Additional information
Publisher's Note
Springer Nature remains neutral with regard to jurisdictional claims in published maps and institutional affiliations.
Responsible Editor: Steven Perakis.
About this article
Cite this article
Dicen, G.P., Rallos, R.V., Labides, J.L.R. et al. Vulnerability of soil organic matter to microbial decomposition as a consequence of burning. Biogeochemistry 150, 123–137 (2020). https://doi.org/10.1007/s10533-020-00688-1
Received:

Accepted:

Published:

Issue Date:

DOI: https://doi.org/10.1007/s10533-020-00688-1
Keywords
Carbon emission

Fire

Greenhouse gases

Soil organic matter microbial decomposition

Stable isotopes

Water-extractable organic matter