Before the storm: antecedent conditions as regulators of hydrologic and biogeochemical response to extreme climate events
Abstract
While the influence of antecedent conditions on watershed function is widely recognized under typical hydrologic regimes, gaps remain in the context of extreme climate events (ECEs). ECEs are those events that far exceed seasonal norms of intensity, duration, or impact upon the physical environment or ecosystem. In this synthesis, we discuss the role of source availability and hydrologic connectivity on antecedent conditions and propose a conceptual framework to characterize system response to ECEs at the watershed scale. We present four case studies in detail that span a range of types of antecedent conditions and type of ECE to highlight important controls and feedbacks. Because ECEs have the potential to export large amounts of water and materials, their occurrence in sequence can disproportionately amplify the response. In fact, multiple events may not be considered extreme in isolation, but when they occur in close sequence they may lead to extreme responses in terms of both supply and transport capacity. Therefore, to advance our understanding of these complexities, we need continued development of a mechanistic understanding of how antecedent conditions set the stage for ECE response across multiple regions and climates, particularly since monitoring of these rare events is costly and difficult to obtain. Through focused monitoring of critical ecosystems during rare events we will also be able to extend and validate modeling studies. Cross-regional comparisons are also needed to define characteristics of resilient systems. These monitoring, modeling, and synthesis efforts are more critical than ever in light of changing climate regimes, intensification of human modifications of the landscape, and the disproportionate impact of ECEs in highly populated regions.
Keywords
Extreme climate event 
Hydrology 
Sediment 
Nutrients 
Antecedent conditions 
Introduction
Extreme climate events (ECEs) refer to the occurrence of weather or climate conditions that fall far outside of seasonal norms of intensity, duration, or impact upon the physical environment or ecosystem processes (Melillo et al. 2014; Smith 2011). Some of the most visible ECEs involve extremes in precipitation, such as hurricanes, large thunderstorms, and ice/snow storms (McDowell et al. 2013; Rustad and Campbell 2012; Vidon et al. 2018). However, extreme hydrologic and biogeochemical responses may also be generated by ECEs that do not involve significant precipitation, such as heat waves, droughts, unexpected frost/freeze events, and climate-related perturbations, such as wildfire. In some cases, the ECE may actually be an antecedent condition that strongly influences the later hydrological or biogeochemical response to routine storm events.
Antecedent conditions within a watershed prior to an ECE are determined by recent and historical human activities on the landscape, preceding weather conditions, and other ecosystem disturbances, which in turn influence the watershed's response. While the influence of antecedent conditions on hydrologic and materials export from watersheds under more common conditions have frequently been the focus of study (e.g., Biron et al. 1999; Turgeon and Courchesne 2008), gaps remain in the application of this knowledge base to ECEs, particularly in the context of multiple extreme events occurring in sequence. When a second ECE occurs before the landscape or ecosystem has recovered from a prior ECE, there may be serious implications for long-term ecosystem resilience (e.g. Havens et al. 2016). Ecological resilience was originally defined as the magnitude of disturbance that a system can experience before it shifts into an alternate state (Holling 1973) and modified to include the concept of reorganization such that the system returns to the same function, structure, identify, and feedbacks following disturbance (Folke et al. 2004). Here, we further focus our discussion of hydrologic and biogeochemical resilience on the size of water and material pools within the watershed and the subsequent input and output rates, which are strongly linked to vegetation and landscape structure (Turner et al. 1993; McLauchlan et al. 2014).
Because ECEs are disturbance events by definition, they regulate short-term responses, such as nutrient cycling and carbon storage, but also long-term productivity and soil development. While a single ECE can have a significant impact on human health and safety, landscape stability, and ecosystem function, responses can be altered or amplified when ECEs occur in succession and produce cascading effects (Kappes et al. 2012). For example, Hurricanes Irma and Maria occurred in sequence in 2017 and had devastating effects upon Puerto Rico, Turks and Caicos Islands and other Caribbean islands. Similarly, Vidon et al. 2018 show the impacts of Hurricane Irene and Tropical Storm Lee (which occurred within 2 weeks of each other in August/September 2011) on water quality along the eastern coast of the continental United States. The sequence of events yielded high rainfall totals, which mobilized typically stable sediment pools and triggered high particulate loads in many rivers that persisted for months to years (Yellen et al. 2016; Vidon et al. 2018).
Here we present a conceptual synthesis of the effects of antecedent conditions on hydrologic and biogeochemical response, including the effects of extreme precipitation events that follow long-term sediment deposition in river valleys (Inamdar et al. 2017), periods of drought (Loecke et al. 2017), wildfire (Murphy et al. 2015), and wet antecedent conditions (Rose et al. 2018). This framework is supported by case studies that illustrate the complexity in the type of conditions that precede the ECE and the temporal scales upon which they act. In this synthesis, we focus on the hydrological and biogeochemical response at the watershed scale, particularly related to water, solute and sediment export. We frame our discussion in the context of short- and long-term conditions that either amplify or dampen the response. We begin by providing a brief overview of the effects that antecedent conditions have on water and material export associated with storm events in general, and propose a unifying framework to apply these to ECEs. We follow with a synthesis of reported studies that specifically link the impact of ECEs with antecedent conditions and present four case studies that highlight scenarios where antecedent conditions are primary controls on ECE impacts. In the coming decades, ECEs are expected to occur at greater frequency and intensity, and in locations that may have not previously experienced them in the past (Melillo et al. 2014). Placing these ECEs in the context of antecedent conditions provides actionable knowledge as we seek to manage natural and human influenced landscapes for increased resilience.
Role of antecedent conditions
Antecedent conditions strongly influence the size and location of the mobile pool of water, the concentration/speciation of constituents in the water, the timing and magnitude of downstream transport, and the potential for transformation during or prior to transport (e.g., Lintern et al.
2017
). Antecedent conditions can drive watershed export of water and constituents for two main reasons: (1) they influence availability of water and constituents (nutrients, pollutants, sediment, and dissolved organic carbon (DOC)), or "source availability" and (2) they strongly impact which hydrologic flowpaths are activated, or "hydrologic connectivity" (Fig. 
1
). Antecedent conditions can play a role at multiple time scales. Both source availability and hydrologic connectivity can be modified over short time scales, such as during a series of precipitation events or seasonal shifts in the release or uptake of water and constituents (e.g., Macrae et al.
2010
). Underlying this are long-term drivers, such as disturbance regimes, changes in climate, successional stage of vegetation, and level of human alteration to the landscape, such as land use history, drainage infrastructure, levees that change river network connectivity (e.g., Carpenter et al.
2018
). Long-term drivers can alter not only source availability and connectivity, but also the hydrologic architecture that determines how flowpaths change with wetness conditions and water inputs.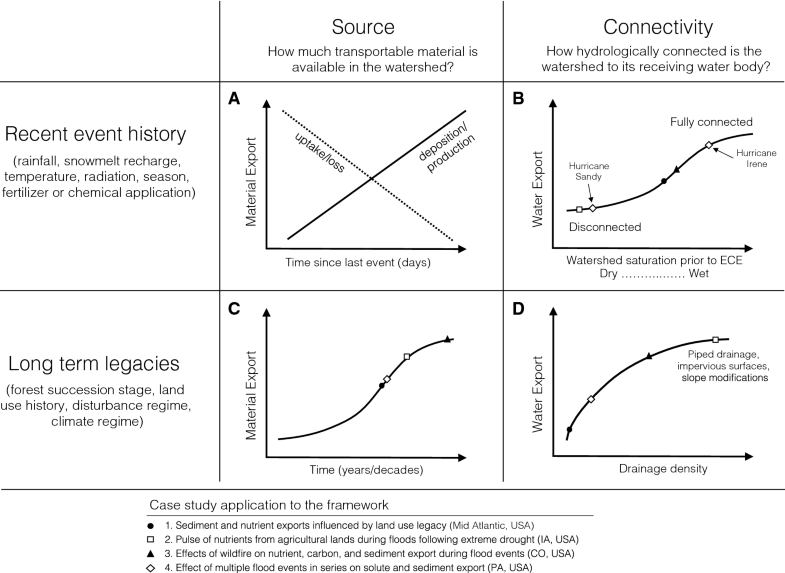 The infrequency and intensity of ECEs present great challenges toward documenting and understanding the effects of antecedent conditions on hydrological and biogeochemical responses. Extrapolating the effects of antecedent conditions during typical hydrologic events to ECEs has large uncertainty but fundamentally depends upon source availability and hydrologic connectivity. While we base our hypotheses on responses to more common or typical events, responses to ECEs may differ substantially. For example, under typical storm conditions it is well known that runoff and flooding are highly sensitive to initial soil moisture (e.g. Dingman 2015; Brocca et al. 2015). However, the sensitivity of flooding to antecedent soil moisture tends to be lower for larger storms (e.g. Zehe and Blöschl 2004; Grillakis et al. 2016), so extrapolation to ECEs is not straightforward. Very high precipitation during an ECE could lead to soils becoming fully saturated in the early stages of the ECE, and therefore hydrologic response may be less sensitive to soil moisture later in the ECE. As discussed in Sects. "Source availability" and "Hydrologic connectivity", entirely new sources of transportable material and new pathways of hydrologic connectivity, not activated during typical storm events, may be established during ECEs. The potential nonlinear responses in terms of both source availability and hydrologic processes suggest that linear extrapolation from typical storm responses are likely not accurate for ECEs.
Source availability
The scale of ECE impact on hydrology and biogeochemical fluxes is driven by the amount of transportable constituents within the terrestrial landscape at the time of the event, which is largely driven by the legacy of inputs. For example, the agricultural application of fertilizer at levels that exceed the ability of crops to remove added nutrients can result in accumulation of nitrogen and phosphorus in the soil (Sharpley et al. 2013). Such an accumulation may occur over a short-term period following unexpectedly low crop yield caused by drought or flooding (Randall and Mulla 2001) or after multiple years of inputs of a particular element in excess of demand. Such an example has been observed in locations where manure has been applied as the primary nitrogen source to field crops. Long-term accumulations of phosphorus commonly results, given the low N:P ratio of manure in relation to demand of most plants (Eghball and Power 1999; Sharpley et al. 2013). Accumulation over time, when export is limited, can theoretically lead to an infinite supply. Such accumulation may take decades or longer to be depleted, so short-term antecedent conditions and average-sized export events may have little effect on the size of this pool (Basu et al. 2010). High inputs of water during extreme-precipitation ECEs can connect multiple and distant source areas within the catchment and may amplify export. Conversely, large storms in series may deplete mobile pools of reactive solutes, thereby changing a predominantly transport-limited system (increased concentration and yield with increased flow) to a source-limited system (dilution of instream concentrations and reduced yield with similar increase in flow; e.g., Dhillon and Inamdar 2013).
Antecedent conditions also influence the relative amounts, bioavailability, and export potential of different forms of reactive solutes (e.g., dissolved versus particulate, organic and inorganic). Extreme droughts can enhance this effect, as demonstrated by the buildup of nitrate via nitrification in dry surface soils in the agricultural Midwest (Sect. "Pulse of nutrients from agricultural lands during floods following extreme drought"; Loecke et al. 2017). Dry antecedent conditions lead to mineralization of organic carbon and nitrification of ammonium, creating a pool of DOC and NO3− that can be more readily flushed from near surface soils during a storm event (this is discussed in detail in the case studies presented in Sect. "Case studies"). Phosphorus pools can also be greatly affected by short-term antecedent conditions. Phosphorus can be loosely sorbed to soil particles and released during short periods of flushing when soils become temporarily anoxic, thereby depleting the pool of transportable P. However, more tightly bound P associated with iron and aluminum oxides is only released during prolonged periods of flooding, which can persist following ECEs (Young and Ross 2001; Amarawansha et al. 2015).
Antecedent conditions can also influence the potential for transformation of reactive solutes. During high-flow events, within-storm retention and transformation occurs as constituents are deposited or transformed along hydrologic flow paths. It is well established that terrestrial and riverine locations that slow the movement of water and allow time for transformation may reduce export (e.g., McClain et al. 2003). These may be natural or constructed depressions in the landscape (e.g., wetlands) or complexities within the channel (e.g., hyporheic flow through bioreactive streambed sediments). The effectiveness of constituent reduction in these locations will vary as a function of residence time and the fraction of stormflow moving through them. Some transformation may even occur during storms, when natural and human structures such as dams, riparian areas, and floodplains store material and reduce export (Noe and Hupp 2005; Wohl et al. 2017; McMillan and Noe 2017).
Hydrologic connectivity
The importance of antecedent precipitation in determining hydrologic connectivity is well established and presented in most hydrology textbooks (e.g. Dingman 2015), although the precise formulation of the relationship between surface connectivity (through surface runoff), subsurface connectivity (through shallow lateral or groundwater flow), and antecedent precipitation varies widely with location and meteorologic forcing conditions (Heggen 2001). In general, hydrologic connectivity of a watershed increases with the magnitude and intensity of precipitation inputs (Bracken et al. 2013). Analysis of hillslope-scale connectivity argues for "fill and spill" mechanisms that suggest highly non-linear threshold type relationships between wetness and spatial connectivity (Tromp-van Meerveld and McDonnell 2006; Lehmann et al. 2007). In cases where this mechanism applies, antecedent wetness conditions will determine the amount of water needed during a storm to reach the "spill" threshold.
Wet antecedent conditions generally increase the extent to which storm water inputs expand flowpath connectivity independent of storm size (Bracken et al. 2013). However, hydrologic control on the export of dissolved and suspended constituents is closely tied to source availability (e.g. Godsey et al. 2009; Maher 2011) and this relationship is complex, highly variable across landscape types, and often difficult to quantify. In watersheds with relatively large pools of exportable constituents (e.g., nutrients, sediment) and homogenous spatial distributions, predictable and often linear relationships exist between flow and export (Basu et al. 2010). However, when the source pool of that material is unevenly distributed throughout the watershed, spatial hydrologic connectivity will vary as a function of antecedent conditions, resulting in non-proportional and non-linear relationships between discharge, concentration, and export (Ali et al. 2017). If multiple precipitation events occur in close succession, storage areas in the subsurface and in surface waters can be filled, resulting in larger volumetric export. If such "fill and spill" water storage areas coincide with areas in watersheds where constituents of interest accumulate (e.g., nutrients in spatially isolated wetlands), then large increases in both concentration and yield can be anticipated when hydrologic connection occurs. Conversely, if a pool of constituents is small in areas with high hydrologic storage, then during times of hydrologic connection (e.g. melting of a large snowpack or ice), dilution is likely, and multiple precipitation events may act to deplete pools of materials so constituent yield decreases.
The classic "flushing" hypothesis (Hornberger et al. 1994) suggests that high constituent concentrations at the watershed outlet during storm events reflect a shift in hydrologic flowpaths to "new" sources that have not been recently "flushed" or depleted. In other words, as a hillslope or watershed "wets up," new areas become hydrologically connected to streamflow and these areas are more likely, all else being equal, to have high source availability. Repeated storm events, or even later periods in a given storm event, will ultimately show dilution in export concentrations as these "new" sources become depleted. The rate at which this depletion occurs depends on a variety of watershed hydro-geologic and biological properties and the background amount and distribution of sources (Weiler and McDonnell 2006). For example, alternating between dry and wet states may ultimately increase N-export during an event if a preceding dry period allows for buildup of reactive solutes due to reduced uptake or biogeochemical transformation (Greaver et al. 2016). Source depletion combined with intensive overland flow caused similar patterns in DOC concentrations from tropical wet forests following multiple hurricanes in Puerto Rico (Hugo in 1989, Hortense in 1996, Georges in 1998) with concentrations initially increasing with flow but then decreasing at the highest flows (Shanley et al. 2011).
Antecedent conditions can also affect more nuanced aspects of transport through watersheds by influencing the dominant biogeochemical and physical processes. Drying of fine textured soils can lead to shrinking and cracking, creating pathways for more rapid preferential flow from the surface and movement of dissolved solutes, such as DOC, NO3−, and soluble reactive phosphorus, to deeper soils or to receiving streams (Simard et al. 2000). In human-modified landscapes, modified drainage (e.g., tile drains in agriculture and stormwater collection systems in urban land uses) exacerbates these preferential flows resulting in rapid delivery to receiving waters (Randall et al. 1997). In vegetated natural landscapes, ECEs such as wildfires remove vegetation and can lead to hyper-dry soil conditions, thereby reducing infiltration and increasing overland flow (Ebel et al. 2012; Moody and Ebel 2012). A similar reduction in subsurface flow occurs annually in northern climates, linked to soil temperature and the significant reduction in infiltration rate observed with freezing (Zhao et al. 1997). Freezing of soil may reduce potential for upland erosion and transport of particulate material (Hansen et al. 2002), but high transport rates of dissolved materials present at the soil surface are likely to be observed when ECEs occur in watersheds with frozen soil conditions (e.g. phosphorus; Liu et al. 2013).
In summary, antecedent conditions can alter source availability and hydrologic connection in ways that influence the responses to ECEs. This of course is true for all events, but ECEs are by definition less frequent and more intense than typical conditions (Smith 2011), and thus the importance of antecedent conditions may be magnified. Because extreme-precipitation ECEs have the potential to export large amounts of water and materials, spatial patterns of source availability and the longer-term antecedent conditions that influence source magnitudes may be more critical. ECEs also have greater potential to connect locations within the watershed that are less frequently connected. The strong non-linearity may mean that ECEs are either less or more sensitive to antecedent wetness. If storage zones within watersheds are well connected because of recent events and wet antecedent conditions, then only moderate amounts of additional precipitation may be needed to reach critical thresholds and can result in a disproportionately large response to rainfall. The relative higher water input intensity associated with ECEs will likely lead to high connectivity regardless of antecedent conditions. However, in less connected or arid environments, antecedent conditions are more likely to determine the extent of connectivity even in the case of large amounts of water inputs during ECEs.
Recovery and return to pre-disturbance condition
Recovery of hydrologic and biogeochemical function following an ECE will vary depending on human (e.g., current and prior land use) and natural (e.g., geology, vegetation, climate) factors, and also on recent and historical occurrence of ECEs and other disturbance events (Ebel and Mirus 2014; McDowell et al. 2013; McDowell and Liptzin 2014). In some cases, ECEs reset the physical structure of the ecosystem and irreversible thresholds are crossed leading to a new system state (Bahn et al. 2014). Thus ECEs themselves create antecedent conditions for subsequent ECEs. Our understanding of these thresholds is hindered by ongoing chronic changes in climate, availability of monitoring data before/after ECEs and tendency for experimental work to explore likely climate scenarios (e.g., 3 °C warming) rather than functional response to extreme events. Even when recovery trajectories tend towards pre-ECE states, the time scales of recovery may be long enough to influence subsequent ECE responses. A recent meta-analysis of post disturbance recovery of carbon processes in forests found that leaf area index (LAI) and other carbon variables typically require multiple decades to recover to pre-disturbance values (Fu et al. 2017). Recovery times were different based on severity and type of the disturbance. Drought recovery, for example, typically occurred within several years while fire recovery required multiple decades (Fu et al. 2017). While the link between hydrologic, biogeochemical cycling recovery and vegetation recovery can be complex, these examples highlight the multi-year time scale of vegetation recovery and suggest a long window during which the impacts of subsequent ECEs can be influenced by impacts of a prior disturbance. Repeated ECEs of similar types, such as two tropical storms, can compound hydrologically driven export of materials (Vidon et al. 2018). High hydrologic connectivity and source depletion from the first ECE can delay and alter the rate of recovery to pre-disturbance conditions following the second sequential ECE. A series of ECEs creates conditions whereby the first ECE increases system vulnerability and/or decreases resilience to the second ECE if the system is still highly wetted and connected from the first.
Climate fluctuations are predicted to increase in frequency, intensity, and duration in the next century (IPCC 2014), and thus the contributions to more extreme events to antecedent conditions must be examined more closely. Many terrestrial or ecological systems have response times that are decadal or longer, in which case the potential for the system to recover to its baseline condition before being affected by another ECE may be compromised. This can set up a legacy effect or "memory" in the system from the initial ECE, prior to the next ECE, and could set up the potential for a system to never fully recover and push it toward a threshold change or new ecological state (e.g. Havens et al. 2016; Scheffer et al. 2001; Sadro and Melack 2012). More data is critically needed to determine ecosystem-specific recovery mechanisms and identify thresholds for ecosystem functions across regions, particularly as we seek to model these responses over larger spatial and temporal scales (Bahn et al. 2014).
Case studies
The following sections illustrate the effects of antecedent conditions on hydrologic and biogeochemical response to ECEs by describing four specific case studies on sediment, nutrient and carbon export during high flow events that follow either periods of wet antecedent conditions (sequence of multiple storms), periods of drought, or wildfire.
Implications for management and direction for future research
The defining role of antecedent conditions in shaping hydrologic and biogeochemical response at the watershed scale is well studied under typical hydrological conditions. The extension of this body of work to ECEs, presented in this synthesis, reveals that similar drivers related to source availability and hydrologic connectivity are key to regulating watershed response to such events. However, the integration of these drivers over short (days to months) and long time scales (years to decades) and interaction of multiple types of ECEs creates challenges in establishing a unifying theory about response and recovery. ECEs can have different outcomes for watershed behavior based on each watershed's condition at the time of each ECE. Multiple examples of "1–2 punches" in recent history (Irene—Lee in 2011, Irma—Maria in 2017) show increased system vulnerability and/or decreased resilience to the second sequential ECE while the system is still highly wetted and connected based on the first. In addition, this synthesis shows that in isolation, an event may not be considered "extreme" but when multiple events occur in sequence, they amplify water, sediment, and nutrient exports by increasing both the supply and transport capacity in the system under consideration (e.g., large wildfires increase organic carbon supply that is transported during later storms).
While data opportunistically collected before and/or after ECEs are clearly important to understand impacts, by definition these events rarely occur, so sufficient monitoring to identify non-linear responses to ECEs would be expensive. However, long-term monitoring programs are critically needed to identify trends, provide pre-event context, characterize ecosystem-specific recovery mechanisms, and identify thresholds for ecosystem functions across regions. We have shown through multiple case studies that similar ECEs with different antecedent conditions can lead to very different impacts on hydrologic and biogeochemical responses. To capture this variability, we need continued development of a mechanistic understanding of how antecedent conditions set the stage for watershed ECE response across multiple regions and climates. Cross-regional comparisons and synthesis will help define characteristics of resilient systems and identify potential irreversible thresholds. In this context, monitoring is required during rare events to model these responses over larger spatial and temporal scales. This is more critical than ever in light of changing climate, intensification of human modifications of the landscape, and the disproportionate impact of ECEs in highly populated regions.
Through a management lens, multiple opportunities exist to affect antecedent conditions of the landscape. For example, reduction of source availability (e.g., nutrient accumulation in agricultural landscapes) and hydrologic connectivity (e.g., drainage connectivity in urban areas) is possible through regulatory and policy mechanisms. Addressing sources and connectivity will not only reduce impacts of ECEs on ecosystems, but during more typical hydrologic conditions as well.
Notes
Acknowledgements
This work is the result of discussions that were initiated at the American Geophysical Union (AGU) Chapman Conference on Extreme Climate Event Impacts on Aquatic Biogeochemical Cycles and Fluxes held in San Juan, Puerto Rico in January 2017. We greatly appreciate the support of AGU, U.S. Department of Agricultural National Institute of Food and Agriculture (Award # 2016-67019-25280), U.S. Geological Survey, National Critical Zone Observatory, and National Science Foundation EPSCoR (Award #1641157) who made this conference possible. This manuscript was greatly improved by comments by James B. Shanley.
Copyright information
© Springer Nature Switzerland AG 2018