Abstract
We generated a detailed time series of total dissolved hydrolyzable amino acids (DHAA) in a watershed dominated by irrigated agriculture in northern California, USA to investigate the roles of hydrologic and seasonal changes on the composition of dissolved organic matter (DOM). DHAA are sensitive indicators of the degradation state and reactivity of DOM. DHAA concentrations ranged from 0.55 to 9.96 μM (median 3.51 ± 1.80 μM), with expected peaks during high-discharge storms and unexpected high values throughout the low-discharge irrigation season. Overall, summer irrigation was a critical hydrologic regime for DOM cycling since it mobilized DOM similar in concentration and reactivity to DOM released during storms. Together, irrigation and storm flows exported DOM with (1) the largest DHAA contributions to the dissolved organic carbon and the dissolved organic nitrogen pools, (2) the largest proportion of basic amino acids, and (3) the lowest degradation extent based on multiple indices. In this highly disturbed terrestrial system, UV–vis absorbance did not correlate with DHAA concentrations, while classic interpretations of common amino acid indicators (e.g., proportion of basic amino acids, degradation index, percent of non-protein amino acids) were prone to conflicting characterizations of DOM reactivity. Therefore, a new parameter (processing ratio, PR) derived from individual amino acid concentrations was developed that demonstrated a strong potential for mechanistic-driven characterization of the extent of DOM diagenesis in freshwaters. Irrigated agriculture altered stream biogeochemistry by releasing a continuous supply of reactive DOM (lowest PR values), thereby providing an additional energy source to downstream ecosystems.
This is a preview of subscription content, log in to check access.
Access options
Buy single article
Instant access to the full article PDF.
US$ 39.95
Price includes VAT for USA
Subscribe to journal
Immediate online access to all issues from 2019. Subscription will auto renew annually.
US$ 199
This is the net price. Taxes to be calculated in checkout.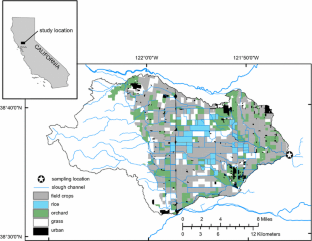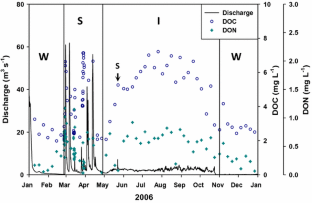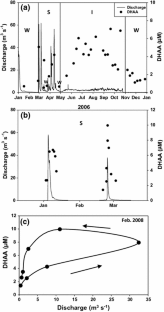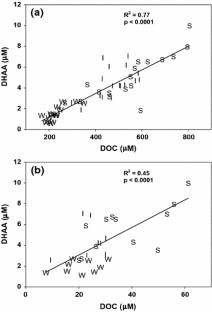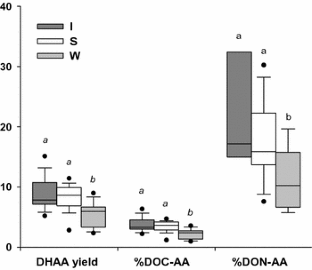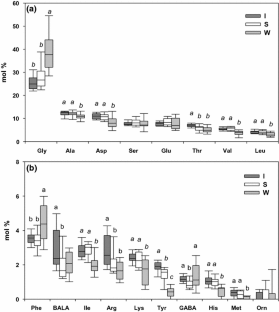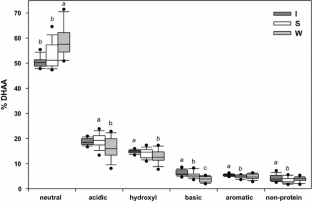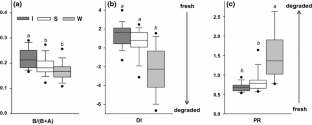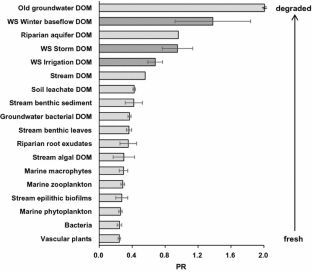 References
Amon RM, Fitznar H-P, Benner R (2001) Linkages among the bioreactivity, chemical composition, and diagenetic state of marine dissolved organic matter. Limnol Oceanogr 46(2):287–297. doi:10.4319/lo.2001.46.2.0287

Aufdenkampe AK, Hedges JI, Richey JE, Krusche AV, Llerena CA (2001) Sorptive fractionation of dissolved organic nitrogen and amino acids onto fine sediments within the Amazon Basin. Limnol Oceanogr 46(8):1921–1935. doi:10.4319/lo.2001.46.8.1921

Benner R (2003) Molecular indicators of the bioavailability of dissolved organic matter. In: Findlay S, Sinsabaugh RL (eds) Aquatic ecosystems: interactivity of dissolved organic matter. Academic Press, New York, pp 121–137

Benner R, Kaiser K (2011) Biological and photochemical transformations of amino acids and lignin phenols in riverine dissolved organic matter. Biogeochemistry 102(1–3):209–222. doi:10.1007/s10533-010-9435-4

Bothwell ML, Sherbot DM, Pollock CM (1994) Ecosystem response to solar ultraviolet-B radiation: influence of trophic-level interactions. Science 265(5168):97–101. doi:10.1126/science.265.5168.97

Chen J, Li Y, Yin K, Jin H (2004) Amino acids in the Pearl River Estuary and adjacent waters: origins, transformation and degradation. Cont Shelf Res 24(16):1877–1894. doi:10.1016/j.csr.2004.06.013

Cowie GL, Hedges JI (1992) Improved amino acid quantification in environmental samples: charge-matched recovery standards and reduced analysis time. Mar Chem 37(3–4):223–238. doi:10.1016/0304-4203(92)90079-P

Cowie GL, Hedges JI (1994) Biochemical indicators of diagenic alteration in natural organic matter mixtures. Nature 369:304–307. doi:10.1038/369304a0

Dalzell BJ, Filley TR, Harbor JM (2005) Flood pulse influences on terrestrial organic matter export from an agricultural watershed. J Geophys Res-Biogeo 110:G02011. doi:10.1029/2005JG000043

Dalzell BJ, Filley TR, Harbor JM (2007) The role of hydrology in annual organic carbon loads and terrestrial organic matter export from a midwestern agricultural watershed. Geochim Cosmochim Acta 71(6):1448–1462. doi:10.1016/j.gca.2006.12.009

Dauwe B, Middelburg JJ (1998) Amino acids and hexosamines as indicators of organic matter degradation state in North Sea sediments. Limnol Oceanogr 43(5):782–798. doi:10.4319/lo.1998.43.5.0782

Dauwe B, Middelburg JJ, Herman PMJ, Heip CHR (1999) Linking diagenetic alteration of amino acids and bulk organic matter reactivity. Limnol Oceanogr 44(7):1809–1814. doi:10.4319/lo.1999.44.7.1809

Davis J, Benner R (2007) Quantitative estimates of labile and semi-labile dissolved organic carbon in the western Arctic Ocean: a molecular approach. Limnol Oceanogr 52(6):2434–2444. doi:10.4319/lo.2007.52.6.2434

Davis J, Kaiser K, Benner R (2009) Amino acid and amino sugar yields and compositions as indicators of dissolved organic matter diagenesis. Org Geochem 40(3):343–352. doi:10.1016/j.orggeochem.2008.12.003

Ding X, Henrichs SM (2002) Adsorption and desorption of proteins and polyamino acids by clay minerals and marine sediments. Mar Chem 77(4):225–237. doi:10.1016/S0304-4203(01)00085-8

Doane TA, Horwath WR (2003) Spectrophotometric determination of nitrate with a single reagent. Anal Lett 36:2713–2722. doi:10.1081/AL-120024647

Duan S, Bianchi TS (2007) Particulate and dissolved amino acids in the lower Mississippi and Pearl Rivers (USA). Mar Chem 107(2):214–229. doi:10.1016/j.marchem.2007.07.003

DWR (2013) California Irrigation Management Information System. California Department of Water Resources. http://www.cimis.water.ca.gov/

Eckard RS, Hernes PJ, Bergamaschi BA, Stepanauskas R, Kendall C (2007) Landscape scale controls on the vascular plant component of dissolved organic carbon across a freshwater delta. Geochim Cosmochim Ac 71(24):5968–5984. doi:10.1016/j.gca.2007.09.027

Fellman JB, D'Amore DV, Hood E, Boone RD (2008) Fluorescence characteristics and biodegradability of dissolved organic matter in forest and wetland soils from coastal temperate watersheds in southeast Alaska. Biogeochemistry 88(2):169–184. doi:10.1007/s10533-008-9203-x

Florsheim JL, Pellerin BA, Oh NH, Ohara N, Bachand PAM, Bachand SM, Bergamaschi BA, Hernes PJ, Kavvas ML (2011) From deposition to erosion: spatial and temporal variability of sediment sources, storage, and transport in a small agricultural watershed. Geomorphology 132(3–4):272–286. doi:10.1016/j.geomorph.2011.04.037

Foley JA, DeFries R, Asner GP, Barford C, Bonan G, Carpenter SR, Chapin FS, Coe MT, Daily GC, Gibbs HK (2005) Global consequences of land use. Science 309(5734):570–574. doi:10.1126/science.1111772

Grace BL, Bianchi TS (2010) Sorption and desorption dynamics of bulk dissolved organic matter and amino acids in the Mississippi River plume: a microcosm study. Mar Freshwater Res 61(9):1067–1081

Graham AM, Aiken GR, Gilmour CC (2012) Dissolved organic matter enhances microbial mercury methylation under sulfidic conditions. Environ Sci Technol 46(5):2715–2723

Hedges JI, Ertel JR, Quay PD, Grootes PM, Richey JE, Devol AH, Farwell GW, Schmidt FW, Salati E (1986) Organic carbon-14 in the Amazon River system. Science 231(4742):1129–1131. doi:10.2307/1696786

Hedges JI, Bergamaschi BA, Benner R (1993) Comparative analyses of DOC and DON in natural waters. Mar Chem 41(1–3):121–134

Hedges JI, Cowie GL, Richey JE, Quay PD, Benner R, Strom M, Forsberg BR (1994) Origins and processing of organic matter in the Amazon River as indicated by carbohydrates and amino acids. Limnol Oceanogr 39(4):743–761. doi:10.4319/lo.1994.39.4.0743

Heinz M, Graeber D, Zak D, Zwirnmann E, Gelbrecht J, Pusch MT (2015) Comparison of organic matter composition in agricultural versus forest affected headwaters with special emphasis on organic nitrogen. Environ Sci Technol 49(4):2081–2090. doi:10.1021/es505146h

Helms JR, Stubbins A, Ritchie JD, Minor EC, Kieber DJ, Mopper K (2008) Absorption spectral slopes and slope ratios as indicators of molecular weight, source, and photobleaching of chromophoric dissolved organic matter. Limnol Oceanogr 53(3):955. doi:10.4319/lo.2008.53.3.0955

Hernes PJ, Spencer RGM, Dyda RY, Pellerin BA, Bachand PAM, Bergamaschi BA (2008) The role of hydrologic regimes on dissolved organic carbon composition in an agricultural watershed. Geochim Cosmochim Ac 72(21):5266–5277. doi:10.1016/j.gca.2008.07.031

Hernes PJ, Pellerin BA, Spencer RGM, Dyda RY, Matiasek SJ, Bachand PAM, Bachand S, Prentice S, Bergamaschi BA, Saraceno JF (2010) Assessment of aquatic processes and contributors to sub-basin exports: quantifying loads and assessing management strategies for reducing drinking water constituents of concern in watersheds. Final Task Report Prepared for the State Water Resources Control Board. SWRCB Project Number 04-173-555-2. Sacramento, CA

Hernes PJ, Spencer RGM, Dyda RY, Pellerin BA, Bachand PA, Bergamaschi BA (2013) DOM composition in an agricultural watershed: Assessing patterns and variability in the context of spatial scales. Geochim Cosmochim Ac 121:599–610. doi:10.1016/j.gca.2013.07.039

Hernes PJ, Spencer RGM, Dyda RY, O'Geen AT, Dahlgren RA (2017) The genesis and exodus of vascular plant DOM from an oak woodland landscape. Front Earth Sci 5:9. doi:10.3389/feart.2017.00009

Hu CM, Muller-Karger FE, Zepp RG (2002) Absorbance, absorption coefficient, and apparent quantum yield: a comment on common ambiguity in the use of these optical concepts. Limnol Oceanogr 47(4):1261–1267. doi:10.4319/lo.2002.47.4.1261

Jaffé R, Yamashita Y, Maie N, Cooper WT, Dittmar T, Dodds WK, Jones JB, Myoshi T, Ortiz-Zayas JR, Podgorski DC, Watanabe A (2012) Dissolved organic matter in headwater streams: compositional variability across climatic regions of North America. Geochim Cosmochim Ac 94:95–108. doi:10.1016/j.gca.2012.06.031

Jones and Stokes Associates (1996) Willow Slough watershed integrated resources management plan. Prepared for Yolo County Resource Conservation District, Woodland

Kaiser K, Benner R (2005) Hydrolysis-induced racemization of amino acids. Limnol Oceanogr Methods 3:318–325. doi:10.4319/lom.2005.3.318

Klotzbücher T, Kaiser K, Guggenberger G, Gatzek C, Kalbitz K (2011) A new conceptual model for the fate of lignin in decomposing plant litter. Ecology 92(5):1052–1062. doi:10.1890/10-1307.1

Kraus TE, Bergamaschi BA, Hernes PJ, Spencer RGM, Stepanauskas R, Kendall C, Losee RF, Fujii R (2008) Assessing the contribution of wetlands and subsided islands to dissolved organic matter and disinfection byproduct precursors in the Sacramento-San Joaquin River Delta: a geochemical approach. Org Geochem 39(9):1302–1318. doi:10.1016/j.orggeochem.2008.05.012

Krupa M, Spencer RGM, Tate KW, Six J, van Kessel C, Linquist BA (2012) Controls on dissolved organic carbon composition and export from rice-dominated systems. Biogeochemistry 108(1–3):447–466. doi:10.1007/s10533-011-9610-2

Laudon H, Poleo AB, Vøllestad LA, Bishop K (2005) Survival of brown trout during spring flood in DOC-rich streams in northern Sweden: the effect of present acid deposition and modelled pre-industrial water quality. Environ Pollut 135(1):121–130. doi:10.1016/j.envpol.2004.09.023

Maie N, Parish KJ, Watanabe A, Knicker H, Benner R, Abe T, Kaiser K, Jaffé R (2006) Chemical characteristics of dissolved organic nitrogen in an oligotrophic subtropical coastal ecosystem. Geochim Cosmochim Acta 70(17):4491–4506. doi:10.1016/j.gca.2006.06.1554

Matiasek SJ (2014) Dissolved organic matter sources and dynamics in an agricultural watershed: contribution from sediment desorption and insights from an amino acids time series. Dissertation, University of California

Morel B, Durand P, Jaffrezic A, Gruau G, Molenat J (2009) Sources of dissolved organic carbon during stormflow in a headwater agricultural catchment. Hydrol Process 23(20):2888–2901. doi:10.1002/hyp.7379

Oh N-H, Pellerin BA, Bachand PAM, Hernes PJ, Bachand SM, Ohara N, Kavvas ML, Bergamaschi BA, Horwath WR (2013) The role of irrigation runoff and winter rainfall on dissolved organic carbon loads in an agricultural watershed. Agric Ecosyst Environ 179:1–10. doi:10.1016/j.agee.2013.07.004

Opsahl S, Benner R (1998) Photochemical reactivity of dissolved lignin in river and ocean waters. Limnol Oceanogr 43(6):1297–1304. doi:10.4319/lo.1998.43.6.1297

Pellerin BA, Hernes PJ, Saraceno J, Spencer RGM, Bergamaschi BA (2010) Microbial degradation of plant leachate alters lignin phenols and trihalomethane precursors. J Environ Qual 39(3):946–954. doi:10.2134/jeq2009.0487

Peter S, Shen Y, Kaiser K, Benner R, Durisch-Kaiser E (2012) Bioavailability and diagenetic state of dissolved organic matter in riparian groundwater. J Geophys Res-Biogeo 117:G04006. doi:10.1029/2012jg002072

Raymond PA, Saiers JE, Sobczak WV (2016) Hydrological and biogeochemical controls on watershed dissolved organic matter transport: pulse-shunt concept. Ecology 97(1):5–16. doi:10.1890/14-1684.1

Royer TV, David MB (2005) Export of dissolved organic carbon from agricultural streams in Illinois, USA. Aquat Sci 67(4):465–471. doi:10.1007/s00027-005-0781-6

Saraceno JF, Pellerin BA, Downing BD, Boss E, Bachand PAM, Bergamaschi BA (2009) High-frequency in situ optical measurements during a storm event: assessing relationships between dissolved organic matter, sediment concentrations, and hydrologic processes. J Geophys Res-Biogeo 114:G00F09. doi:10.1029/2009jg000989

Sharp EL, Parsons SA, Jefferson B (2006) Seasonal variations in natural organic matter and its impact on coagulation in water treatment. Sci Total Environ 363(1):183–194. doi:10.1016/j.scitotenv.2005.05.032

Shen Y, Fichot CG, Benner R (2012) Floodplain influence on dissolved organic matter composition and export from the Mississippi-Atchafalaya River system to the Gulf of Mexico. Limnol Oceanogr 57(4):1149–1160. doi:10.4319/lo.2012.57.4.1149

Shen Y, Chapelle FH, Strom EW, Benner R (2015) Origins and bioavailability of dissolved organic matter in groundwater. Biogeochemistry 122(1):61–78. doi:10.1007/s10533-014-0029-4

Spencer RGM, Aiken GR, Wickland KP, Striegl RG, Hernes PJ (2008) Seasonal and spatial variability in dissolved organic matter quantity and composition from the Yukon River basin, Alaska. Global Biogeochem Cycle. doi:10.1029/2008gb003231

Spencer RGM, Aiken GR, Dornblaser MM, Butler KD, Holmes RM, Fiske G, Mann PJ, Stubbins A (2013) Chromophoric dissolved organic matter export from US rivers. Geophys Res Lett 40(8):1575–1579. doi:10.1002/grl.50357

Stanley EH, Powers SM, Lottig NR, Buffam I, Crawford JT (2012) Contemporary changes in dissolved organic carbon (DOC) in human-dominated rivers: is there a role for DOC management? Freshw Biol 57(s1):26–42. doi:10.1111/j.1365-2427.2011.02613.x

Steinberg CE, Kamara S, Prokhotskaya VY, Manusadžianas L, Karasyova TA, Timofeyev MA, Jie Z, Paul A, Meinelt T, Farjalla VF (2006) Dissolved humic substances–ecological driving forces from the individual to the ecosystem level? Freshw Biol 51(7):1189–1210. doi:10.1111/j.1365-2427.2006.01571.x

Stepanauskas R, Laudon H, Jorgensen NOG (2000) High DON bioavailability in boreal streams during a spring flood. Limnol Oceanogr 45(6):1298–1307. doi:10.4319/lo.2000.45.6.1298

Stepanauskas R, Jorgensen NOG, Eigaard OR, Zvikas A, Tranvik LJ, Leonardson L (2002) Summer inputs of riverine nutrients to the Baltic Sea: bioavailability and eutrophication relevance. Ecol Monogr 72(4):579–597. doi:10.2307/3100058

Valderrama JC (1981) The simultaneous analysis of total nitrogen and total phosphorus in natural waters. Mar Chem 10(2):109–122. doi:10.1016/0304-4203(81)90027-x

Verdouw H, Vanechteld CJA, Dekkers EMJ (1978) Ammonia determination based on indophenol formation with sodium salicylate. Water Res 12:399–402. doi:10.1016/0043-1354(78)90107-0

Volk CJ, Volk CB, Kaplan LA (1997) Chemical composition of biodegradable dissolved organic matter in streamwater. Limnol Oceanogr 42:39–44. doi:10.4319/lo.1997.42.1.0039

Ward ND, Keil RG, Medeiros PM, Brito DC, Cunha AC, Dittmar T, Yager PL, Krusche AV, Richey JE (2013) Degradation of terrestrially derived macromolecules in the Amazon River. Nat Geosci 6(7):530. doi:10.1038/ngeo1817

Weishaar JL, Aiken GR, Bergamaschi BA, Fram MS, Fujii R, Mopper K (2003) Evaluation of specific ultraviolet absorbance as an indicator of the chemical composition and reactivity of dissolved organic carbon. Environ Sci Technol 37(20):4702–4708. doi:10.1021/es030360x

Wilcox HS, Wallace JB, Meyer JL, Benstead JP (2005) Effects of labile carbon addition on a headwater stream food web. Limnol Oceanogr 50(4):1300–1312. doi:10.4319/lo.2005.50.4.1300

Wilson HF, Xenopoulos MA (2009) Effects of agricultural land use on the composition of fluvial dissolved organic matter. Nat Geosci 2(1):37–41. doi:10.1038/ngeo391

Wu FC, Tanoue E, Liu CQ (2003) Fluorescence and amino acid characteristics of molecular size fractions of DOM in the waters of Lake Biwa. Biogeochemistry 65(2):245–257. doi:10.2307/1469855

YCFCWCD (2013) Agricultural water management plan. Yolo County Flood Control and Water Conservation District, Woodland, p 92

Ylla I, Sanpera-Calbet I, Munoz I, Romani AM, Sabater S (2011) Organic matter characteristics in a Mediterranean stream through amino acid composition: changes driven by intermittency. Aquat Sci 73(4):523–535. doi:10.1007/s00027-011-0211-x
Acknowledgements
We gratefully acknowledge the California Bay Delta Authority Ecosystem Program and Drinking Water Program and the Hydrologic Sciences Graduate Group at the University of California, Davis for their support. We also thank Rachael Dyda, Timothy Doane, Phil Bachand, Sandra Bachand, John Franco Saraceno, Frank Anderson, Kelly Smalling for analytical and field support, as well as Karl Kaiser for his guidance on amino acid analysis set up and helpful comments on the manuscript. We are grateful for Dr. Peter sharing her amino acid data from her 2012 paper. Finally, we thank five anonymous reviewers for their comments and suggestions that greatly improved this manuscript.
Additional information
Responsible Editor: Charles T. Driscoll.
Electronic supplementary material
Below is the link to the electronic supplementary material.
About this article
Cite this article
Matiasek, S.J., Pellerin, B.A., Spencer, R.G.M. et al. Irrigation as a fuel pump to freshwater ecosystems. Biogeochemistry 136, 71–90 (2017). https://doi.org/10.1007/s10533-017-0381-2
Received:

Accepted:

Published:

Issue Date:
Keywords
Agricultural watershed

Amino acids

Dissolved organic matter

Hydrologic controls