Abstract
In drylands worldwide, biological soil crusts (BSC) form a thin photosynthetic cover across landscapes, and provide vital benefits in terms of stabilizing soil and fixing nitrogen (N) and carbon (C). Numerous studies have examined the effects of climate and disturbance on BSC functions; however, few have characterized these responses in rolling BSCs typical of northern ecosystems in the Intermountain West, US. With temperature increases and shifts in precipitation projected, it is unclear how BSCs in this region will respond to climate change, and how the response could affect their capacity to perform key ecosystem functions, such as providing 'new' N through biological N2 fixation. To address this important knowledge gap, we examined nitrogenase activity (NA) associated with rolling BSCs along a climatic gradient in southwestern Idaho, US, and quantified how acetylene reduction rates changed as a function of climate, grazing (using exclosures), and shrub-canopy association. Results show that warmer, drier climates at lower elevations hosted greater cover of late successional BSC communities (e.g., mosses and lichens), and higher NA compared with colder, wetter climates at higher elevations. Highest NA (0.5–29.3 µmol C2H4 m−2 h−1) occurred during the early summer/spring, when water was more available than in late summer/autumn. Activity was strongly associated with soil characteristics including pH and ammonium concentrations suggesting these characteristics as potentially strong controls on NA in BSCs. The relationship between grazing and NA varied with elevation. Specifically, lower elevation sites had lower NA at grazed locations, whereas higher elevation sites had higher NA with grazing. At both low and high ends of the elevation gradient, shrub-canopy associated BSCs maintained two to three times higher NA compared to BSCs in the interspace among shrubs. Taken together, our findings indicate that the controls and rates of NA in BSCs vary seasonally and strongly with climate in the Intermountain West, and that drier springs are likely to influence rates of NA more than warmer summers.
Access options
Buy single article
Instant access to the full article PDF.
USD 39.95
Price includes VAT (USA)
Tax calculation will be finalised during checkout.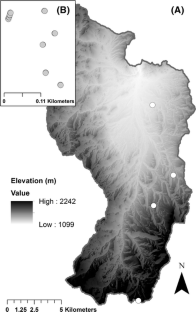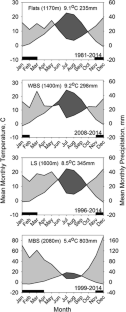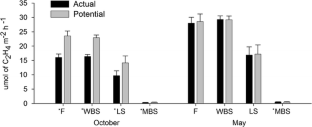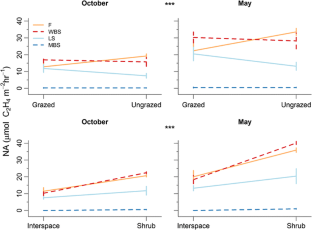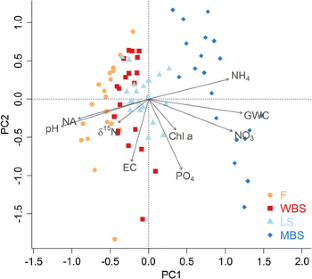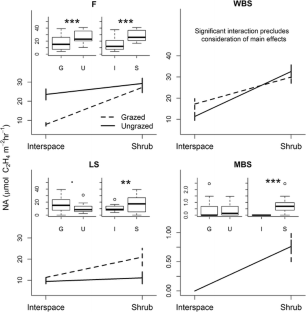 References
Abed RMM, Kharusi SA, Schramm A, Robinson MD (2010) Bacterial diversity, pigments and nitrogen fixation of biological desert crusts from the Sultanate of Oman. FEMS Microbiol Ecol 72:418–428

Aho K (2015) Asbio: a collection of statistical tools for biologists. R package version 1.1-5

Aranibar JN, Anderson IC, Ringrose S, Macko SA (2003) Importance of nitrogen fixation in soil crusts of southern African arid ecosystems: acetylene reduction and stable isotope studies. J Arid Environ 54:345–358

Barger NN, Belnap J, Ojima DS, Mosier A (2005) NO gas loss from biologically crusted soils in Canyonlands National Park, Utah. Biogeochemistry 75:373–391

Barger NN, Harrick JE, Zee JV, Belnap J (2006) Impacts of biological soil crust disturbance and composition on C and N loss from water erosion. Biogeochemistry 77:247–263

Barger NN, Castle SC, Dean GN (2013) Denitrification from nitrogen-fixing biologically crusted soils in a cool desert environment, southeast Utah, USA. Ecol Process 2:1–9

Barger NN, Weber B, Garcia-Pichel F, Zaady E, Belnap J (2016) Chapter 14: patterns and controls on nitrogen cycling of biological soil crusts. In: Weber B, Büdel B, Belnap J (eds) Biological soil crusts: an organizing principle in drylands. Springer, Switzerland

Belnap J (1996) Soil surface disturbances in cold deserts: effects on nitrogenase activity in cyanobacterial-lichen soil crusts. Biol Fertil Soils 23:362–367

Belnap J (2001) Factors influencing N fixation and release in biological soil crusts. In: Belnap J, Lange OL (eds) Biological soil crusts: structure, function, and management. Springer, Berlin, pp 241–261

Belnap J (2002) Nitrogen fixation in biological soil crusts from southeast Utah, USA. Biol Fertil Soils 35:128–135

Belnap J (2003) The world at your feet: desert biological soil crusts. Front Ecol Environ 1:181–189

Belnap J, Gillette DA (1998) Vulnerability of desert biological soil crusts to wind erosion: the influences of crust development, soil texture, and disturbance. J Arid Environ 39:133–142

Belnap J, Lange OL (eds) (2003) Biological soil crusts: structure, function, and management. Springer, Berlin

Belnap J, Harper KT, Warren SD (1994) Surface disturbance of cryptobiotic soil crusts: nitrogenase activity, chlorophyll content, and chlorophyll degradation. Arid Land Res Manag 8:1–8

Berkeley A, Thomas AD, Dougill AJ (2005) Cyanobacterial soil crusts and woody shrub canopies in Kalahari rangelands. Afr J Ecol 43:137–145

Billings SA, Schaeffer SM, Evans RD (2003) Nitrogen fixation by biological soil crusts and heterotrophic bacteria in an intact Mojave Desert ecosystem with elevated CO2 and added soil carbon. Soil Biol Biochem 35:643–649

Blay ES, Schwabedissen SG, Magnuson MS, Aho KA, Sheridan PP, Lohse KA (2017) Variation in biological soil crust bacterial abundance and diversity as a function of climate in cold steppe ecosystems in the Intermountain West USA. Microb Ecol. doi:10.1007/s00248-017-0981-3

Bowker MA (2007) Biological soil crust rehabilitation in theory and practice: an unexploited opportunity. Restor Ecol 15:13–23

Caputa K, Coxson D, Sanborn P (2013) Seasonal patterns of nitrogen fixation in biological soil crusts from British Columbia's Chilcotin grasslands. Botany 641:631–641

Castle SC, Morrison CD, Barger NN (2011) Extraction of chlorophyll a from biological soil crusts: a comparison of solvents for spectrophotometric determination. Soil Biol Biochem 43:853–856

Chamizo S, Cantón Y, Rodríguez-Caballero E, Domingo F, Escudero A (2012) Runoff at contrasting scales in a semiarid ecosystem: a complex balance between biological soil crust features and rainfall characteristics. J Hydrol 452:130–138

Coe KK, Belnap J, Sparks JP (2012) Precipitation-driven carbon balance controls survivorship of desert BSC mosses. Ecology 93:1626–1636

Coe KK, Sparks JP, Belnap J (2014) Physiological ecology of dryland BSC mosses. In: Hansen DT, Rice SK (eds) Photosynthesis in bryophytes and early land plants, advances in photosynthesis and respiration, vol 37. Springer. Dordrecht, Nederland, pp 291–308

Colesie C, Felde VJMNL, Büdel B (2016) Chapter 9: Composition and macro-structure of biological soil crusts. In: Weber B, Büdel B, Belnap J (eds) Biological soil crusts: an organizing principle in drylands. Springer, Switzerland

Concostrina-Zubiri L, Huber-Sannwald E, Martínez E, Flores Flores JL, Reyes-Agüero JA, Escudero A, Belnap J (2014) Biological soil crusts across disturbance – recovery scenarios: effect of grazing regime on community dynamics. Ecol Appl 24:1863–1877

Couradeau E, Karaoz U, Lim HC, da Rocha UN, Northen T, Brodie E, Garcia-Pichel F (2016) Bacteria increase arid-land soil surface temperature through the production of sunscreens. Nat Commun 7. doi:10.1038/ncomms10373

Darrouzet-Nardi A, Reed SC, Grote EE, Belnap J (2015) Observations of net soil exchange of CO2 in dryland show experimental warming increases carbon losses in BSC soils. Biogeochemistry 126:363–378

Dickson LG (2000) Constraints to Nitrogen Fixation by Cryptogamic Crusts in a Polar Desert Ecosystem, Devon Island, N.W.T., Canada. Arct, Antarct, Alp Res 32:40–45

Ehleringer JR, Evans RD, Williams D (1998) Assessing sensitivity to change in desert ecosystems – a stable isotope approach. In: Griffiths H (ed) Stable isotopes: integration of biological, ecological, and geochemical processes. BIOS Scientific, Oxford

Elbert W, Weber B, Burrows S, Steinkamp J, Büdel B, Andreae MO, Pöschl U (2012) Contribution of cryptogamic covers to the global cycles of carbon and nitrogen. Nat Geosci 5:459–462

Elliott DR, Thomas AD, Hoon SR, Sen R (2014) Niche partitioning of bacterial communities in biological crusts and soils under grasses, shrubs and trees in the Kalahari. Biodivers Conserv 23:1709–1733

Eskew DL, Ting IP (1978) Nitrogen fixation by legumes and blue-green algal-lichen crusts in a Colorado desert environment. Am J Bot 65:850–856

Evans RD, Belnap J (1999) Long-term consequences of disturbance on nitrogen dynamics in an arid ecosystem. Ecology 80:150–160

Ferrenberg S, Reed SC, Belnap J (2015) Climate change and physical disturbance cause similar community shifts in biological soil crusts. PNAS 112:12116–12121

Ford PL, Johnson GV (2006) Effects of dormant- vs. growing-season fire in shortgrass steppe: biological soil crust and perennial grass responses. J Arid Environ 67:1–14

Gómez DA, Aranibar JN, Tabeni S, Villagra PE, Garibotti IA, Atencio A (2012) Biological soil crust recovery after long-term grazing exclusion in the Monte Desert (Argentina). Changes in coverage, spatial distribution, and soil nitrogen. Acta Oecol 38:33–40

Gutschick VP (1981) Evolved strategies in nitrogen acquisition by plants. Am Nat 118:607–637

Hagemann M, Henneberg M, Felde VJMNL, Drahorad SL, Berkowicz SM, Felix-Henningsen P, Kaplan A (2015) Cyanobacterial diversity in biological soil crusts along a precipitation gradient, northwest Negev Desert, Israel. Microb Ecol 70:219–230

Hardy RWF, Holsten RD, Jackson EK, Burns RC (1968) The acetylene–ethylene assay for N2 fixation: laboratory and field evaluation. Plant Physiol 43:1185–1207

Hart SC, Stark JM, Davidson EA, Firestone MK (2011) Nitrogen mineralization, immobilization, and nitrification. Methods of Soil Analysis: Part 2-Microbiological and Biochemical Properties. 985–1018

Hartley AE, Schlesinger WH (2002) Potential environmental controls on nitrogenase activity in biological crusts of the northern Chihuahuan Desert. J Arid Environ 52:293–304

Hawkes C (2003) Nitrogen cycling mediated by biological soil crusts and arbuscular mycorrhizal fungi. Ecology 84:1553–1562

Hilty JH, Eldridge DJ, Rosentreter R, Wicklow-Howard MC, Pellant M (2004) Recovery of biological soil crusts following wildfire in Idaho. J Range Manag 57:89–96

Holst J, Butterbach-Bahl K, Liu C, Zheng X, Kaiser A, Schnitzler J-P, Zechmeister-Boltenstern S, Brüggemann N (2009) Dinitrogen fixation by biological soil crusts in an inner Mongolian steppe. Biol Fertil Soils 45:679–690

Hooper DU, Johnson L (1999) Nitrogen limitation in dryland ecosystems: responses to geographical and temporal variation in precipitation. Biogeochemistry 46:247–293

Houlton BZ, Wang YP, Vitousek PM, Field CB (2008) A unifying framework for dinitrogen fixation in the terrestrial biosphere. Nature 454:327–330

Housman DC, Powers HH, Collins AD, Belnap J (2006) Carbon and nitrogen fixation differ between successional stages of biological soil crusts in the Colorado Plateau and Chihuahuan Desert. J Arid Environ 66:620–634

Jeffries DL, Klopatek JM, Link SO, Bolton JH (1992) Acetylene reduction by cryptogamic crusts from a blackbrush community as related to resaturation and dehydration. Soil Biol Biochem 24:1101–1105

Jenny H (1941) Factors of soil formation a system of quantitative pedology. McGraw-Hill, New York

Johnson SL, Budinoff CR, Belnap J, Garcia-Pichel F (2005) Relevance of ammonium oxidation within biological soil crust communities. Environ Microbiol 7:1–12

Johnson SL, Kuske CR, Carney TD, Housman DC, Gallegos-Graves LV, Belnap J (2012) Increased temperature and altered summer precipitation have differential effects on biological soil crusts in a dryland ecosystem. Glob Chang Biol 18:2583–2593

Kaltenecker J, Wickow-Howard M (1994) Microbiotic soil crusts in sagebrush habitats of southern Idaho. Eastside Ecosystem Management Project. Boise State University Boise, Idaho

Kaltenecker JH, Wicklow-Howard MC, Rosentreter R (1999) Biological soil crusts in three sagebrush communities recovering from a century of livestock trampling. In: McArthur ED, Ostler KW, Wambolt CL. (eds.) Proceedings of the Shrubland Ecotones. U.S. Department of Agriculture, Forest Service, Rocky Mountain Research Station, Ephraim, UT

Kuske CR, Yeager CM, Johnson S, Ticknor LO, Belnap J (2012) Response and resilience of soil BSC bacterial communities to chronic physical disturbance in arid shrublands. ISME J 6:886–897

Lalley JS, Viles HA (2008) Recovery of lichen-dominated soil crusts in a hyper-arid desert. Biodivers Conserv 17:1–20

Lan S, Wu L, Zhang D, Hu C, Liu Y (2011) Ethanol outperforms multiple solvents in the extraction of chlorophyll-a from biological soil crusts. Soil Biol Biochem 43:857–861

Liu H, Han X, Linghao L et al (2009) Grazing density effects on cover, species composition, and nitrogen fixation of biological soil crust in an inner Mongolia steppe. Rangel Ecol Manag 62:321–327

Malam Issa O, Stal LJ, Défarge C, Couté A, Trichet J (2001) Nitrogen fixation by microbial crusts from desiccated Sahelian soils (Niger). Soil Biol Biochem 33:1425–1428

Marsh J, Nouvet S, Sanborn P, Coxson D (2006) Composition and function of biological soil crust communities along topographic gradients in grasslands of central interior British Columbia (Chilcotin) and southwestern Yukon (Kluane). Can J Bot 84:717–736

McKee M, Mercer A (2011) Chlorophyll-a double-extraction with ethanol. Aridlands Ecology Laboratory. http://www.colorado.edu/eeb/facultysites/barger/Linked%20PDFS/Methods/Chl%20a_2011_11_29.pdf. Accessed 18 January 2016

Muscha JM, Hild AL (2006) Biological soil crusts in grazed and ungrazed Wyoming sagebrush steppe. J Arid Environ 67:195–207

National Atmospheric Deposition Program (2014) Annual data for Reynolds Creek (ID11). http://nadp.sws.uiuc.edu/nadpdata/annualReq.asp?site=ID11. Accessed 9 March 2016

Nayak A, Marks D, Chandler DG, Seyfried M (2010) Long-term snow, climate, and streamflow trends at the Reynolds Creek Experimental Watershed, Owyhee Mountains, Idaho, United States. Water Resour Res 46:W06519

Neff JC, Reynolds RL, Belnap J, Lamothe P (2005) Multi-decadal impacts of grazing on soil physical and biogeochemical properties in Southeast Utah. Ecol Appl 15:87–95

Oksanen J, Blanchet FG, Kindt R, Legendre P, Minchin PR, O'Hara RB et al (2015) vegan: Community Ecology Package. R package version 2.3-0. http://CRAN.R-project.org/package=vegan

Patova E, Sivkov M, Patova A (2016) Nitrogen fixation activity in biological soil crusts dominated by cyanobacteria in the Subpolar Urals (European North-East Russia). FEMS Microbiol Ecol 92:fiw131

Pepe-Ranney C, Koechli C, Potrafka R, Andam C, Eggleston E, Garcia-Pichel R, Buckley DH (2015) Non-cyanobacterial diazotrophs mediate dinitrogen fixation in biological soil crusts during early crust formation. ISME J 10:287–298

Ponzetti JM, McCune BP (2001) Biotic soil crusts of Oregon's shrub steppe: community composition in relation to soil chemistry, climate, and livestock activity. Bryologist 104:212–225

Reed SC, Seastedt TR, Mann CM, Suding KN, Townsend AR, Cherwin K (2007) Phosphorus fertilization stimulates nitrogen fixation and increases inorganic nitrogen concentrations in a restored prairie. Appl Soil Ecol 36:238–242

Reed SC, Cleveland CC, Townsend AR (2011) Functional ecology of free-living nitrogen fixation: a contemporary perspective. Annu Rev Ecol Evol Syst 42:489–512

Reed SC, Coe KK, Sparks JP, Housman DC, Zelikova UJ, Belnap J (2012) Changes to dryland rainfall result in rapid moss mortality and altered soil fertility. Nat Clim Chang 2:752–755

Reynolds JF, Maestre FT, Kemp PR, Stafford- Smith DM, Lambin E (2007) Natural and human dimensions of land degradation in drylands: causes and consequences. In: Canadell J, Pataki D, Pitelka LF (eds) Terrestrial ecosystems in a changing world. Springer, Berlin, pp 247–258

Romano N, Santini A (2002) The soil solution phase: field water capacity. Methods of soil analysis: Part 4-physical methods. 723–738

Rosentreter R, Eldridge DJ, Westberg M, Williams L, Grube M (2016) Structure, Composition, and Function of Biocrust Lichen Communities. In: Weber B, Büdel B, Belnap J (eds) Biological soil crusts: an organizing principle in drylands. Springer, Cham

Rychert RC, Skujins J (1974) Nitrogen fixation by blue-green algae-lichen crusts in the Great Basin Desert. Soil Sci Soc Am Proc 38:768–771

Schlesinger WH, Pilmanis AM (1998) Plant-soil interactions in deserts. Biogeochemistry 42(169):187

Schwabedissen SG (2016) Nitrogen fixation by biological soil crusts and their communities: climatic and grazing controls. MS Thesis, Idaho State University

Seyfried M, Chandler D, Marks D (2011) Long-term soil water trends across a 1000-m elevation gradient. Vadose Zone J 10:1276–1286

Skarpe C, Henriksson E (1987) Research note—nitrogen fixation by cyanobacterial crusts and by associative-symbiotic bacteria in Western Kalahari, Botswana. Arid Land Res Manag 1:55–59

Skujins J, Tann CC, Borjesson I (1987) Dinitrogen fixation in a montane forest sere determined by 15N, assimilation, and in situ acetylene reduction methods. Soil Biol Biochem 19:46–271

Steven B, Kuske CR, Gallegoes-Graves LV, Reed SC, Belnap J (2015) Climate change and physical disturbance manipulations result in distinct biological soil crust communities. Appl Environ Microbiol 81:7448–7459

Stewart KJ, Coxson D, Grogan P (2011a) Nitrogen inputs by associative cyanobacteria across a low artic tundra landscape. Arct Antarct Alp Res 43:267–278

Stewart KJ, Lamb EG, Coxson DS, Siciliano SD (2011b) Bryophyte-cyanobacterial associations as a key factor in N2-fixation across the Canadian Arctic. Plant Soil 344:335–346

Strauss SL, Day TA, Garcia-Pichel F (2012) Nitrogen cycling in desert biological soil crusts across biogeographic regions in the Southwestern United States. Biogeochemistry 108:171–182

Su Y, Zhao X, Li A, Li X, Huang G (2011) Nitrogen fixation in biological soil crusts from the Tengger desert, northern China. Eur J Soil Biol 47:182–187

Wang J, Bao J, Su J, Li X, Chen G, Ma X (2015) Impact of inorganic nitrogen additions on microbes in biological soil crusts. Soil Biol Biochem 88:303–313

Warren SD (2001) Synopsis: influence of biological soil crusts on arid land hydrology and soil stability. Biological soil crusts: structure, function, and management. Springer, Berlin

Weber B, Wu D, Tamm A, Ruckteschler N, Rodríguez-Caballero E, Steinkamp J et al (2015) Biological soil crusts accelerate the nitrogen cycle through large NO and HONO emissions in drylands. PNAS 112:15384–15389

Weber B, Berkemeier T, Ruckteschler N, Caesar J, Heintz H, Ritter H, Bra H (2016) Development and calibration of a novel sensor to quantify the water content of surface soils and biological soil crusts. Method Ecol Evol 7:14–22

Wu N, Zhang YM, Downing A (2009) Comparative study of nitrogenase activity in different types of biological soil crusts in the Gurbantunggut Desert, Northwestern China. J Arid Environ 73:828–833

Yeager CM, Kornosky JL, Housman DC, Grote EE, Belnap J, Kuske CR (2004) Diazotrophic community structure and function in two successional stages of biological soil crusts from the Colorado Plateau and Chihuahuan Desert. Appl Environ Microbiol 40:973–983

Yeager CM, Kornosky JL, Morgan RE, Cain EC, Garcia-Pichel F, Housman DC et al (2007) Three distinct clades of cultured heterocystous cyanobacteria constitute the dominant N2-fixing members of biological soil crusts of the Colorado Plateau, USA. FEMS Microbiol Ecol 60:85–87

Zaady E, Groffman P, Shachak M (1998) Nitrogen fixation in macro- and microphytic patches in the Negev Desert. Soil Biol Biochem 30:449–454

Zhang X, McRose DL, Darnajoux R, Bellenger JP, Morel FMM, Kraepiel AML (2016) Alternative nitrogenase activity in the environment and nitrogen cycle implications. Biogeochem Lett 127:189–198

Zhao Y, Xu M, Belnap J (2010) Potential nitrogen fixation activity of different aged biological soil crusts from rehabilitated grasslands of the hilly Loess Plateau, China. J Arid Environ 74:1186–1191

Zhou X, Smith H, Giraldo Silva A, Belnap J, Garcia-Pichel F (2016) Differential responses of dinitrogen fixation, diazotrophic cyanobacteria and ammonia oxidation reveal a potential warming-induced imbalance of the N-cycle in biological soil crusts. PLoS ONE 11(10):e0164932

Zielke M, Ekker AS, Olsen RA, Spjelkavik S, Solheim B (2002) The influence of abiotic factors on biological nitrogen fixation in different types of vegetation in the High Arctic, Svalbard. Arct Antarct Alp Res 34:293–299
Acknowledgements
This study was conducted in collaboration and cooperation with the United States Department of Agriculture Agricultural Research Service Northwest Watershed Research in Boise, Idaho and landowners within the Reynolds Creek Critical Zone Observatory. Support for this research was provided by NSF for Reynolds Creek Critical Zone Observatory (NSF EAR 1331872), the Geological Society of America (GSA), the U.S Geological Survey Ecosystems Mission Area, and U.S. Department of Energy Office of Science, Office of Biological and Environmental Research Terrestrial Ecosystem Sciences Program (DE-SC-0008168). Support for SG Schwabedissen was also provided by the ISU Center for Ecological Research and Education. Special thanks to H Smith for her assistance and advice and to A Howell and T Torres Cruz. We appreciate the field and laboratory assistance of N Patton, E McCorkle, H Sharma, E Blay, D Huber, and S Parsons. We are also grateful to Jayne Belnap and two anonymous reviewers for suggestions on a previous version of the manuscript that significantly improved the paper. Any use of trade, firm, or product names is for descriptive purposes only and does not imply endorsement by the U.S. Government.
Additional information
Responsible Editor: Karsten Kalbitz.
About this article
Cite this article
Schwabedissen, S.G., Lohse, K.A., Reed, S.C. et al. Nitrogenase activity by biological soil crusts in cold sagebrush steppe ecosystems. Biogeochemistry 134, 57–76 (2017). https://doi.org/10.1007/s10533-017-0342-9
Received:

Accepted:

Published:

Issue Date:
Keywords
Acetylene reduction

Biological soil crusts

Cold steppe ecosystems

Critical zone

Critical zone observatory

Grazing

Nitrogenase activity

Reynolds Creek Experimental Watershed

Reynolds Creek Critical Zone Observatory