Abstract
Nitrate (NO3 −) dynamics in urban streams differ from many natural streams due to stormwater runoff, sewage inputs, decreased groundwater discharge, often limited hyporheic exchange, increased primary productivity, and limited carbon input. We investigated NO3 − dynamics in a first-order urban stream in Syracuse, NY, which has urbanized headwaters and a geomorphologically natural downstream section. Twice-monthly water sampling, NO3 − injection tests, NO3 − isotopic analysis, filamentous algae mat density, and riparian shading were used to identify processes regulating NO3 − dynamics in the stream over a 12-month period. The urban headwater reach had low NO3 − (0.006–0.2 mg N/L) in the spring through fall, with a minimum uptake length of 900 m, no canopy cover, and high algae mat density. The downstream natural reach (100% canopy cover during the summer and low algae mat density) had nitrate concentrations between 0.6 and 1.2 mg N/L from winter to summer, which decreased during autumn leaf-off. In the urban reach, autotrophic uptake by filamentous green algae is a major NO3 − sink in summer. In the natural reach, the addition of organic matter to the stream at leaf-off led to a decrease in NO3 − concentration followed by an increase in NO3 − concentration in winter as gross primary productivity decreased. This study shows that the balance between autotrophy and heterotrophy in urban streams is variable and depends on an interplay of drivers such as temperature, light, and carbon inputs that are mediated by the riparian ecosystem.
Access options
Buy single article
Instant access to the full article PDF.
US$ 39.95
Tax calculation will be finalised during checkout.
Subscribe to journal
Immediate online access to all issues from 2019. Subscription will auto renew annually.
US$ 119
Tax calculation will be finalised during checkout.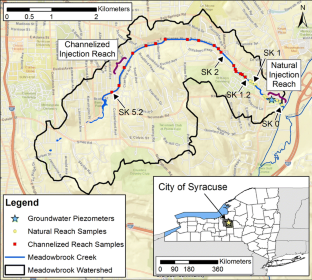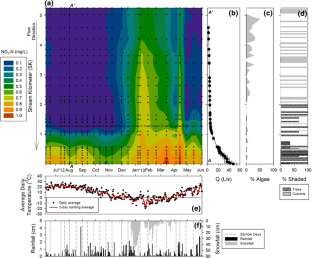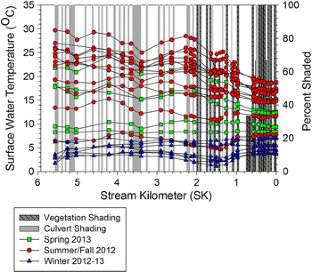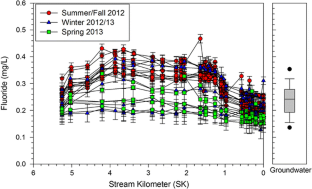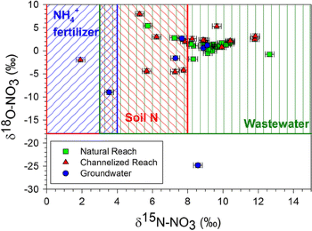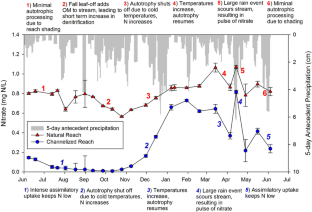 References
Anisfeld SC, Barnes RT, Altabet MA, Wu T (2007) Isotopic apportionment of atmospheric and sewage nitrogen sources in two connecticut rivers. Environ Sci Technol 41:6363–6369

Arango CP, Tank JL, Johnson LT, Hamilton SK (2008) Assimilatory uptake rather than nitrification and denitrification determines nitrogen removal patterns in streams of varying land use. Limnol Oceanogr 53(6):2558–2572

Arango CP, James PW, Hatch KB (2015) Rapid ecosystem response to restoration in an urban stream. Hydrobiologia 749:197–211

Bain DJ, Hale RL, Wollheim WM (2012) Hotbeds of biogeochemical diversity: insights from urban long-term ecological research sites. Elements 8:435–438

Beaulieu JJ, Arango CP, Balz DA, Shuster WD (2013) Continuous monitoring reveals multiple controls on ecosystem metabolism in a suburban stream. Freshwater Biol. 58:918–937. doi:10.1111/fwb.12097

Beaulieu JJ, Mayer PM, Kaushal SS, Pennino MJ, Arango CP, Balz DA, Canfield TJ, Elonen CM, Fritz KM, Hill BH, Ryu H, Santo Domingo JW (2014) Effects of urban stream burial on organic matter dynamics and reach scale nitrate retention. Biogeochemistry 121:107–126. doi:10.1007/s10533-014-9971-4

Bernhardt ES, Palmer MA, Allan JD, Alexander G, Barnas K, Brooks S, Carr J, Clayton S, Dahm C, Follstad-Shah J, Galat D, Gloss S, Doowin P, Hart D, Hassett B, Jenkinson R, Katz S, Kondolf GM, Lake PS, Lave R, Meyer JL, O'Donnell TK, Pagano L, Powell B, Sudduth E (2005) Synthesizing U.S. river restoration efforts. Science 308(5722):636–637

Bernot MJ, Sobota DJ, Hall RO Jr, Mulholland PJ, Dodds WK, Webster JR, Tank JL, Ashkenas LR, Cooper LW, Dahm CM, Gregory SV, Grimm NB, Hamilton SK, Johnson SL, McDowell WH, Meyer JL, Peterson B, Poole GC, Valett HM, Arango C, Beaulieu JJ, Burgin AJ, Crenshaw C, Helton AM, Johnson L, Merriam J, Niederlehner BR, O'Brien JM, Potter JD, Sheibley RW, Thomas SM, Wilson K (2010) Inter-regional comparison of land-use effects on stream metabolism. Freshwater Biol. 55:1874–1890. doi:10.1111/j.1365-2427.2010.02422.x

Bettez ND, Groffman PM (2012) Denitrification potential in stormwater control structures and natural riparian zones in an urban landscape. Environ Sci Technol 46:10909–10917

Buda AR, DeWalle DR (2009) Dynamics of stream nitrate sources and flow pathways during stormflows on urban, forest and agricultural watersheds in central Pennsylvania, USA. Hydrol Process 23:3292–3305

Catford JA, Walsh CJ, Beardall J (2007) Catchment urbanization increases benthic microalgal biomass in streams under controlled light conditions. Aquat Sci 69:511–522

Claessens L, Tague CL, Band LE, Groffman PE, Kenworthy ST (2009) Hydro-ecological linkages in urbanizing watersheds: an empirical assessment of in-stream nitrate loss and evidence of saturation kinetics. J Geophys Res. doi:10.1029/2009JG001017

Clapcott JE, Young RG, Neale MW, Doehring K, Barmuta LA (2016) Land use affects temporal variation in stream metabolism. Freshwater Sci. 35:1164–1175. doi:10.1086/688872

Covino T, McGlynn B, Baker M (2010) Separating physical and biological nutrient retention and quantifying uptake kinetics from ambient to saturation in successive mountain stream reaches. J Geophys Res. doi:10.1029/2009JG001263

Craig LS, Palmer MA, Richardson DC, Filoso S, Bernhardt ES, Bledsoe BP, Doyle MW, Groffman PM, Hassett BA, Kaushal SS, Mayer PM, Smith SM, Wilcock PR (2008) Stream restoration strategies for reducing river nitrogen loads. Front Ecol Environ 6(10):529–538

Department of Water, City of Syracuse (2015) Frequently Asked Questions. http://www.syracuse.ny.us/Water_FAQs.aspx. Accessed December 9, 2015

Divers MT, Elliott EM, Bain DJ (2014) Quantification of nitrate sources to an urban stream using dual nitrate isotopes. Environ Sci Technol 48:10580–10587

Duan S, Delaney-Newcomb K, Kaushal SS, Findlay SEG, Belt KT (2014) Potential effects of leaf litter on water quality in urban watersheds. Biogeochemistry 121:61–80

Elmore AJ, Kaushal SS (2008) Disappearing headwaters: patterns of stream burial due to urbanization. Front Ecol Environ 6(6):308–312

Filoso S, Palmer MA (2011) Assessing stream restoration effectiveness at reducing nitrogen export to downstream waters. Ecol Appl 21(6):1989–2006

Finkenbine JK, Atwater JW, Mavinic DS (2000) Stream health after urbanization. J Am Water Resourc As 36(5):1149–1160

Fry J, Xian G, Jin S, Dewitz J, Homer C, Yang L, Barnes C, Herold N, Wickham J (2011) Completion of the 2006 national land cover database for the conterminous United States. Photogramm Eng Rem S 77(9):854–858

Groffman PM, Law NL, Belt KT, Band LE, Fisher GT (2004) Nitrogen fluxes and retention in urban watershed ecosystems. Ecosystems 7:393–403

Groffman PM, Dorsey AM, Mayer PM (2005) N processing within geomorphic structures in urban streams. J N Am Benthol Soc 24(3):613–625

Hale RL, Groffman PM (2006) Chloride effects on nitrogen dynamics in forested and suburban stream debris dams. J Environ Qual 35(6):2425–2432

Hall RO, Tank JL (2003) Ecosystem metabolism controls nitrogen uptake in streams in Grand Teton National Park. Wyoming. Limnol Oceanogr 48(3):1120–1128

Hall RO, Tank JL, Sobota DJ, Mulholland PJ, O'Brien JM, Dodds WK, Webster JR, Valett HM, Poole GC, Peterson BJ, Meyer JL, McDowell WH, Johnson SL, Hamilton SK, Grimm NB, Gregory SV, Dahm CN, Cooper LW, Ashkenas LR, Thomas SM, Sheibley RW, Potter JD, Niederlehner BR, Johnson LT, Helton AM, Crenshaw CM, Burgin AJ, Bernot MJ, Beaulieu JJ, Arango CP (2009) Nitrate removal in stream ecosystems measured by 15N addition experiments: total uptake. Limnol Oceanogr 54(3):653–665

Kaushal SS, Belt KT (2012) The urban watershed continuum: evolving spatial and temporal dimensions. Urban Ecosystems 15:409–435

Kaushal SS, Groffman PM, Mayer PM, Striz E, Gold AJ (2008a) Effects of stream restoration on denitrification in an urbanizing watershed. Ecol Appl 18(3):789–804

Kaushal SS, Groffman PM, Band LE, Shields CA, Morgan RP, Palmer MA, Belt KT, Swan CM, Findlay SEG, Fisher GT (2008b) Interaction between urbanization and climate variability amplifies watershed nitrate export in Maryland. Environ Sci Technol 42(6):5872–5878

Kaushal SS, Groffman PM, Band LE, Elliott EM, Shields CA, Kendall C (2011) Tracking nonpoint source nitrogen pollution in human-impacted watersheds. Environ Sci Technol 45:8225–8232

Kaushal SS, Delaney-Newcomb K, Findlay SEG, Newcomer TA, Duan S, Pennino MJ, Sivirichi GM, Sides-Raley AM, Walbridge MR, Belt KT (2014) Longitudinal patterns in carbon and nitrogen fluxes and stream metabolism along an urban watershed continuum. Biogeochemistry 121:23–44

Kendall C (1998) Tracing nitrogen sources and cycling in catchments. In: Kendall C, McDonnell JJ (eds) Isotope tracers in catchment hydrology. Elsevier, Amsterdam, pp 519–576

Kendall C, Elliott EM, Wankel SC (2007) Tracing anthropogenic inputs of nitrogen to ecosystems. In: Michener R, Lajtha K (eds) Stable isotopes in ecology and environmental science, 2nd edn. Blackwell Publishing Ltd, Oxford, pp 375–449. doi:10.1002/9780470691854.ch12

Klocker CA, Kaushal SS, Groffman PM, Mayer PM, Morgan RP (2009) Nitrogen uptake and denitrification in restored and unrestored streams in urban Maryland, USA. Aquat Sci 71:411–424

Lautz LK, Siegel DI (2007) The effect of transient storage on nitrate uptake lengths in streams: an inter-site comparison. Hydrol Process 21(26):3533–3548. doi:10.1002/hyp.6569

Law NL, Band LE, Grove JM (2004) Nitrogen input from residential lawn care practices in suburban watersheds in Baltimore County. MD. J Environ Plann Man 47(5):737–755

Ledford SH, Lautz LK (2015) Floodplain connection buffers seasonal changes in urban stream water quality. Hydrol Process 29:1002–1016. doi:10.1002/hyp.10210

Mayer PM, Groffman PM, Striz EA, Kaushal SS (2010) Nitrogen dynamics at the groundwater-surface water interface of a degraded urban stream. J Environ Qual 39:810–823. doi:10.2134/jeq2009.0012

Morgan AM, Royer TV, David MB, Gentry LE (2006) Relationships among nutrients, chlorophyll-a, and dissolved oxygen in agricultural streams in Illinois. J Environ Qual 35:1110–1117

Mulholland PJ, Helton AM, Poole GC, Hall RO Jr, Hamilton SK, Peterson BJ, Tank JL, Ashkenas LR, Cooper LW, Dahm CN, Dodds WK, Findlay SEG, Gregory SV, Grimm NB, Johnson SL, McDowell WH, Meyer JL, Valett HM, Webster JR, Arango CP, Beaulieu JJ, Bernot MJ, Burgin AJ, Crenshaw CL, Johnson LT, Niederlehner BR, O'Brien JM, Potter JD, Sheibley RW, Sobota DJ, Thomas SM (2008) Stream denitrification across biomes and its response to anthropogenic nitrate loading. Nature 452:202–206. doi:10.1038/nature06686

Muller EH (1964) Surficial geology of the Syracuse field area. In Prucha JJ (ed) New York State Geological Association 36th Annual Meeting Guidebook. pp 25-35. Available from: http://www.nysga.net/files/32068346.pdf

Naiman RJ, Decamps H, McClain ME (2010) Riparia: ecology, conservation, and management of streamside communities. Academic Press

National Climatic Data Center (2014) SUNY ESF Station. Available from: http://www.ncdc.noaa.gov/cdo-web/datasets/GHCND/stations/GHCND:USC00308386/detail

National Oceanic and Atmospheric Administration (2015a) Normals for Syracuse, NY (1981-2010). Available from: http://www.weather.gov/bgm/climateSYRMonthlyNormals

National Oceanic and Atmospheric Administration (2015b) Comparative climatic data for the United States through 2015. Available from http://ncdc.noaa.gov/data-access/quick-links#ccd

Passeport E, Vidon P, Forshay KJ, Harris L, Kaushal SS, Kellogg DQ, Lazar J, Mayer P, Stander EK (2013) Ecological engineering practices for the reduction of excess nitrogen in human-influenced landscapes: a guide for watershed managers. Environ Manage 51:392–413

Paul MJ, Meyer JL (2001) Streams in the urban landscape. Annu Rev Ecol Syst 32:333–365

Peterson BJ, Wollheim WM, Mulholland PJ, Webster JR, Meyer JL, Tank JL, Marti E, Bowden WB, Valett HM, Hershey AE, McDowell WH, Dodds WK, Hamilton SK, Gregory S, Morrall DD (2001) Controls of nitrogen export from watersheds by headwater streams. Science 292(5514):86–90

Roberts BJ, Mulholland PJ, Hill WR (2007) Multiple scales of temporal variability in ecosystem metabolism rates: results from 2 years of continuous monitoring in a forested headwater stream. Ecosystems 10:588–606. doi:10.1007/s10021-007-9059-2

Sebestyen SD, Shanley JB, Boyer EW, Kendall C, Doctor DH (2014) Coupled hydrological and biogeochemical processes controlling variability of nitrogen species in streamflow during autumn in an upland forest. Water Resour Res 50(2):1569–1591

Shields CA, Band LE, Law N, Groffman PM, Kaushal SS, Savvas K, Fisher GT, Belt KT (2008) Streamflow distribution of non-point source nitrogen export from urban-rural catchments in the Chesapeake Bay watershed. Water Resour Res. doi:10.1029/2007WR006360

Sobota DJ, Johnson SL, Gregory SV, Ashkenas LR (2012) A stable isotope tracer study of the influences of adjacent land use and riparian condition on fates of nitrate in streams. Ecosystems 15:1–17

Stream Solute Workshop (1990) Concepts and methods for assessing solute dynamics in stream ecosystems. J N Am Benthol Soc 9(2):95–119

Valett HM, Morrice JA, Dahm CN, Campana ME (1996) Parent lithology, surface-groundwater exchange, and nitrate retention in headwater streams. Limnol Oceanogr 41(2):333–345

Vannote RL, Minshall GW, Cummins KW, Sedell JR, Cushing CE (1980) The river continuum concept. Can J Fish Aquat Sci 37:130–137

Vidon P, Allan C, Burns D, Duval TP, Gurwick N, Inamdar S, Lowrance R, Okay J, Scott D, Sebestyen S (2010) Hot spots and hot moments in riparian zones: potential for improved water quality management. J Am Water Resourc As 46(2):278–298

Walsh CJ, Roy AH, Feminella JW, Cottingham PD, Groffman PM, Morgan RP II (2005) The urban stream syndrome: current knowledge and the search for a cure. J N Am Benthol Soc 24(3):706–723

Webster JR, Valett HM (2006) Solute Dynamics. In: Hauer FR, Lamberti GA (eds) Methods in Stream Ecology, 2nd edn. Elsevier, Amsterdam, pp 169–183
Acknowledgements
Funding
Funding was provided from National Science Foundation grant EAR-0911612, the Department of Earth Sciences at Syracuse University, and the Geological Society of America Graduate Research Fund. This manuscript was greatly improved by the comments of two anonymous reviewers.
Additional information
Responsible Editor: J. M. Melack.
Electronic supplementary material
Below is the link to the electronic supplementary material.
About this article
Cite this article
Ledford, S.H., Lautz, L.K., Vidon, P.G. et al. Impact of seasonal changes in stream metabolism on nitrate concentrations in an urban stream. Biogeochemistry 133, 317–331 (2017). https://doi.org/10.1007/s10533-017-0336-7
Received:

Accepted:

Published:

Issue Date:
Keywords
Nitrate

Nutrient uptake

Seasonality

Surface water

Urban water chemistry