Abstract
Determining the temperature dependence of soil respiration is needed to test predictive models such as Arrhenius-like functions and macro-molecular rate theory (MMRT). We tested a method for rapid measurement of respiration using a temperature gradient block, cooled at one end (~2 °C) and heated at the other (~50 °C) that accommodated 44 tubes containing soil incubated at roughly 1 °C increments. Gas samples were taken after 5 h incubation and analysed for CO2. The temperature gradient block allowed rapid assessment of temperature dependence of soil respiration with the precision needed to test models and explore existing theories of how temperature and moisture interact to control biochemical processes. Temperature response curves were well fitted by MMRT and allowed calculation of the temperature at which absolute temperature sensitivity was maximal (Tinf). We measured temperature response of three soils at seven moisture contents and showed that the absolute rate and sensitivity of respiration was partly dependent on adjusted moisture content. This result implied that comparisons between soils need to be made at a common moisture content. We also measured potential changes in the temperature dependence (and sensitivity) of respiration for three different soils collected at one site throughout a year. Tinf ranged from 43 to 51 °C for the three soils. Tinf and temperature sensitivity were not dependent on soil type collected but was partly dependent on time of year of collection. Temporal changes in temperature response suggested that the microbial communities may tune their metabolisms in response to changes in soil temperatures.
This is a preview of subscription content, log in to check access.
Access options
Buy single article
Instant access to the full article PDF.
US$ 39.95
Price includes VAT for USA
Subscribe to journal
Immediate online access to all issues from 2019. Subscription will auto renew annually.
US$ 199
This is the net price. Taxes to be calculated in checkout.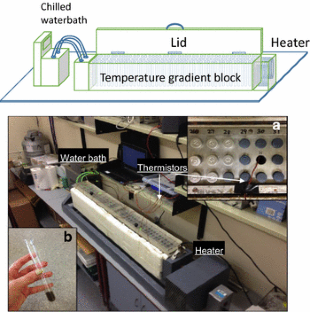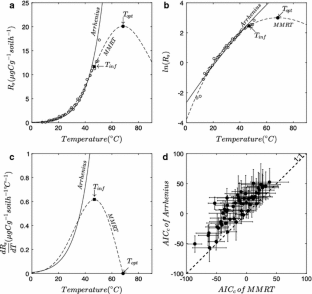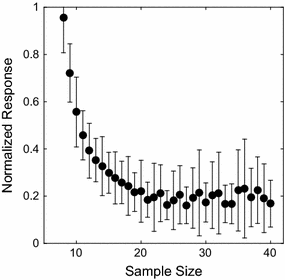 References
Almagro M, Lopez J, Querejeta JI, Martinez-Mena M (2009) Temperature dependence of soil CO2 efflux is strongly modulated by seasonal patterns of moisture availability in a Mediterranean ecosystem. Soil Biol Biochem 41(3):594–605

Arcus VL, Prentice E, Hobbs JK, Mulholland AJ, Vander Kamp MW, Pudney CR, Parker EJ, Schipper LA (2016) On the temperature dependence of enzyme-catalysed rates. Biochemistry 55:1681–1688

Baldocchi D (2008) Breathing of the terrestrial biosphere: lessons learned from a global network of carbon dioxide flux measurement systems. Aust J Bot 56(1):1–26

Bradford MA (2013) Thermal adaptation of decomposer communities in warming soils. Front Microbiol 4:1–16

Conant RT, Ryan MG, Agren GI, Birge HE, Davidson EA, Eliasson PE, Evans SE, Frey SD, Giardina CP, Hopkins FM, Hyvonen R, Kirschbaum MUF, Lavallee JM, Leifeld J, Parton WJ, Steinweg JM, Wallenstein MD, Wetterstedt JAM, Bradford MA (2011) Temperature and soil organic matter decomposition rates—synthesis of current knowledge and a way forward. Glob Change Biol 17(11):3392–3404

Davidson EA, Janssens IA (2006) Temperature sensitivity of soil carbon decomposition and feedbacks to climate change. Nature 440(7081):165–173

Davidson EA, Janssens IA, Luo YQ (2006a) On the variability of respiration in terrestrial ecosystems: moving beyond Q(10). Glob Change Biol 12(2):154–164

Davidson EA, Richardson AD, Savage KE, Hollinger DY (2006b) A distinct seasonal pattern of the ratio of soil respiration to total ecosystem respiration in a spruce-dominated forest. Glob Change Biol 12(2):230–239

Del Grosso SJ, Parton WJ, Mosier AR, Holland EA, Pendall E, Schimel DS, Ojima DS (2005) Modeling soil CO2 emissions from ecosystems. Biogeochemistry 73(1):71–91

Fang C, Moncrieff JB (2001) The dependence of soil CO2 efflux on temperature. Soil Biol Biochem 33(2):155–165

Fey A, Conrad R (2000) Effect of temperature on carbon and electron flow and on the archaeal community in methanogenic rice field soil. Appl Environ Microbiol 66(11):4790–4797

Frey SD, Lee J, Melillo JM, Six J (2013) The temperature response of soil microbial efficiency and its feedback to climate. Nat Clim Change 3(4):395–398

Hamdi S, Moyano F, Sall S, Bernoux M, Chevallier T (2013) Synthesis analysis of the temperature sensitivity of soil respiration from laboratory studies in relation to incubation methods and soil conditions. Soil Biol Biochem 58:115–126

Harding DE, Ross DJ (1964) Some factors in low-temperature storage influencing the mineralisable nitrogen of soils. J Sci Food Agric 15:829–834

Hobbs JK, Jiao W, Easter AD, Parker EJ, Schipper LA, Arcus VL (2013) Change in heat capacity for enzyme catalysis determines temperature dependence of enzyme catalyzed rates. ACS Chem Biol 8(11):2388–2393

Jenerette GD, Chatterjee A (2012) Soil metabolic pulses: water, substrate, and biological regulation. Ecology 93(5):959–966

Kirschbaum MUF (1995) The temperature dependence of soil organic-matter decomposition, and the effect of global warming on soil organic C storage. Soil Biol Biochem 27(6):753–760

Kirschbaum MUF (2000) Will changes in soil organic carbon act as a positive or negative feedback on global warming? Biogeochemistry 48(1):21–51

Kirschbaum MUF (2006) The temperature dependence of organic-matter decomposition—still a topic of debate. Soil Biol Biochem 38(9):2510–2518

Lloyd J, Taylor JA (1994) On the temperature dependence of soil respiration. Funct Ecol 8(3):315–323

Mills EA, Plotkin SS (2015) Protein transfer free energy obeys entropy-enthalpy compensation. J Phys Chem B 119(44):14130–14144

Moinet GYK, Cieraad E, Hunt JE, Fraser A, Turnbull MH, Whitehead D (2016) Soil heterotrophic respiration is insensitive to changes in soil water content but related to microbial access to organic matter. Geoderma 274:68–78

Moyano FE, Manzoni S, Chenu C (2013) Responses of soil heterotrophic respiration to moisture availability: an exploration of processes and models. Soil Biol Biochem 59:72–85

Placella SA, Brodie EL, Firestone MK (2012) Rainfall-induced carbon dioxide pulses result from sequential resuscitation of phylogenetically clustered microbial groups. Proc Natl Acad Sci USA 109(27):10931–10936

Richardson J, Chatterjee A, Jenerette GD (2012) Optimum temperatures for soil respiration along a semi-arid elevation gradient in southern California. Soil Biol Biochem 46:89–95

Robinson JM (2016) Temperature sensitivity of soil respiration. University of Waikato, p 101

Rutledge S, Mudge PL, Campbell DI, Woodward SL, Goodrich JP, Wall AM, Kirschbaum MUF, Schipper LA (2015) Carbon balance of an intensively grazed temperate dairy pasture over four years. Agric Ecosyst Environ 206:10–20

Schipper LA, Hobbs JK, Rutledge S, Arcus VL (2014) Thermodynamic theory explains the temperature optima of soil microbial processes and high Q(10) values at low temperatures. Glob Change Biol 20(11):3578–3586

Sierra CA (2012) Temperature sensitivity of organic matter decomposition in the Arrhenius equation: some theoretical considerations. Biogeochemistry 108(1–3):1–15

Sierra CA, Trumbore SE, Davidson EA, Vicca S, Janssens I (2015) Sensitivity of decomposition rates of soil organic matter with respect to simultaneous changes in temperature and moisture. J Adv Model Earth Syst 7(1):335–356

Suseela V, Conant RT, Wallenstein MD, Dukes JS (2012) Effects of soil moisture on the temperature sensitivity of heterotrophic respiration vary seasonally in an old-field climate change experiment. Glob Change Biol 18(1):336–348

Wallenstein MD, McMahon SK, Schimel JP (2009) Seasonal variation in enzyme activities and temperature sensitivities in Arctic tundra soils. Glob Change Biol 15(7):1631–1639

Yao H, Conrad R (2000) Effect of temperature on reduction of iron and production of carbon dioxide and methane in anoxic wetland rice soils. Biol Fertil Soils 32(2):135–141

Yuste JC, Janssens IA, Carrara A, Meiresonne L, Ceulemans R (2003) Interactive effects of temperature and precipitation on soil respiration in a temperate maritime pine forest. Tree Physiol 23(18):1263–1270

Yuste JC, Baldocchi DD, Gershenson A, Goldstein A, Misson L, Wong S (2007) Microbial soil respiration and its dependency on carbon inputs, soil temperature and moisture. Glob Change Biol 13(9):2018–2035

Zakharova A, Beare MH, Cieraad E, Curtin D, Turnbull MH, Millard P (2015) Factors controlling labile soil organic matter vulnerability to loss following disturbance as assessed by measurement of soil-respired delta(CO2)-C-13. Eur J Soil Sci 66(1):135–144
Acknowledgements
Funding from University of Waikato, Landcare Research Core funding (Ministry of Business, Innovation and Employment's Science and Innovation Group), DairyNZ, Marsden Fund of New Zealand (08-UOW-57), and New Zealand Agricultural Greenhouse Gas Research Centre. Ray Littler provided sage advice on statistical analysis. Jack Pronger, Katharyn Woods and anonymous reviewers provided useful comments on drafts.
Additional information
Responsible Editor: Asmeret Asefaw Berhe
About this article
Cite this article
Robinson, J.M., O'Neill, T.A., Ryburn, J. et al. Rapid laboratory measurement of the temperature dependence of soil respiration and application to changes in three diverse soils through the year. Biogeochemistry 133, 101–112 (2017). https://doi.org/10.1007/s10533-017-0314-0
Received:

Accepted:

Published:

Issue Date:
Keywords
Respiration

Temperature

Arrhenius

Soil

Carbon