Abstract
Biological nitrogen fixation, the main natural input of fixed nitrogen into the biosphere, is catalyzed by Mo-, V-, or Fe-only nitrogenase metalloenzymes. Although "alternative" V- and Fe-only nitrogenase genes are found in many environments, the contribution of these isoenzymes to N2 fixation is unknown. Here we present a new method (ISARA, isotopic acetylene reduction assay) that distinguishes canonical Mo and alternative nitrogenase activities based on in vivo 13C fractionation of acetylene reduction to ethylene (13εMo = 13.1–14.7 ‰, 13εV = 7.5–8.8 ‰, 13εFe = 5.8–6.5 ‰). ISARA analyses indicate significant contributions of alternative nitrogen fixation in boreal cyanolichens and salt marshes (~10–40 % acetylene reduction, ~20–55 % N2 fixed). These results affect the quantitative interpretation of natural abundance 15N data or traditional acetylene reduction assays. They also invite a reexamination of the conditions under which the different nitrogenase isozymes are active and suggest significant interactions between the cycles of nitrogen and trace metals.
This is a preview of subscription content, log in to check access.
Access options
Buy single article
Instant access to the full article PDF.
US$ 39.95
Price includes VAT for USA
Subscribe to journal
Immediate online access to all issues from 2019. Subscription will auto renew annually.
US$ 199
This is the net price. Taxes to be calculated in checkout.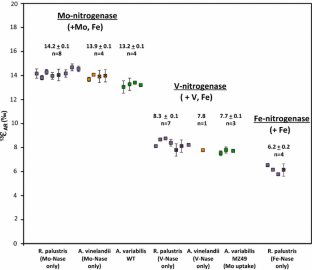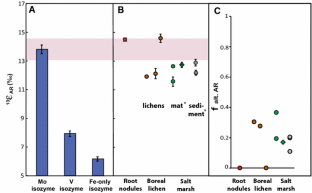 References
Bellenger J-P, Wichard T, Xu Y, Kraepiel AML (2011) Essential metals for nitrogen fixation in a free-living N2-fixing bacterium: chelation, homeostasis and high use efficiency. Environ Microbiol 13:1395–1411

Bellenger J-P, Xu Y, Zhang X et al (2014) Possible contribution of alternative nitrogenases to nitrogen fixation by asymbiotic N2-fixing bacterial in soils. Soil Biol Biochem 69:413–420

Bertics VJ, Sohm JA, Magnabosco C et al (2012) Denitrification and nitrogen fixation dynamics in the area surrounding an individual ghost shrimp (Neotrypaea californiensis) burrow system. Appl Environ Microbiol 78:3864–3872

Bishop PE, Premakumar R, Dean DR et al (1986) Nitrogen fixation by Azotobacter vinelandii strains having deletions in structural genes for nitrogenase. Science 232:92–94

Boyd ES, Hamilton TL, Peters JW (2011) An alternative path for the evolution of biological nitrogen fixation. Front Microbiol 2:1–6

Capone DG (1988) Benthic nitrogen fixation. In: Blackburn TH, Sørensen J (eds) Nitrogen cycling in coastal marine environments. Springer, New York

Chisnell JR, Premakumar R, Bishop PE (1988) Purification of a second alternative nitrogenase from a nifhdk deletion strain of Azotobacter vinelandii. J Bacteriol 170:27–33

Crans DC, Smee JJ, Gaidamauskas E et al (2004) The chemistry and biochemistry of vanadium and the biological activities exerted by vanadium compounds. Chem Rev 104:849–902

Darnajoux R, Constantin J, Miadlikowska J et al (2014) Is vanadium a biometal for boreal cyanolichens? New Phytol 202:765–771

Desai MS, Brune A (2012) Bacteroidales ectosymbionts of gut flagellates shape the nitrogen-fixing community in dry-wood termites. ISME J 6:1302–1313

Dilworth MJ, Eady RR, Robson RL et al (1987) Ethane formation from acetylene as a potential test for vanadium nitrogenase in vivo. Nature 327:167–168

Eady RR (1996) Structure-function relationships of alternative nitrogenases. Chem Rev 96:3013–3030

Fulweiler R, Brown S, Nixon S et al (2013) Evidence and a conceptual model for the co-occurrence of nitrogen fixation and denitrification in heterotrophic marine sediments. Mar Ecol Prog Ser 482:57–68

Gruber N, Galloway JN (2008) An earth-system perspective of the global nitrogen cycle. Nature 451:293–296

Hardy RWF, Holsten RD, Jackson EK et al (1968) Acetylene-ethylene assay for N2 fixation—laboratory and field evaluation. Plant Physiol 43:1185–1207

Hayes JM (2004) An introduction to isotopic calculation. Oceanographic Institution, Woods Hole

Hodkinson BP, Allen JL, Forrest LL et al (2014) Lichen-symbiotic cyanobacteria associated with Peltigera have an alternative vanadium-dependent nitrogen fixation system. Eur J Phycol 49:11–19

Högberg P (1997) 15N natural abundance in soil-plant systems. New Phytol 137:179–203

Howarth RW, Marino R (2006) Nitrogen as the limiting nutrient for eutrophication in coastal marine ecosystems: evolving views over three decades. Limnol Oceanogr 51:364–376

Joerger RD, Loveless TM, Pau RN et al (1990) Nucleotide sequence and mutational analysis of the structural genes for nitrogenase 2 of Azotobacter vinelandii. J Bacteriol 172:3400–3408

Kaminski P, Batut J, Boistard P (1998) A survey of symbiotic nitrogen fixation by Rhizobia. In: Spaink HP, Kondorosi A, Hooykaas PJJ (eds) The Rhizobiaceae. Springer, Netherlands

Oda Y, Samanta SK, Rey FE et al (2005) Functional genomic analysis of three nitrogenase isozymes in the photosynthetic bacterium Rhodopseudomonas palustris. J Bacteriol 187:7784–7794

Perakis S, Tepley A, Compton J (2015) Disturbance and topography shape nitrogen availability and δ15N over long-term forest succession. Ecosystems 18:1–16

Perry DA, Oren R, Hart SC (2013) Forest ecosystems. JHU Press, Baltimore

Reed SC, Cleveland CC, Townsend AR (2011) Functional ecology of free-living nitrogen fixation: a contemporary perspective. Annu Rev Ecol Evol Syst 42:489–512

Robson RL, Eady RR, Richardson TH et al (1986) The alternative nitrogenase of Azotobacter chroococcum is a vanadium enzyme. Nature 322:388–390

Seitzinger SP, Garber JH (1987) Nitrogen fixation and 15N2 calibration of the acetylene reduction assay in coastal marine sediments. Mar Ecol Prog Ser 37:65–73

Stüeken EE, Buick R, Guy BM et al (2015) Isotopic evidence for biological nitrogen fixation by molybdenum-nitrogenase from 3.2 Gyr. Nature 520:666–669

Sullivan BW, Smith WK, Townsend AR et al (2014) Spatially robust estimates of biological nitrogen fixation imply substantial human alteration of the tropical N cycle. Proc Natl Acad Sci USA 111:8101–8106

Teal JM, Valiela I, Berlo D (1979) Nitrogen fixation by rhizosphere and free-living bacteria in salt marsh sediments. Limnol Oceanogr 24:126–132

Thiel T (1993) Characterization of genes for an alternative nitrogenase in the cyanobacterium Anabaena variabilis. J Bacteriol 175:6276–6286

Thiel T, Lyons EM, Erker JC et al (1995) A second nitrogenase in vegetative cells of a heterocyst-forming cyanobacterium. Proc Natl Acad Sci USA 92:9358–9362

Valiela I, Teal JM (1979) The nitrogen budget of a salt marsh ecosystem. Nature 280:652–656

Vitousek PM, Menge DNL, Reed SC et al (2013) Biological nitrogen fixation: rates, patterns and ecological controls in terrestrial ecosystems. Phil Trans R Soc B 368:20130119

Walmsley J, Kennedy C (1991) Temperature-dependent regulation by molybdenum and vanadium of expression of the structural genes encoding 3 nitrogenases in Azotobacter vinelandii. Appl Environ Microbiol 57:622–624

Wilson ST, Böttjer D, Church MJ et al (2012) Comparative assessment of nitrogen fixation methodologies, conducted in the oligotrophic North Pacific Ocean. Appl Environ Microbiol 78:6516–6523

Zahalak M, Pratte B, Werth KJ et al (2004) Molybdate transport and its effect on nitrogen utilization in the cyanobacterium Anabaena variabilis ATCC 29413. Mol Microbiol 51:539–549

Zehr JP, Jenkins BD, Short SM et al (2003) Nitrogenase gene diversity and microbial community structure: a cross-system comparison. Environ Microbiol 5:539–554

Zhang X, Sigman DM, Morel FMM et al (2014) Nitrogen isotope fractionation by alternative nitrogenases and past ocean anoxia. Proc Natl Acad Sci USA 111:4782–4787

Zielke M, Solheim B, Spjelkavik S et al (2005) Nitrogen fixation in the high arctic: role of vegetation and environmental conditions. Arct Antarct Alp Res 37:372–378
Acknowledgments
We gratefully acknowledge the Princeton Environmental Institute (Grand Challenge Program), Andlinger Center for Energy and the Environment (Princeton U.), NSF Geobiology (GG-1024553), and the Canadian Research Chair in Terrestrial Biogeochemistry (CRC-950-219383) for funding; M. Saito, J. Waterbury, and I. Valiela (WHOI); Socièté des Espaces de Plein Air (Québec); T. Thiel (U. Missouri); S. Oleynik (Princeton U.); N. Van Oostende (Princeton U.) for their aid in field investigations, the provision of bacterial cultures, or advice on isotope analyses. The authors declare no conflict of interest.
Author contributions
A.M.L.K. and X.Z. designed the experiments; X.Z., D.L.M., A.M.L.K, R.D. performed the experiments, X.Z., D.L.M., R.D. analyzed the data; J-P.B. contributed materials; X.Z, D.L.M., F.M.M. and A.M.L.K co-wrote the paper.
Additional information
Responsible Editor: Stuart Grandy.
Electronic supplementary material
Below is the link to the electronic supplementary material.
About this article
Cite this article
Zhang, X., McRose, D.L., Darnajoux, R. et al. Alternative nitrogenase activity in the environment and nitrogen cycle implications. Biogeochemistry 127, 189–198 (2016). https://doi.org/10.1007/s10533-016-0188-6
Received:

Accepted:

Published:

Issue Date:
Keywords
Nitrogen fixation

Alternative nitrogenase

Trace metals

Nitrogen cycle

Stable isotopes