Abstract
Understanding the drivers of nutrient distributions across heterogeneous tropical landscapes, and the implication of those distributions for ecosystem processes, remains a challenge in biogeochemistry. Guided by a high-resolution digital elevation model, we determined soil chemical characteristics, including rock-derived nutrient availability and total element concentrations, along 16 hillslopes with two different morphologies on a terra firme landscape in the lowland Peruvian Amazon. We assessed the role of geomorphic processes in rejuvenating soils, and the role of biotic processes in retaining nutrients in surface soils along toposequences. Our results show that the chemical weathering state of subsurface soils decreases down convex slopes, suggesting a role for erosion-driven rejuvenation. Total phosphorus (P) and calcium (Ca) are less depleted in surface soils than subsurface soils, in contrast to the vertical patterns observed for total magnesium (Mg) and potassium (K). Exchangeable Ca and Mg are highly concentrated in surface soils relative to the total available in the top meter of soil, which remains true as the total amount of these nutrients available in the top meter of soil increases along convex hillslopes. The combined results suggest that Ca is especially tightly cycled by this tropical forest ecosystem, and that steep, eroding hillslopes play a major role in the distribution and rejuvenation of rock-derived nutrients in regions far from marine aerosol and dust inputs. Geomorphically-mediated distributions of these nutrients, in turn, may underpin spatial variation in tropical forest carbon dynamics.
Access options
Buy single article
Instant access to the full article PDF.
USD 39.95
Price includes VAT (USA)
Tax calculation will be finalised during checkout.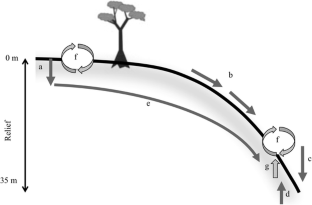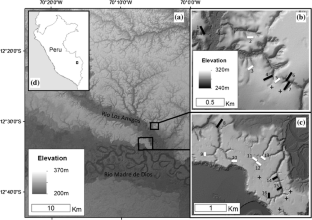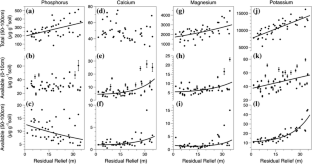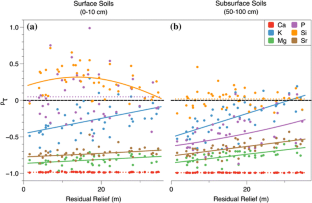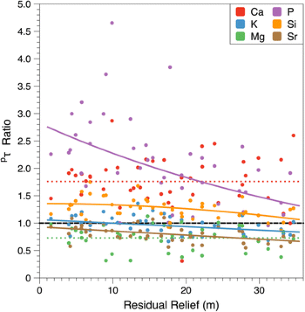 References
Amundson R (2001) The carbon budget in soils. Annu Rev Earth Planet Sci 29:535–562. doi:10.1146/annurev.earth.29.1.535

Asner GP, Martin RE (2011) Canopy phylogenetic, chemical and spectral assembly in a lowland Amazonian forest. New Phytol 189:999–1012. doi:10.1111/j.1469-8137.2010.03549.x

Asner GP, Knapp DE, Boardman J et al (2012) Carnegie Airborne Observatory-2: increasing science data dimensionality via high-fidelity multi-sensor fusion. Remote Sens Environ 124:454–465. doi:10.1016/j.rse.2012.06.012

Asner GP, Martin RE, Tupayachi R et al (2014) Amazonian functional diversity from forest canopy chemical assembly. Proc Natl Acad Sci 111:5604–5609. doi:10.1073/pnas.1401181111

Bouchez J, Gaillardet J, France-Lanord C et al (2011) Grain size control of river suspended sediment geochemistry: clues from Amazon River depth profiles. Geochem Geophys Geosyst 12:Q03008. doi:10.1029/2010GC003380

Boy J, Valarezo C, Wilcke W (2008) Water flow paths in soil control element exports in an Andean tropical montane forest. Eur J Soil Sci 59:1209–1227. doi:10.1111/j.1365-2389.2008.01063.x

Brienen RJW, Phillips OL, Feldpausch TR et al (2015) Long-term decline of the Amazon carbon sink. Nature 519:344–348. doi:10.1038/nature14283

Brimhall GH, Lewis CJ, Ague JJ et al (1988) Metal enrichment in bauxites by deposition of chemically mature aeolian dust. Nature 333:819–824. doi:10.1038/333819a0

Chadwick OA, Derry LA, Vitousek PM et al (1999) Changing sources of nutrients during four million years of ecosystem development. Nature 397:491–497. doi:10.1038/17276

Clark KE, Malhi Y, New N et al (2013) New views on "old" carbon in the Amazon River: insight from the source of organic carbon eroded from the Peruvian Andes. Geochem Geophys Geosyst 14:1644–1658. doi:10.1002/ggge.20122

Cleveland CC, Townsend AR, Taylor P et al (2011) Relationships among net primary productivity, nutrients and climate in tropical rain forest: a pan-tropical analysis. Ecol Lett 14:939–947. doi:10.1111/j.1461-0248.2011.01658.x

Cuevas E, Medina E (1988) Nutrient dynamics within Amazonian forests. Oecologia 76:222–235

Culling W (1960) Analytical theory of erosion. J Geol 68:336–344

Espurt N, Baby P, Brusset S et al (2007) How does the Nazca Ridge subduction influence the modern Amazonian foreland basin? Geology 35:515–518

Espurt N, Baby P, Brusset S et al (2010) Amazonia: landscape and species evolution: a look into the past. In: Hoorn C, Wesselingh F (eds) Amazonia: landscape and species evolution: a look into the past. Wiley, Chichester, pp 89–100

Fisher JB, Malhi Y, Torres IC et al (2013) Nutrient limitation in rainforests and cloud forests along a 3,000-m elevation gradient in the Peruvian Andes. Oecologia 172:889–902. doi:10.1007/s00442-012-2522-6

Fransson A-M (2001) Evaluation of oxalate/oxalic acid for extracting plant available phosphorus in unfertilized acid soils. Commun Soil Sci Plant Anal 32:2469–2484. doi:10.1081/CSS-120000385

Furbish DJ (2003) Using the dynamically coupled behavior of land‐surface geometry and soil thickness in developing and testing hillslope evolution models. In: Wilcock PR, Iverson RM (eds) Prediction in geomorphology. Lambert Academic Publishing, Saarbrücken, pp 169–181. doi:10.1029/135GM12

Fyllas NM, Patino S, Baker TR et al (2009) Basin-wide variations in foliar properties of Amazonian forest: phylogeny, soils and climate. Biogeosciences 6:2677–2708. doi:10.5194/bg-6-2677-2009

Gilbert GK (1909) The convexity of hilltops. J Geol 17(4):344–350

Guo F, Yost RS (1999) Quantifying the available soil phosphorus pool with the acid ammonium oxalate method. Soil Sci Soc Am J 63:651–656

Güsewell S (2004) N: P Ratios in Terrestrial Plants: Variation and Functional Significance. New Phytol 164:243–266. doi:10.1111/j.1469-8137.2004.01192.x

Hao X, Ball BC, Culley J et al (2008) Soil density and porosity. Soil sampling and methods of analysis, 2nd edn. Soil sampling and methods of Analysis, Boca Raton, pp 743–759

Hendershot WH, Duquette M (1986) A simple barium chloride method for determining cation exchange capacity and exchangeable cations. Soil Sci Soc Am J 50:605–608

Jenny H (1941) Factors of Soil Formation: a system of quantitative pedology. McGraw-Hill, New York

Jobbágy EG, Jackson RB (2001) The distribution of soil nutrients with depth: global patterns and the imprint of plants. Biogeochemistry 53:51–77. doi:10.1023/A:1010760720215

Jobbágy EG, Jackson RB (2004) The uplift of soil nutrients by plants: biogeochemical consequences across scales. Ecology 85:2380–2389. doi:10.1890/03-0245

Kirkby MJ (1967) Measurement and theory of soil creep. J Geol 75:359–378

Kirkby MJ, Chorley RJ (1967) Throughflow, overland flow and erosion. International Association of Scientific Hydrology. Bulletin 12:5–21. doi:10.1080/02626666709493533

Koerselman W, Meuleman AFM (1996) The vegetation N:P ratio: a new tool to detect the nature of nutrient limitation. J Appl Ecol 33:1441–1450. doi:10.2307/2404783

Kurtz AC, Derry LA, Chadwick O, Alfano MJ (2000) Refractory element mobility in volcanic soils. Geology 28:683–686. doi:10.1130/0091-7613(2000)28<683:REMIVS>2.0.CO;2

Latrubesse EM, Cozzuol M, da Silva-Caminha S (2010) The Late Miocene paleogeography of the Amazon Basin and the evolution of the Amazon River system. Earth Sci Rev 99:99–124. doi:10.1016/j.earscirev.2010.02.005

Laurance SGW, Laurance WF, Andrade A et al (2010) Influence of soils and topography on Amazonian tree diversity: a landscape-scale study. J Veg Sci 21:96–106. doi:10.1111/j.1654-1103.2009.01122.x

Lewis LA (1974) Slow movement of earth under tropical rain forest conditions. Geology 2:9–19. doi:10.1130/0091-7613(1974)2<9:SMOEUT>2.0.CO;2

Likens GE, Driscoll CT, Buso DC et al (1998) The biogeochemistry of calcium at Hubbard Brook. Biogeochemistry 41:89–173. doi:10.1023/A:1005984620681

Loeppert RH, Inskeep WP (1996) Iron. Methods Soil Anal 3. doi:10.2136/sssabookser5.3.c23

Lucas Y, Luizao FJ, Chauvel A, Rouiller J, Nahon D (1993) The relation between biological activity of the rain forest and mineral composition of soils. Science 260:521–523. doi:10.1126/science.260.5107.521

Mage SM, Porder S (2013) Parent Material and topography determine soil phosphorus status in the Luquillo Mountains of Puerto Rico. Ecosystems 16:284–294. doi:10.1007/s10021-012-9612-5

Malhi Y, Grace J (2000) Tropical forests and atmospheric carbon dioxide. Trends Ecol Evol 15:332–337. doi:10.1016/S0169-5347(00)01906-6

McKeague J, Day J (1966) Dithionite-and oxalate-extractable Fe and Al as aids in differentiating various classes of soils. Can J Soil Sci 46:13–22

Mudd SM, Furbish DJ (2007) Responses of soil-mantled hillslopes to transient channel incision rates. J Geophys Res 112:F03S18. doi:10.1029/2006JF000516/pdf

Osher LJ, Buol SW (1998) Relationship of soil properties to parent material and landscape position in eastern Madre de Dios, Peru. Geoderma 83:143–166. doi:10.1016/s0016-7061(97)00133-x

Pitman NCA (2010) An overview of the Los Amigos watershed, Madre de Dios, southeastern Peru. February 2010 version of an unpublished report available from the author at npitman@fieldmuseum.org

Porder S, Paytan A, Vitousek PM (2005) Erosion and landscape development affect plant nutrient status in the Hawaiian Islands. Oecologia 142:440–449. doi:10.1007/s00442-004-1743-8

Porder S, Johnson AH, Xing HX et al (2015) Linking geomorphology, weathering and cation availability in the Luquillo Mountains of Puerto Rico. Geoderma 249–250:100–110. doi:10.1016/j.geoderma.2015.03.002

Quesada CA, Lloyd J, Anderson LO et al (2011) Soils of Amazonia with particular reference to the RAINFOR sites. Biogeosciences 8:1415–1440. doi:10.5194/bg-8-1415-2011

Quesada CA, Phillips OL, Schwarz M et al (2012) Basin-wide variations in Amazon forest structure and function are mediated by both soils and climate. Biogeosciences 9:2203–2246. doi:10.5194/bg-9-2203-2012

R Core Team (2014) R: A language and environment for statistical computing

Regard V, Baby P, Lagnous R et al (2009) Geomorphic evidence for recent uplift of the Fitzcarrald Arch (Peru): a response to the Nazca Ridge subduction. Geomorphology 107:107–117. doi:10.1016/j.geomorph.2008.12.003

Resner K, Yoo K, Sebestyen SD et al (2015) Invasive earthworms deplete key soil inorganic nutrients (Ca, Mg, K, and P) in a Northern Hardwood Forest. Ecosystems 18:89–102. doi:10.1007/s10021-014-9814-0

Ridley DA, Heald CL, Ford B (2012) North African dust export and deposition: a satellite and model perspective. J Geophys Res Solid Earth (1978–2012) 117:D02202. doi:10.1029/2011JD016794

Rigsby CA, Hemric EM, Baker PA (2009) Late Quaternary Paleohydrology of the Madre de Dios River, southwestern Amazon Basin, Peru. Geomorphology 113:158–172. doi:10.1016/j.geomorph.2008.11.017

Robertson GP (1999) Standard soil methods for long-term ecological research. Oxford University Press on Demand

Salo J, Kalliola R, Häkkinen I et al (1986) River dynamics and the diversity of Amazon lowland forest. Nature 322:254–258

Schellekens J, Scatena FN, Bruijnzeel LA et al (2004) Stormflow generation in a small rainforest catchment in the Luquillo Experimental Forest, Puerto Rico. Hydrol Process 18:505–530

Schimel DS (1995) Terrestrial ecosystems and the carbon cycle. Glob Change Biol 1:77–91. doi:10.1111/j.1365-2486.1995.tb00008.x

Schimel D, Stephens BB, Fisher JB (2015) Effect of increasing CO2 on the terrestrial carbon cycle. Proc Natl Acad Sci USA 112:436–441. doi:10.1073/pnas.1407302112

Soil Survey Staff (2014) Kellogg Soil Survey Laboratory Methods Manual

Sullivan BW, Alvarez-Clare S, Castle SC et al (2014) Assessing nutrient limitation in complex forested ecosystems: alternatives to large-scale fertilization experiments. Ecology 95:668–681. doi:10.1890/13-0825.1

Takyu M, Aiba SI, Kitayama K (2002) Effects of topography on tropical lower montane forests under different geological conditions on Mount Kinabalu, Borneo. Plant Ecol 159(1):35–49. doi:10.1023/A:1015512400074

Tiessen H, Chacon P, Cuevas E (1994) Phosphorus and nitrogen status in soils and vegetation along a toposequence of dystrophic rainforests on the upper Rio Negro. Oecologia 99:145–150. doi:10.1007/BF00317095

Townsend AR, Cleveland CC, Asner GP, Bustamante MMC (2007) Controls over foliar N: P ratios in tropical rain forests. Ecology 88:107–118. doi:10.1890/0012-9658(2007)88[107:cofnri]2.0.co;2

Townsend AR, Asner GP, Cleveland CC (2008) The biogeochemical heterogeneity of tropical forests. Trends Ecol Evol 23:424–431. doi:10.1016/j.tree.2008.04.009

Turner BL, Engelbrecht B (2011) Soil organic phosphorus in lowland tropical rain forests. Biogeochemistry 103:297–315. doi:10.1007/s10533-010-9466-x

van Breemen N, Mulder J, Driscoll CT (1983) Acidification and alkalinization of soils. Plant Soil 75:283–308. doi:10.1007/BF02369968

Vitousek PM (1984) Litterfall, nutrient cycling, and nutrient limitation in tropical forests. Ecology 65:285–298. doi:10.2307/1939481

Vitousek P, Chadwick O, Matson P et al (2003) Erosion and the rejuvenation of weathering-derived nutrient supply in an old tropical landscape. Ecosystems 6:762–772. doi:10.1007/s10021-003-0199-8

Weintraub SR, Taylor PG, Porder S et al (2014) Topographic controls on soil nitrogen availability in a lowland tropical forest. Ecology 96:1561–1574. doi:10.1890/14-0834.1

Wright SJ, Yavitt JB, Wurzburger N et al (2011) Potassium, phosphorus, or nitrogen limit root allocation, tree growth, or litter production in a lowland tropical forest. Ecology 92:1616–1625

Yoo K, Mudd SM, Sanderman J et al (2009) Spatial patterns and controls of soil chemical weathering rates along a transient hillslope. Earth and Planetary Science Letters 288:184–193. doi:10.1016/j.epsl.2009.09.021
Acknowledgments
We thank R. Tupayachi, F. Sinca, N. Jaramillo, R. Martin, C. Anderson, D. Knapp and the rest of the Carnegie Airborne Observatory team for assistance with data collection, processing and analysis, and S. Roycroft, G.C. Li, and K. Kryston for laboratory assistance. This paper was improved by comments from P. Vitousek, S. Fendorf, and S. Johnstone. This study was funded by the John D. and Catherine T. MacArthur Foundation. K. D. Chadwick was supported by NASA Headquarters under the NASA Earth and Space Science Fellowship Program—Grant 15-EARTH14F-48. The Carnegie Airborne Observatory is made possible by the Avatar Alliance Foundation, John D. and Catherine T. MacArthur Foundation, Gordon and Betty Moore Foundation, Grantham Foundation for the Protection of the Environment, W. M. Keck Foundation, Margaret A. Cargill Foundation, Mary Anne Nyburg Baker and G. Leonard Baker Jr., and William R. Hearst III.
Additional information
Responsible Editor: W. Troy Baisden.
Electronic supplementary material
Below is the link to the electronic supplementary material.
About this article
Cite this article
Chadwick, K.D., Asner, G.P. Tropical soil nutrient distributions determined by biotic and hillslope processes. Biogeochemistry 127, 273–289 (2016). https://doi.org/10.1007/s10533-015-0179-z
Received:

Accepted:

Published:

Issue Date:
Keywords
Amazon

Calcium

Phosphorus

Rock-derived nutrients

Toposequence