Abstract
Climate change may have differing effects on microbial processes that control coastal N availability. We conducted a microcosm experiment to explore effects of warming and carbon availability on nitrate reduction pathways in marine sediments. Sieved continental shelf sediments were incubated for 12 weeks under aerated seawater amended with nitrate (~50 μM), at winter (4 °C) or summer (17 °C) temperatures, with or without biweekly particulate organic C additions. Treatments increased diffusive oxygen consumption as expected, with somewhat higher effects of C addition compared to warming. Combined warming and C addition had the strongest effect on nitrate flux across the sediment water interface, with a complete switch early in the experiment from influx to sustained efflux. Supporting this result, vial incubations with added 15N-nitrate indicated that C addition stimulated potential rates of dissimilatory nitrate reduction to ammonium (DNRA), but not denitrification. Overall capacity for both denitrification and DNRA was reduced in warmed treatments, possibly reflecting C losses due to increased respiration with warming. Anammox potential rates were much lower than DNRA or denitrification, and were slightly negatively affected by warming or C addition. Overall, results indicate that warming and C addition increased ammonium production through remineralization and possibly DNRA. This stimulated nitrate production through nitrification, but without a comparable increase in nitrate consumption through denitrification. The response to C of potential DNRA rates over denitrification, along with a switch to nitrate efflux, raises the possibility that DNRA is an important and previously overlooked source of internal N cycling in shelf sediments.
Access options
Buy single article
Instant access to the full article PDF.
USD 39.95
Price excludes VAT (USA)
Tax calculation will be finalised during checkout.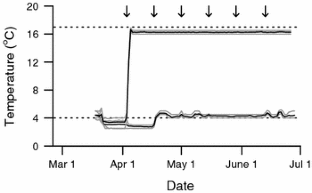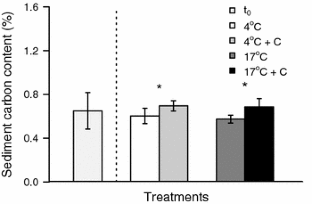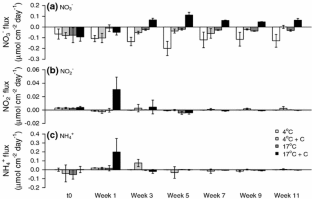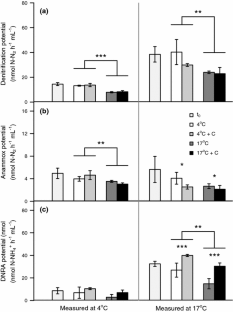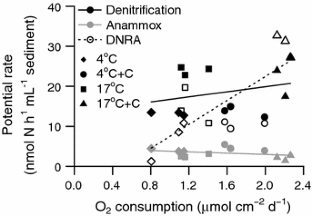 References
Akunna JC, Bizeau C, Moletta R (1993) Nitrate and nitrite reductions with anaerobic sludge using various carbon sources: glucose, glycerol, acetic acid, lactic acid and methanol. Water Res 27:1303–1312

Algar CK, Vallino JJ (2014) Predicting microbial nitrate reduction pathways in coastal sediments. Aquat Microb Ecol 71:223–238. doi:10.3354/ame01678

Alsterberg C, Hulth S, Sundbäck K (2011) Response of a shallow-water sediment system to warming. Limnol Oceanogr 56:2147–2160. doi:10.4319/lo.2011.56.6.2147

Alsterberg C, Sundbäck K, Hulth S (2012) Functioning of a shallow-water sediment system during experimental warming and nutrient enrichment. PLoS One 7:e51503. doi:10.1371/journal.pone.0051503

An S, Gardner WS (2002) Dissimilatory nitrate reduction to ammonium (DNRA) as a nitrogen link, versus denitrification as a sink in a shallow estuary (Laguna Madre/Baffin Bay, Texas). Mar Ecol Prog Ser 237:41–50

Babbin AR, Keil RG, Devol AH, Ward BB (2014) Organic matter stoichiometry, flux, and oxygen control nitrogen loss in the ocean. Science 344:406–408. doi:10.1126/science.1248364

Behrendt A, de Beer D, Stief P (2013) Vertical activity distribution of dissimilatory nitrate reduction in coastal marine sediments. Biogeosci Discuss 10:8065–8101. doi:10.5194/bgd-10-8065-2013

Bonin PC, Omnes P, Chalamet A (1999) The influence of nitrate and carbon inputs on the end products of bacterial nitrate dissimilation in marine sediment. Toxicol Environ Chem 73:67–79

Brin LD, Giblin AE, Rich JJ (2014) Environmental controls of anammox and denitrification in southern New England estuarine and shelf sediments. Limnol Oceanogr 59:851–860. doi:10.4319/lo.2014.59.3.0851

Brunet RC, Garcia-Gil LJ (1996) Sulfide-induced dissimilatory nitrate reduction to ammonia in anaerobic freshwater sediments. FEMS Microbiol Ecol 21:131–138. doi:10.1016/0168-6496(96)00051-7

Burdige DJ (1991) The kinetics of organic matter mineralization in anoxic marine sediments. J Mar Res 49:727–761. doi:10.1357/002224091784995710

Burgin AJ, Hamilton SK (2007) Have we overemphasized the role of denitrification in aquatic ecosystems? A review of nitrate removal pathways. Front Ecol Environ 5:89–96. doi:10.1890/1540-9295(2007)5[89:HWOTRO]2.0.CO;2

Caffrey JM, Sloth NP, Kaspar HF, Blackburn TH (1993) Effect of organic loading on nitrification and denitrification in a marine sediment microcosm. FEMS Microbiol Ecol 12:159–167

Canavan RW, Laverman AM, Slomp CP (2007) Modeling nitrogen cycling in a coastal fresh water sediment. Hydrobiologia 584:27–36. doi:10.1007/s10750-007-0583-z

Canfield DE (2005) The Nitrogen Cycle. In: Canfield DE, Thamdrup B, Kristensen E (eds) Aquatic Geomicrobiology: Advances in Marine Biology. Elsevier Academic Press, San Diego, pp 205–267

Canfield DE, Jorgensen BB, Fossing H et al (1993) Pathways of organic carbon oxidation in three continental margin sediments. Mar Geol 113:27–40

Christensen J (1994) Carbon export from continental shelves, denitrification and atmospheric carbon dioxide. Cont Shelf Res 14:547–576

Christensen PB, Rysgaard S, Sloth NP et al (2000) Sediment mineralization, nutrient fluxes, denitrification and dissimilatory nitrate reduction to ammonium in an estuarine fjord with sea cage trout farms. Aquat Microb Ecol 21:73–84

Codispoti LA, Brandes JA, Christensen JP et al (2000) The oceanic fixed nitrogen and nitrous oxide budgets: Moving targets as we enter the anthropocene. Sci Mar 65:85–105

Crowe SA, Canfield DE, Mucci A et al (2012) Anammox, denitrification and fixed-nitrogen removal in sediments from the Lower St. Lawrence Estuary. Biogeosciences 9:4309–4321. doi:10.5194/bg-9-4309-2012

Dalsgaard T, Thamdrup B (2002) Factors controlling anaerobic ammonium oxidation with nitrite in marine sediments. Appl Environ Microbiol 68:3802–3808. doi:10.1128/AEM.68.8.3802

Dalsgaard T, Thamdrup B, Canfield DE (2005) Anaerobic ammonium oxidation (anammox) in the marine environment. Res Microbiol 156:457–464. doi:10.1016/j.resmic.2005.01.011

De Haas H, van Weering TCE, de Stigter H (2002) Organic carbon in shelf seas: sinks or sources, processes and products. Cont Shelf Res 22:691–717. doi:10.1016/S0278-4343(01)00093-0

Diaz RJ, Rosenberg R (2008) Spreading dead zones and consequences for marine ecosystems. Science 321:926–929. doi:10.1126/science.1156401

Dong LF, Sobey MN, Smith CJ et al (2011) Dissimilatory reduction of nitrate to ammonium, not denitrification or anammox, dominates benthic nitrate reduction in tropical estuaries. Limnol Oceanogr 56:279–291. doi:10.4319/lo.2011.56.1.0279

Fitch JE, Crowe TP (2011) Combined effects of temperature, inorganic nutrients and organic matter on ecosystem processes in intertidal sediments. J Exp Mar Bio Ecol 400:257–263. doi:10.1016/j.jembe.2011.02.005

Fulweiler RW, Nixon SW, Buckley BA, Granger SL (2008) Net sediment N2 fluxes in a coastal marine system—experimental manipulations and a conceptual model. Ecosystems 11:1168–1180. doi:10.1007/s10021-008-9187-3

Gardner WS, McCarthy MJ (2009) Nitrogen dynamics at the sediment–water interface in shallow, sub-tropical Florida Bay: why denitrification efficiency may decrease with increased eutrophication. Biogeochemistry 95:185–198. doi:10.1007/s10533-009-9329-5

Giblin AE, Tobias CR, Song B et al (2013) The importance of dissimilatory nitrate reduction to ammonium (DNRA) in the nitrogen cycle of coastal ecosystems. Oceanography 26:94–101

Glud RN (2008) Oxygen dynamics of marine sediments. Mar Biol Res 4:243–289. doi:10.1080/17451000801888726

Gruca-Rokosz R, Tomaszek JA, Koszelnik P (2009) Competitiveness of dissimilatory nitrate reduction processes in bottom sediment of Rzeszów reservoir. Environ Prot Eng 35:5–13

Heiss EM, Fields L, Fulweiler RW (2012) Directly measured net denitrification rates in offshore New England sediments. Cont Shelf Res 45:78–86. doi:10.1016/j.csr.2012.06.002

Holmes RM, McClelland JW, Sigman DM et al (1998) Measuring 15 N-NH4+ in marine, estuarine and fresh waters: an adaptation of the ammonia diffusion method for samples with low ammonium concentrations. Mar Chem 60:235–243

Jäntti H, Hietanen S (2012) The effects of hypoxia on sediment nitrogen cycling in the Baltic Sea. Ambio 41:161–169. doi:10.1007/s13280-011-0233-6

Jensen K, Revsbech NP, Nielsen LP (1993) Microscale distribution of nitrification activity in sediment determined with a shielded microsensor for nitrate. Appl Environ Microbiol 59:3287–3296

Jensen K, Sloth NP, Risgaard-Petersen N, Rysgaard S (1994) Estimation of nitrification and denitrification from microprofiles of oxygen and nitrate in model sediment systems. Appl Environ Microbiol 60:2094–2100

Jones MN (1984) Nitrate reduction by shaking with cadmium: alternative to cadmium columns. Water Res 18:643–646

Jørgensen KS (1989) Annual pattern of denitrification and nitrate ammonification in estuarine sediment. Appl Environ Microbiol 55:1841–1847

Joye SB, Anderson IC (2008) Nitrogen cycling in coastal sediments. In: Capone DG, Bronk D, Mulholland D, Carpenter EJ (eds) Nitrogen in the marine environment. Academic Press, New York, pp 867–915

Joye SB, Hollibaugh JT (1995) Influence of sulfide inhibition on nitrogen regeneration in sediments. Science 270:623–625

Kartal B, Kuypers MMM, Lavik G et al (2007) Anammox bacteria disguised as denitrifiers: nitrate reduction to dinitrogen gas via nitrite and ammonium. Environ Microbiol 9:635–642. doi:10.1111/j.1462-2920.2006.01183.x

Kelly-Gerreyn BA, Trimmer M, Hydes DJ (2001) A diagenetic model discriminating denitrification and dissimilatory nitrate reduction to ammonium in a temperate estuarine sediment. Mar Ecol Prog Ser 220:33–46

King D, Nedwell DB (1984) Changes in the nitrate-reducing community of an anaerobic saltmarsh sediment in response to seasonal selection by temperature. J Gen Microbiol 130:2935–2941

Koop-Jakobsen K, Giblin AE (2010) The effect of increased nitrate loading on nitrate reduction via denitrification and DNRA in salt marsh sediments. Limnol Oceanogr 55:789–802. doi:10.4319/lo.2009.55.2.0789

Koroleff F (1983) Determination of nutrients. In: Grasshoff K (ed) Methods of seawater analysis. Verlag Chemie, Weinheim, pp 125–187

Kraft B, Tegetmeyer HE, Sharma R et al (2014) The environmental controls that govern the end product of bacterial nitrate respiration. Science 345:676–679. doi:10.1126/science.1254070

Laverman AM, Van Cappellen P, van Rotterdam-Los D et al (2006) Potential rates and pathways of microbial nitrate reduction in coastal sediments. FEMS Microbiol Ecol 58:179–192. doi:10.1111/j.1574-6941.2006.00155.x

Lewandowska A, Sommer U (2010) Climate change and the spring bloom: a mesocosm study on the influence of light and temperature on phytoplankton and mesozooplankton. Mar Ecol Prog Ser 12:101–111. doi:10.3354/meps08520

MacFarlane GT, Herbert RA (1984) Dissimilatory nitrate reduction and nitrification in estuarine sediments. J Gen Microbiol 130:2301–2308

Neubacher EC, Parker RE, Trimmer M (2013) The potential effect of sustained hypoxia on nitrogen cycling in sediment from the southern North Sea: a mesocosm experiment. Biogeochemistry 113:69–84. doi:10.1007/s10533-012-9749-5

Nixon SW, Fulweiler RW, Buckley BA et al (2009) The impact of changing climate on phenology, productivity, and benthic-pelagic coupling in Narragansett Bay. Estuar Coast Shelf Sci 82:1–18. doi:10.1016/j.ecss.2008.12.016

Nizzoli D, Carraro E, Nigro V, Viaroli P (2010) Effect of organic enrichment and thermal regime on denitrification and dissimilatory nitrate reduction to ammonium (DNRA) in hypolimnetic sediments of two lowland lakes. Water Res 44:2715–2724. doi:10.1016/j.watres.2010.02.002

Ogilvie BG, Rutter M, Nedwell DB (1997) Selection by temperature of nitrate-reducing bacteria from estuarine sediments: species composition and competition for nitrate. FEMS Microbiol Ecol 23:11–22

Paulmier A, Kriest I, Oschlies A (2009) Stoichiometries of remineralisation and denitrification in global biogeochemical ocean models. Biogeosciences 6:923–935. doi:10.5194/bg-6-923-2009

Perry MJ, Eppley RW (1981) Phosphate uptake by phytoplankton in the central North Pacific Ocean. Deep Sea Res Part A Oceanogr Res Pap 28:39–49

R Development Core Team R: A language and environment for statistical computing. http://www.r-project.org

Rehr B, Klemme J-H (1989) Competition for nitrate between denitrifying Pseudomonas stutzeri and nitrate ammonifying enterobacteria. FEMS Microbiol Lett 62:51–57

Revsbech NP, Risgaard-Petersen N, Schramm A, Nielsen LP (2006) Nitrogen transformations in stratified aquatic microbial ecosystems. Antonie Van Leeuwenhoek 90:361–375. doi:10.1007/s10482-006-9087-5

Ryther JH, Dunstan WM (1971) Nitrogen, phosphorus, and eutrophication in the coastal marine environment. Science 171:1008–1013. doi:10.1126/science.171.3975.1008

Sommer U, Lengfellner K (2008) Climate change and the timing, magnitude, and composition of the phytoplankton spring bloom. Glob Chang Biol 14:1199–1208. doi:10.1111/j.1365-2486.2008.01571.x

Templer PH, Silver WL, Pett-Ridge J et al (2008) Plant and microbial controls on nitrogen retention and loss in a humid tropical forest. Ecology 89:3030–3040

Thamdrup B (2012) New pathways and processes in the global nitrogen cycle. Annu Rev Ecol Evol Syst 43:407–428. doi:10.1146/annurev-ecolsys-102710-145048

Thamdrup B, Dalsgaard T (2002) Production of N2 through anaerobic ammonium oxidation coupled to nitrate reduction in marine sediments. Appl Environ Microbiol 68:1312–1318. doi:10.1128/AEM.68.3.1312

Tiedje JM (1988) Ecology of denitrification and dissimilatory nitrate reduction to ammonium. In: Zehnder AJB (ed) Biology of anaerobic microorganisms. Wiley, New York, pp 179–244

Tiedje JM, Sexstone AJ, Myrold DD, Robinson JA (1982) Denitrification: ecological niches, competition and survival. Antonie Van Leeuwenhoek 48:569–583

Tobias CR, Anderson IC, Canuel EA, Macko SA (2001) Nitrogen cycling through a fringing marsh-aquifer ecotone. Mar Ecol Prog Ser 210:25–39. doi:10.3354/meps210025

Tomaszek JA, Gruca-Rokosz R (2007) Rates of dissimilatory nitrate reduction to ammonium in two Polish reservoirs: impacts of temperature, organic matter content, and nitrate concentration. Environ Technol 28:771–778

Trimmer M, Engström P (2011) Distribution, activity, and ecology of anammox bacteria in aquatic environments. In: Ward BB, Arp DJ, Klotz MG (eds) Nitrification, 1st edn. ASM Press, Washington, pp 201–236

Trimmer M, Nicholls JC, Deflandre B (2003) Anaerobic ammonium oxidation measured in sediments along the Thames Estuary, United Kingdom. Appl Environ Microbiol 69:6447–6454. doi:10.1128/AEM.69.11.6447

Trimmer M, Risgaard-Petersen N, Nicholls JC, Engström P (2006) Direct measurement of anaerobic ammonium oxidation (anammox) and denitrification in intact sediment cores. Mar Ecol Prog Ser 326:37–47
Acknowledgments
Thank you to Michaeline Nelson, Amber Hardison, Heather Leslie, Stephen Porder and Ruby Ho for help in the lab and the field, and to Elise Heiss, Lindsey Fields, Shelley Brown, Wally Fulweiler, Scott Nixon, Bethany Jenkins, Jane Tucker, Steve Granger, Rodman Sykes, Rebecca Robinson, Catherine Luria, Marshall Otter, David Murray, Joe Orchardo and Karen Kidd. This material is based upon work supported by the National Science Foundation by OCE-0852289 to JJR and OCE-0852263 and OCE-0927400 to AEG, and Rhode Island Sea Grant to JJR.
Conflict of Interest
The authors declare that they have no conflict of interest.
Additional information
Responsible Editor: Leila J. Hamdan
About this article
Cite this article
Brin, L.D., Giblin, A.E. & Rich, J.J. Effects of experimental warming and carbon addition on nitrate reduction and respiration in coastal sediments. Biogeochemistry 125, 81–95 (2015). https://doi.org/10.1007/s10533-015-0113-4
Received:

Accepted:

Published:

Issue Date:

DOI: https://doi.org/10.1007/s10533-015-0113-4
Keywords
Anammox

Climate change

Continental shelf

Denitrification

Dissimilatory nitrate reduction to ammonium

Warming