Abstract
We measured metabolism rates in a shallow, nitrogen-enriched coastal marine ecosystem on Cape Cod (MA, USA) during seven summers using an open-water diel oxygen method. We compared two basins, one directly receiving most of the nitrogen (N) load ("Snug Harbor") and another further removed from the N load and better flushed ("Outer Harbor"). Both dissolved oxygen and pH varied greatly over the day, increasing in daylight and decreasing at night. The more N-enriched basin frequently went hypoxic during the night, and the pH in both basins was low (compared to standard seawater) when the oxygen levels were low, due to elevated carbon dioxide. Day-to-day variation in gross primary production (GPP) was high and linked in part to variation in light. Whole-ecosystem respiration tended to track this short-term variation in GPP, suggesting that respiration by the primary producers often dominated whole-system respiration. GPP was higher in the more N-loaded Snug Harbor. Seagrasses covered over 60 % of the area of the better-flushed, Outer Harbor throughout our study and were the major contributors to GPP there. Seagrasses covered 20 % of the area in Snug Harbor for the first 5 years of our study, and their contribution to GPP was relatively small. The seagrasses in Snug Harbor died off completely in the 6th year, but GPP remained high then and in the subsequent year. Overall, rates of phytoplankton GPP were relatively low, suggesting that benthic micro- and macro-algae may be the dominant primary producers in Snug Harbor in most years. Net ecosystem production in both Snug Harbor and the Outer Harbor was variable from year to year, showing net heterotrophy in some years and net autotrophy in others, with a trend towards increasing autotrophy over the 7 years reported here.
Access options
Buy single article
Instant access to the full article PDF.
US$ 39.95
Tax calculation will be finalised during checkout.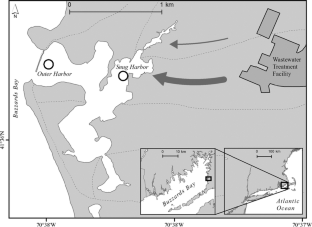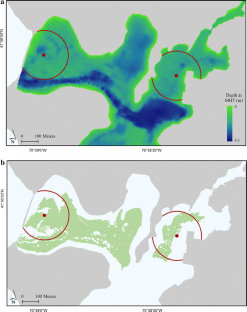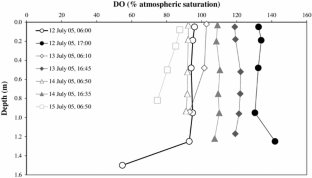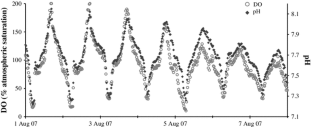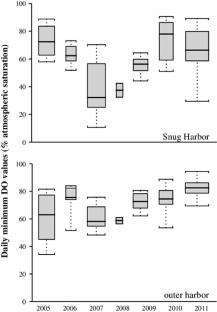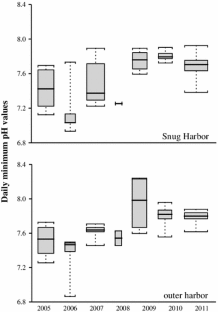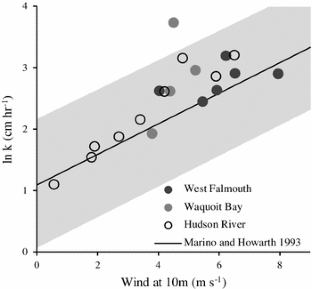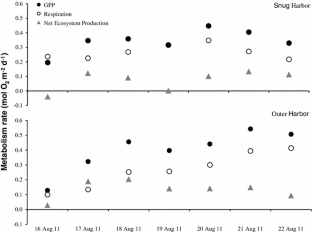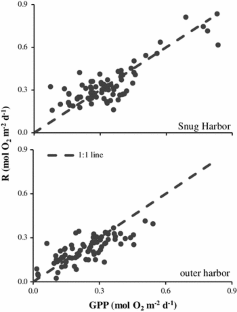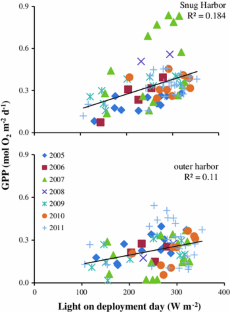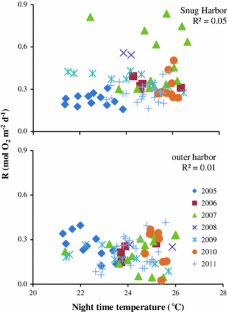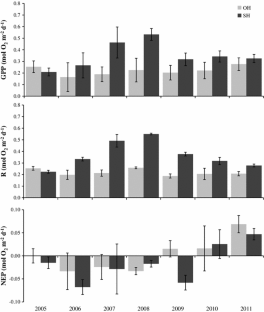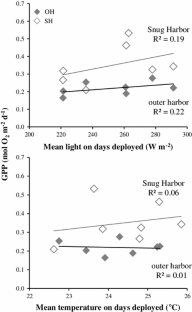 References
Barron C, Marba N, Terrados J, Kennedy H, Duarte CM (2004) Community metabolism and carbon budget along a gradient of seagrass (Cymodocea nodosa) colonization. Limnol Oceanogr 49:1642–1651

Benson BB, Krause D (1984) The concentration and isotopic fractionation of oxygen dissolved in freshwater and seawater in equilibrium with the atmosphere. Limnol Oceanogr 29:620–632

Björk M, Short F, McIeod E, Beer S (2008) Managing seagrasses for resilience to climate change. International Union for the Conservation of Nature, Gland

Borges AV, Gypens N (2010) Carbonate chemistry in the coastal zone responds more strongly to eutrophication than to ocean acidification. Limnol Oceanogr 55:346–353

Borges AV, Delille B, Schiettecatte L, Gazeau B, Abril B, Grankignoulle M (2004) Gas transfer velocities of CO2 in three European estuaries (Randers Fjord, Scheldt, and Thames). Limnol Oceanogr 49:1630–1641

Borum JI, Sand-Jensen K (1996) Is total primary production in shallow coastal marine waters stimulated by nitrogen loading? Oikos 76:406–410

Breitburg D (2002) Effects of hypoxia, and the balance between hypoxia and enrichment, on coastal fish and fisheries. Estuaries 25:767–781

Bricker S, Longstaff B, Dennison W, Jones A, Boicourt K, Wicks C, Woerner J (2007) Effects of nutrient enrichment in the Nation's estuaries: a decade of change. NOAA Coastal Ocean Program Decision Analysis Series No. 26. National Centers for Coastal Ocean Science, Silver Spring

Burkholder JM, Mason KM, Glasglow HB (1992) Water-column nitrate enrichment promotes decline of eelgrass Zostera marina: evidence from seasonal mesocosms experiments. Mar Ecol Progr Ser 81:1163–1178

Caffrey JM (2003) Production, respiration and net ecosystem metabolism in U.S. estuaries. Environ Monit Assess 81:207–219

Caffrey JM (2004) Factors controlling net ecosystem metabolism in U.S. estuaries. Estuaries 27:90–101

Chapin FS, Woodwell GM, Randerson J, Lovett G, Baldocchi D, Clark DA, Harmon ME, Rastetter E, Schimel D, Valentini R, Wirth C, Cole J, Goulden M, Harden J, Heimann M, Howarth R, Matson P, McGuire AD, Melillo J, Mooney H, Neff J, Houghton R, Pace M, Ryan MG, Running S, Sala O, Schlesinger W, Schulze D (2006) Reconciling carbon cycle concepts, terminology, and methods. Ecosystems 9:1041–1050

Conley DJ, Paer HW, Howarth RW, Boesch DF, Seitzinger SP, Havens KE, Lancelot C, Likens GE (2009) Controlling eutrophication: nitrogen and phosphorus. Science 323:1014–1015

D'Avanzo C, Kremer JN, Wainright SC (1996) Ecosystem production and respiration in response to eutrophication in shallow temperate estuaries. Mar Ecol Progr Ser 141:263–274

Doney SC, Fabry VJ, Feely RA, Kleypas JA (2009) Ocean acidification: the other CO2 problem. Ann Rev Mar Sci 1:169–192

Duarte CM (1995) Submerged aquatic vegetation in relation to different nutrient regimes. Ophelia 41:87–112

Eyre BD, Ferguson AJP, Webb A, Maher D, Oakes JM (2011) Metabolism of different benthic habitats and their contribution to the carbon budget of a shallow oligotrophic sub-tropical coastal system (southern Moreton Bay, Australia). Biogeochem 102:87–110

Ganju NK, Dickhudt PJ, Thomas JA, Borden J, Sherwood CR, Montgomery ET, Twomey ER, Martini MA (2011) Summary of oceanographic and water-quality measurements in West Falmouth Harbor and Buzzards Bay, Massachusetts, 2009–2010. USGS Open-File Report 2011-1113

Ganju NK, Hayn M, Chen S, Howarth RW, Dickhudt PJ, Aretxabaleta AL, Marino R (2012) Tidal and groundwater fluxes to a shallow, microtidal estuary: constraining inputs through field observations and hydrodynamic modeling. Estuar Coasts 35:1285–1298

Gazeau F, Borges AV, Barron C, Durate CM, Iversen N, Middlebrug JJ, Delille B, Pizay M, Frankignoulle M, Gattuso J (2006) Net ecosystem metabolism in a micro-tidal estuary (Randers Fjord, Denmark): evaluation of methods. Mar Ecol Progr Ser 301:23–41

Giordano JCP, Brush MJ, Anderson IC (2012) Ecosystem metabolism in shallow coastal lagoons: patterns and partitioning of planktonic, benthic, and integrated community rates. Mar Ecol Progr Ser 458:21–38

Greve T, Binzer T (2004) Which factors regulate seagrass growth and distribution? In: Borum J, Duarte C, Krause-Jensen D, Greve T (eds) European seagrasses: an introduction to monitoring and management. Monitoring and Managing of European Seagrasses. European Union, Brussels, pp 19–23

Hayn M (2012) Exchange of nitrogen and phosphorus between a shallow estuary and coastal waters. M.S. Dissertation, Cornell University

Hayn M, Howarth RW, Marino R, Ganju N, Berg P, Foreman PB, Giblin AE, McGlathery K (2013) Exchange of nitrogen and phosphorus between a shallow lagoon and coastal waters. Estuar Coasts. doi:10.1007/s12237-013-9699-8

Howarth RW (1984) The ecological significance of sulfur in the energy dynamics of salt marsh and marine sediments. Biogeochem 1:5–27

Howarth RW, Michaels AF (2000) The measurement of primary production in aquatic ecosystems. In: Sala O, Jackson R, Mooney H, Howarth RW (eds) Methods in ecosystem science. Springer, Dordrecht, pp 72–85

Howarth RW, Billen G, Chan F, Conley D, Doney SC, Garnier J, Marino R (2011) Coupled biogeochemical cycles: eutrophication and hypoxia in coastal marine ecosystems. Front Ecol Environ 9:18–26

Howes B, Kelley SW, Ramsey JS, Samimy R, Schlezinger D, and Eichner E (2006) Linked watershed-embayment model to determine critical nitrogen loading thresholds for West Falmouth Harbor, Falmouth, Massachusetts. Massachusetts Estuaries Project, Massachusetts Department of Environmental Protection. Boston, MA

Hughes JE, Deegan LA, Wyda JC, Weaver MJ, Wright A (2002) The effects of eelgrass habitat loss on estuarine fish communities of southern New England. Estuaries 25:235–249

Jacobson MA (2005) Studying ocean acidification with conservative, stable numerical schemes for nonequilibrium air-ocean exchange and ocean equilibrium chemistry. J Geophys Res 110:D07302. doi:10.1029/2004JD005220

Kemp WM, Testa JM (2011) Metabolic balance between ecosystem production and consumption. In: Wolanski E, McLusky DS (eds) Treatise on estuarine and coastal science. Academic Press, New York, pp 83–118

Kremer JN, Reischauer A, D'Avanzo C (2003) Estuary-specific variation in the air-water gas exchange coefficient for oxygen. Estuaries 26:829–836

Kroeger KD, Cole ML, Valiela I (2006) Groundwater-transported dissolved organic nitrogen exports from coastal watersheds. Limnol Oceanogr 51:2248–2261

Marino RM, Howarth RW (1993) Atmospheric oxygen exchange in the Hudson River: dome measurements and comparison with other natural waters. Estuaries 16:433–445

McGlathery KJ, Sundback K, Anderson IC (2007) Eutrophication in shallow coastal bays and lagoons: the role of plants in the coastal filter. Mar Ecol Progr Ser 348:1–18

Monsen NE, Cloern JE, Lucas LV, Monismith SG (2002) A comment on the use of flushing time, residence time, and age as transport time scales. Limnol Oceanogr 47:1545–1553

National Research Council (2000) Clean Coastal Waters: Understanding and Reducing the Effects of Nutrient Pollution. Committee on the Causes and Management of Coastal Eutrophication. National Academy Press, Washington

Nixon SW, Ammerman JW, Atkinson P, Berounsky VM, Billen G, Boicourt WC, Boynton WR, Church TM, DiToro DM, Elmgren R, Garber JH, Giblin AE, Jahnke RA, Owens NJP, Pilson MEQ, Seitzinge SP (1996) The fate of nitrogen and phosphorus at the land-sea margin of the North Atlantic Ocean. Biogeochem 35:141–180

Nixon SW, Buckley B, Granger S, Bintz J (2001) Responses of very shallow marine ecosystems to nutrient enrichment. Human Ecol Risk Assess 7:1457–1481

Orth R, Carruthers T, Dennison W et al (2006) A global crisis for seagrass ecosystems. BioScience 56:987–996

Rabalais NN (2002) Nitrogen in aquatic ecosystems. Ambio 31:102–112

Reynolds LK, Marino RM, Muth MF, McLenaghan N, Hayn M, Tyler AC, McGlathery KJ, Howarth RW. Evidence of grazer control on nitrogen fixation by eelgrass epiphytes in a temperate coastal bay. (Submitted manuscript)

Roberts BJ, Owens TG, Ostrom NE, Howarth RW. Aquatic ecosystem respiration rates are not constant over diel cycles: direct quantification using dissolved oxygen concentration and isotopic composition in experimental ponds. Limnol Oceanogr (in press)

Ryther JH, Yentsch CS (1957) The estimation of phytoplankton production in the ocean from chlorophyll and light data. Limnol Oceanogr 2:281–286

Santos R, Silva J, Alexndre A, Navarro N, Barro C, Duarte CM (2004) Ecosystem metabolism and carbon fluxes in a tidally dominated coastal lagoon. Estuaries 27:977–985

Sirignano C, Neubert REM, Rodenbeck C, Meijer HAJ (2010) Atmospheric oxygen and carbon dioxide observations from two European coastal stations 2000–2005: continental influence, trend changes and APO climatology. Atmos Chem Phys 10:1599–1615

Stutes J, Cebrian J, Stutes AL, Hunter A, Corcorna AA (2007) Benthic metabolism across a gradient of anthropogenic impact in three shallow coastal lagoons in NW Florida. Mar Ecol Progr Ser 348:55–70

Swaney DP, Scavia D, Howarth RW, Marino R (2008) Estuarine classification and response to nitrogen loading: insights from simple ecological models. Estuar Coast Shelf Sci 77:253–263

Town of Falmouth (2011) Wastewater Department Website: 2. Current wastewater management in Falmouth. http://www.falmouthmass.us/depart.php?depkey=wastewater. Accessed May 2011

Vachon D, Prairie YT, Cole JJ (2010) The relationship between near-surface turbulence and gas transfer velocity in freshwater systems and its implications for floating chamber measurements of gas exchange. Limnol Oceanogr 55:1723–1732

Zimmerman R, Kohrs D, Steller D, Alberte R (1997) Impacts of CO2-enrichment on productivity and light requirements of eelgrass. Plant Phys 115:599–607
Acknowledgments
Funding was provided by the Biocomplexity Program of the National Science Foundation, the Woods Hole SeaGrant Program, and an endowment given by David R. Atkinson to Cornell University. We thank Clara Funk, Laura Wittman Keeling, Eli Perrone, and Ted Price for field assistance, and Richard Payne of the Woods Hole Oceanographic Institution for providing light data. We greatly appreciate the lending of field equipment by Hach Hydromet and the US Geological Survey, and we thank Chris Sherwood of the USGS for his support and interactions. We dedicate this paper to the late Scott Nixon, a very close friend and colleague who contributed so much to coastal marine ecosystem research over the past 40 years, and to his mentor, the late H.T. Odum who pioneered the open-water technique for measuring metabolism and who helped inspire a generation of scientists to appreciate coastal marine lagoons: "Each day as the sun rises and retires, the beautiful green bays like great creatures breath in and out" (Odum 1956).
Additional information
Responsible Editor: Leila J. Hamdan.
About this article
Cite this article
Howarth, R.W., Hayn, M., Marino, R.M. et al. Metabolism of a nitrogen-enriched coastal marine lagoon during the summertime. Biogeochemistry 118, 1–20 (2014). https://doi.org/10.1007/s10533-013-9901-x
Received:

Accepted:

Published:

Issue Date:
Keywords
Seagrass

Eutrophication

Nitrogen pollution

Gross primary production

Net ecosystem production

Estuary

Lagoon

Nutrient limitation

Nitrogen limitation